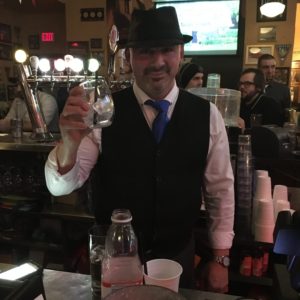 Host of Tiki Central Canada: Craig Stephens
My name is Craig Stephens and I am the host of this amazing show all about Tiki drinks and culture! I am a bartender who specializes in cocktails, especially original recipe Tiki cocktails. I've worked in the hospitality industry for over 25 years. Read Craig's full bio on our About Page!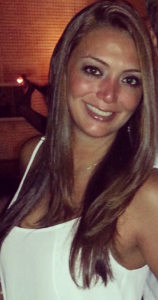 Co-host for the Show: Paola Vettori:
My name is Paola Vettori and I was born in Brazil, but now call Ottawa my home! I'm new to Tiki culture, but I've been behind a microphone for 18 years! Read Paola's full bio on our About Page!
Paola now has an amazing Traveler's "Picky Pairs" YouTube channel. Please click here to get to her channel. Great videos around the world and places to eat!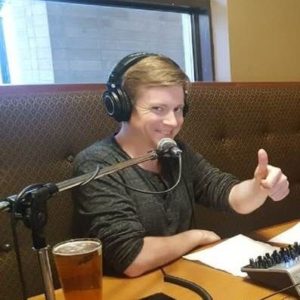 Co-Host of Tiki Central Canada: Cam Warriner  
My name is Cam Warriner and I am your co-host! I keep Craig diving into new research and looking for answers to questions about Tiki drinks and culture. Read Cam's full bio on our About Page!
Note: Oh man, where did Cam go this time to get the perfect photo!!!

What's New with Tiki Central Canada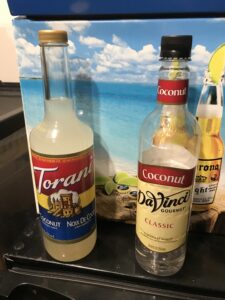 Cream of Coconut I use for all our recipes and Paola now uses for Paola's wish. You will find these in any specialty coffee shop NOT grocery store or liquor store.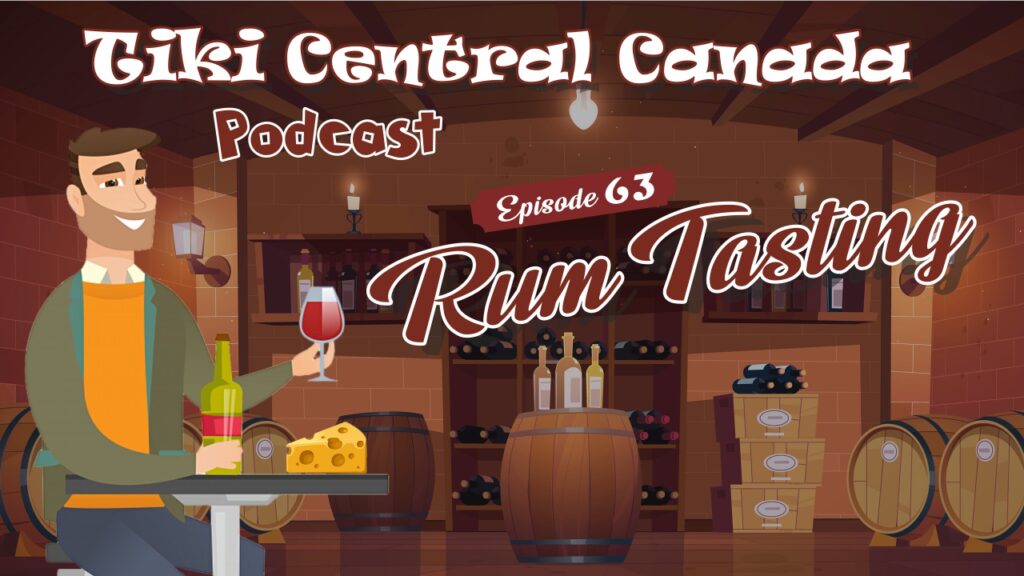 Mark Keill (our Tiki expert) is always on the run to another tiki bar or should I say crawl to!! On Mark's page, you will find tons of information on tiki bars around North America.  Click's Mark's picture to hear the interview! Or click here to go to Mark's page (Also, to get to the episode and information for "How to Build a Tiki Bar".
Future shows:   
Next episode we will talk about our famous Rum Tasting show which will be two parts.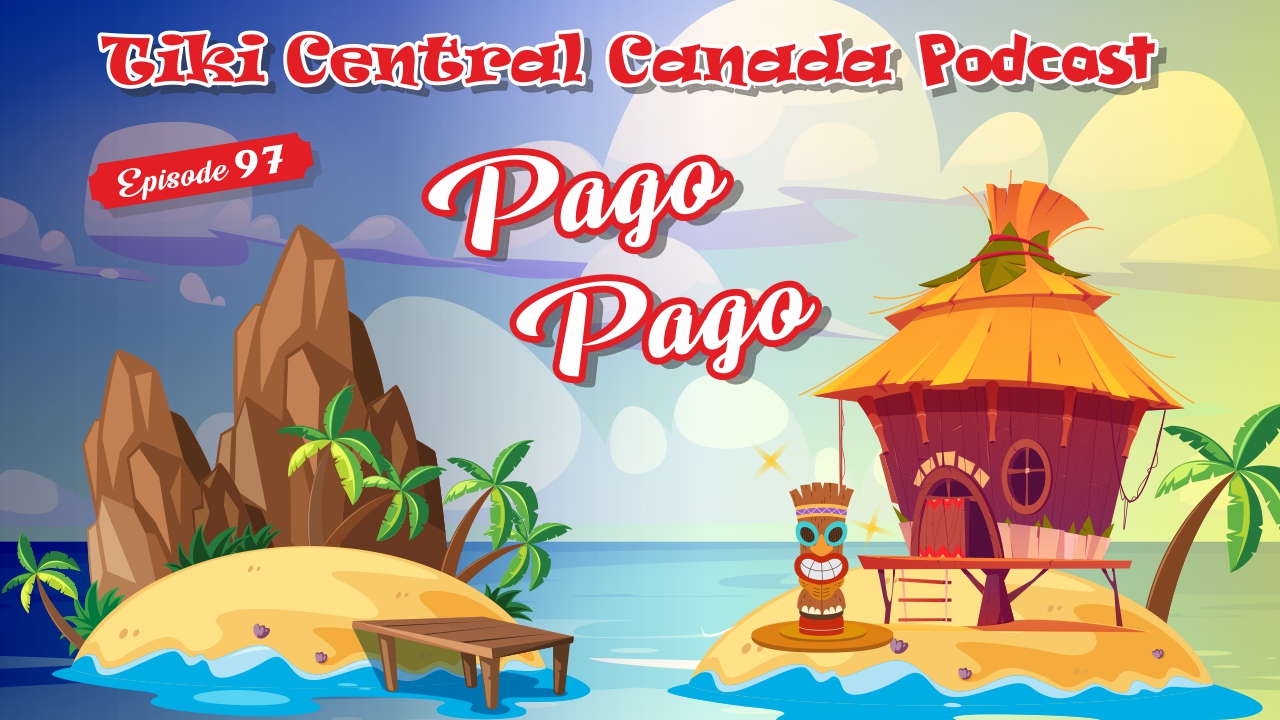 Newest Episode: Episode 97: Pago Pago Cocktail with Mark's Adventures at Shameful Tiki Room (Canada)
Hi folks,
Sorry we have been not online for some time...it has been items such as schedules, work, private lives and other items that has set us back. We will work harder to bring you the shows and thanks for sticking with us.
This episode, we will be talking about the Pago Pago cocktail and its origins. There was a time where in North America there was several tiki bars named Pago Pago and a few still stand today. The main item we discuss on the origin of this drink t=is two little islands in the Pacific ocean that are surrounded by the international date line. This imaginary line has gone through so many changes as to which areas it covers. So one of the islands West Samoa and the American Somoa islands are on opposite sides of this line. The capital city of American Somoa is Pago Pago. The line is by the way not a true straight line as you will see on any map. By the way depending who you reference the line it changes depend if its Google maps or other sources.
For the cocktail, we will give you not one or two recipes but 3 different recipes to this cocktail. Some ingredients can be hard if not impossible to find especially the Chartreuse.
On Mark's adventures: we finally get to a location in Canada. The Shameful Tiki Room in BC Canada is the next location Mark has adventured to and will give us a full report on. This unique bar (as there are not many at all of tiki bars in Canada) has tons of character, drinks, rums, music and décor to discuss. It has been operating for 10 years now and just has its anniversary celebration which Mark was part of.
Links to the show:
Recipes from the show: https://tikicentralcanada.ca/recipes-page-2/
International Date line YouTube video: International Date line YouTube Video link
Mark's Adventures page: https://tikicentralcanada.ca/marks-tiki-page/
COMMENTS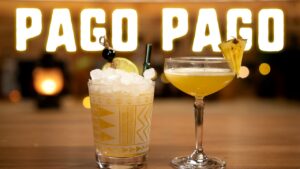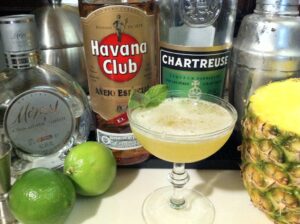 New Recipes: Pago Pago Cocktails
Beach Bum Berry's  Recipe:
Recipe: 1 oz Jamaican rum, 1 oz orange juice, 3/4 oz fresh lime juice, 3/4 oz white grapefruit juice, 3/4 oz honey mix and a dash of Angostura bitters
Method: Shake well with plenty of crushed ice. Pour unstrained into a Collins (highball) glass and garnish with a lemon wheel.
Note: So use which rums you have or like for this recipe...
Ron Rico's  Recipe:
Recipe: 1.5 oz Bacardi 8 or any Puerto Rico aged rum, 1/4 oz White Creme de Cacao, 1/2 oz (I used 1/4 oz) of Green Chartreuse, 1/2 oz lime juice and 1 oz pine apple juice.
Method: Shake all ingredients in a shaker with ice, doubke strain into a coupe glass and garnish with a mint leaf.
Disney's Trader Sam's recipe:
Recipe: 2 oz Jamaican rum (Appleton), 1/2 oz Yellow Chartreuse, 1/4 oz Creme de Cacao, 1/2 oz pineapple juice, 1/2 oz lime juice
Method: Put all ingredients into a shaker and whip shake for 10 seconds and then unstrained into a rocks glass, add more crushed ice; garnish with lime wheel and a cherry on a skew
To Be on the Show:
Have you ever thought about being a guest on our show? Now you can!
If you work for a bar or restaurant that would like us to record a show at your location, and feature some of your amazing food and drinks, then click on the link. Please submit a little bit about yourself and your bar or restaurant.
Questions or Comments:
If you have any questions or comments you would like to submit to us, please do so through the link provided in this section. We would love to hear from you! While you are at it, please subscribe to our show.