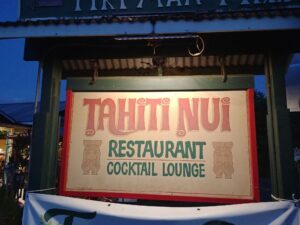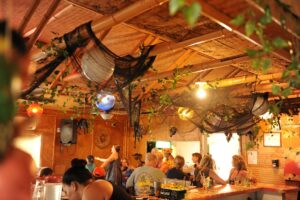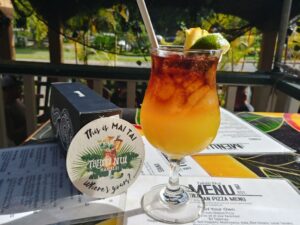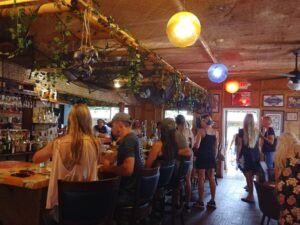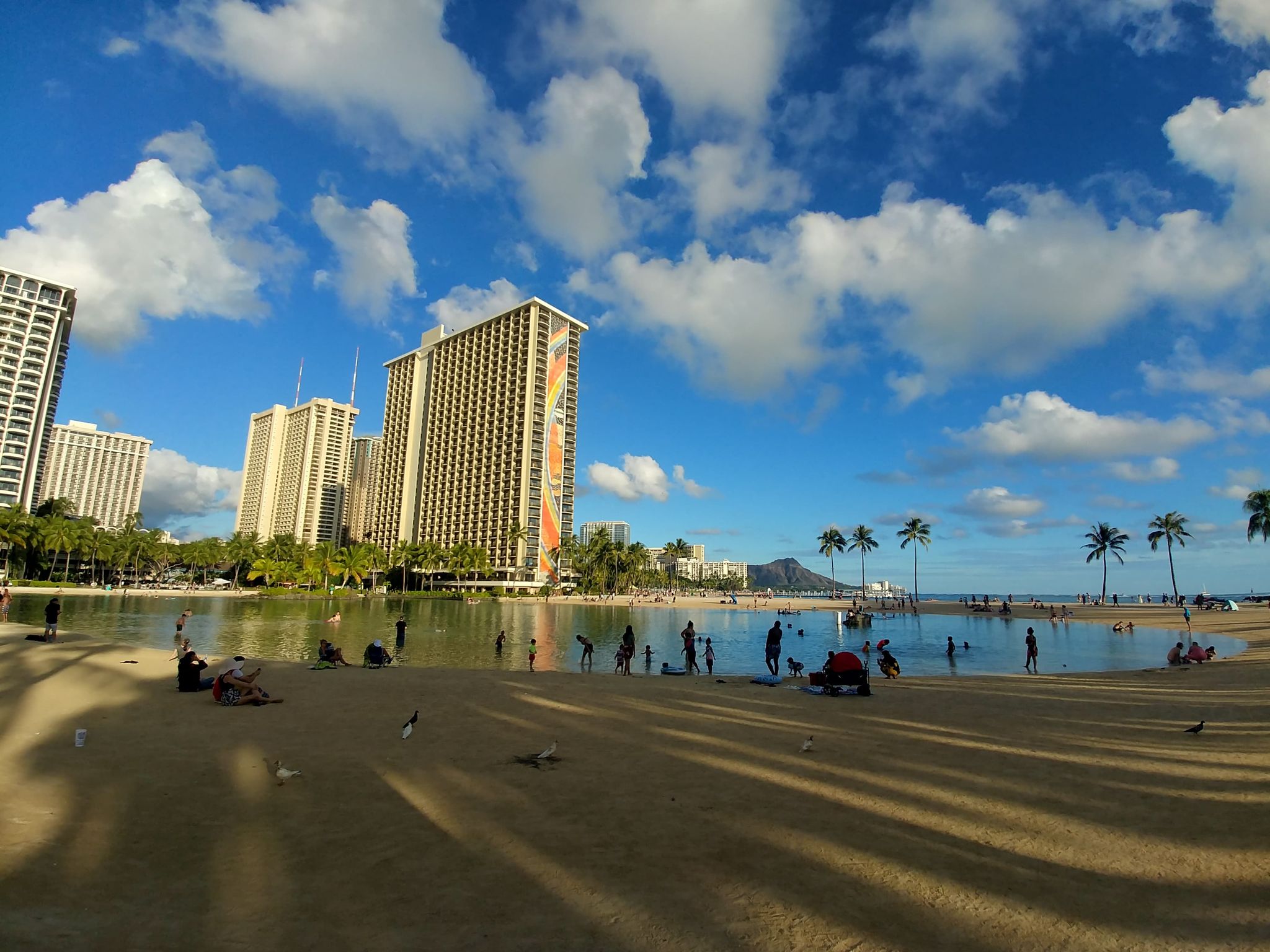 MARK'S FEATURE TIKI BAR:
Tahiti Nui Bar
Where are we going next?
We continue our look at great bars established by amazing women by heading to the Tahiti Nui
Sounds intriguing, where is it?
Tahiti Nui is located at the north end of Kauai in the small town of Hanalei
How long has it been in operation?
The bar opened in 1963 by Louise Teupootehearii Hauta Marston, better known as Auntie Louise, who grew up on the French Polynesian island of Tubuai. Auntie Louise, one of 11 children and a descendant of Tahitian royalty, arrived on Kaua'i's north shore with her husband in 1962.
Is this a tiki bar like the La Mariana?
Not at all. This is more of an open room with a few floats and the odd carving. There are lauhala mats covering the walls and ceiling. It is more of a local watering hole with Polynesian roots.
In the 70's as tiki slowed everywhere pool tables where put in and then in 1973 Aunty covered the pool tables with plywood to make a buffet. Locals brought plates of pork, fish, and hand-pounded poi for a potluck. Auntie Louise didn't charge a cent for anything but the drinks, and while everyone feasted, she sang and strummed the guitar, alternating between Tahitian, Hawaiian and American music. This became a weekly event which continues to this day but as a paid event.
Drinks and Food?
Well there you will see at lot of the locals with Hinano, the national beer of Tahiti, however their own Hawaiian-style Mai Tai is very good and at only $8 during Happy hour from 3:00-5:00 and with another driver I had few.
The food is quite good. With pizzas to very fresh fish on the menu.
You enjoyed yourself there?
Yes very much. They have live local music nightly with Friday being a very popular night
Hanalei Bay is one of the best locations for sunsets in Kauai and is only steps away. The bar was featured in the film The Descendants starring George Clooney.
Auntie Louise died in 2003 but the spirit of welcoming is evident. There is a nice little section there dedicated to her and with the 3rd generation of the Matson family about to take over the tradition will certainly continue.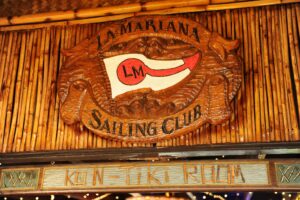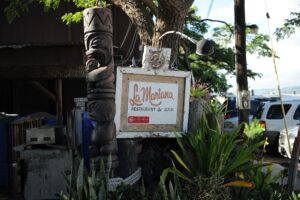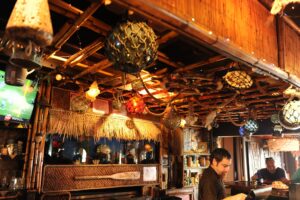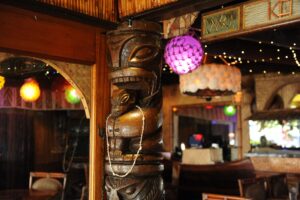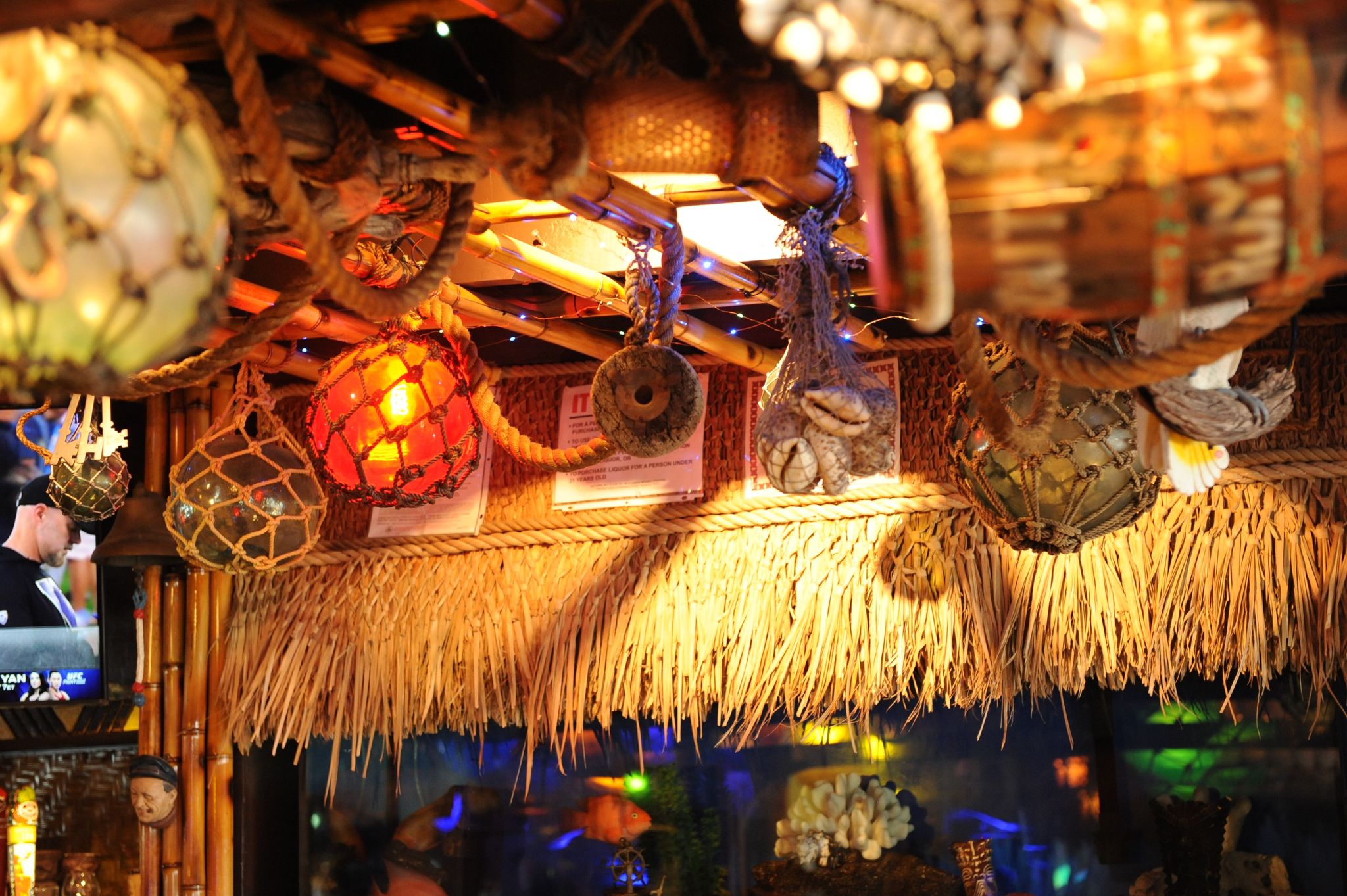 La Marinana Sailing Club
Where is it?
The Sailing Club is on Oahu located near the Honolulu airport about a 30 minute drive north-west of Waikiki Beach, right in the middle of an industrial part of town.
How old is it ?
La Mariana Sailing Club was originally established in 1955 by Annette La Mariana Nahinu and her husband as a place to moor their boat on the shores of Keehi Lagoon with the bar opening in1957 and kept it going through many hard times.
Tell me about Annette..
Annette Nahinu was born in Brooklyn, N.Y., in 1914 and established the La Mariana Sailing Club with her 2nd husband New Zealander Johnny Campbell. Annette kept the bar going through a typhoon, a tidal wave,  end of her marriage and then a forced eviction in 1978 where the entire Sailing club, including clubhouse, 20 docks, 30 boats, trees, plants etc had to be moved 50 yards away into an old junk yard in just 3 days.
La Mariana continues to endure despite numerous issues and remains a meeting place of tiki-philes and locals. Annette passed in 2008 at age 93 and continued to run the place and greet people right up to a few months before her passing.
So it's worth the drive.?
It is as much a museum of the other long gone locations with puffer fish from Trader Vic's, carvings from The Kon Tiki, a chair from Don the Beachcomber and more. It was highlighted in a 2008 episode of Anthony Bourdain's No Reservations.
So I take it the interior is decorated?
Very much so, as well as the exterior. The whole bar is slowly being renovated in part by local artist and Master Carver Mike "Gecko" Souriolle, from South Sea Arts,  who we had a chance to visit before our trip to the bar. We chatted  about the work he was doing and what was being worked on next.
There is a gift shop, You might have to ask for it to be opened where you can get Gecko designed mugs and other things.
Food and drinks?
Covid and age has hit them hard, but now things are slowly returning. The food is still on the light side but quite tasty and the drinks are well balanced. Thankfully I wasn't driving so Mai Tai's and Navy Grogs please. Some people online have complained about service. We had no issues at all.
Part dive-bar, part historical relic, really glad I was able to make it to this legendary location.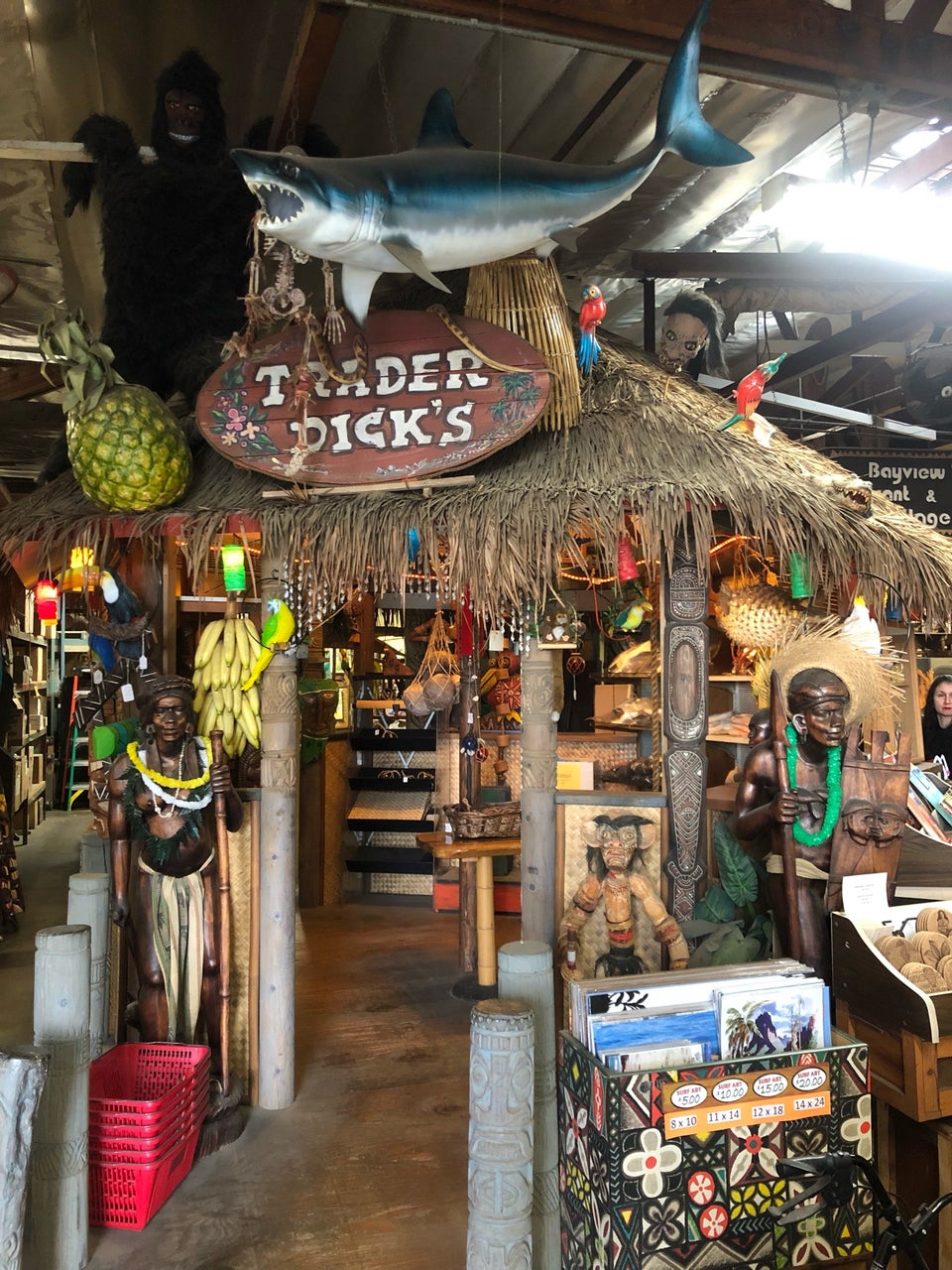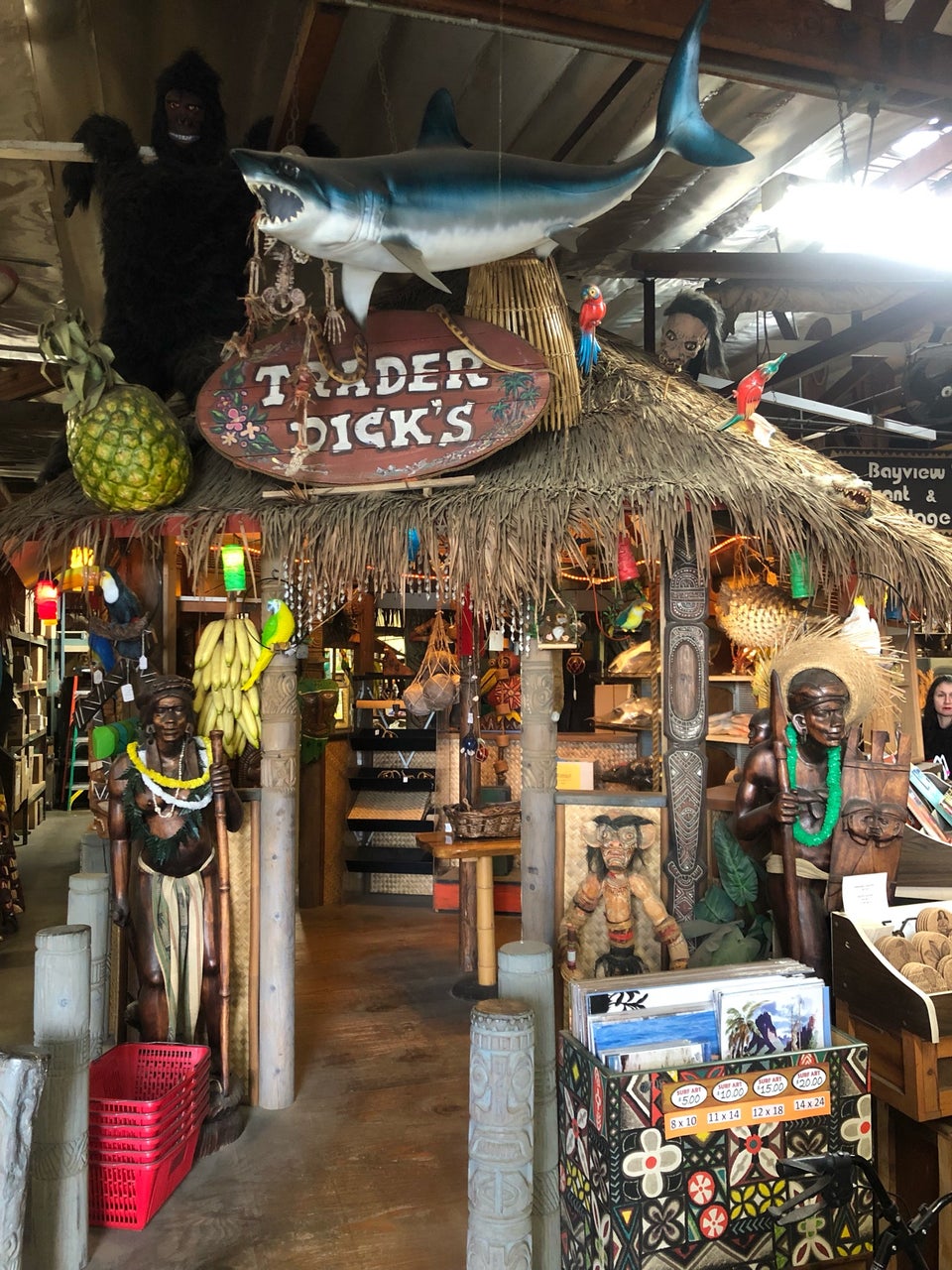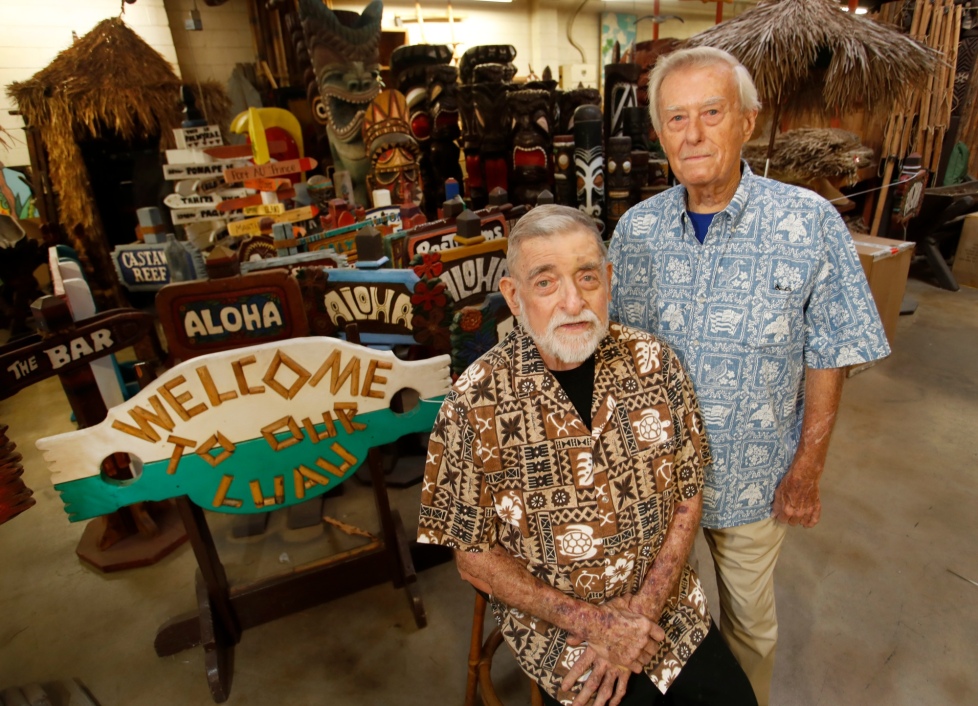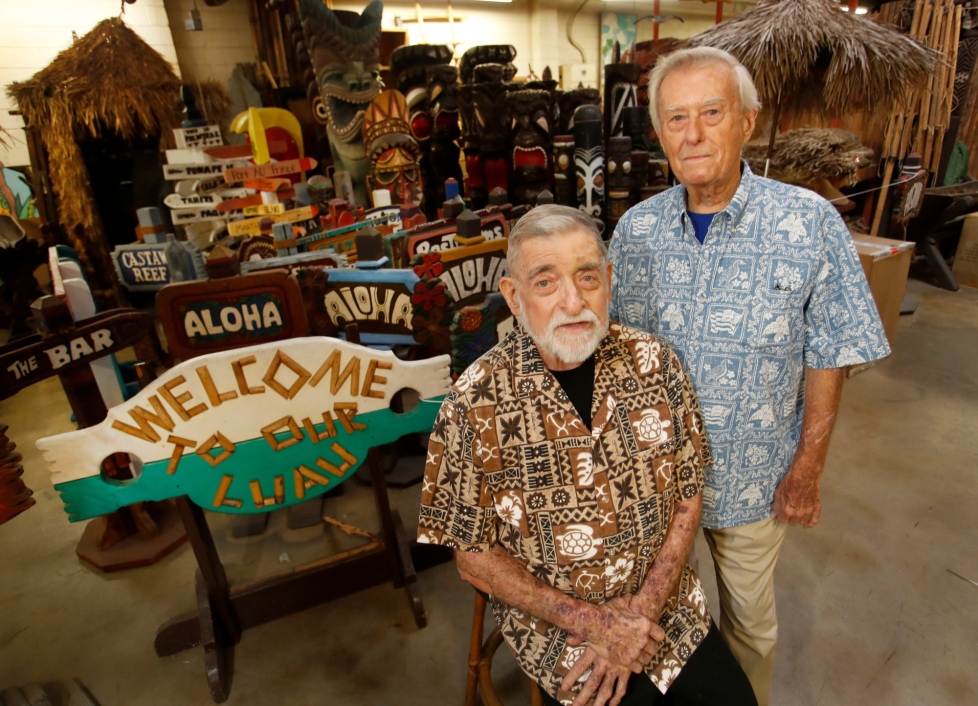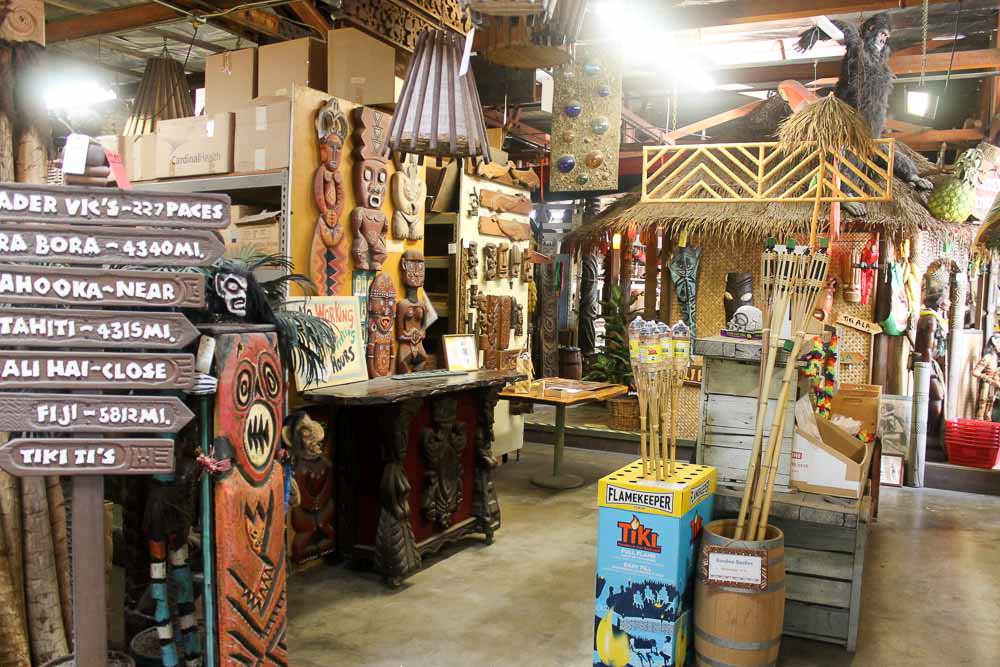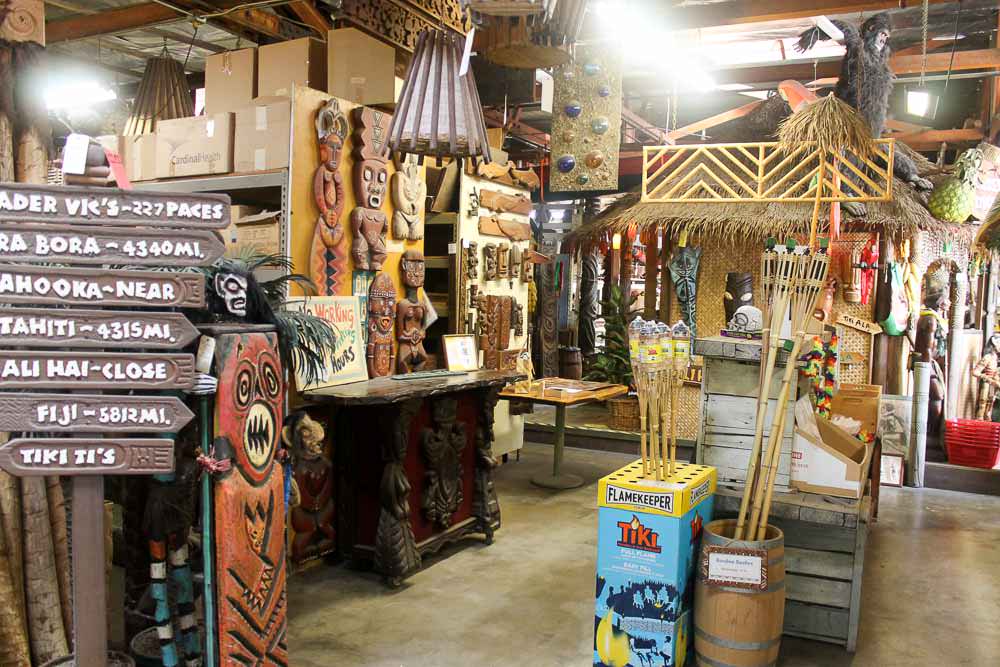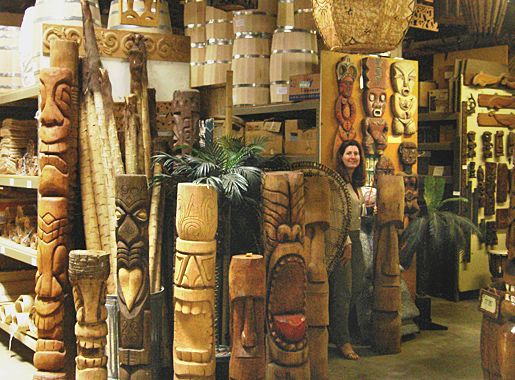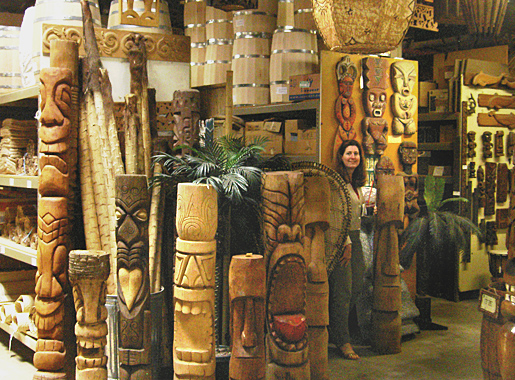 MARK'S FEATURE TIKI BAR:
Oceanic Arts 
What bar are we talking about today?
Not a bar today, but a vendor who is closing their doors after 57 years selling tiki to the world.
OMG 57 years? Where are we talking about?
We're going to talking a bit about OCEANIC ARTS supplier of all things tiki and it's actually a little bit longer as they were established in 1956, from Whittier California which is located about 1/2 hour drive south from Los Angeles.
Has it been run by the same people for this long?
Yes, It has been run continuously by Robert Van Oosting and LeRoy Schmaltz. They are now known as the " The Godfathers of Tiki". They are now 85, and 86.
They met in Junior College and LeRoy had been carving some Palm Frond Masks.
Palm Frond masks?
Yes. You know the large Palm tree branches that fall down. The woody end that was closest to the tree can be carved and painted
So they began selling mosaics which had the masks mounted on them out of their garage. They met a Robert Carter who was doing some minor importing from the South Pacific and selling to Vic Bergeron of Trader Vic's and to Donn Beach. They began carving Tiki Posts for Carter while going to college. Then in 1960 they took a trip to the South Seas to learn more about carving and to source out materials. They traveled 37,000 miles and spent 3-1/2 months in the islands.
They then began carving and selling to restaurant/bars with tropical themes. They grew to 3 buildings with 17,000 sq. ft. of decor.
That's seems like a large warehouse?
Well they have provided decor to over 1100 restaurants and bars over the years. as well as the entertainment industry.
1100? Any bars we know?
I'm sure if you've been to any tiki bar, probably something was sourced from there, but probably most famous are
Trader Vic's, The Mai Kai, Don the Beachcomber, the Coco Palms in Hawaii, and The Tonga Room in San Francisco,
but also Foundation Bar in Milwaukee, the Bali Hai remodel in San Diego, Hale Pele in Portland
Disneyland's Trader Sam's Bar and the Tangaroa Terrace as well as Walt Disney World
I was in contact via email with Bob Van Oosting just this past October regarding a possible purchase, which they sadly had no more of, however I did learn from him they supplied decor for the 1970's remodel of The Beachcomber Room at the Talisman here in Ottawa
 now that's cool. You said entertainment?
Yes they provided props for Pirates of the Caribbean 2,3,4
Men in Black 2, Last Samurai, and Austin Powers
As well as numerous television shows. Everything from 2 and 1/2 Men, CSI Miami, to Wheel of Fortune
and they have been is business this whole time ?
Yup, While it was slow in the 80's. They actually survived by supplying restaurants in Japan. But when Sven Kirsten's The Book of Tiki was released and the tiki resurgence began they have been doing well.
you visited them?
Yes went there and could have spent days there. Got to meet Bob, LeRoy was off sick so didn't get to meet him. Picked up as much stuff as we could fit in suitcase. So much amazing stuff.
so they are closing ?
Yes after 65 continuous years Bob and LeRoy are retiring. There will be a final auction of the remaining stock once all the business contacts are fufilled.
and there is a book being printed on the history of Oceanic Arts.
Updates and order for the book is here:
https://www.peekaboogallery.com/oceanic-arts/
OA project list here:
MARK'S FAVORITE TIKI BARS :
Mai Kai - 3599 N. Federal Hwy., Ft. Lauderdale, FL
http://www.maikai.com/
Tiki Ti - 4427 Sunset Blvd, Los Angeles, CA
http://www.tiki-ti.com/pages/home.html
Tonga Hut North Hollywood - 12808 Victory Blvd, North Hollywood, CA
http://tongahut.com/
Tonga Hut Palm Springs - 254 N Palm Canyon Dr, Palm Springs, CA
http://tongahut.com/tonga-hut-palm-springs/
Ventiki - 701 E Main St, Ventura, CA
http://www.ventikiloungeandlanai.com/
Hale Pele - 2733 NE Broadway St, Portland, OR
https://www.halepele.com/
Beachbum Berry's Latitude 29 - 321 N Peters St, New Orleans, LA 70
https://latitude29nola.com/
The Shameful Tiki Toronto - 1378 Queen St W, Toronto, ON
http://shamefultikiroom.com/toronto/
The Shameful Tiki Vancouver - 4362 Main Street, Vancouver, BC
http://shamefultikiroom.com/vancouver/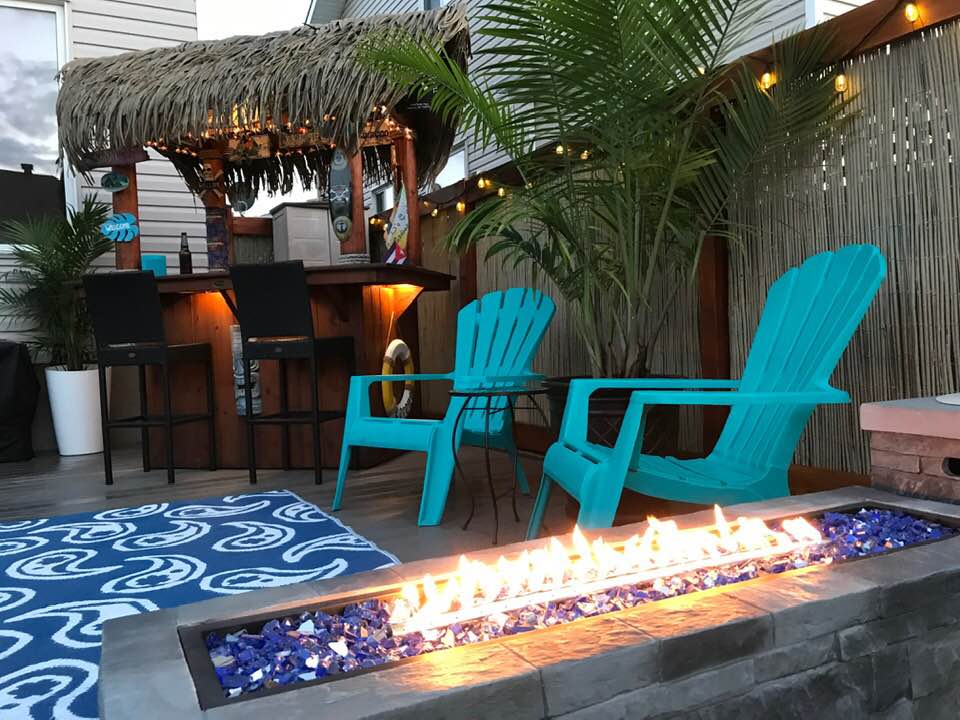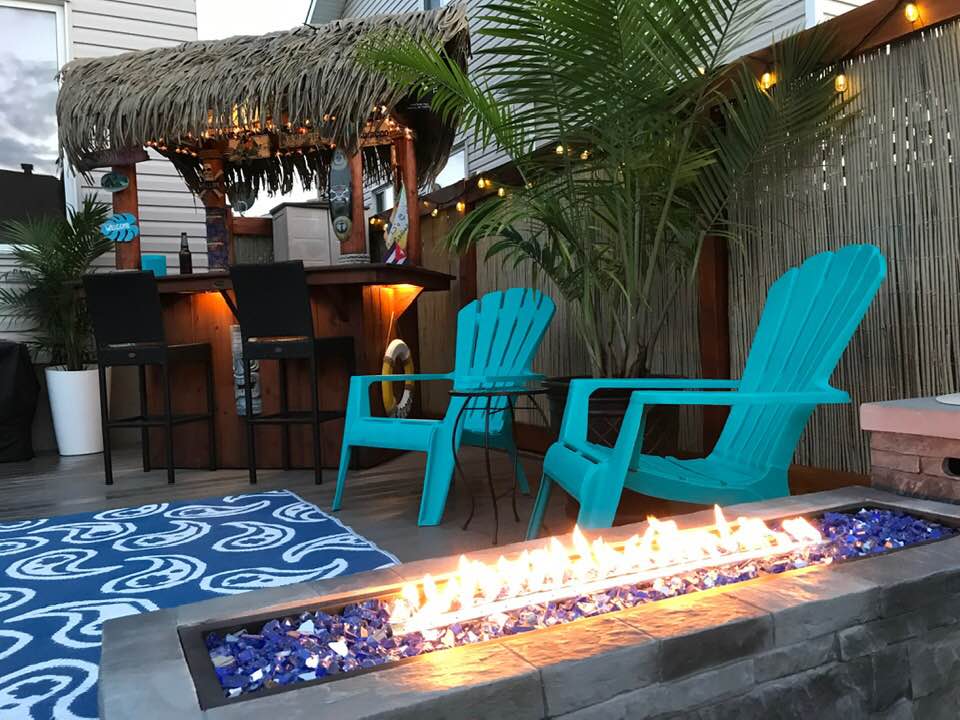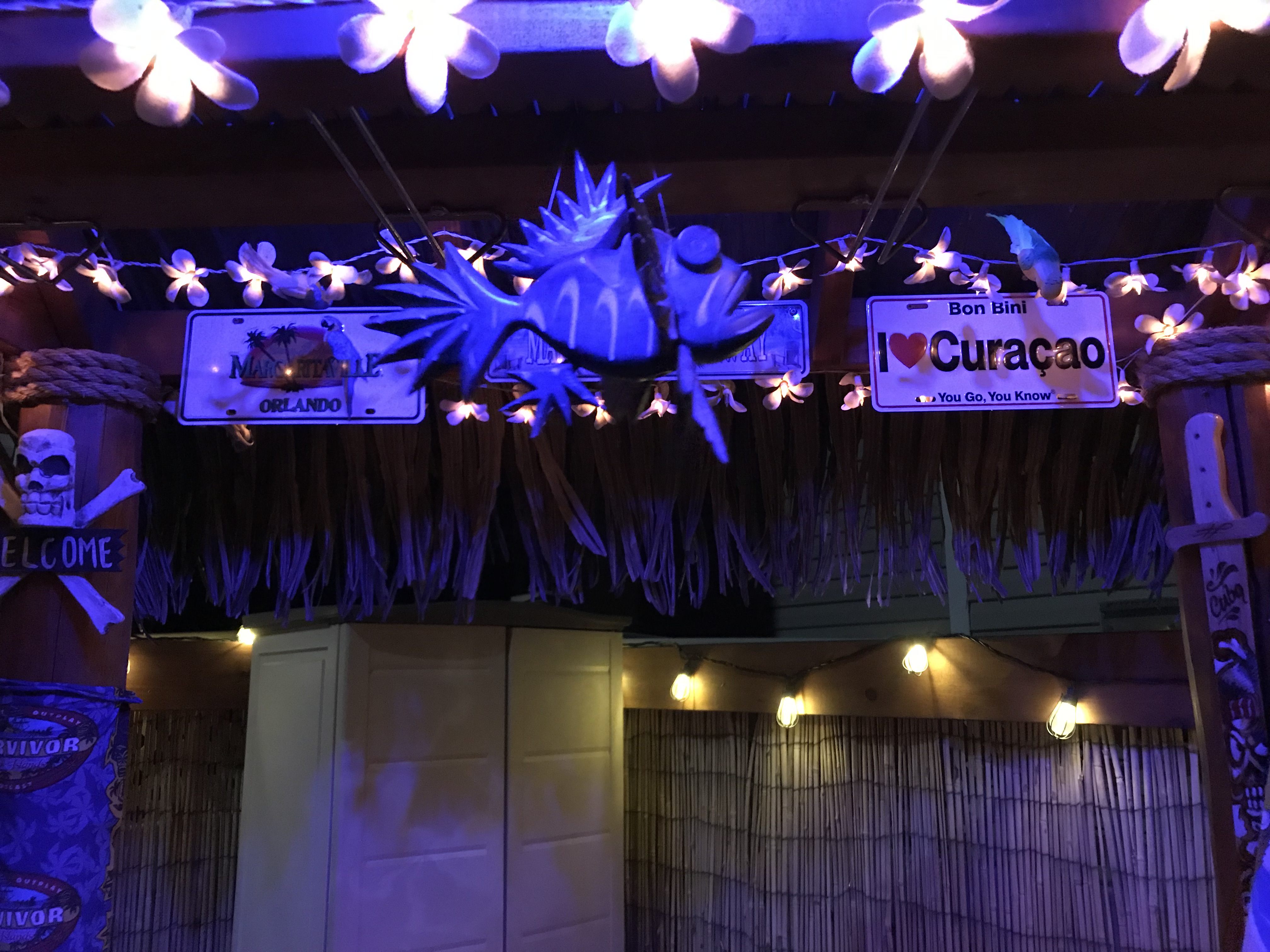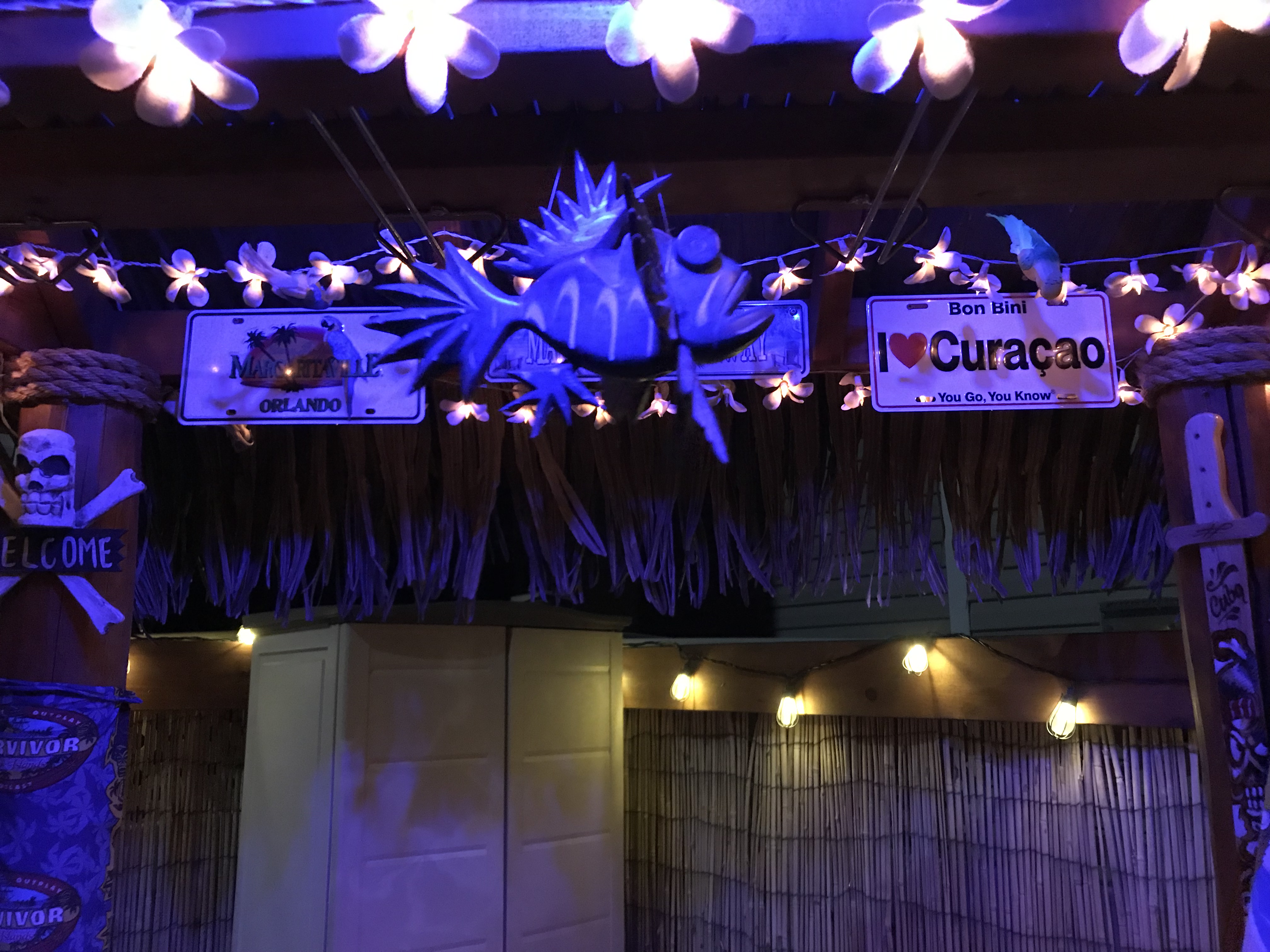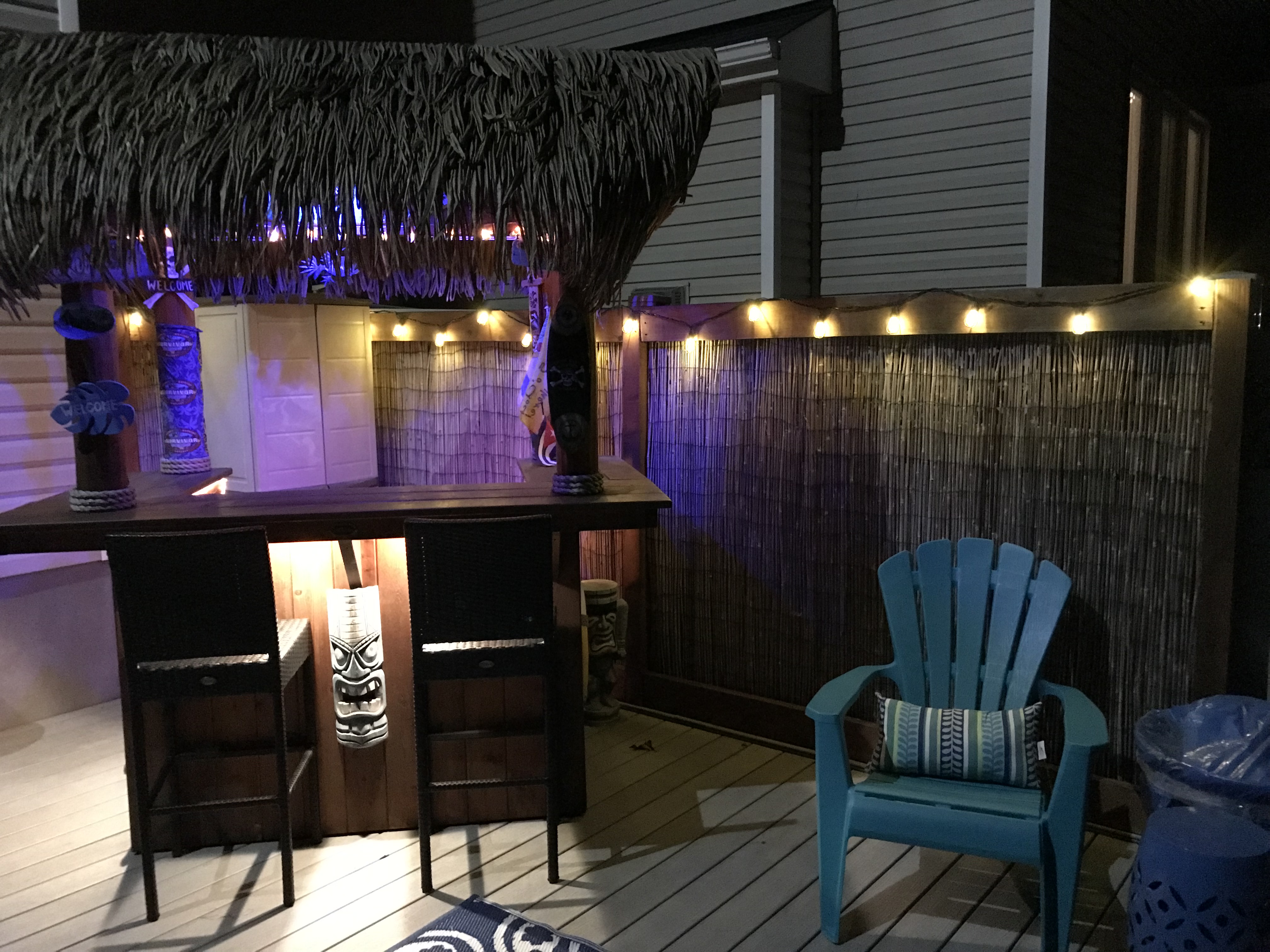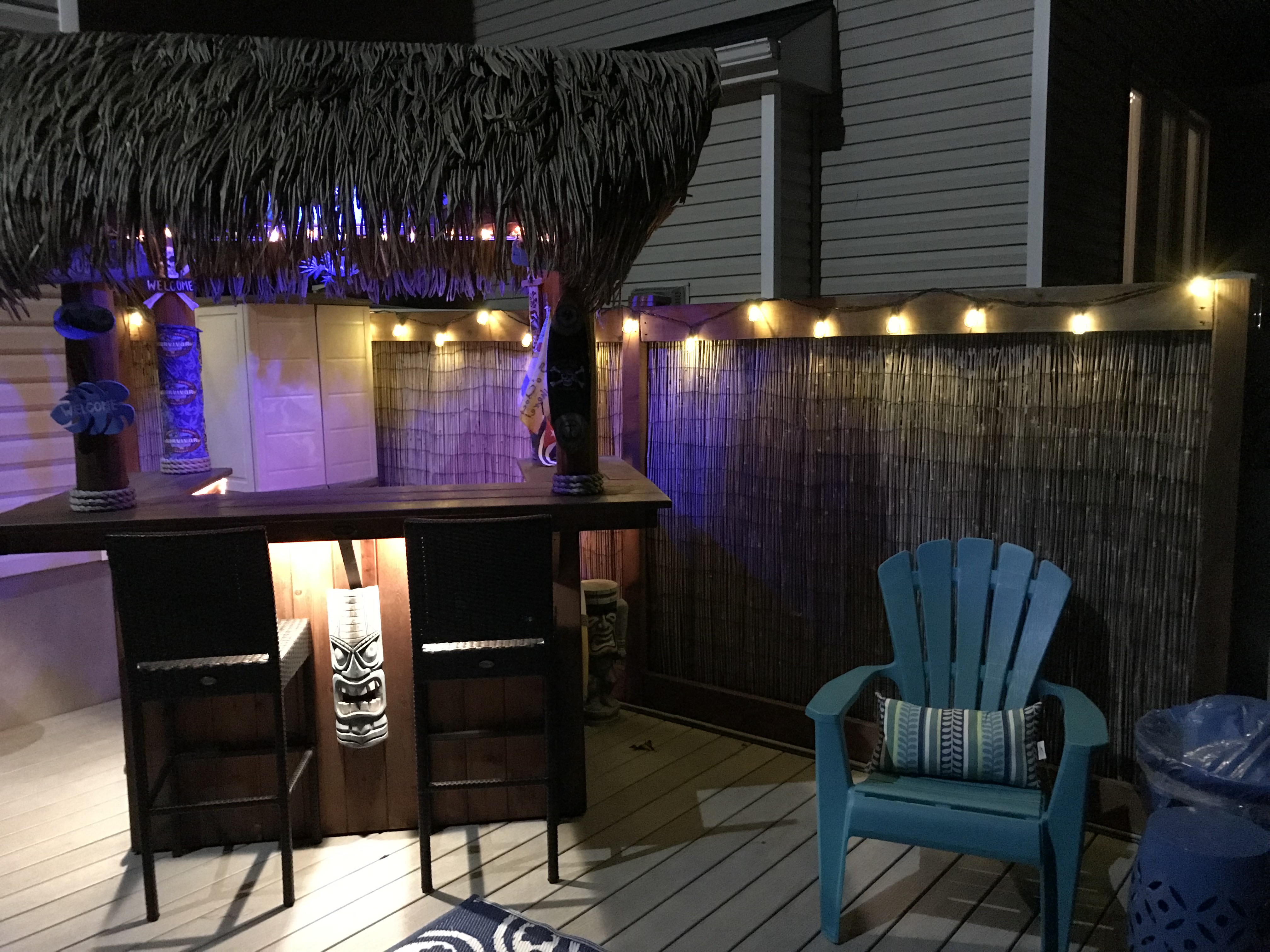 "How to Build a Tiki Bar" - Part 2
Lights:
Torches (electrical/Citronella), puffer fish lamp, globe lamps, fire pit, LED lights, rope light, string lights, You'll want to have spot lights or specific lights on artifacts like masks, statues, plants, under the bar top is nice touch to highlight the bar, colored lights (red, blue, green) not just white.
Mark's suggestions:
Lamps: Fishnet Floatball lamps, Bamboo lamps covered in tapa cloth, "groovy" mid-century lamps.
Music:
Spanish/reggae: Bob Marley, Bob Sinclair, Shaggy, Sean Paul, Daddy Yankee, Enrique Iglesias, Fugees, Shakira
Beach: Beach Boys, Elvis, Jimmy Buffet, The Coasters, Drifters
Pop: Iglesais, Gloria Estefan, Inner Circle, Marc Anthony, Pitbull, Sean Kingston, Maroon 5, Smash Mouth,Magic!
Exotica: Martin Denny, Authur Lyman, Robert Drasin: Voodoo which included a young John Williams of Star Wars fame as one of the personnel.
Exotica - http://www.digitiki.com/
Traditional Hawaiian -  https://www.hawaiianrainbow.com/
Spotify – Disney's Trader Sam's Playlist on Spotify - https://open.spotify.com/playlist/6jvwVYLil91HISffRhZmVm
Equipment:
Blender/margarita machine (cheap = Magic Bullet, higher end = Margaritaville concoction machine).
Shelves (Put the things on the bar that you will use most, then put the rest on back bar).
Fridge, ice machine, beer cooler, glass washer (can use plastic cups but the environment?).
Fruit caddy for garnish, plus umbrellas/flags/swords.
Speed rail, glass rail.
Power (extension cords or outlets).
Bar tools (shakers, strainers, measuring tools, juicer, stir stick, muddler).
Bar mats to keep the mess contained, garbage.
Craig's Glass Washer Process:
Follow the pictures below.
Home Depot buckets: Home Depot orange buckets
Bartender's Brush: Bartender's Brush for the bucket
So, in the pictures you will see the white bucket which is called a "dump bucket". It is a bucket inside another bucket with the inner bucket bottom having holes drilled into it, so the liquid will drain into the bottom bucket.
The next bucket will have soap and water, plus the the brush suction cupped to the bottom of the orange bucket.
The final bucket is just water for rinsing. This is the three sink method.
This will last for hours (you may have to change the soapy water in your brush bucket or get new rinse water but I find it lasts a couple hours).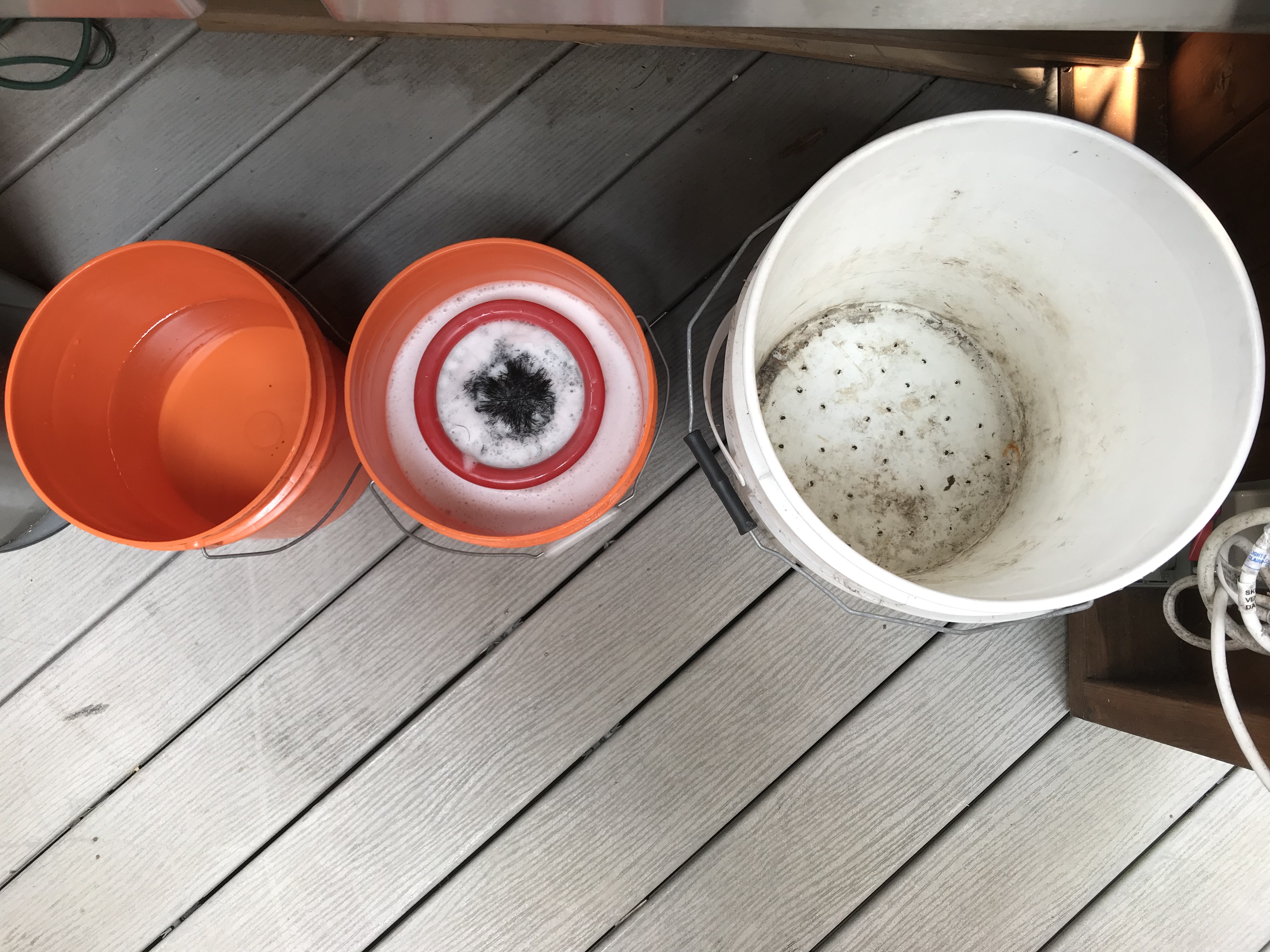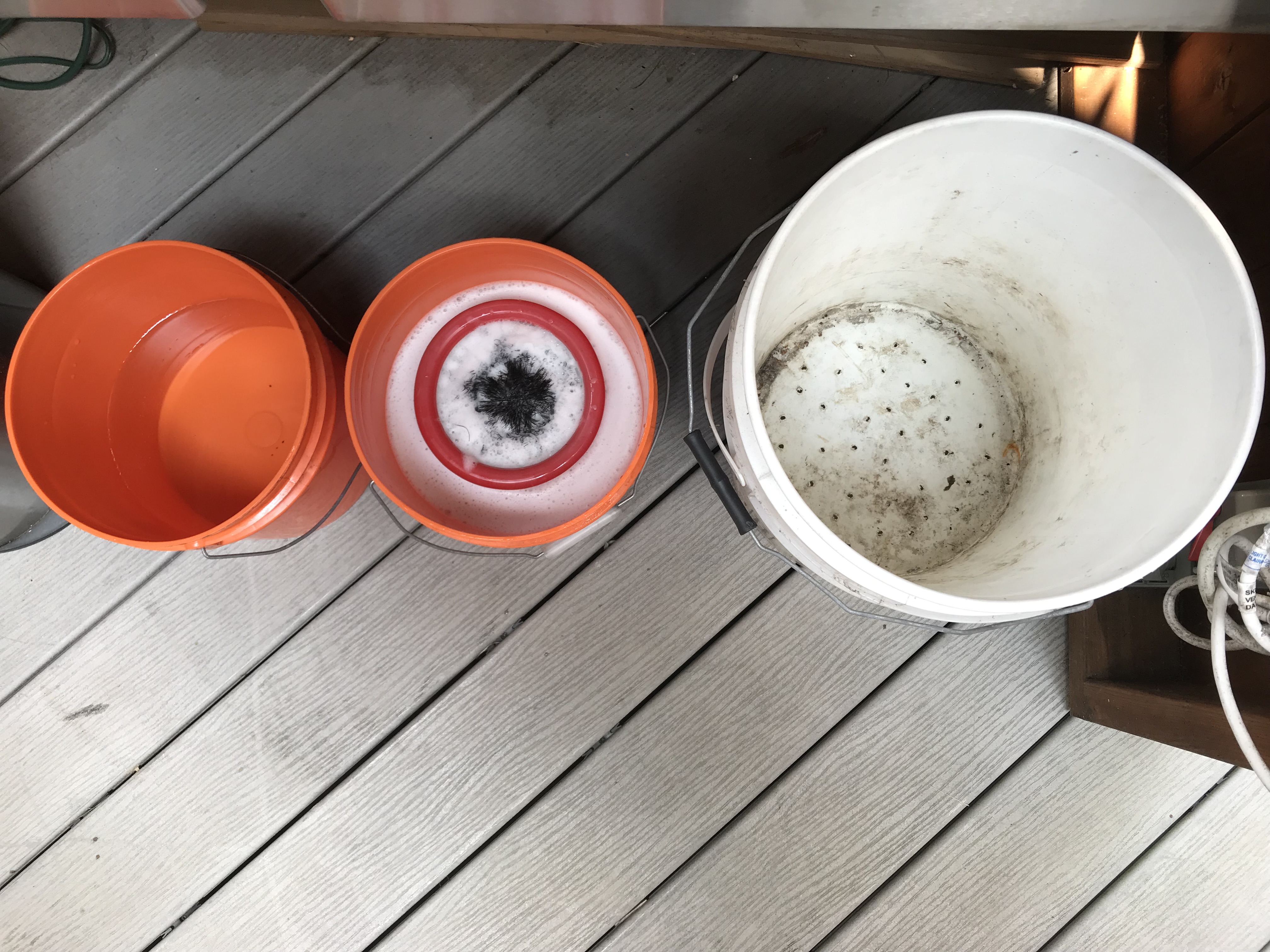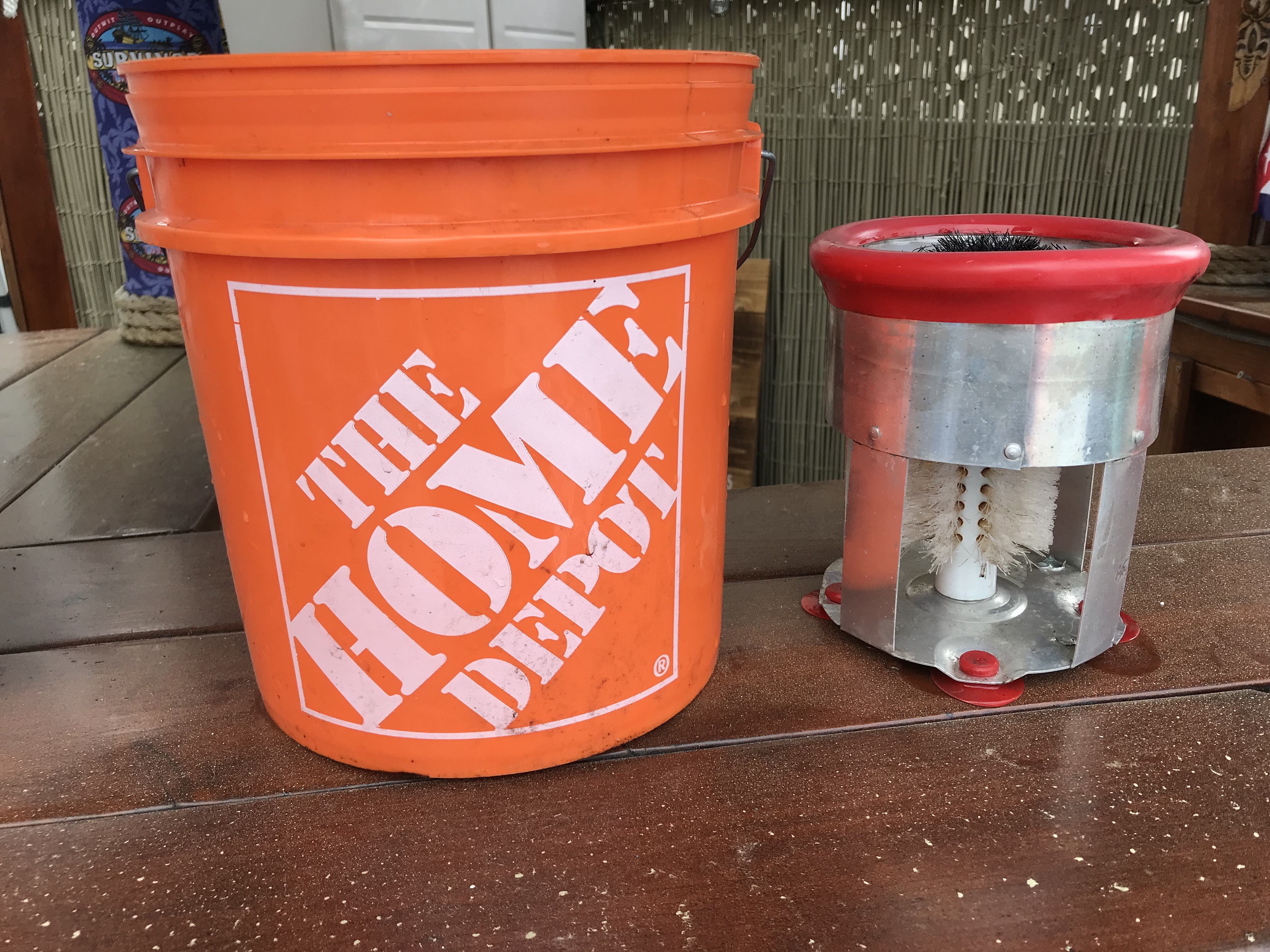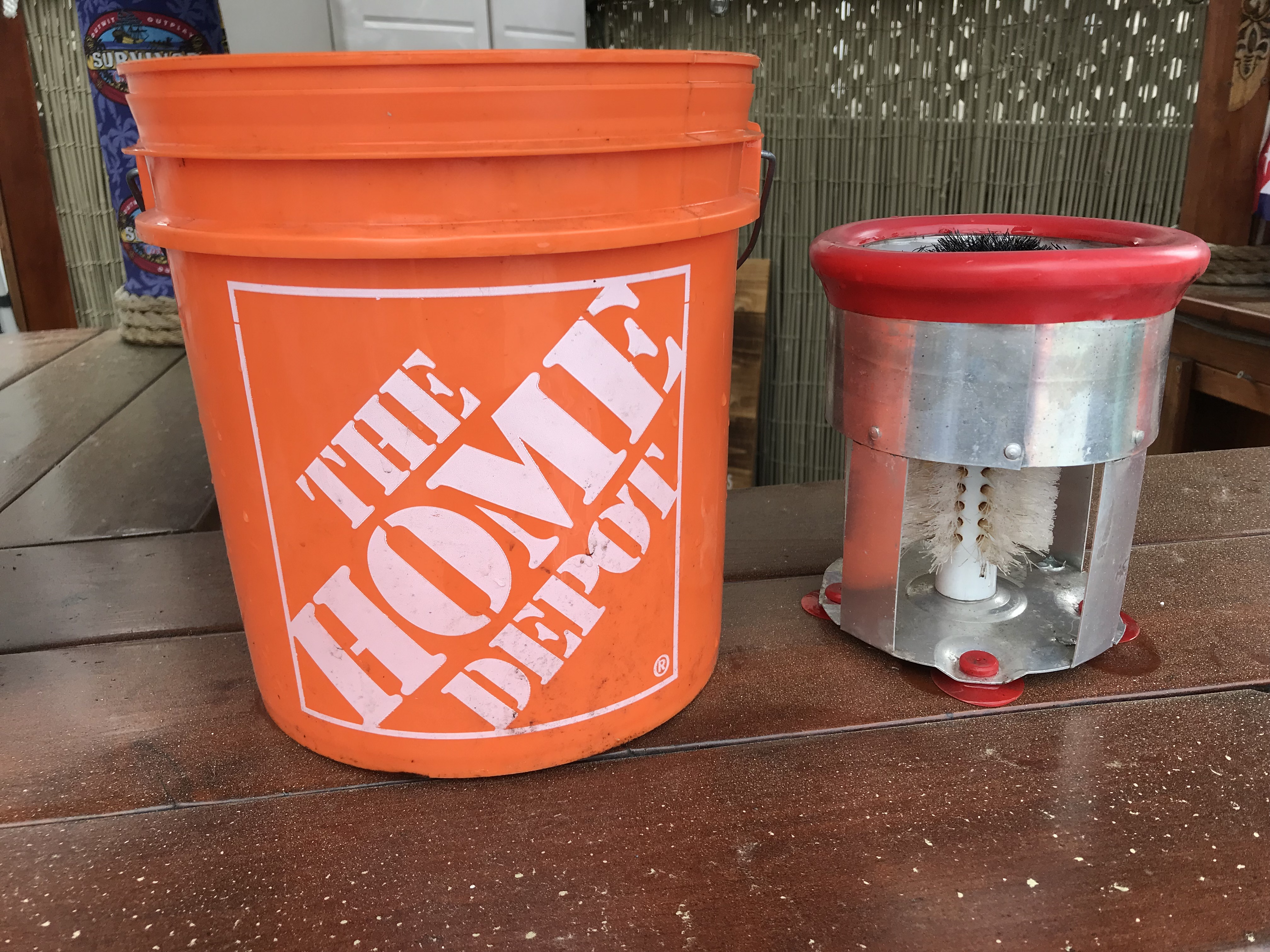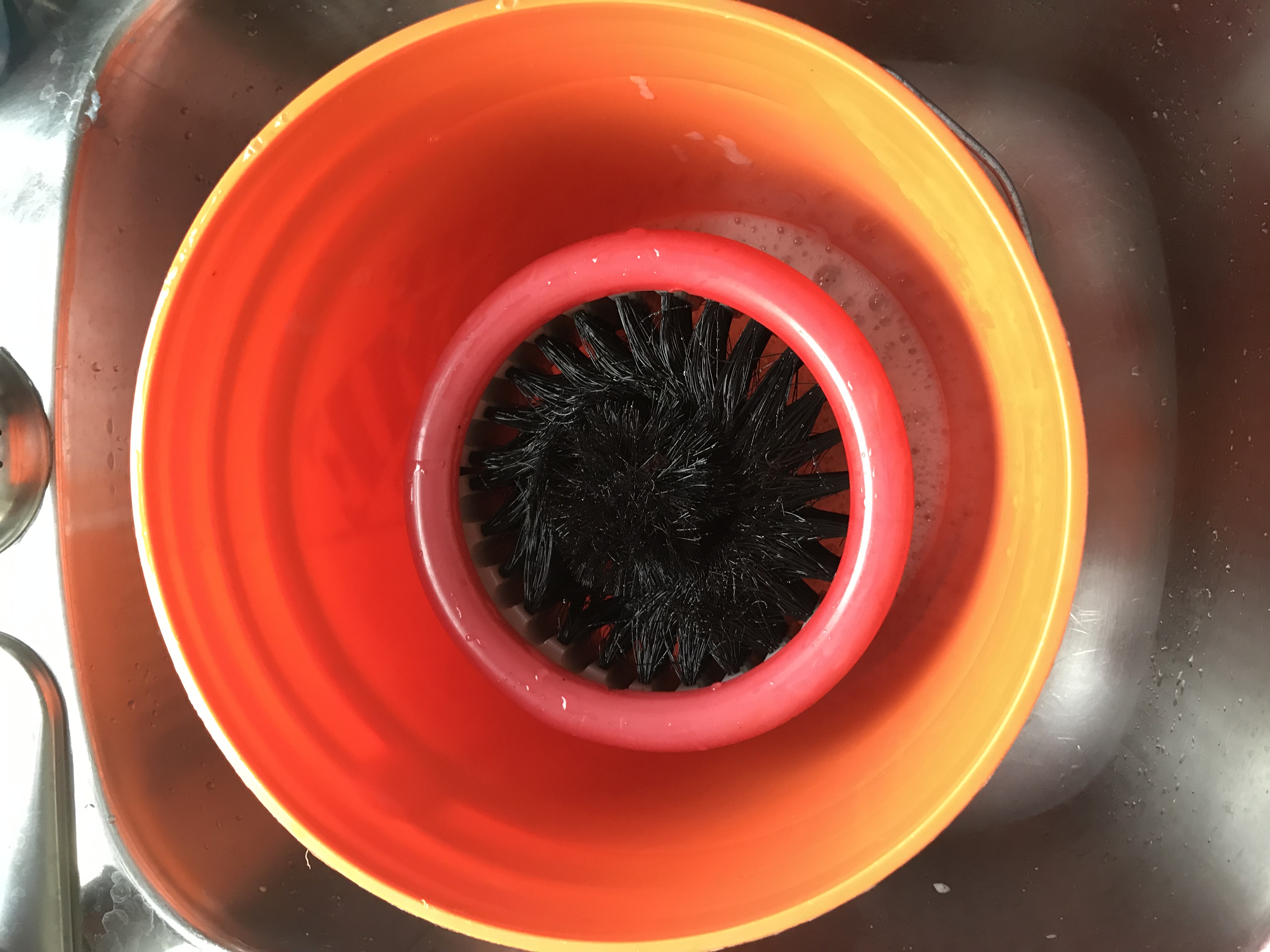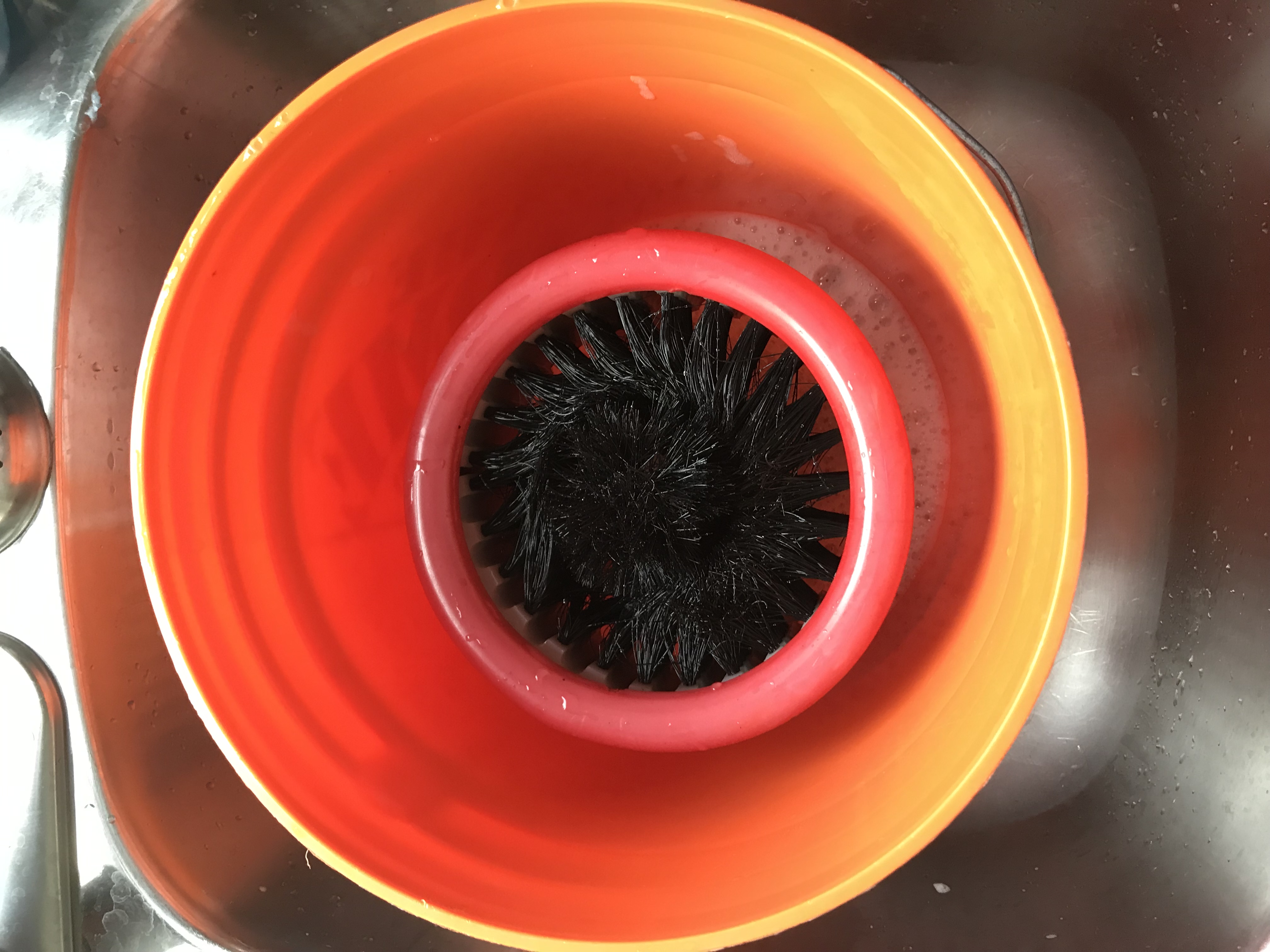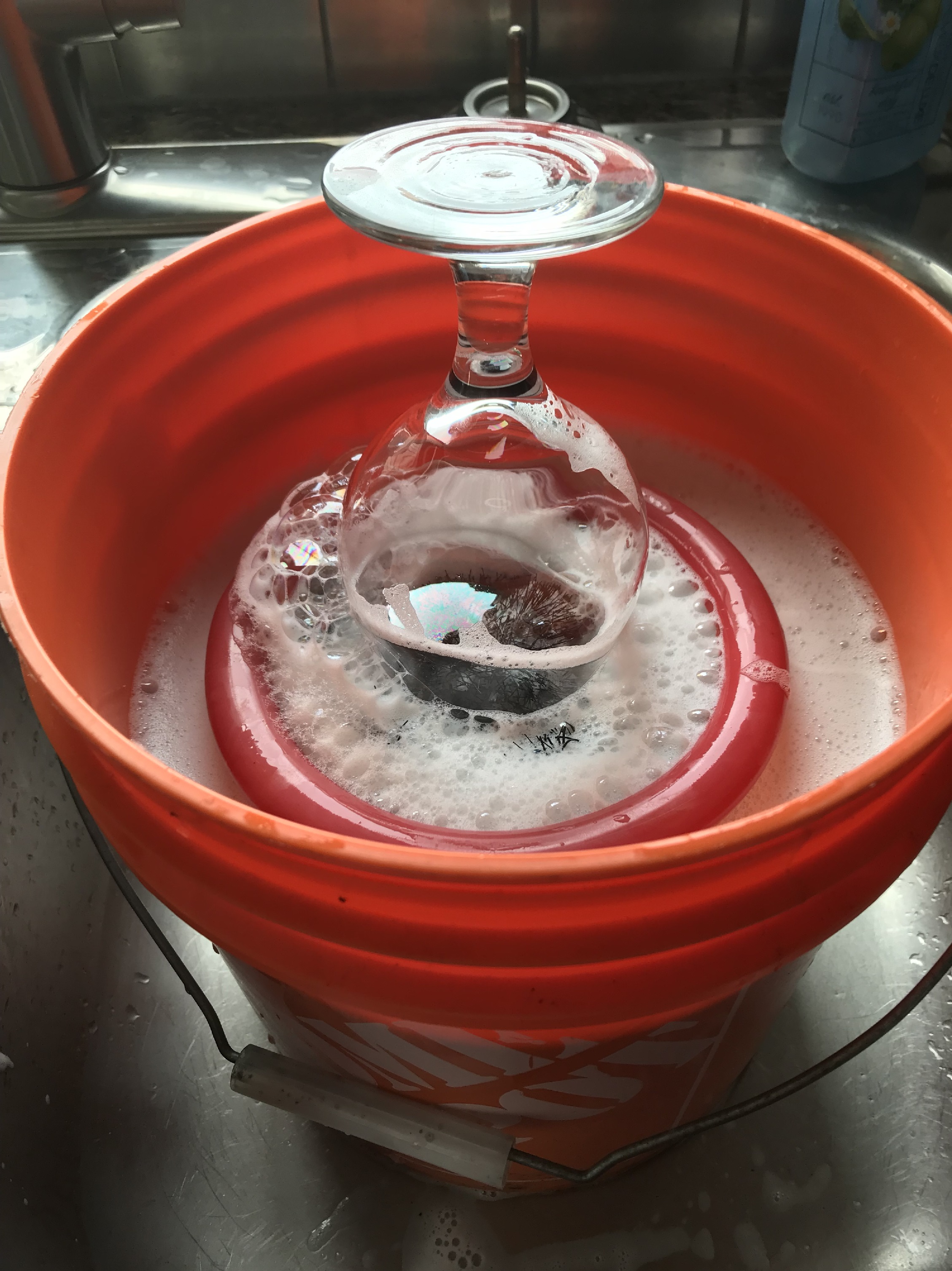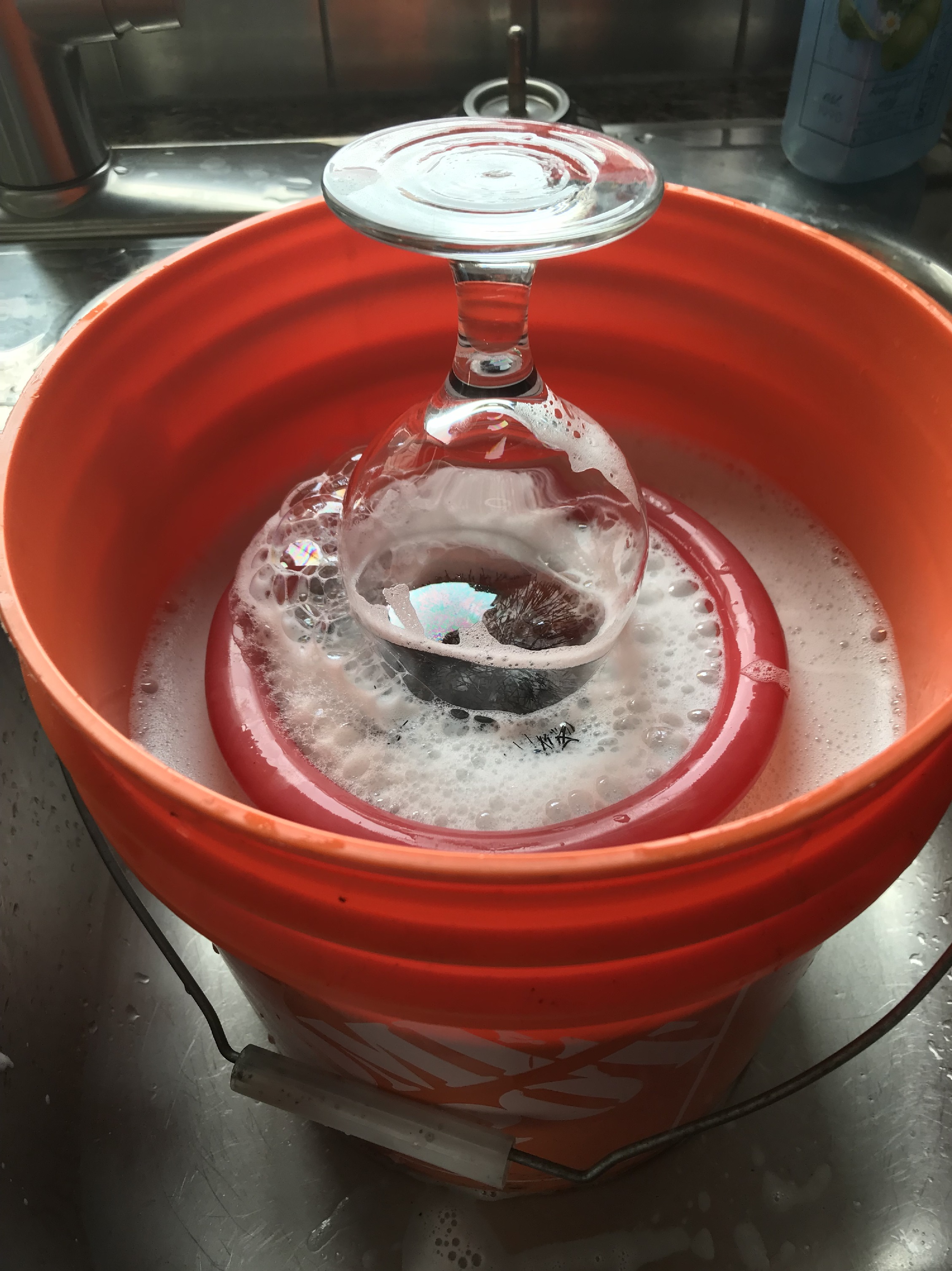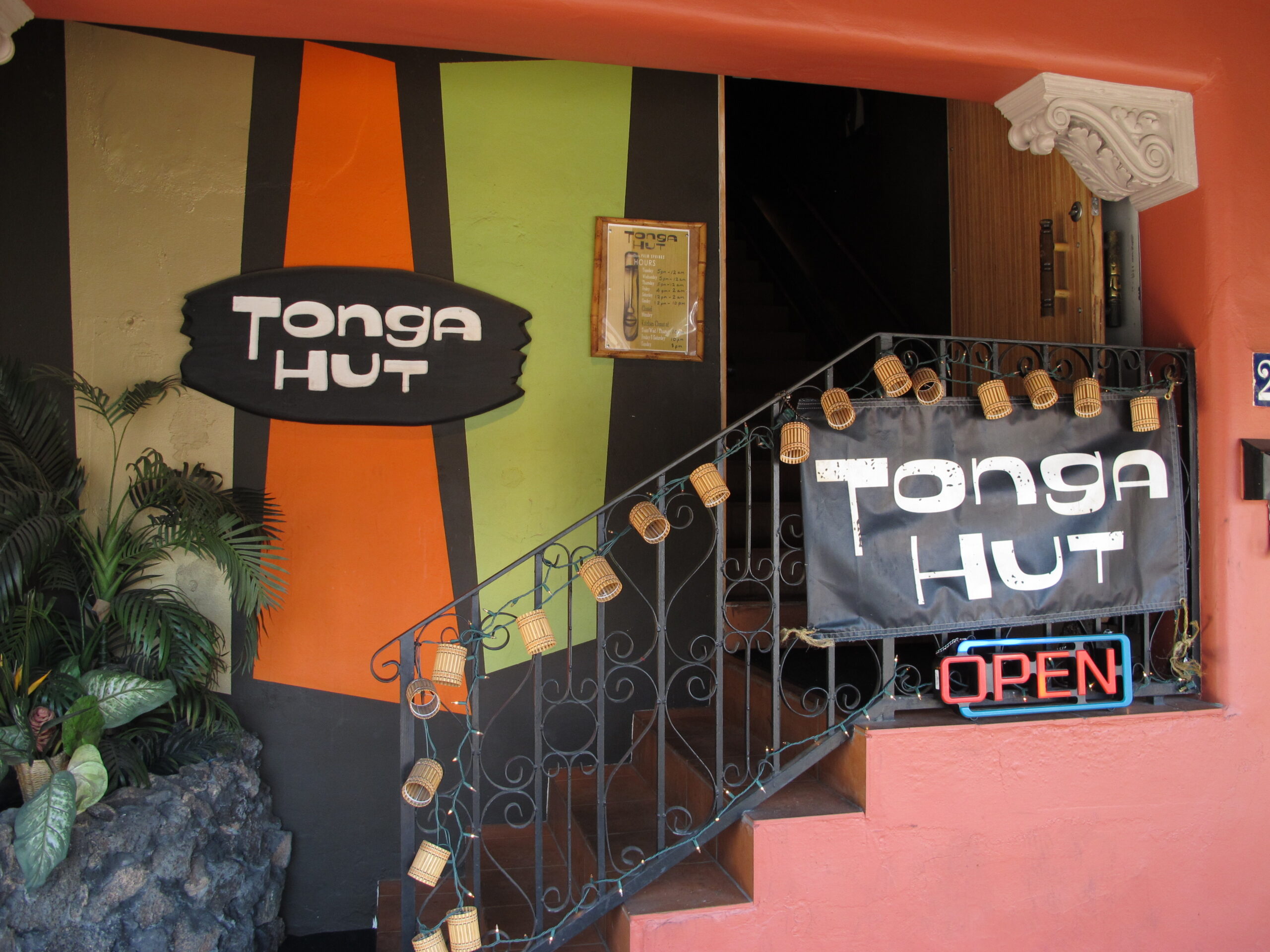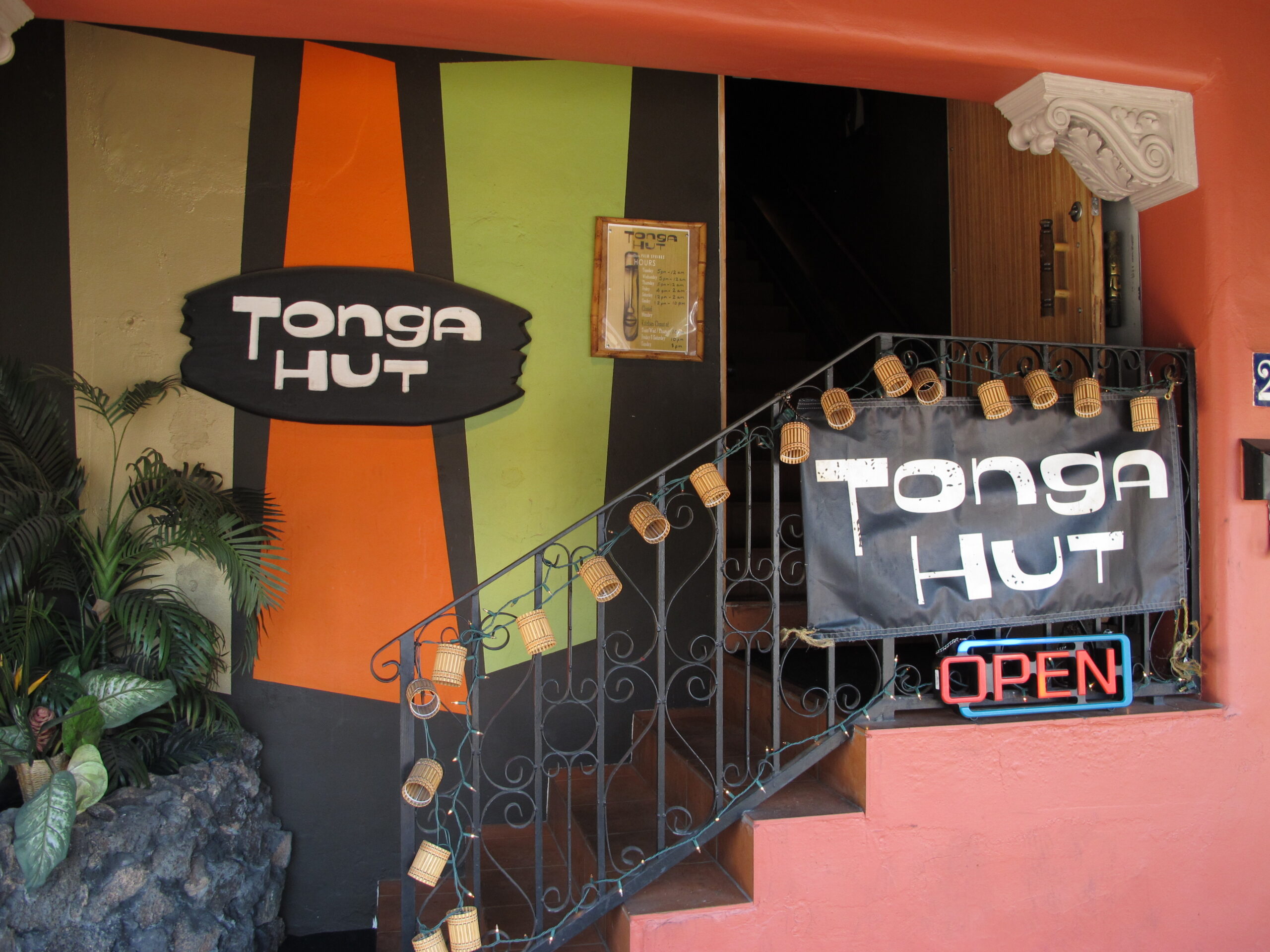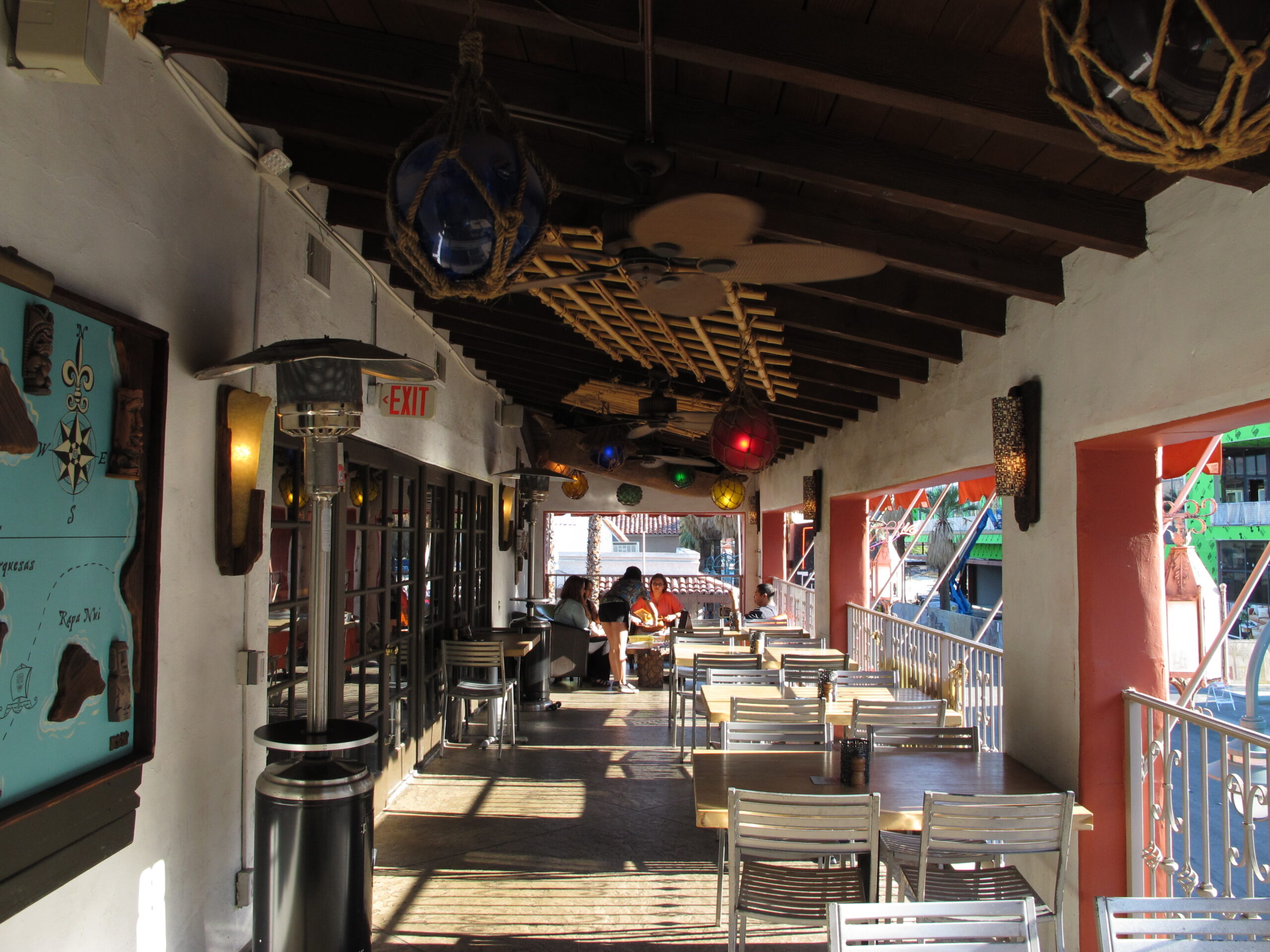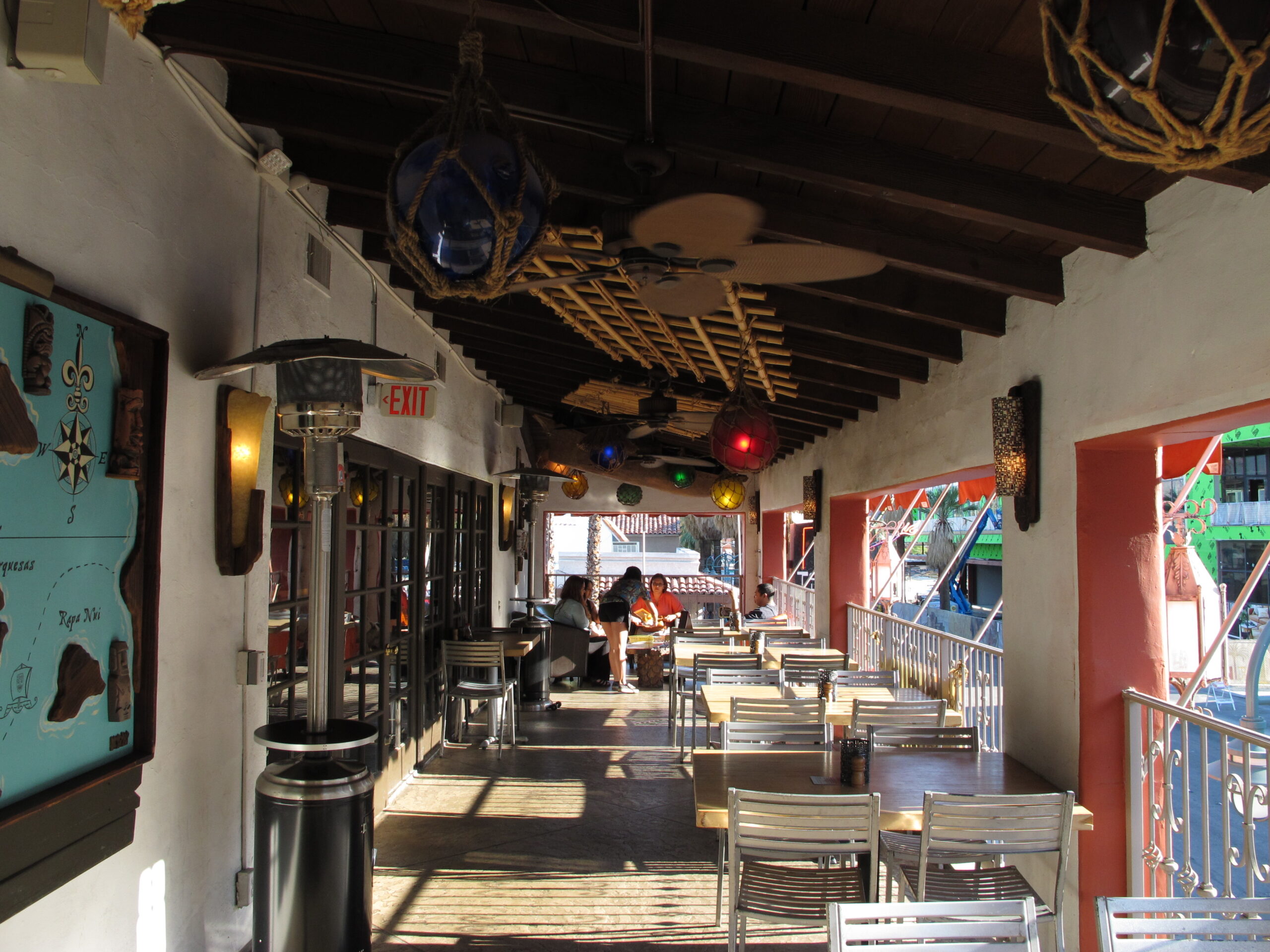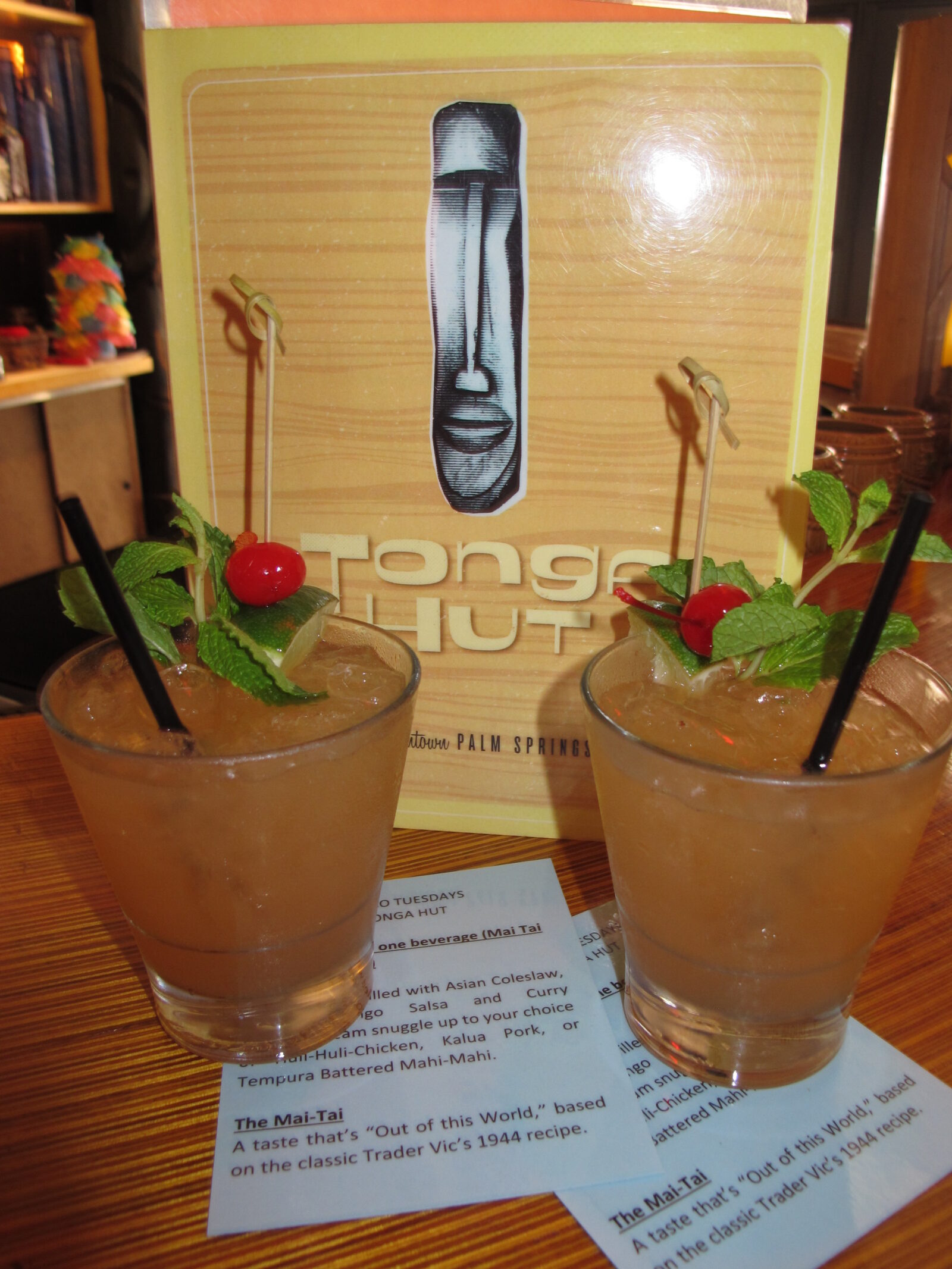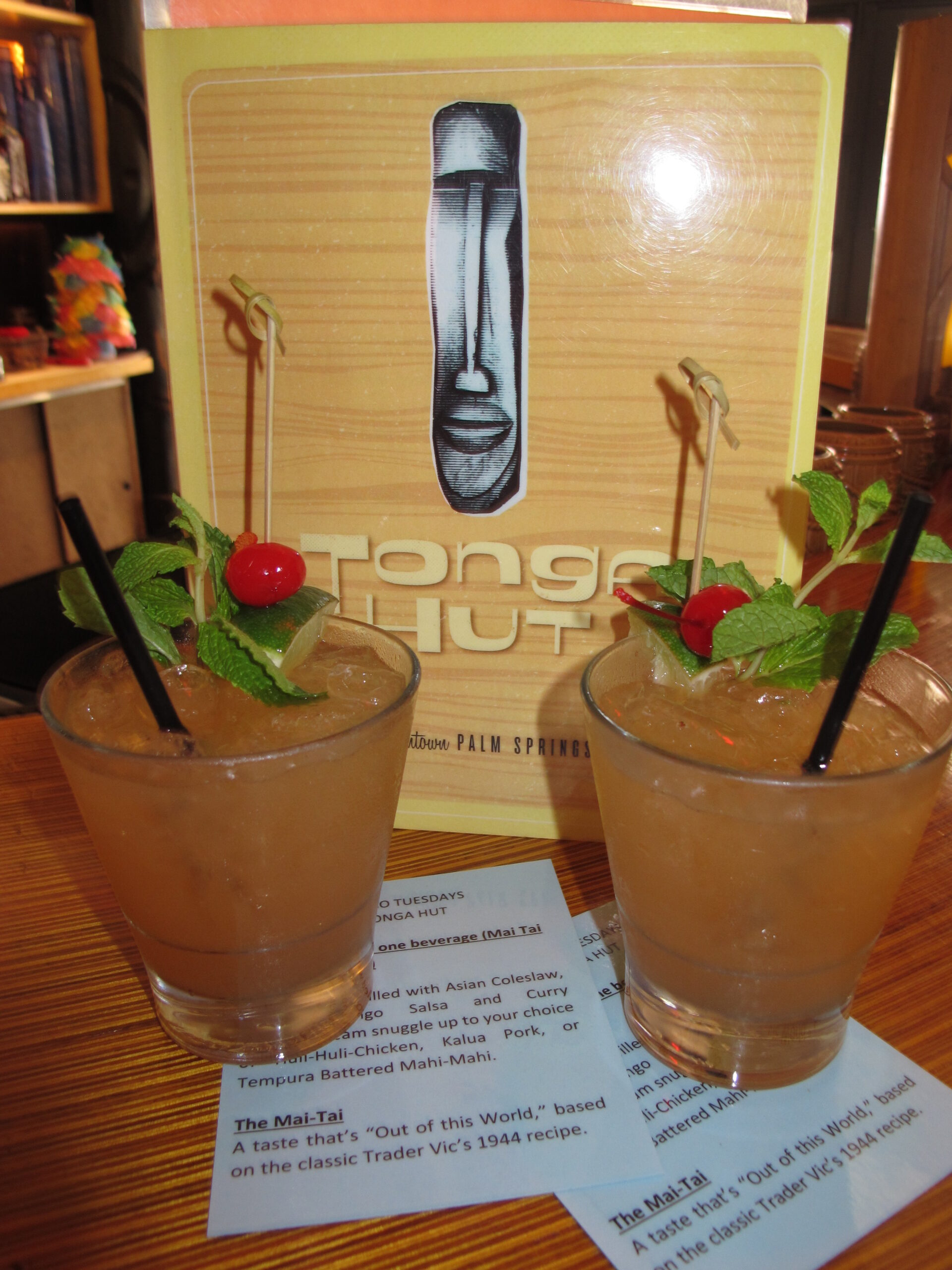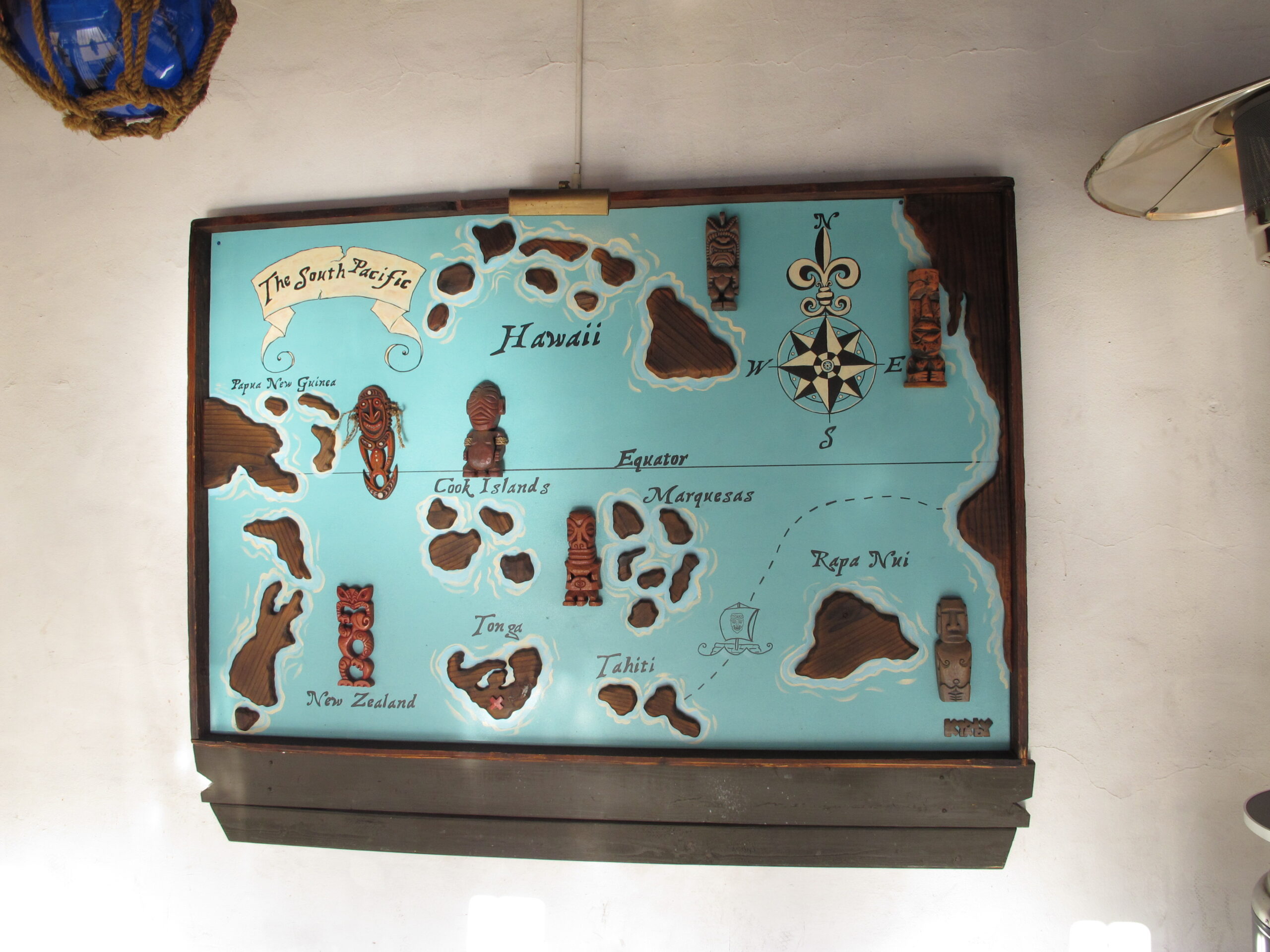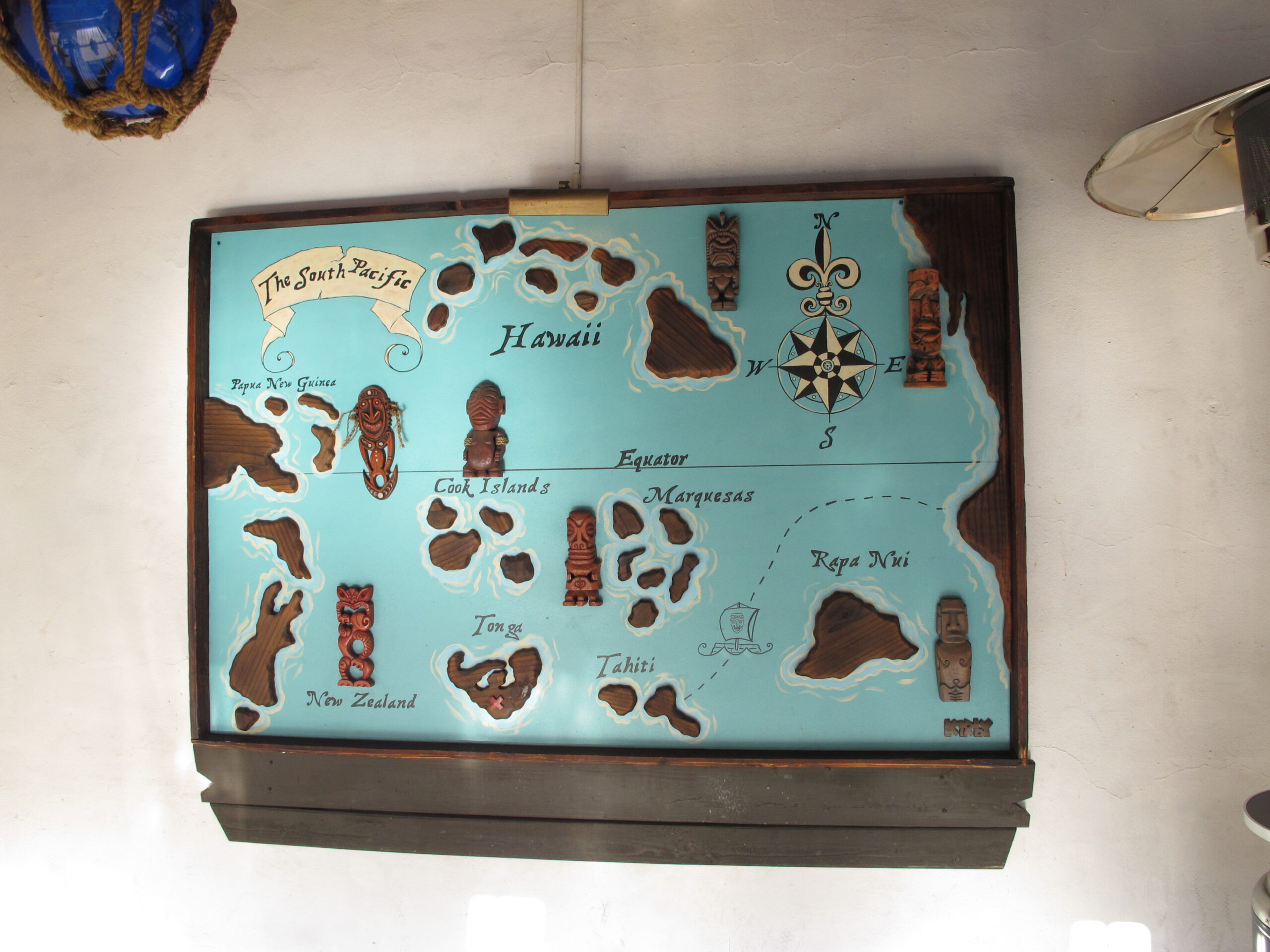 TIKI TI EPISODE:
Mark has gone to an amazing Tiki Bar called Tiki Ti and here is some cool facts we got from that epiosde:
Now legendary tiki bartender Ray Buhen opened Tiki Ti on Apr. 28, 1961 at the site of a violin repair shop owned by his father-in-law on Sunset Blvd in Los Angeles and remains a family run business to this day.
Ray was born in the Philippines on Nov. 9, 1909 and moved to L.A. at the height of the depression and also during prohibition and ended up as a bellhop at the Beverly Hills Hotel. With prohibition about to end the manger told Ray he was going to open the new bar and was sent to the first bartending school in LA. In 1934 Ray joined the other Filipinos working at Don the Beachcomber.
From DTB Ray moved to the Seven Seas and then on to Christian's Hut on Catalina Island. Christian's Hut was built a few years earlier during the filming of the 1935 version of Mutiny on the Bounty by Clark Gable to keep the crew happy and the bar remained after the filming. Accessible only by boat it became a popular spot for the rich and famous to imbibe and enjoy Ray's cocktails. Ray would then to go on to work many of the LA bars including The China Trader and The Luau. Originally ray thought he would open a bartender school, but people convinced him he needed his own bar. By the time Tiki Ti opened in 1961 people started asking " Where's Ray " and Tiki Ti was the answer.
Tiki Ti : the Bar what's it like?
While most other Tiki bars fell by the wayside, it is indeed a testament to the drinks of Ray Buhen and continued on with his Son Mike, his grandson Mike, who along with Greg continue that Tiki spirit live in this small bar. Did I say small? It's tiny. There are only 12 stools and a few tables. It is open Wed.- Sat from 4:00 until closing. It only recently went smoke-free. It is still cash only. It goes against all the things a tiki bar is supposed to have. No food, no music, just great drinks and amazing atmosphere and history. Check the website as they take holidays and it can be closed. We ended up going 3 of the 5 nights we were in LA.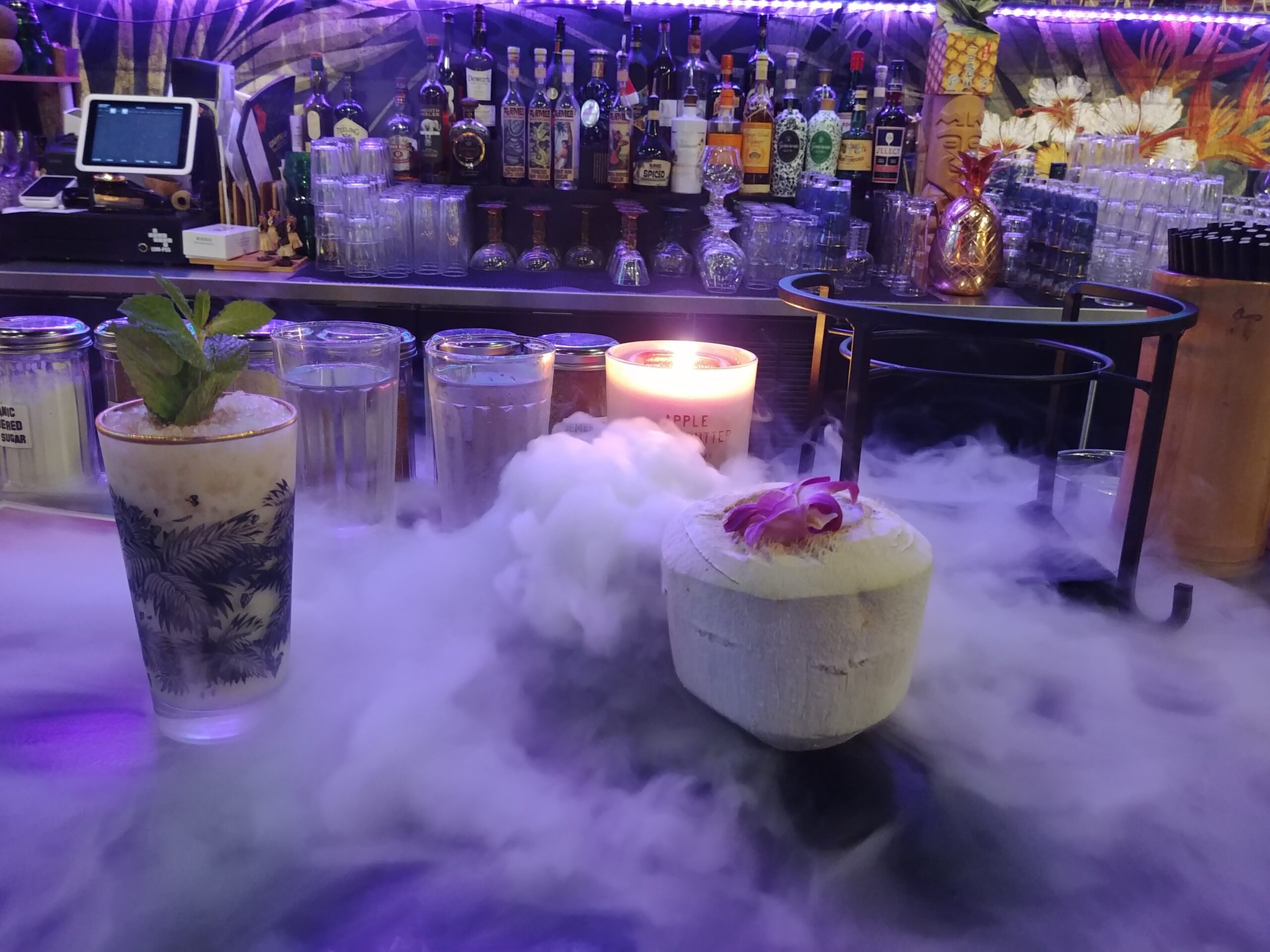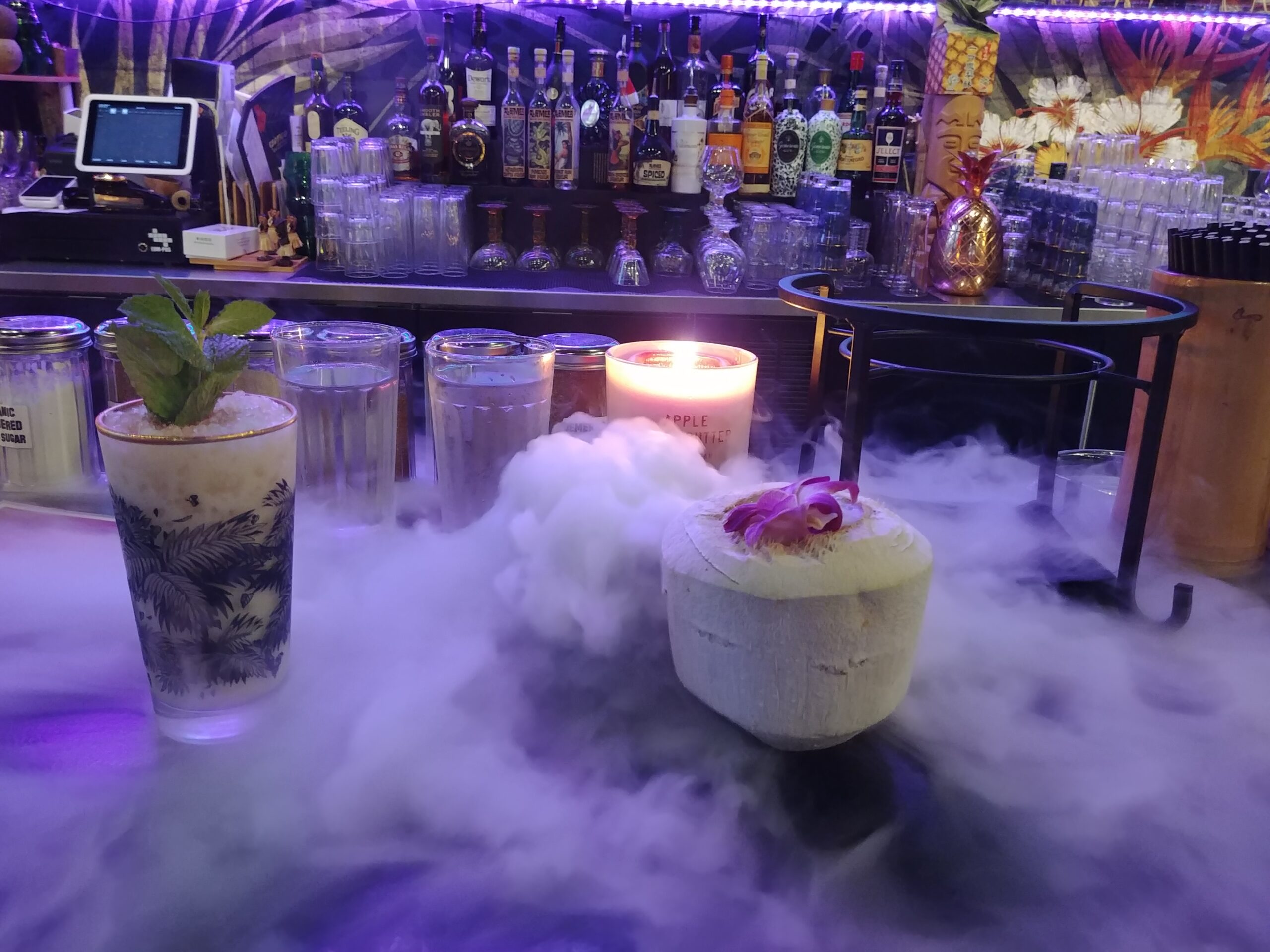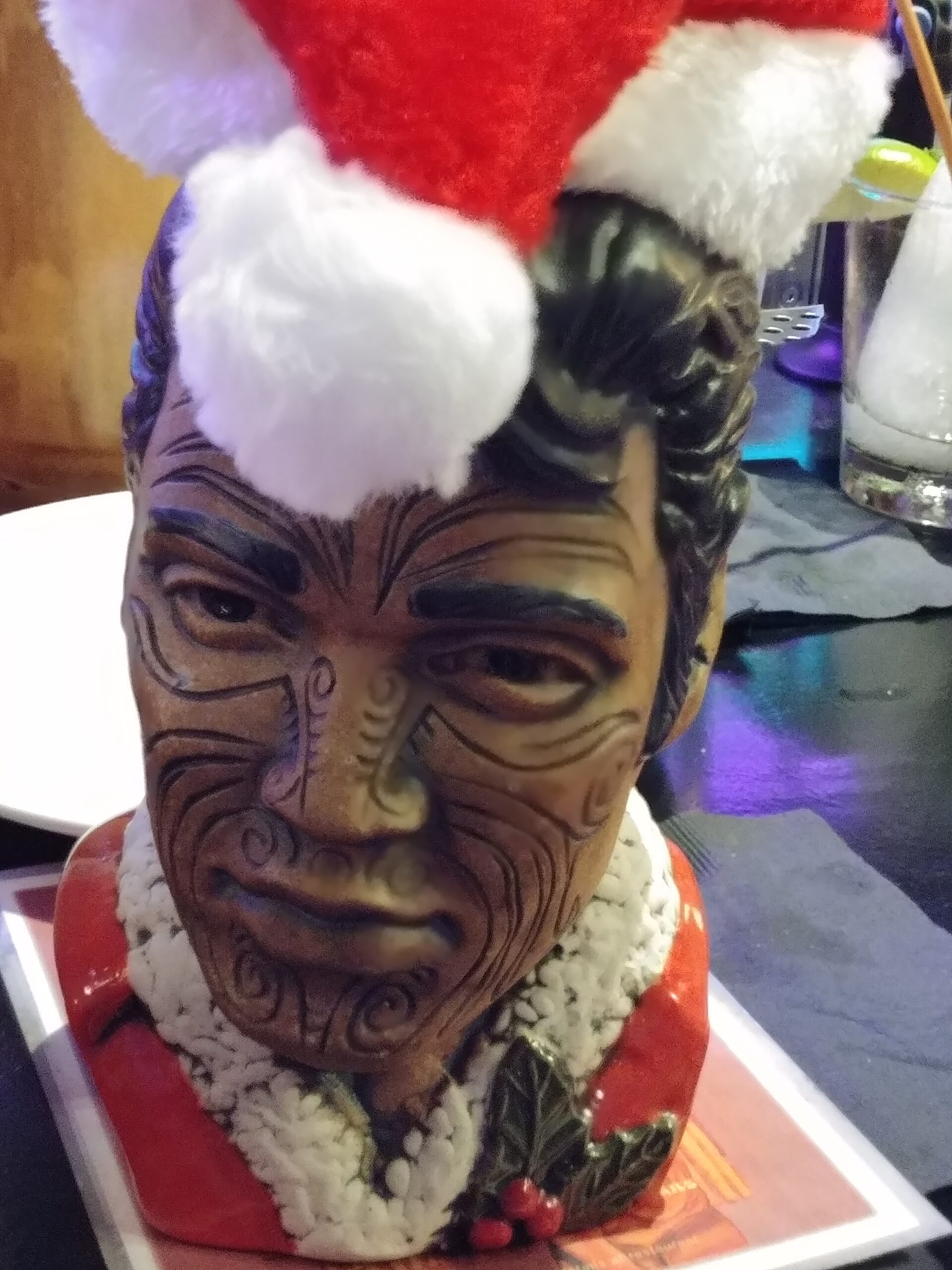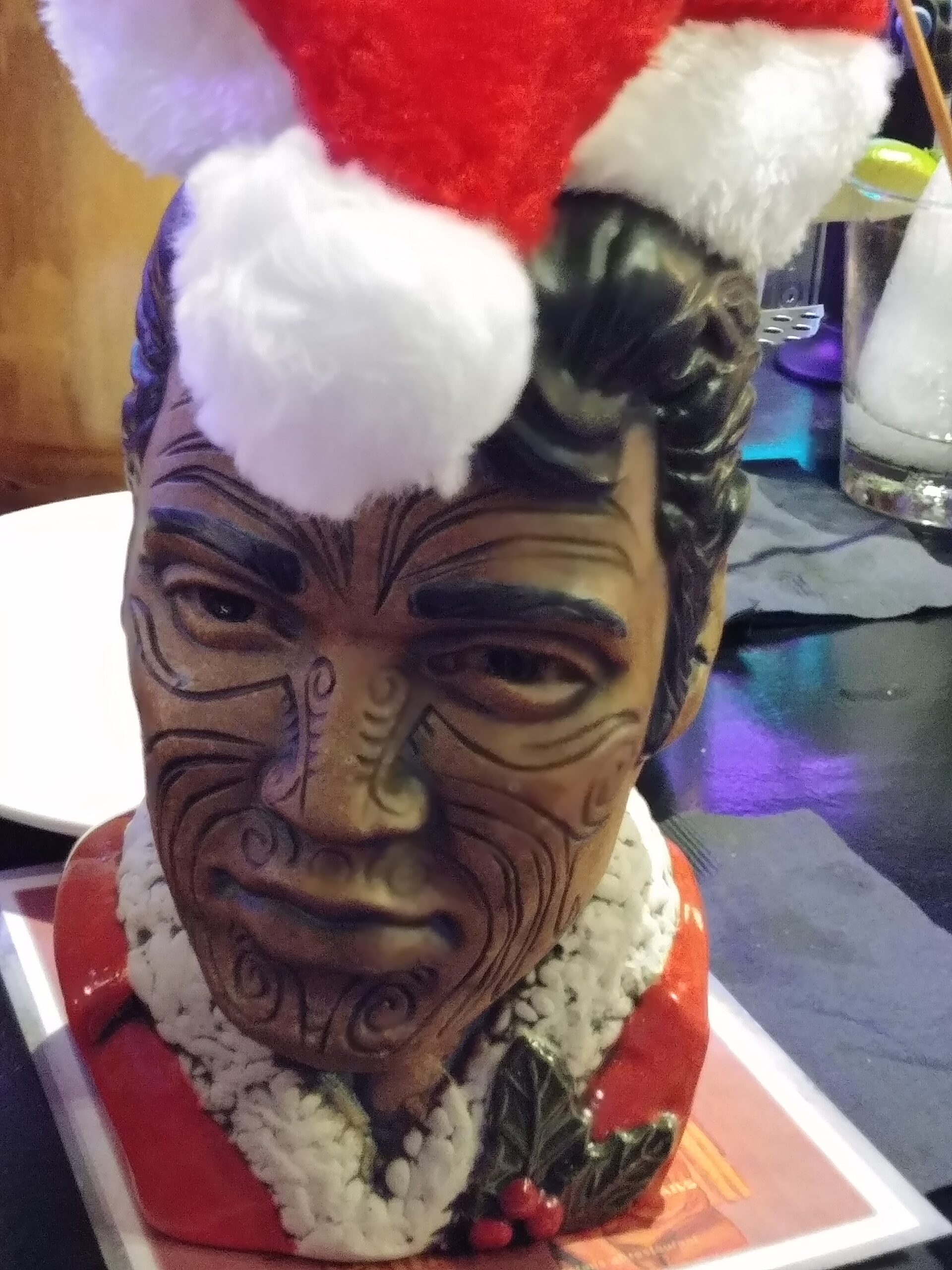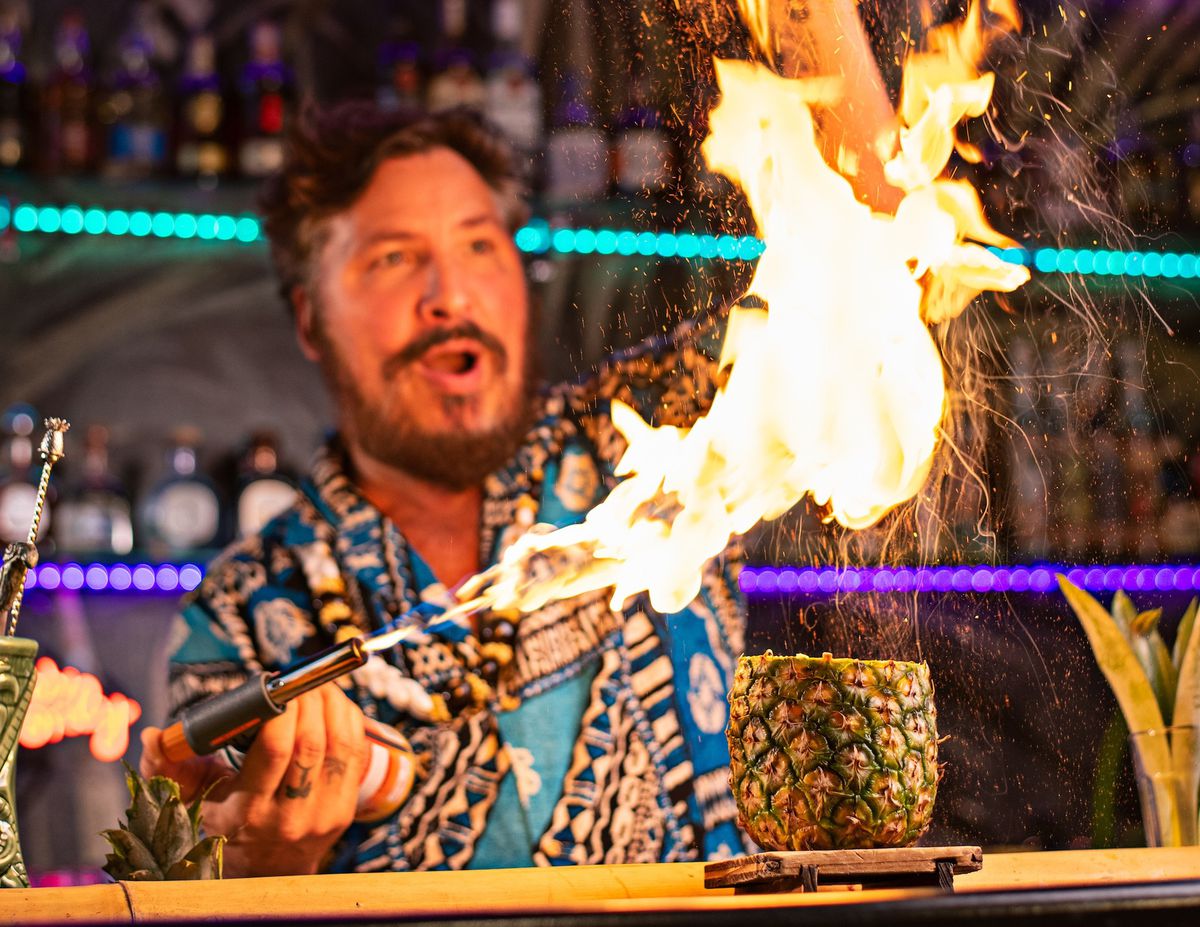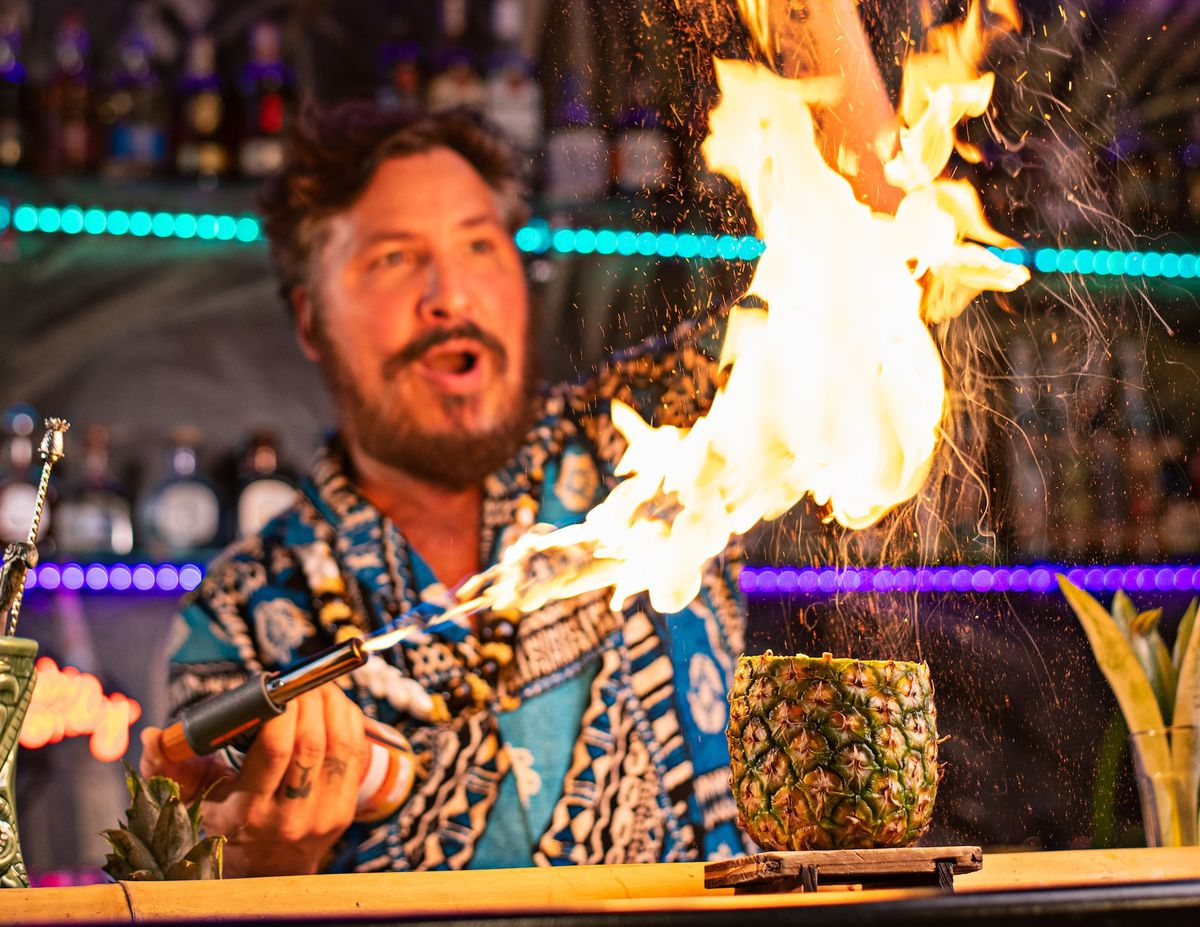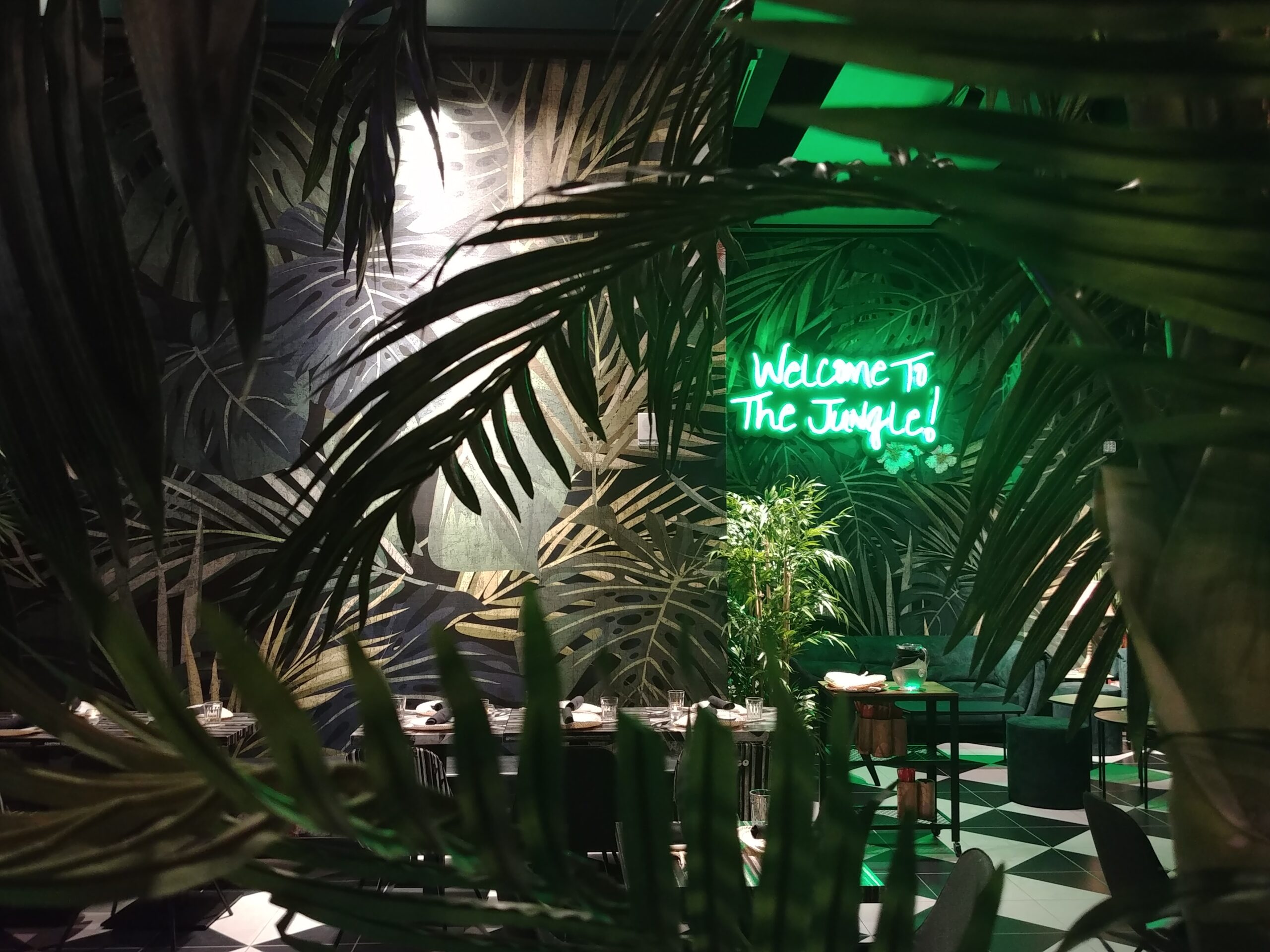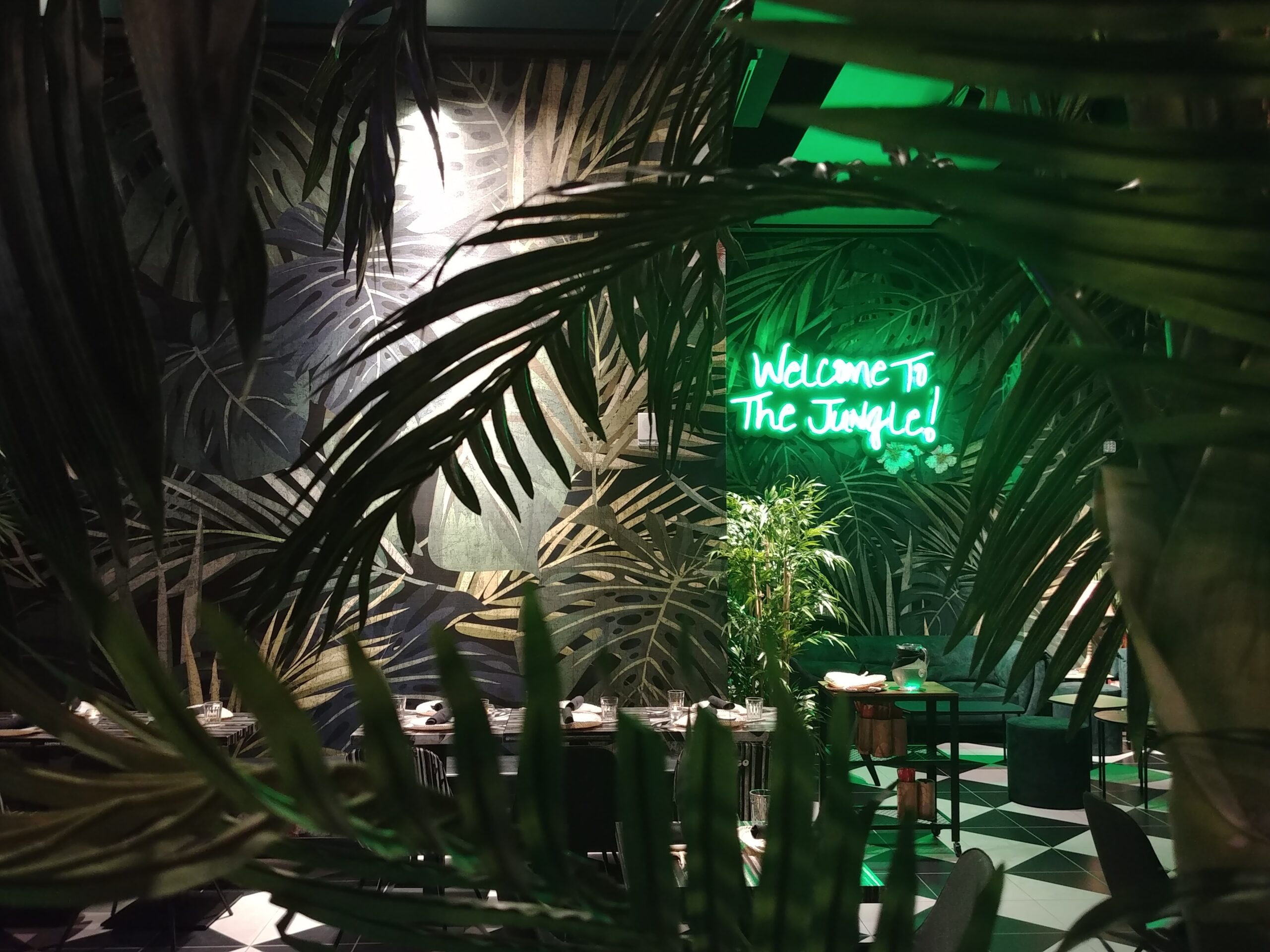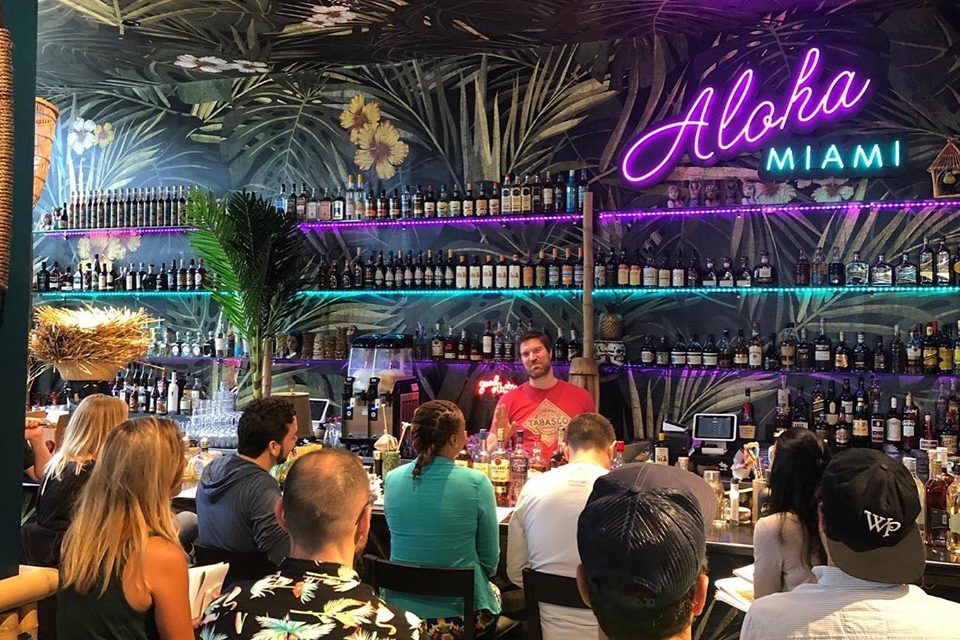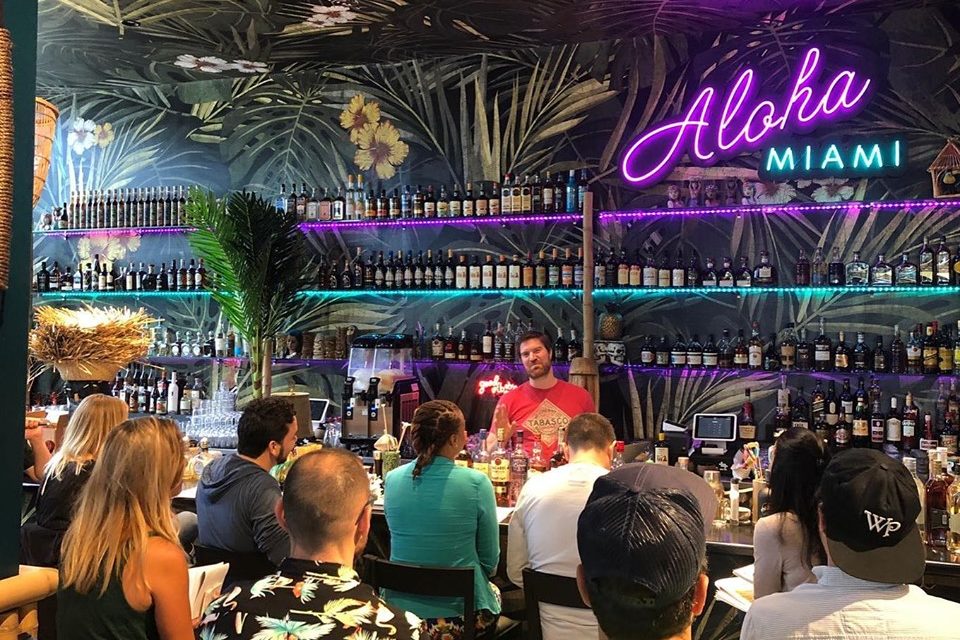 ESOTICO EPISODE:
Mark has gone to an amazing Tiki Bar called Esotico and here is some cool facts we got from that epiosde:
Esotico is the latest operation of Italian Daniele Dalla Polo. Winner of the 2011 42 Below world cup and nominated at Tales of the Cocktail for International Bartender of the year, Daniele approaches his cocktails from the tropical side, with numerous citrus infusions and syrups. His bar in Bologna Italy the Nu Lounge is listed in the top 100 on the Drinks International list and got an award for best rum bar in Italy. Daniele has even created his own line of infused liqueurs.
Opening just this last August, Esotico has a very tropical ambiance all throughout the bar, both inside and outside, and is just a 10 min. walk to the water at Margaret Place Park & a 30 min walk to downtown Miami. Drinks are numerous and colourful and while there are numerous rums available, including a rum club, there are several cocktails using tequila, gin and vodka. My favourite of those being the Tangaroa's Butt which consists of Mezcal, Wray & Nephew Overproof and Mount Gay Black Barrel rum. Daniele's favourite citrus is easily the pineapple. I had the pleasure of taking a pineapple class by Daniele a few years ago at a tiki event and it was a blast.
Is this drinking only. Is there food?
Food was also great. Many choices. Want something different? Octopus Hot Dog. Foot long Octopus tentacle with a Mezcal cucumber relish and sriracha mayo on a brioche bun.
Was able to taste numerous cocktails and favs were El Tikilero, tequila, Mezcal, pineapple, allspice dram, and a secret blue agave. The other was Daniele's renowned Sexy Colada with Bacardi Carta Ora, cream of coconut, pineapple juice, coconut water, and a little ginger.
If in Miami Esotico is a must-do.
https://www.esoticomiami.com/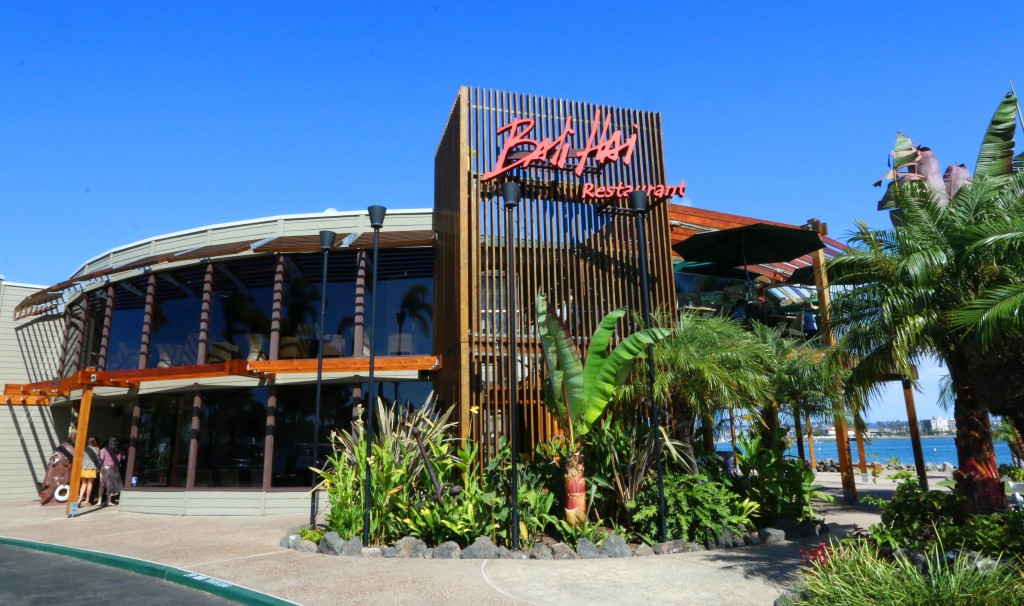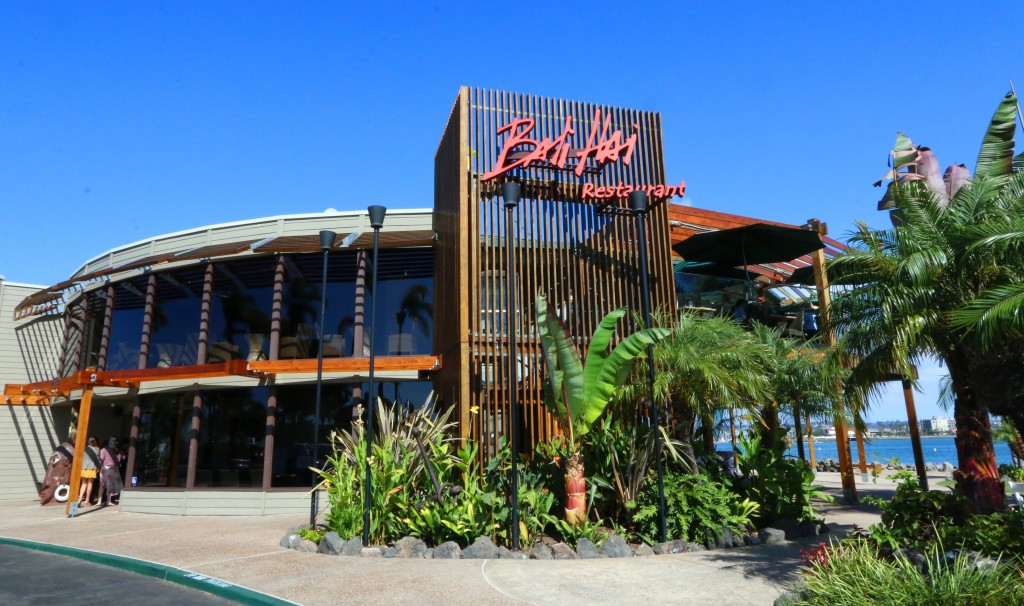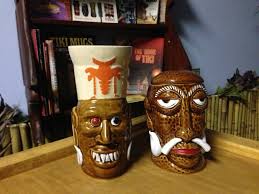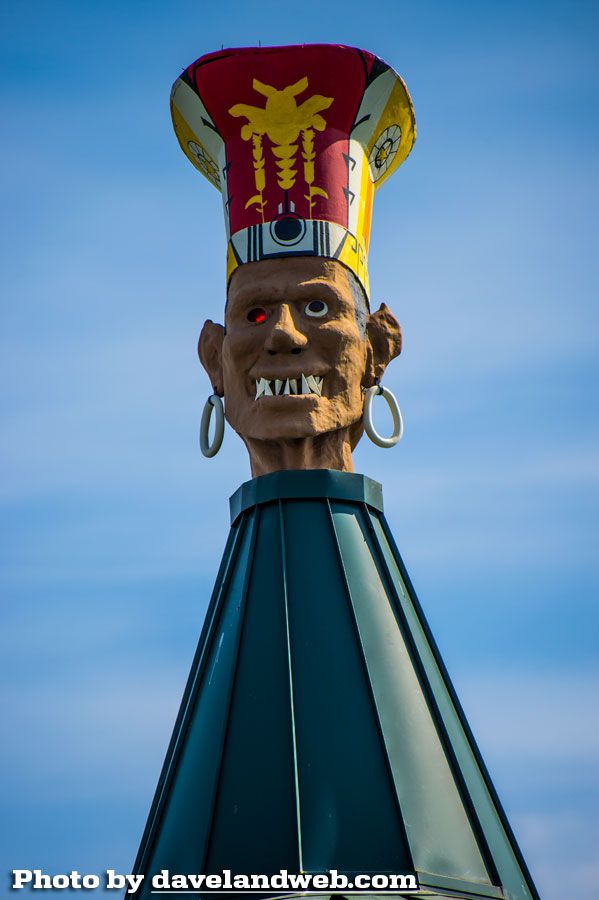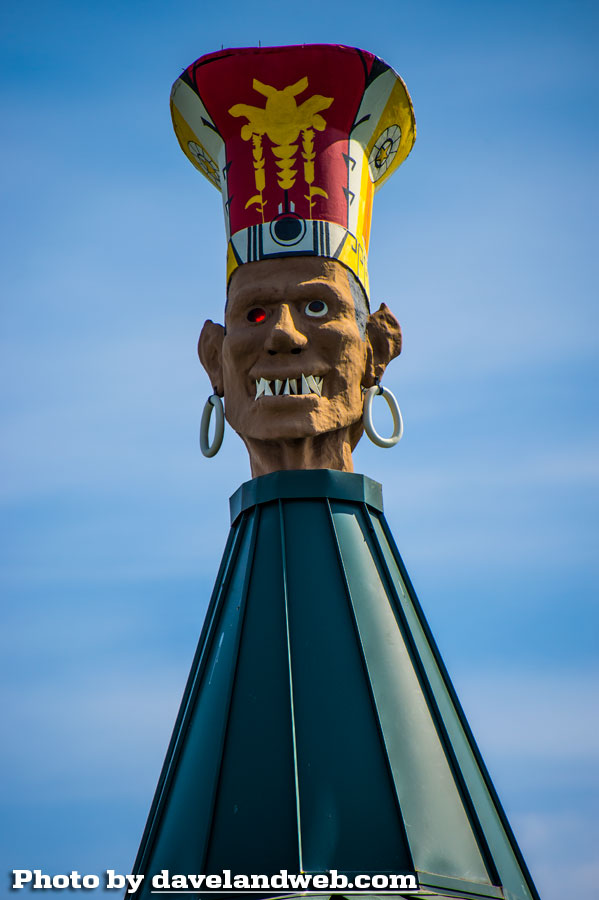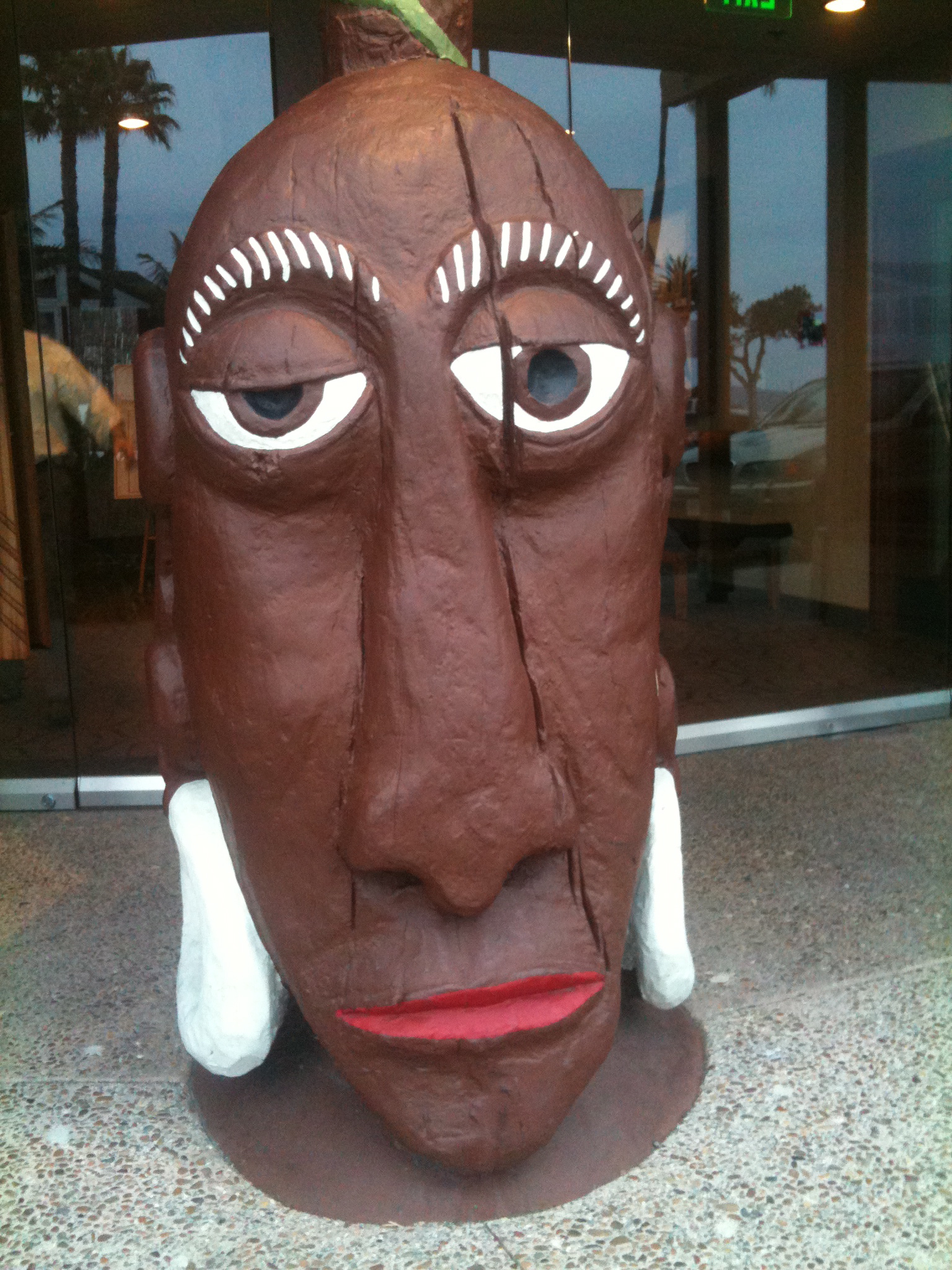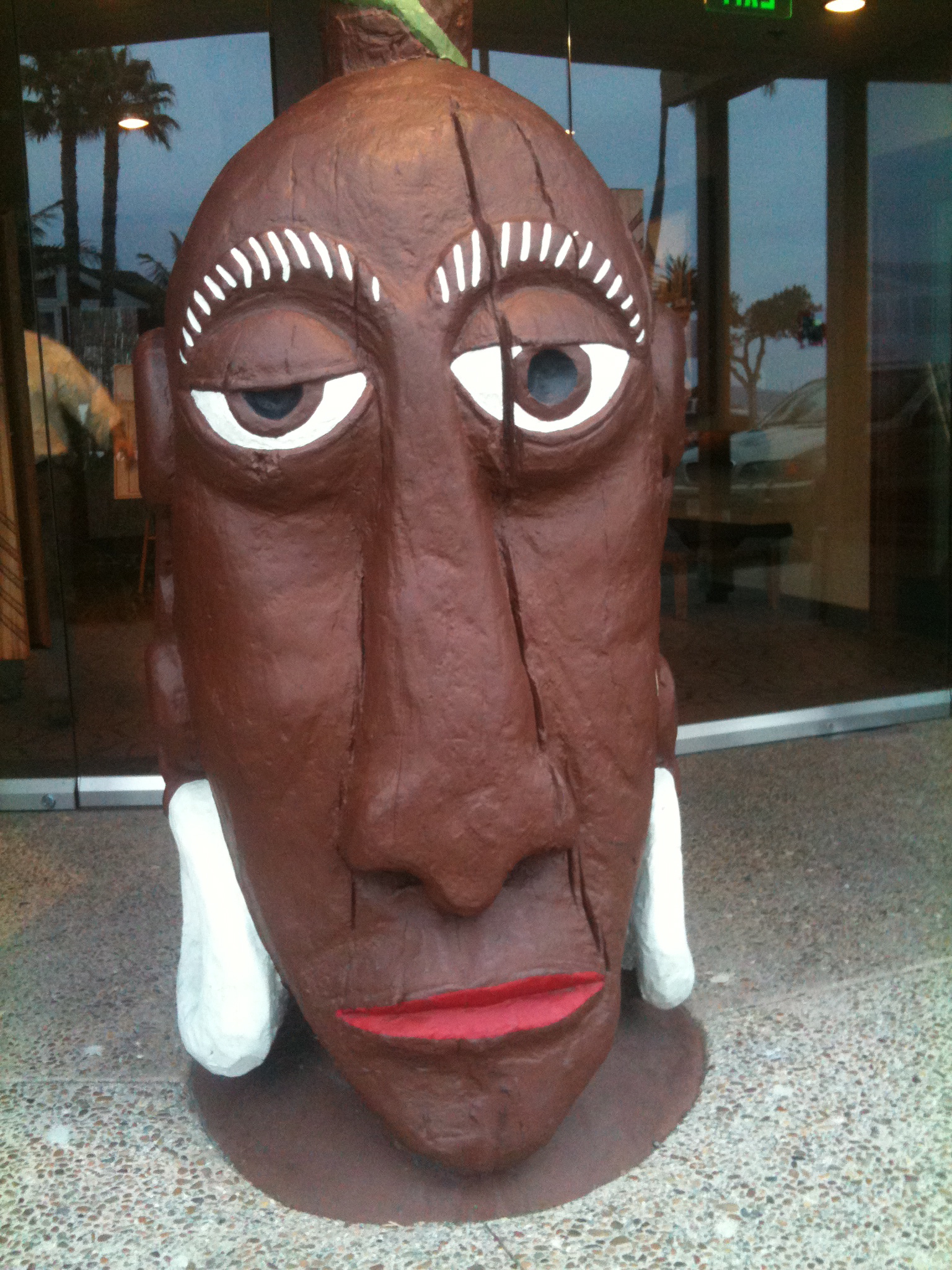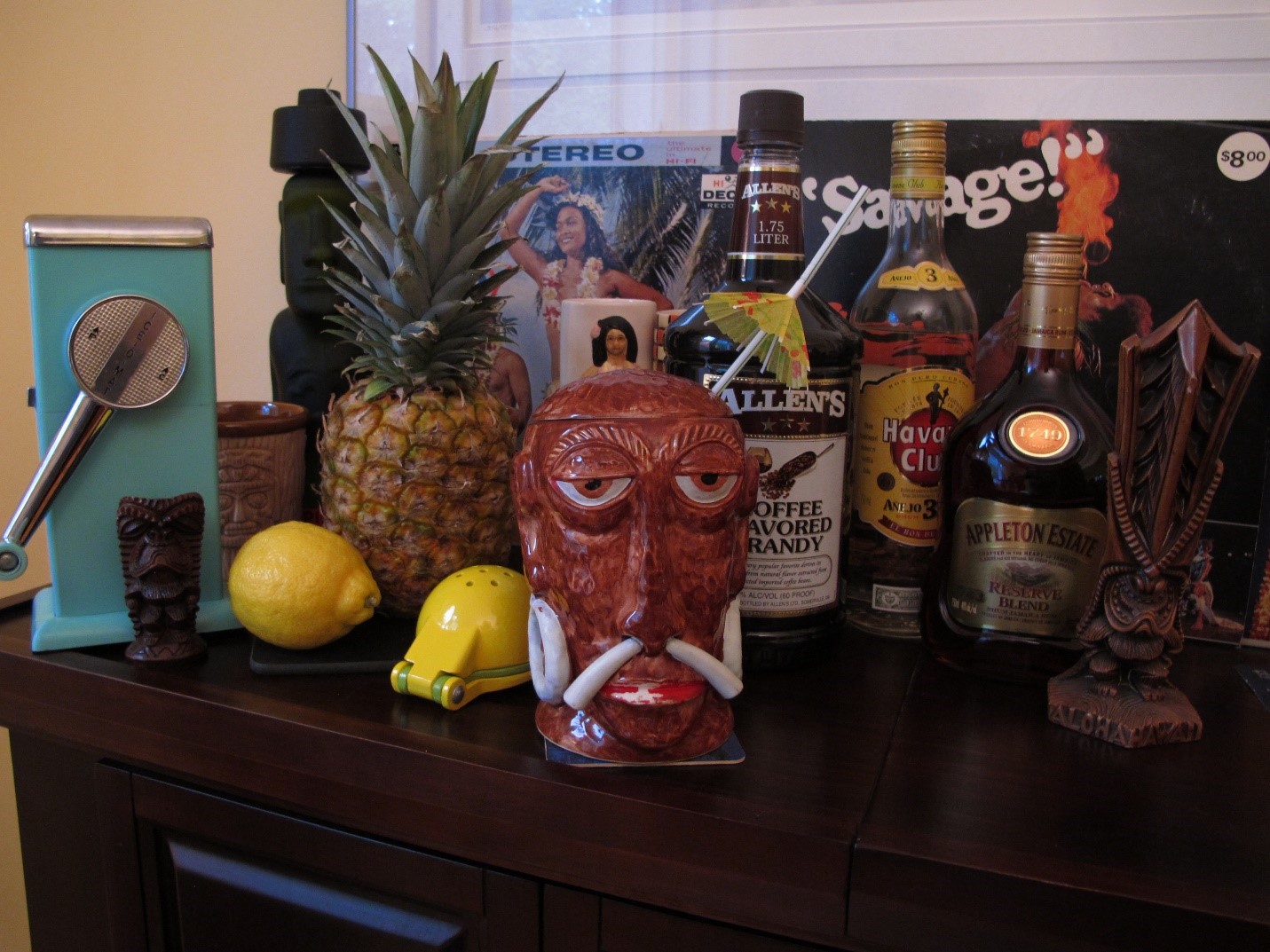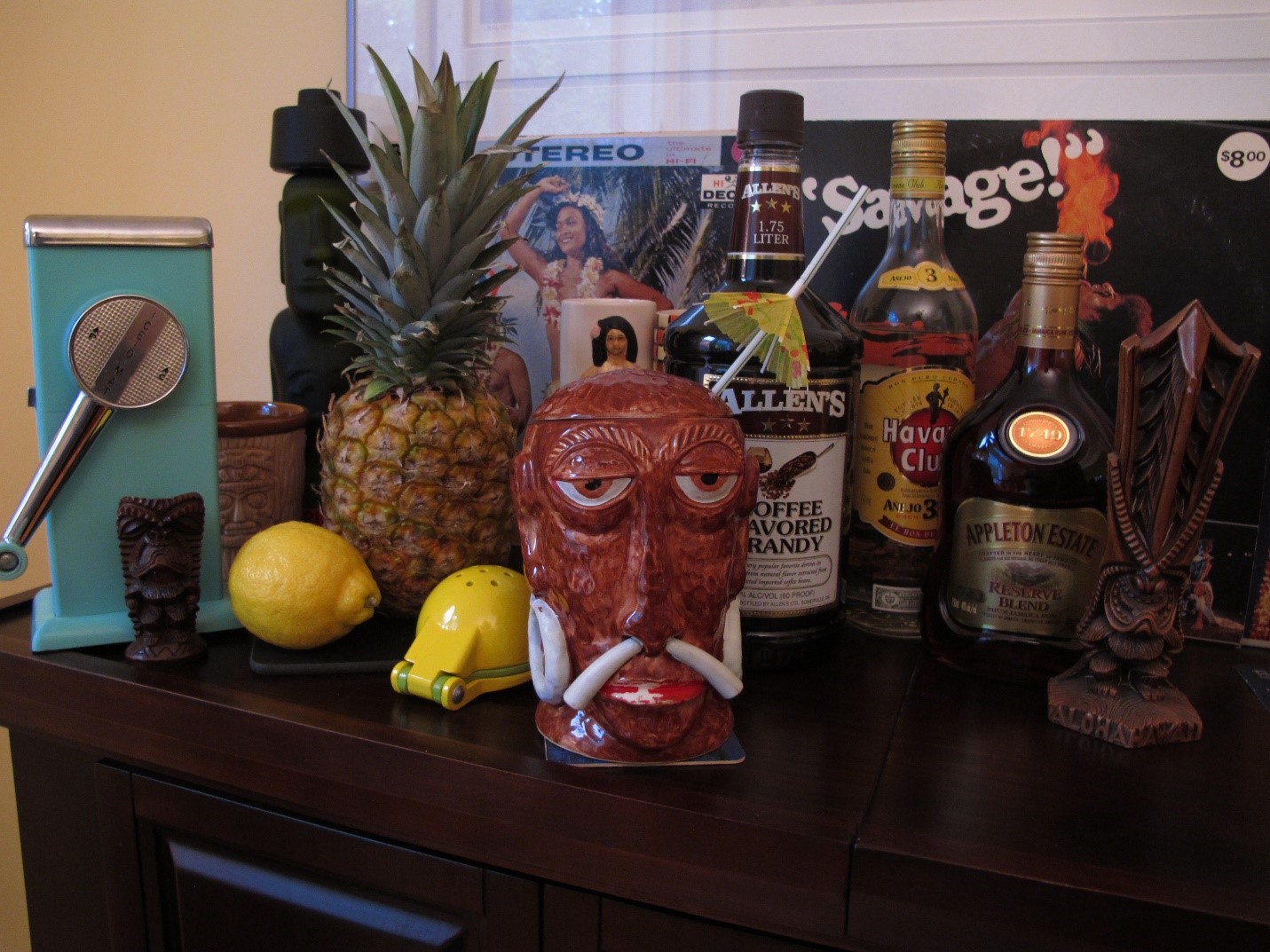 BAHI HAI EPISODE:
Mark has gone to an amazing Tiki Bar called Bahi Hai and here is some cool facts we got from that epiosde:
The Bali Hai is in San Diego very near the coast on an area called Shelter Island, which overlooks Coronado Island in the bay in San Diego. This was part of our SoCal tiki tour which took us from Ventura, north of L.A. down to San Diego and back up to L.A.
Now one should know that Shelter Island is not actually an island, connected to the city by a strip of land. Originally it was just a sand bar but was built up with materials dredged up from the bay in 1934.
Christian's Hut or just The Hut as it was called spared no expense on the place, so much so that after one year it went bankrupt, not once but twice. In 1954 it was grabbed by a LA investor whose accountant Tom Ham who had gone down to assess it and was shortly re-opened as the Bali Hai with Tom as the owner.
Unlike the dark interior-style tiki bars, the Bali Hai has a lot of glass with an amazing view of the harbour.
Well besides food and location, they have several great original cocktails including the Paralyzing Puffer Fish, Mr. Bali Hai and the Goof Punch, more on those two in a minute, the big draw is their version of the Mai Tai. It is very boozy. It is all alcohol. Surprisingly smooth for so much booze. Normally priced at $9.25 for happy hour price starts at $6.25 and the price increases by $1 each hour.
They have a running tote-board of the number of Mai Tais they have sold as of today it is over 2,651,000.
And as mentioned The Goof Punch, and Mr. Bali Hai are the local mug characters available with those cocktails as souvenir mugs.
Characters?
Yes. Mr. Bali Hai are the mascots of the bar. The Goof, well it's just his head, sits high up on top of the bar. The Goof came from the original Christian's Hut, but no one knows how he got the name. The Goof adorned the roof of two of the previous Huts and overlooks San Diego. Mr. Bali Hai is a large sad-eyed cannibal head statue outside the Bali Hai door and has also been there since the beginning. He's been re-furbed a few times and no longer has a bone in his nose from kids standing on them.
Mr Bahi Hai recipe: (courtesy of Jeff Berry and Intoxica! )
1 1/2 oz of dark Jamaican rum.
1 oz light Puerto Rican rum.
3/4 oz coffee flavored brandy.
1 1/2 oz pineapple juice (unsweetened)
1 oz lemon juice.
1/2 oz of sugar syrup
And of course, served in a Mr. Bali Hai mug.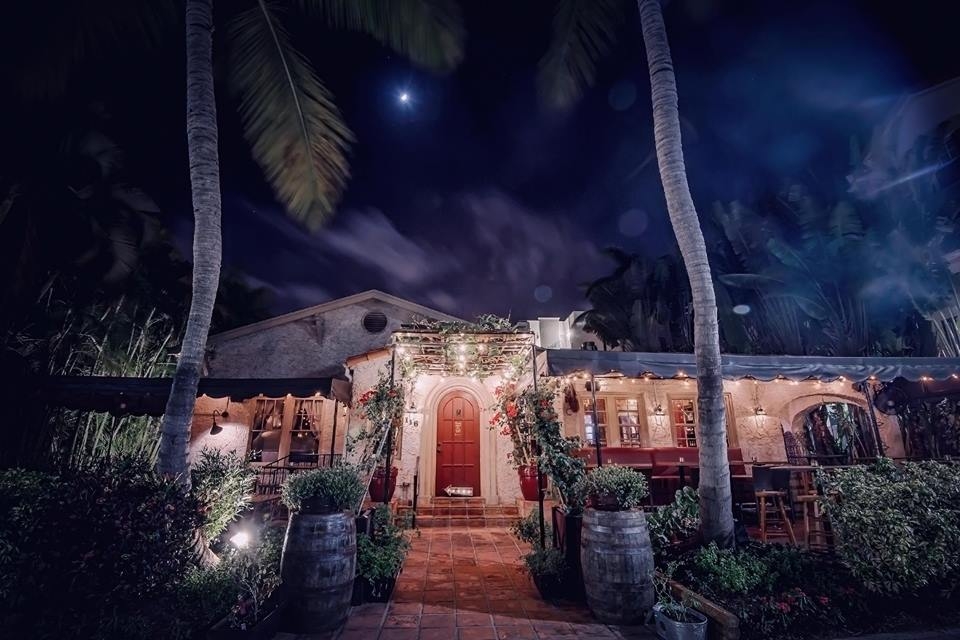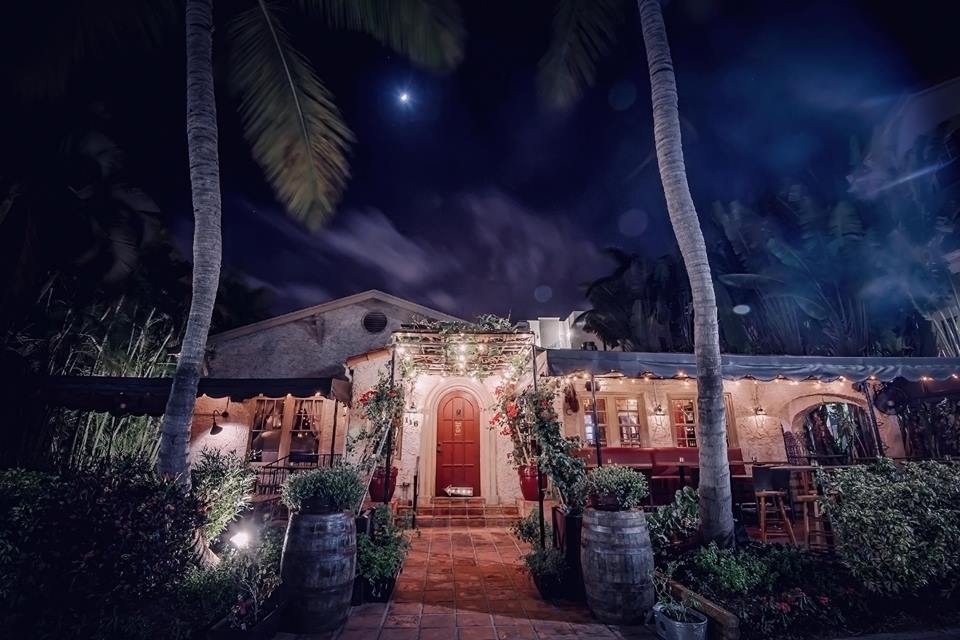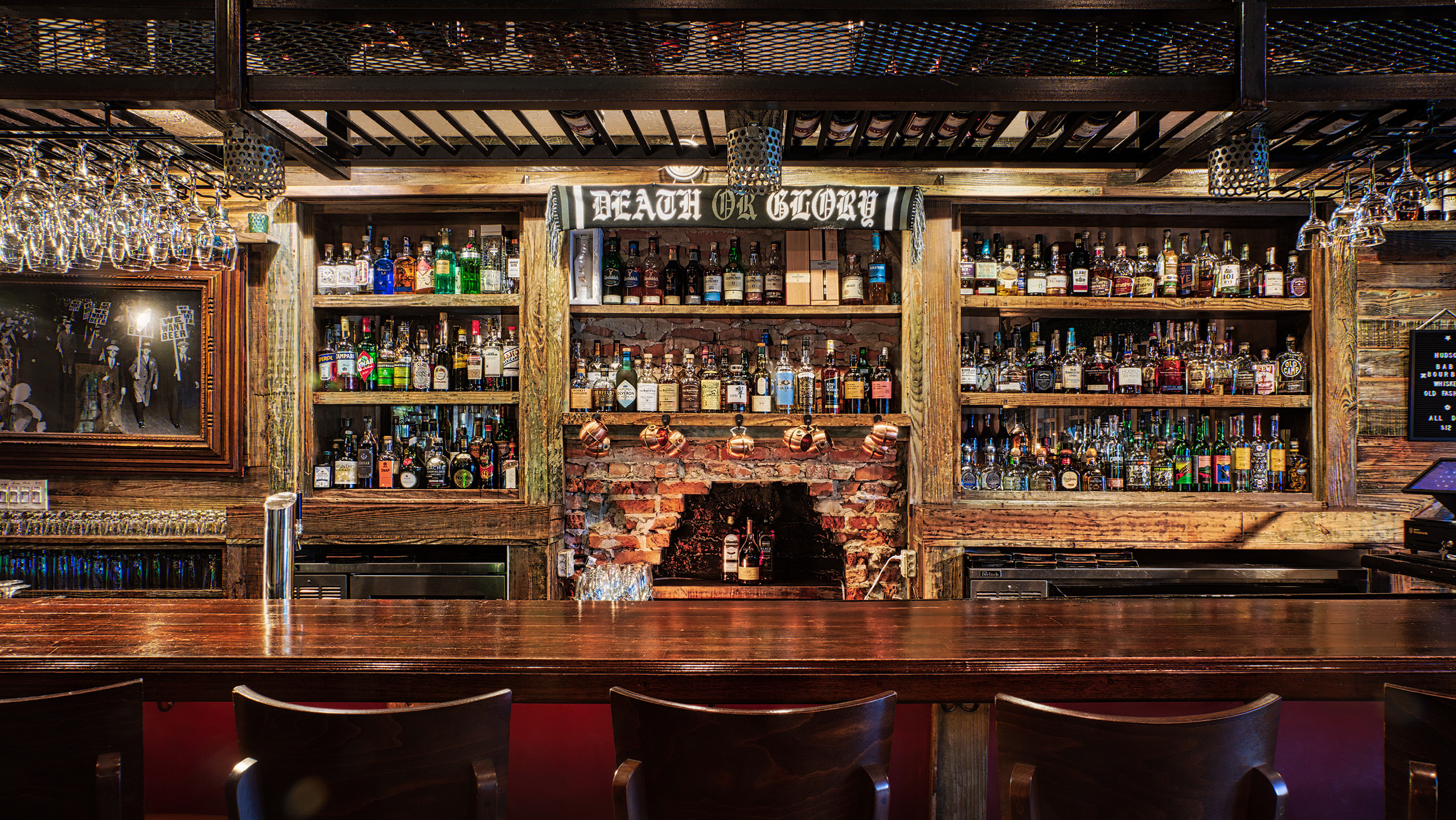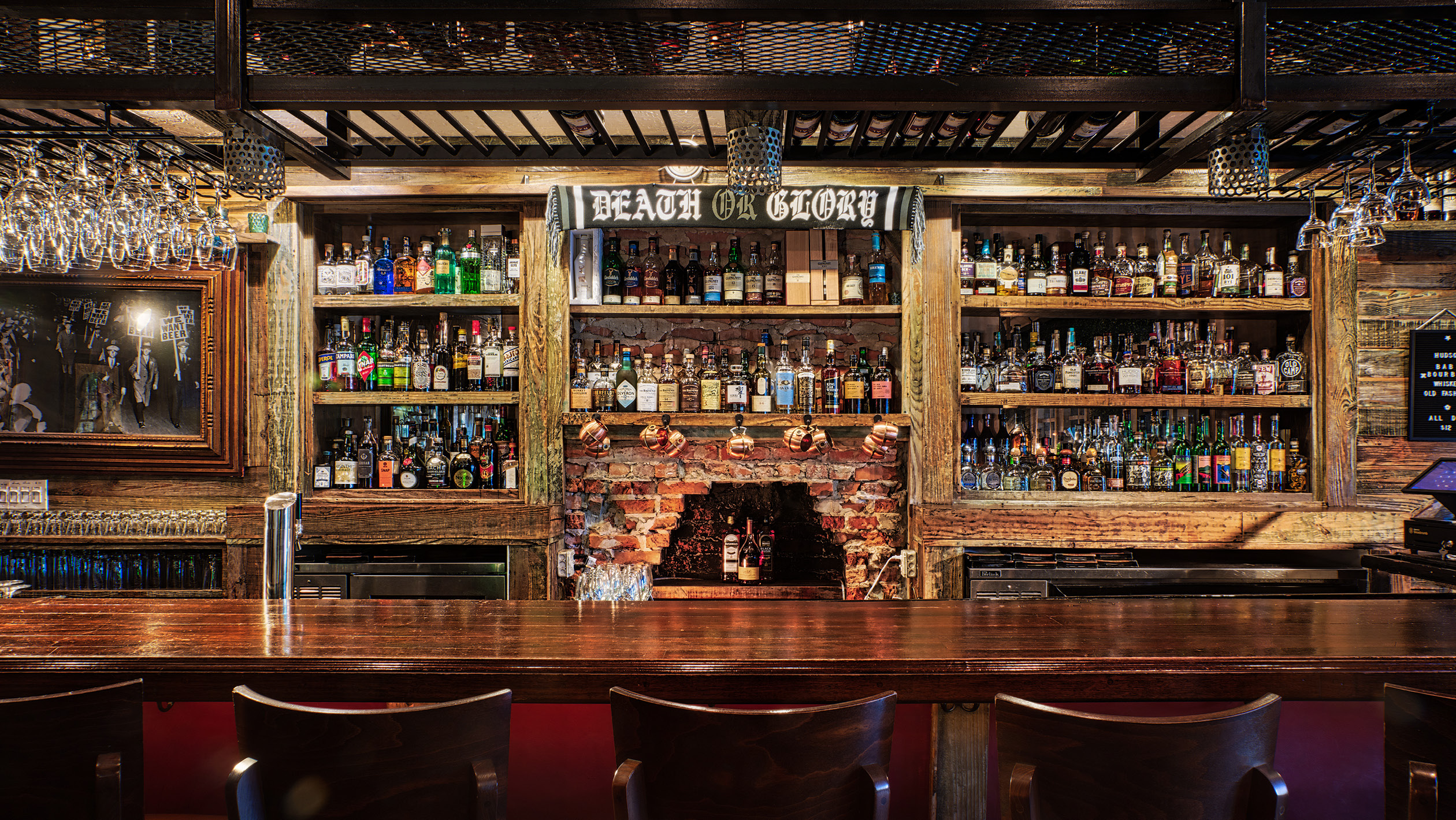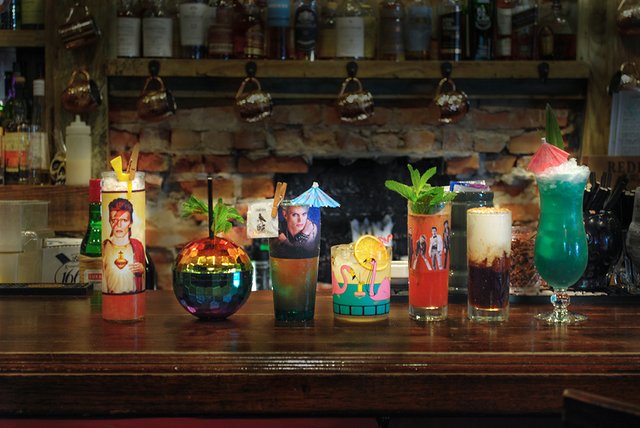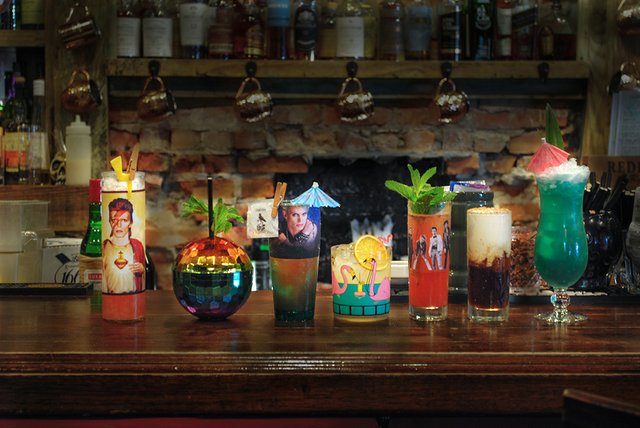 DEATH OR GLORY EPISODE:
Death or Glory. This adventure for us started a few years ago when we visited the Kreepy Tiki Bar & Lounge. Situated very close to the cruise ship ports, it's where we first encountered bartenders Ayme Harrison and Keith Popejoy. This is also where we happened to meet Rod Moore of the Shameful Tiki Vancouver. That's another story. The Kreepy was a music venue, bar and tattoo parlour. Most of the tiki décor belonged to the tattoo parlour. The bar part has now closed. From the ashes of the Kreepy comes Death or Glory.
How are the drinks?
As expected very good. A combination of old-school and new and everything was spot on. Started with the Trader Vic Mai Tai and then local concoctions Here Today Gone Tomorrow with aged Bajan Barbados rum, overproof Jamaican rum, Falernum, pomegranate, lime, pineapple, bitters, absinthe. Then had the Passion of Barbados another with aged Bajan rum, Chinola passionfuit liqueur, allspice, honey, vanilla, lemon, grapefruit, bitters.
Food?
The food was great with some very cool appetizers like Crispy Chickpeas with Cheetos dust. No, they're good, really!
Death or Glory is a great bar and with a Sunday brunch and a number of bar events, like Hallowe'en and the Bar Brawl competition, I'm sure they will be serving great food and drink for a very long time.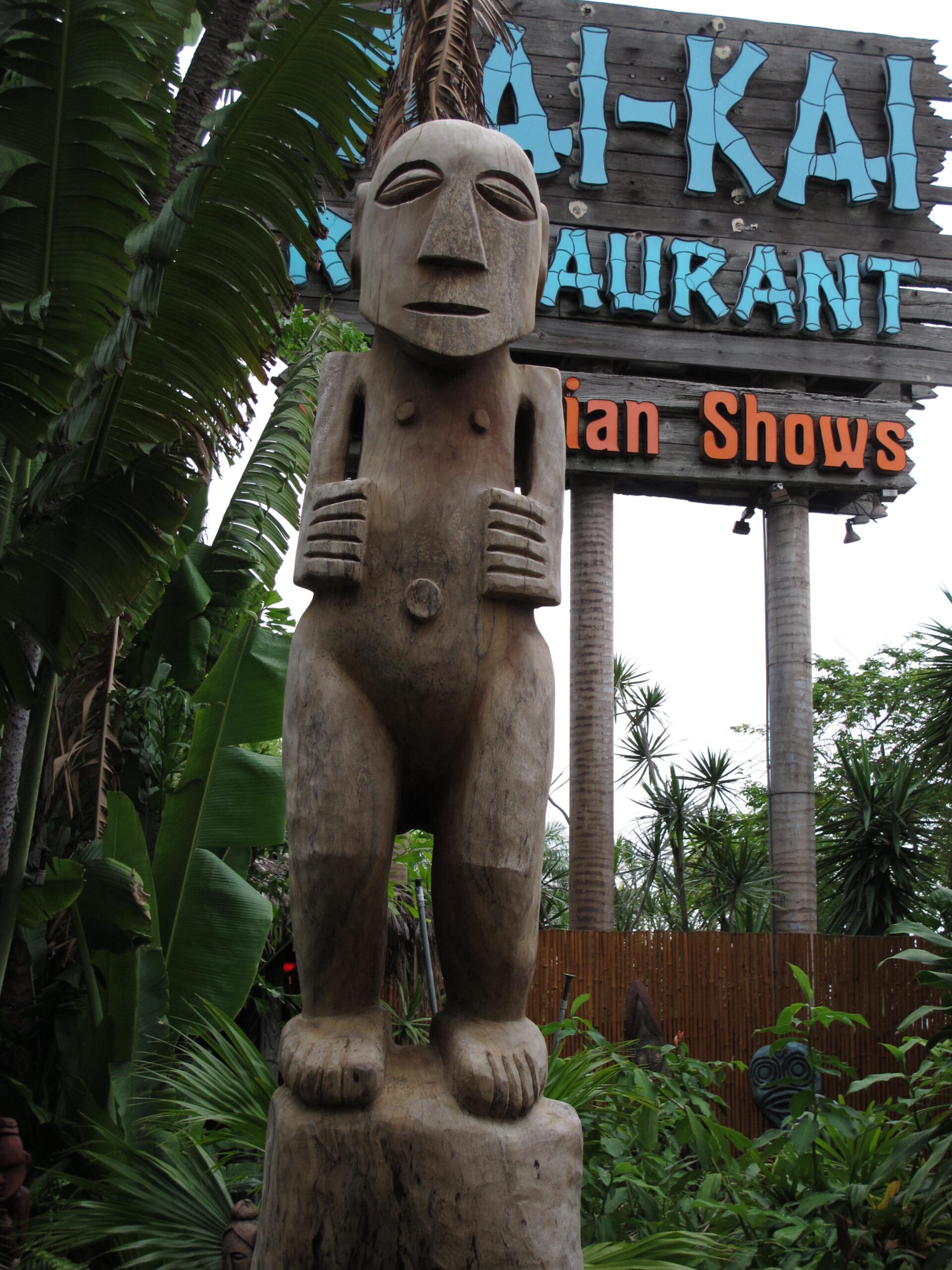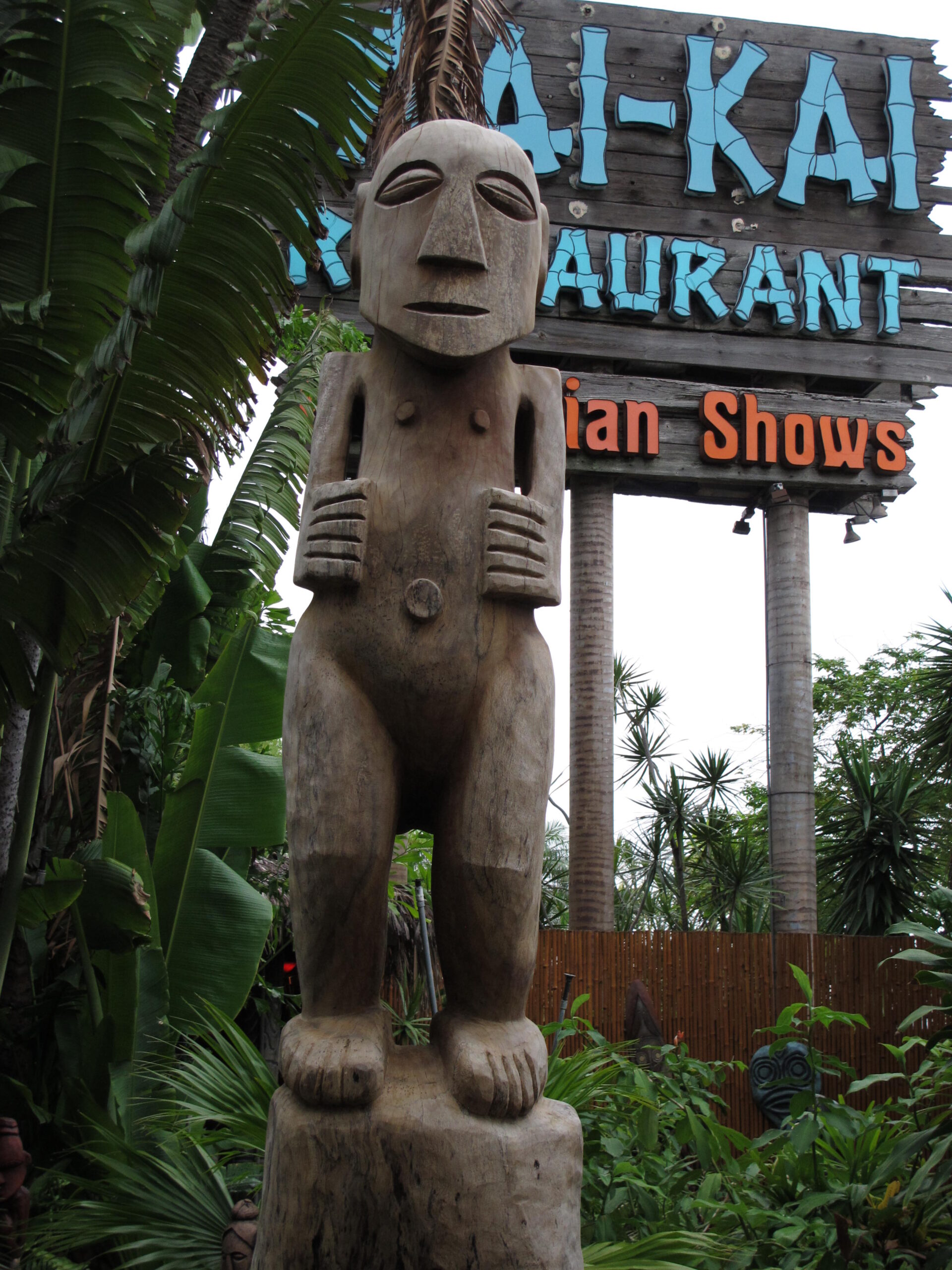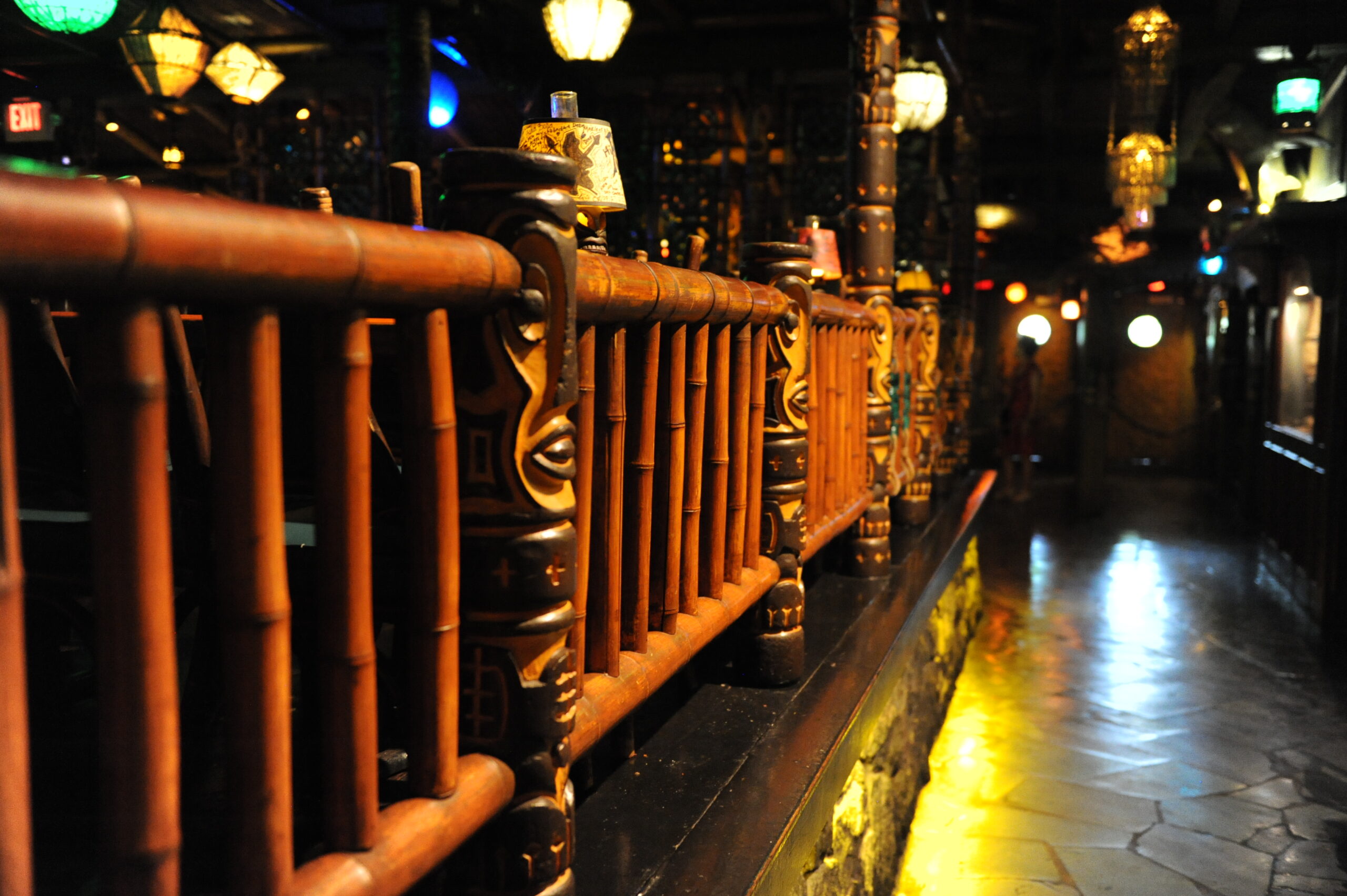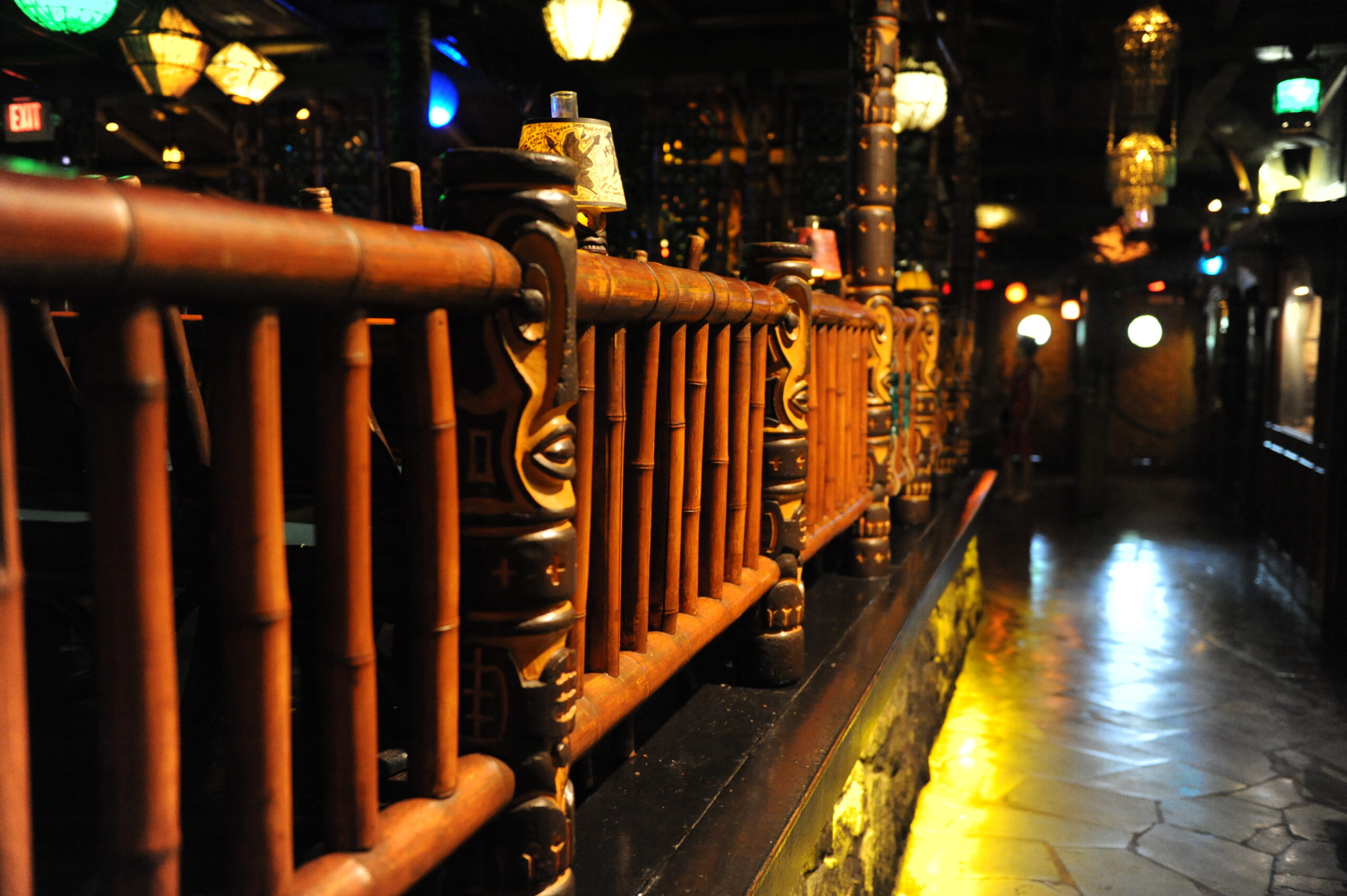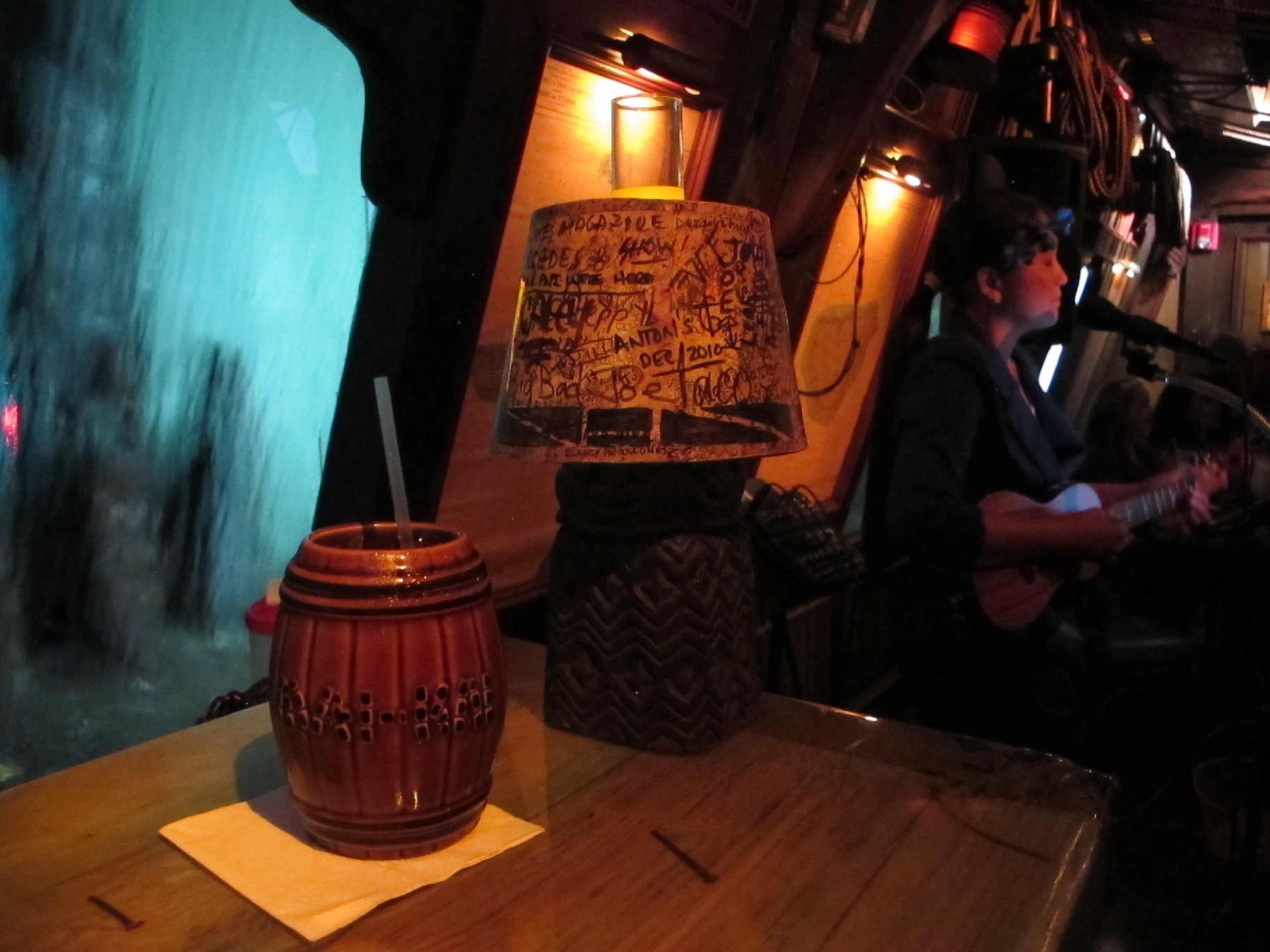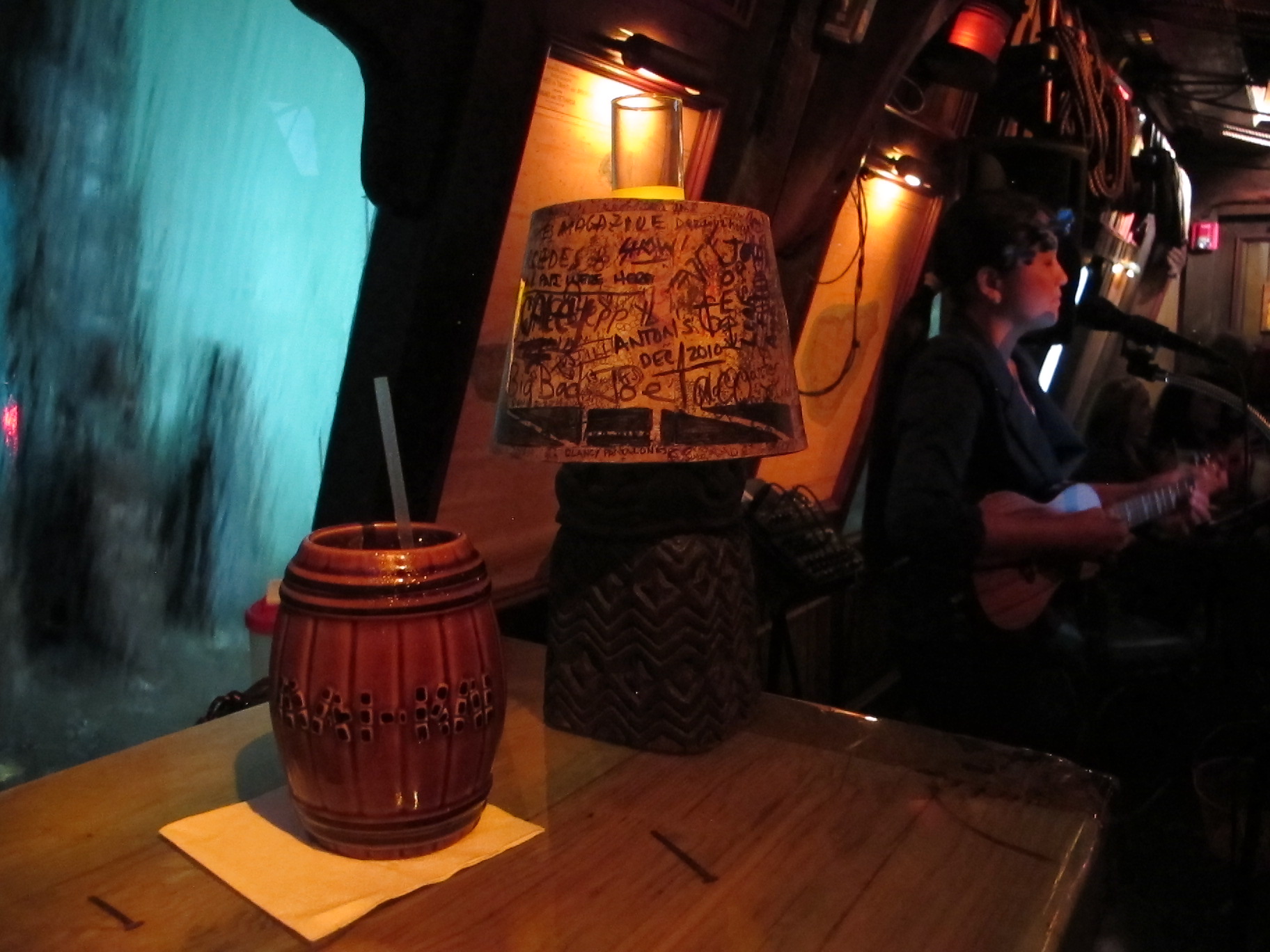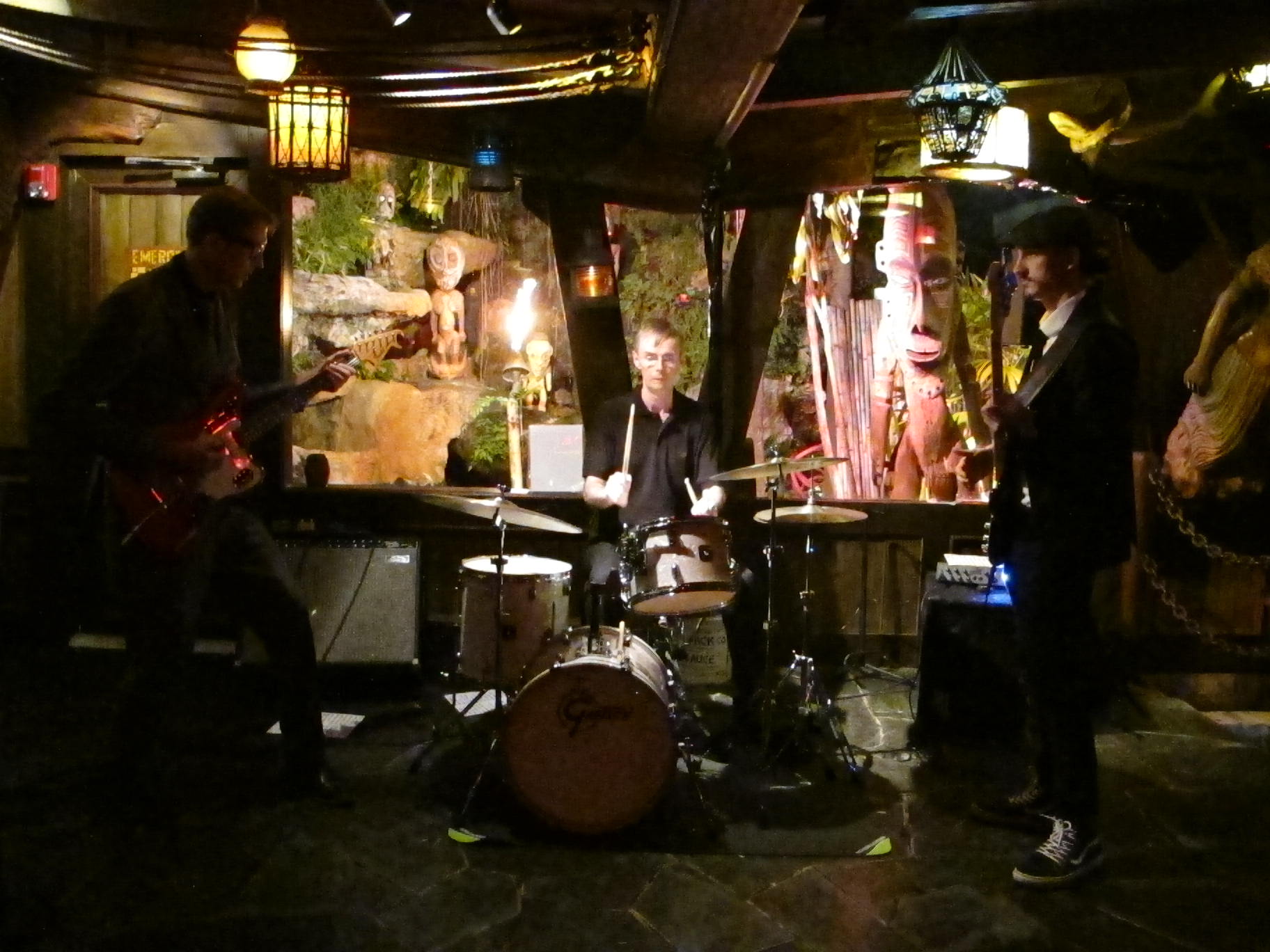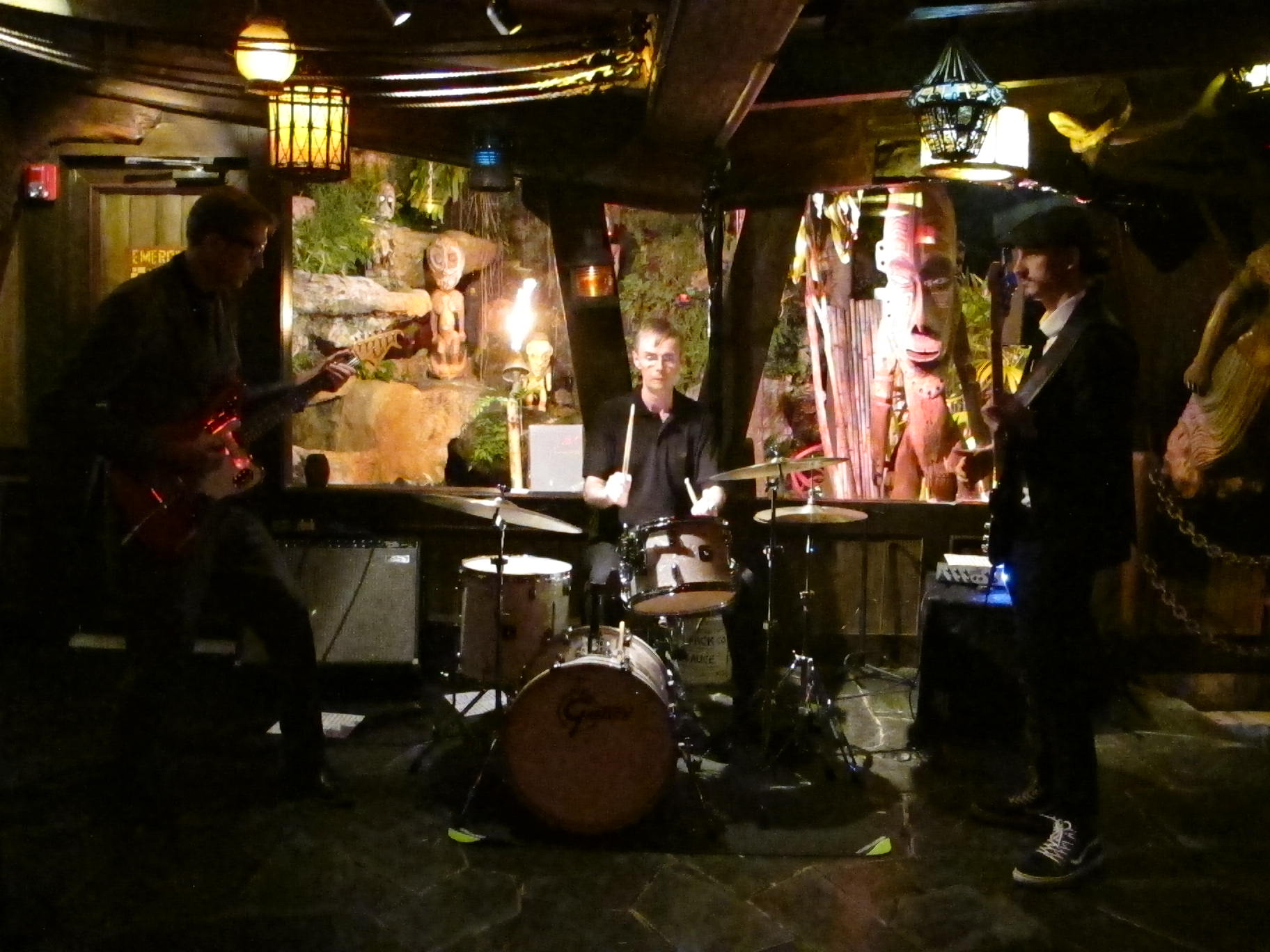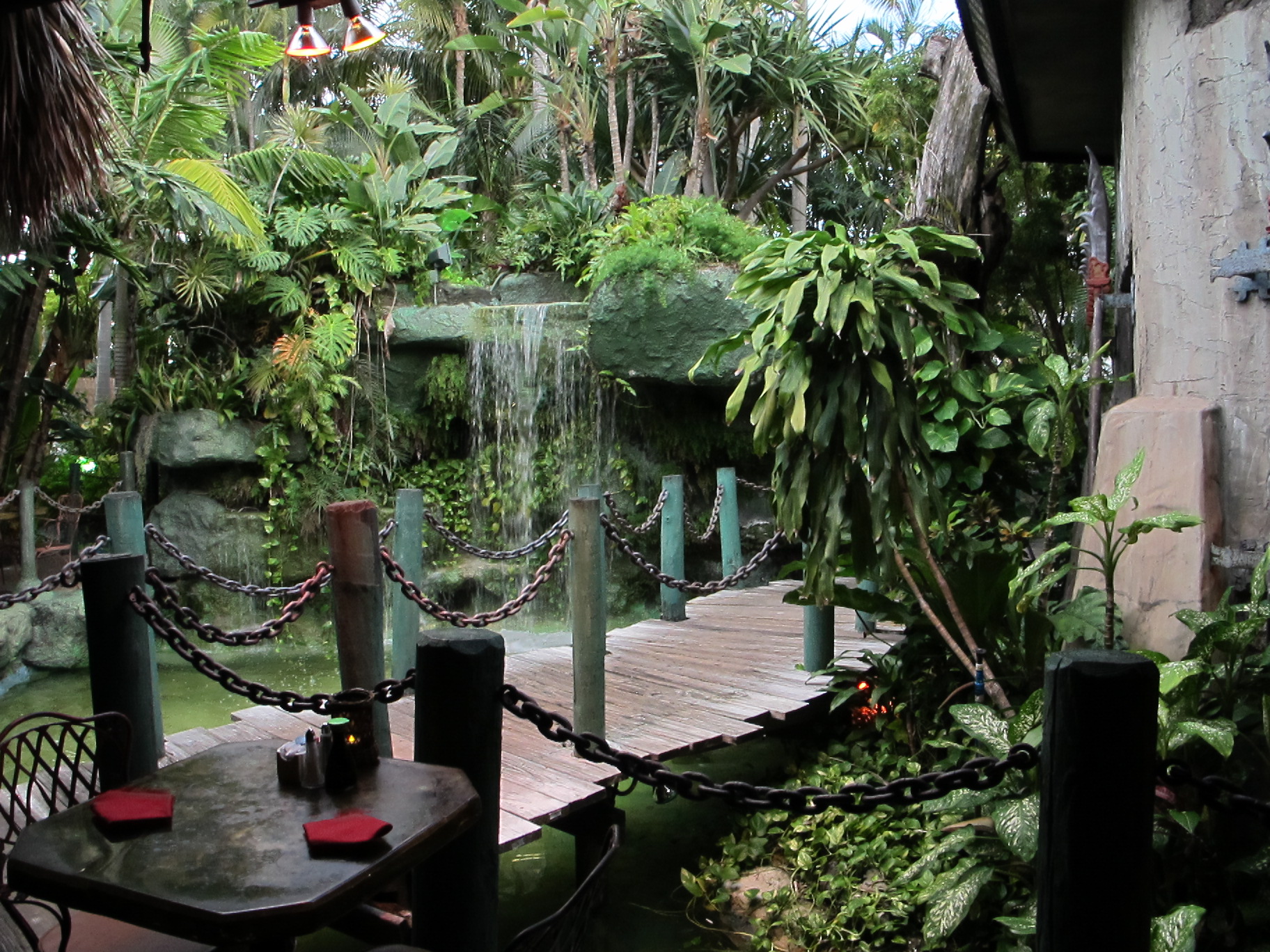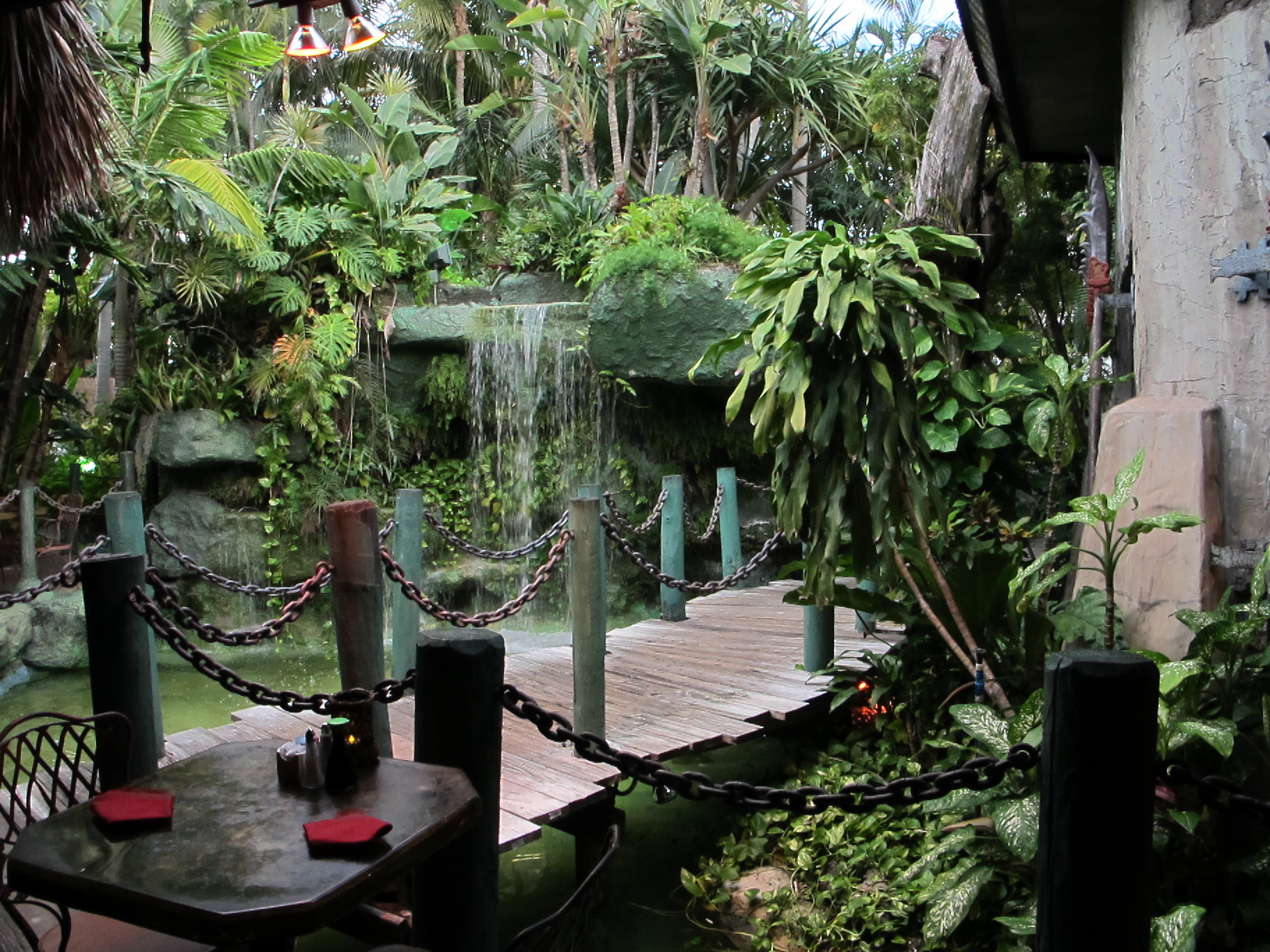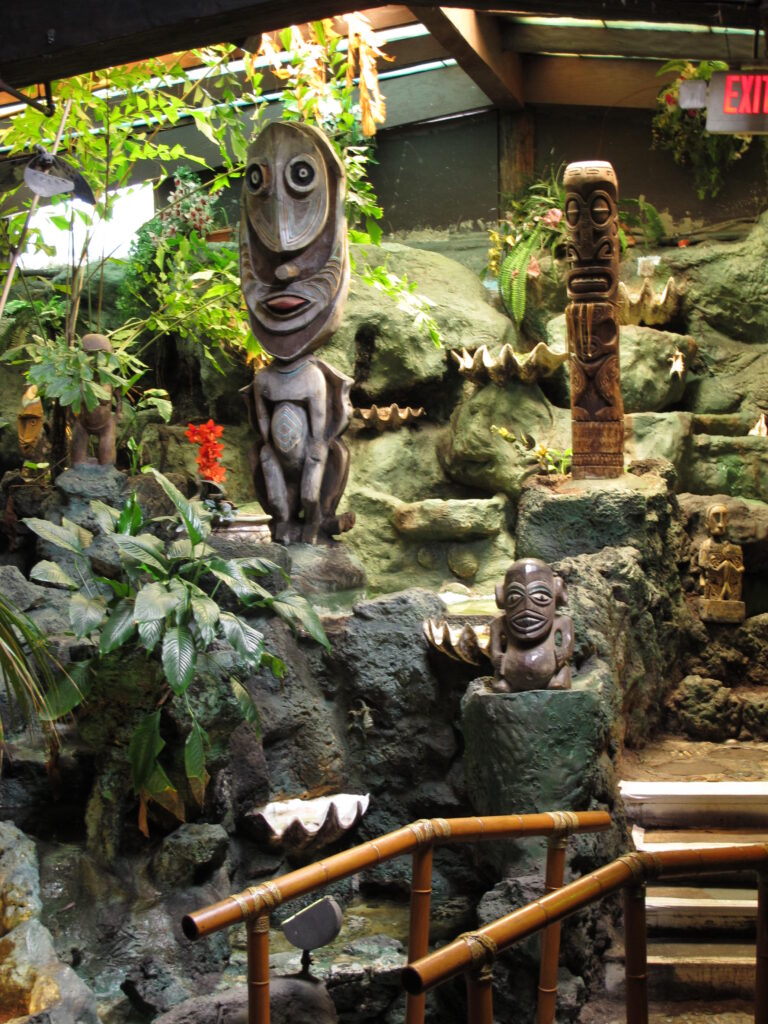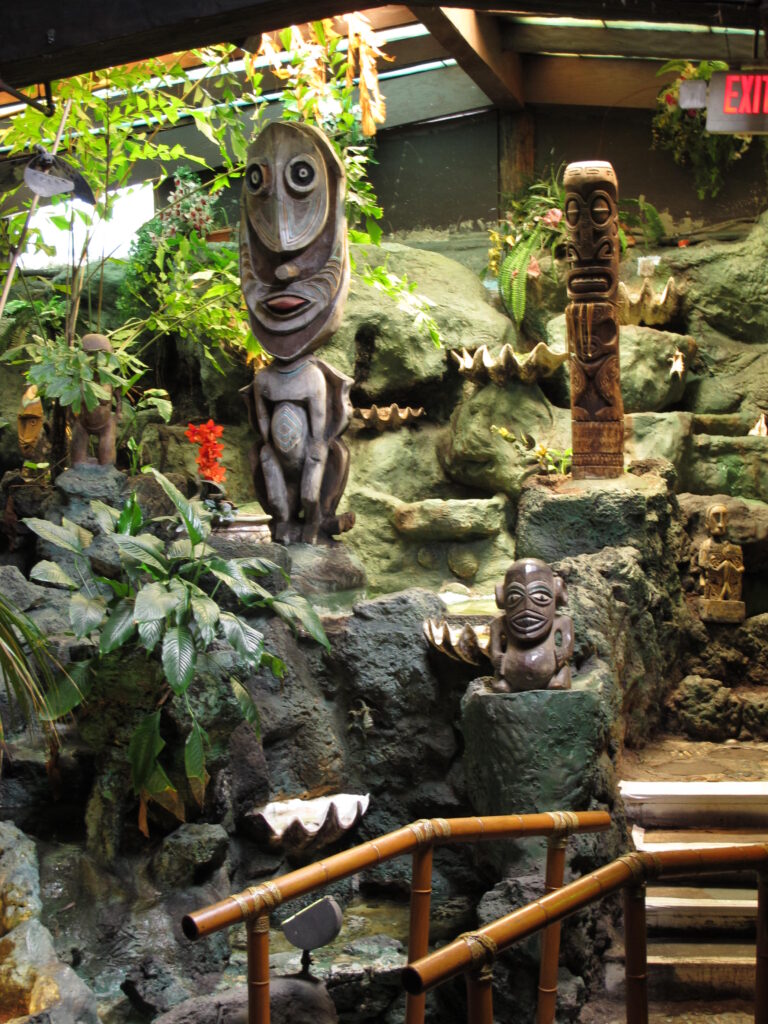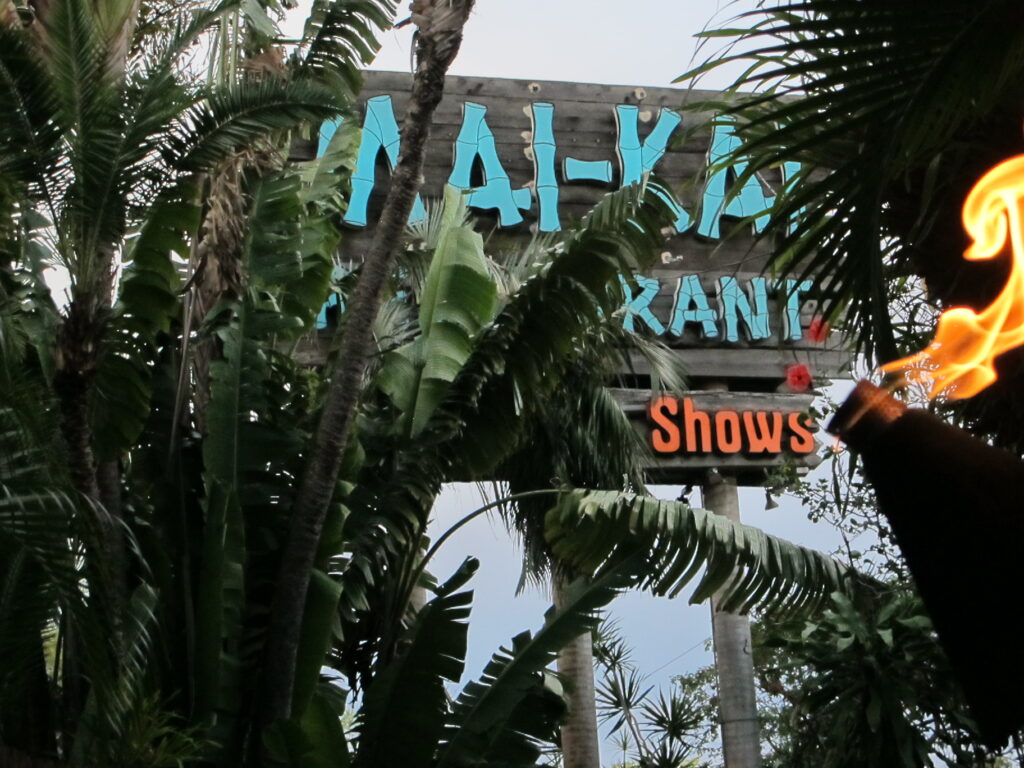 MAI KAI EPISODE:
Tell us about it. Where? 
Opening in 1956 the Mai Kai is the last of the tiki temples. It is located in Ft. Lauderdale, the Mai Kai has 8 dining rooms, a full nautical themed bar / lounge (The Molokai Bar), has 150 staff and all together seats 700. The Polynesian show when has been running since 1962 has 2 shows daily and 3 on the weekends during snowbird season. Some the original Mai Kai artifacts are now in Stanford University and Ft. Lauderdale museum as the insurance on them became so high that the Mai Kai in uninsurable.
Who opened it?
At a cost at that time of $350,000 The Mai Kai was built by two tiki enthusiast brothers, Bob and Jack Thornton. The brothers were often taken by their dad to the Chicago Don the Beachcomber. After a tour in the forces they settled in Ft. Lauderdale where they started to build their dream.
Did they get anyone else to follow them on their new project?
Well Bob informed the bothers that they would not be able to get the top chef or bartender, but the long-time no. 2 chef Kenny Lee and no. 2 bartender Mariano Licudine (Liquid-ini) were both family guys and could be had.
Food?
For food, as well as regular menu items they also use the Chinese ovens made famous by Trader Vic. These wood-fired BBQs cook everything amazing. There is a special section on the dinner menu for those items. Molokai Bar favourites include Pupu Platter, Crab Rangoon, and Javanesian Beef.  Apps. Are half-price as well as drinks during happy hour (opening until 7:00).
Drinks?
Like Don the Beachcomber, most of the drinks are secret recipes, that magically appear from behind a wall, prepared by several bartenders. There are two "bars", one for the lounge and one for the dining room. There are two drinks that brought the Mai Kai to the forefront, first was the Derby Daiquiri, frozen drink invented by Mariano. The Derby Daiquiri was created for the Florida Derby in 1959 and became a hit. The other drink is the Mystery Bowl.
Where can I get more info?
A great place to lean more about the Mai Kai and especially the cocktails is from Jim "Hurricane" Hayward and his great website where he creates "tribute" Mai Kai cocktails as well as a barrel-full of info on tiki events.  Again, the link is below.
Tim "Swanky" Glazner has a book out on the history of the Mai Kai called Mai-Kai: History and Mystery of the Iconic Tiki Restaurant. It is available on the Amazon of your choice. And as I mentioned Jeff Berry has a chapter on Mariano in Sippin' Safari and of course the website of the Mai Kai itself.  The links are all listed.
Links:
The Mai Kai
Jim "Hurricane" Hayward
http://www.slammie.com/atomicgrog/blog/
Mai Kai Menu
Jeff "Beachbum" Berry
OFFICIAL MAI-KAI RECIPE
Derby Daiquiri - (From Beachbum Berry's Grog Log, Sippin' Safari and Remixed)
1 oz. fresh orange juice
½ oz. fresh lime juice
½ oz. sugar syrup
1 ½ oz. white Puerto Rican rum (Havana Club if you have it)
Blend with a handful of crushed ice for 15 seconds or until smooth. Serve in a small wine goblet.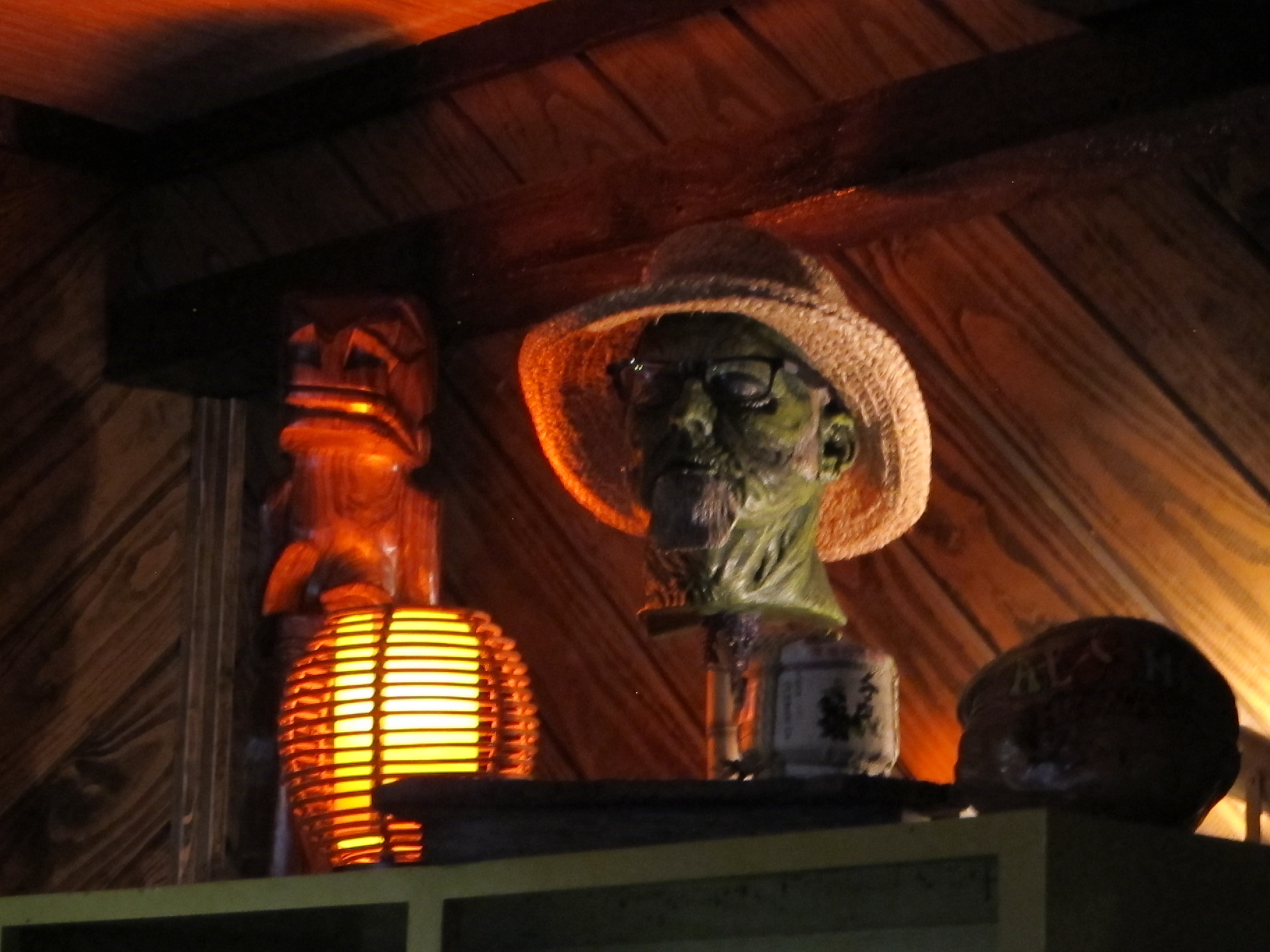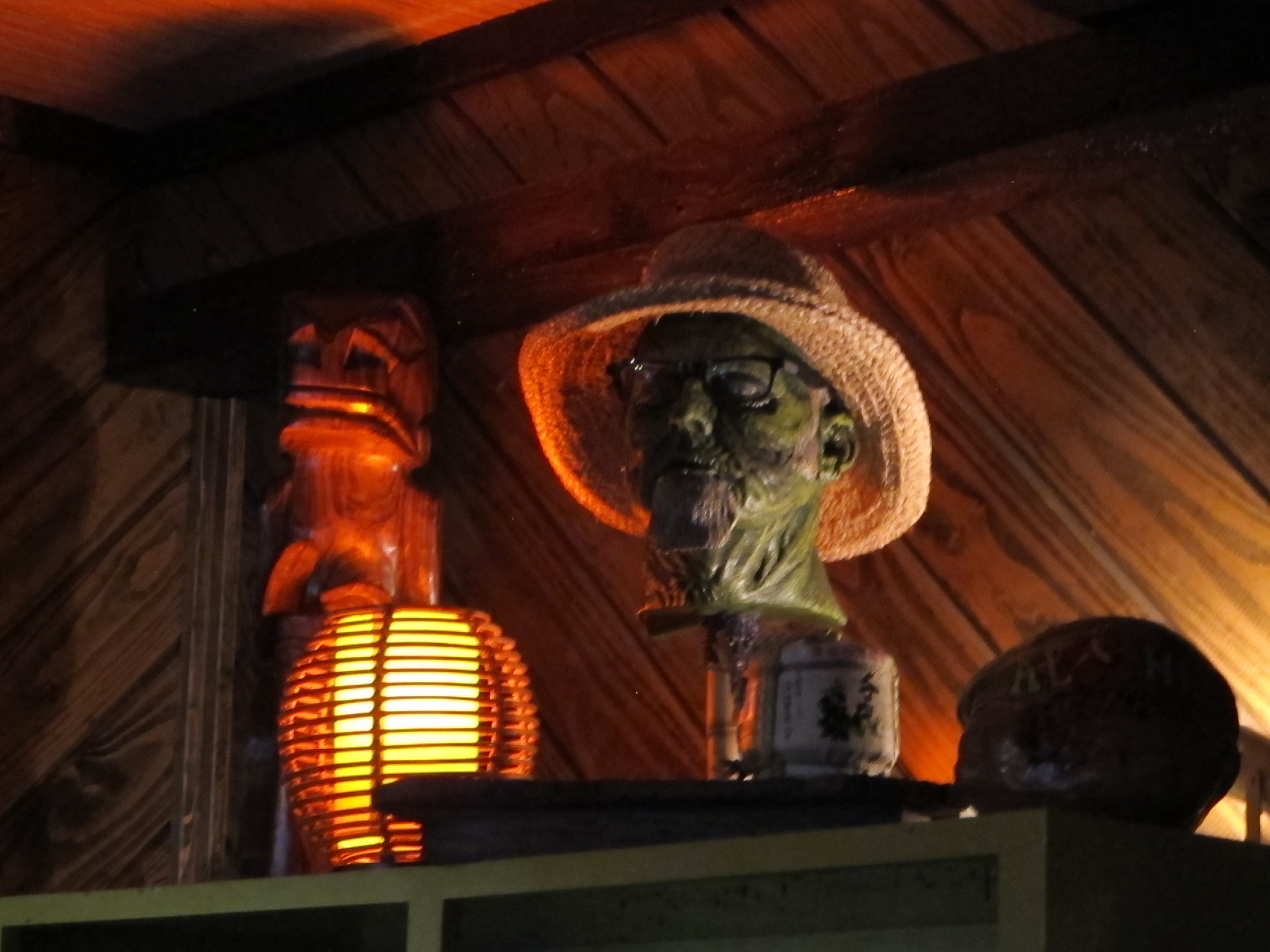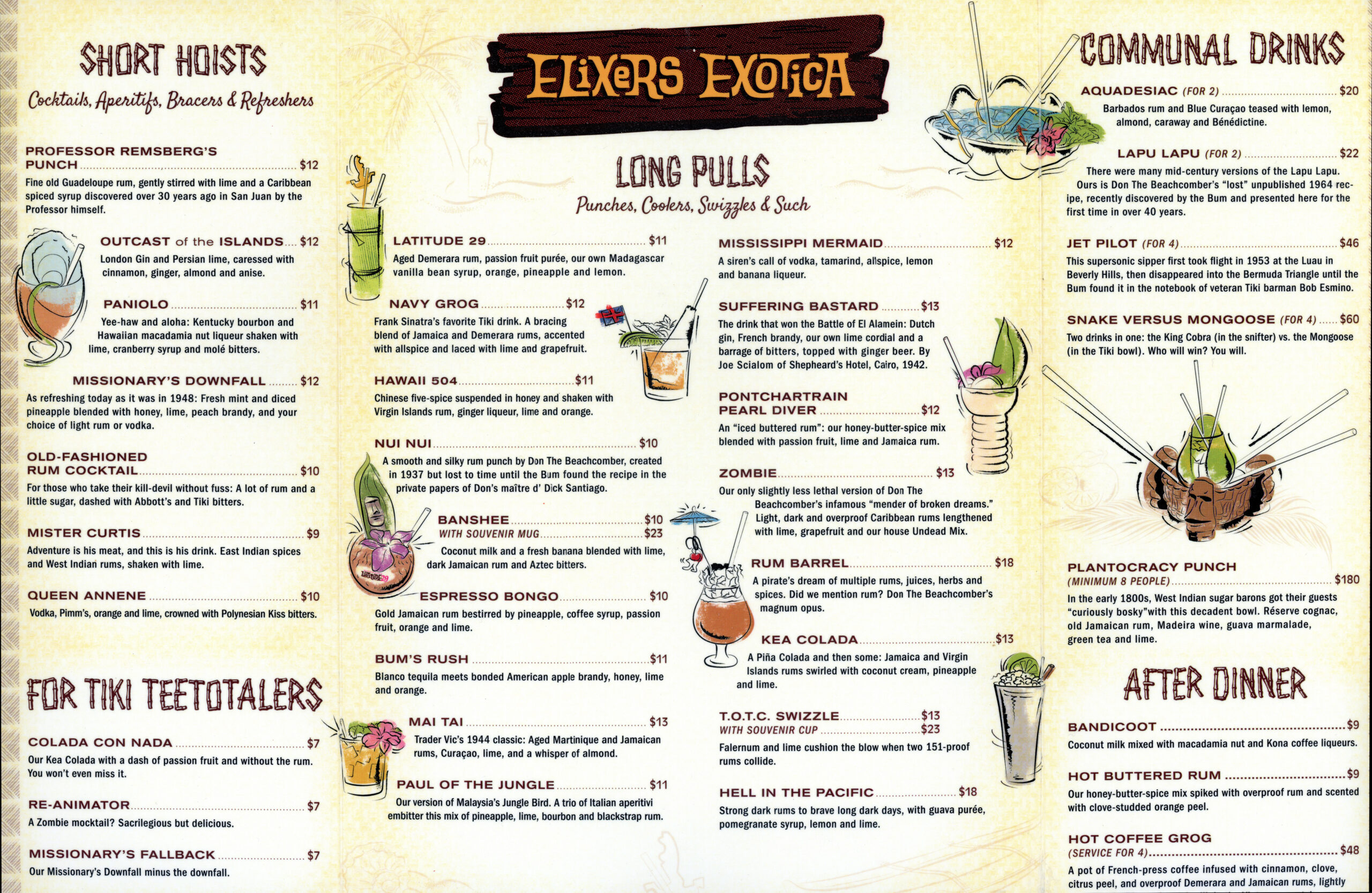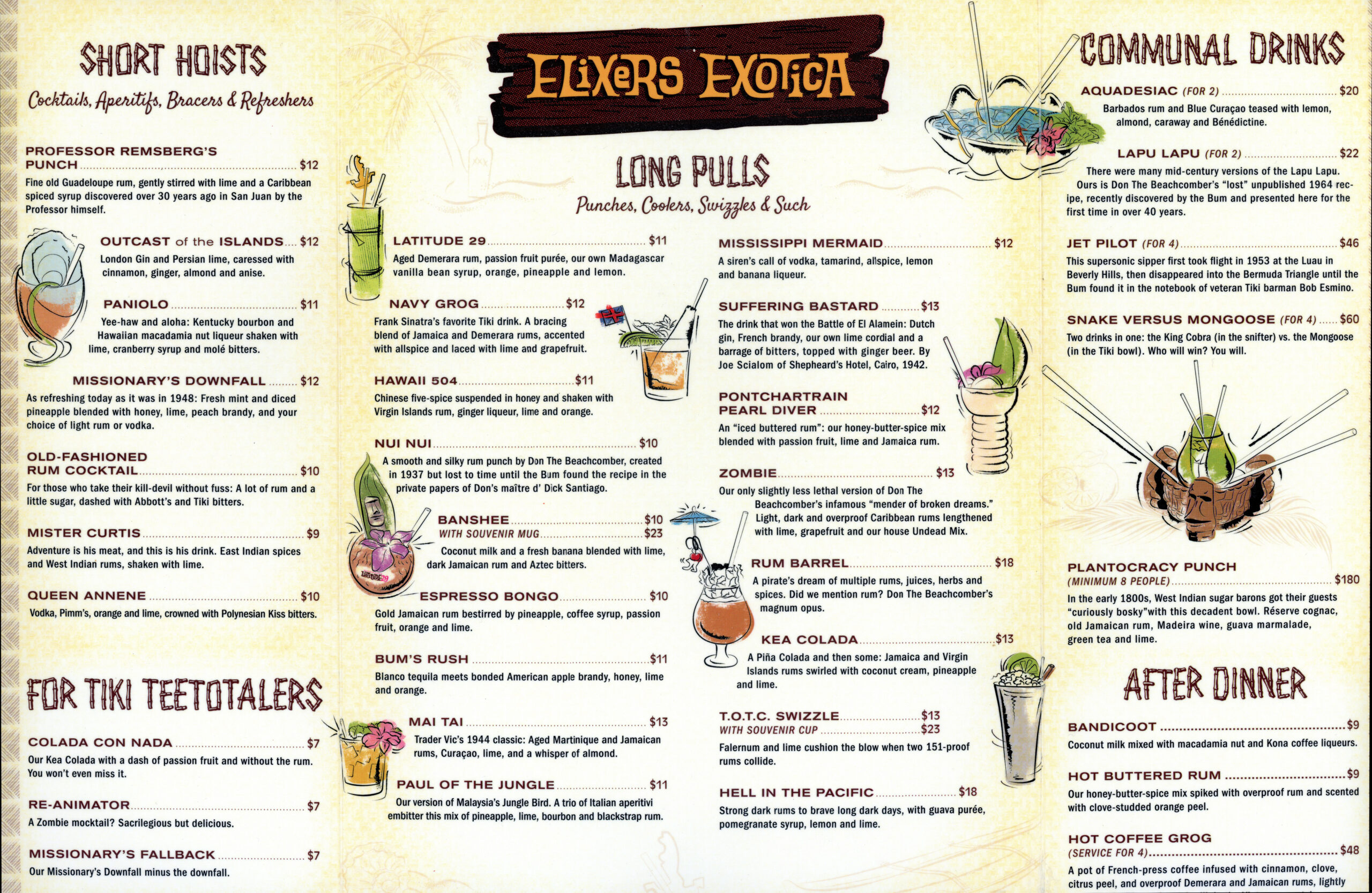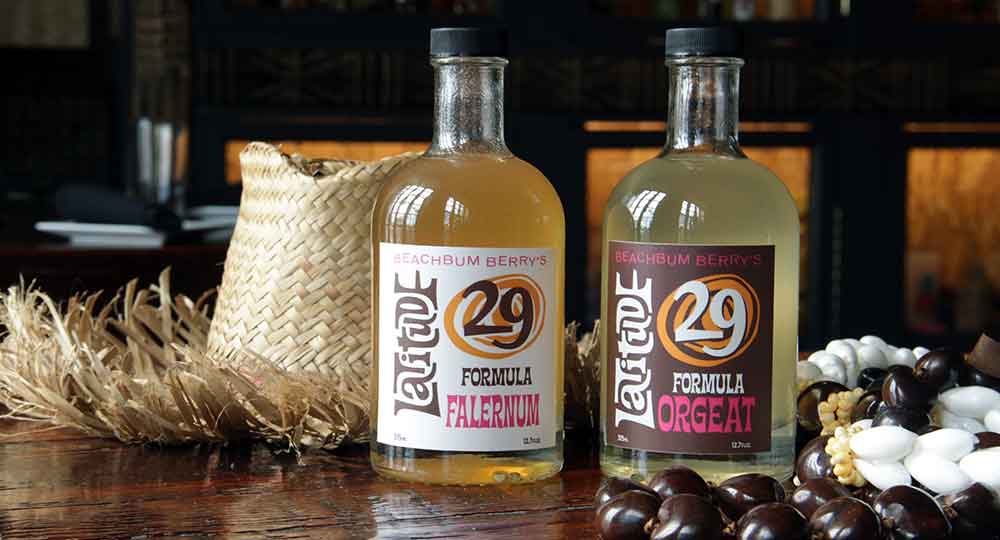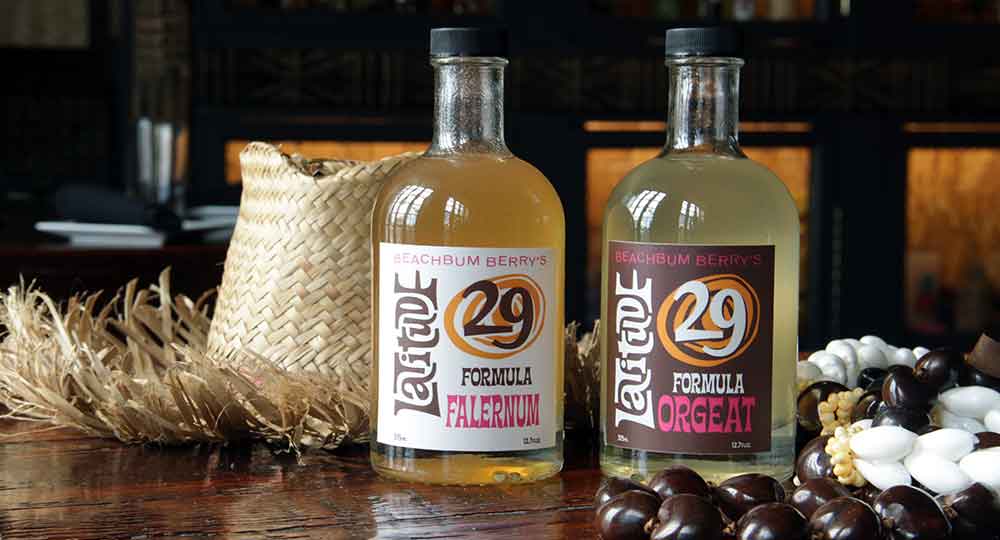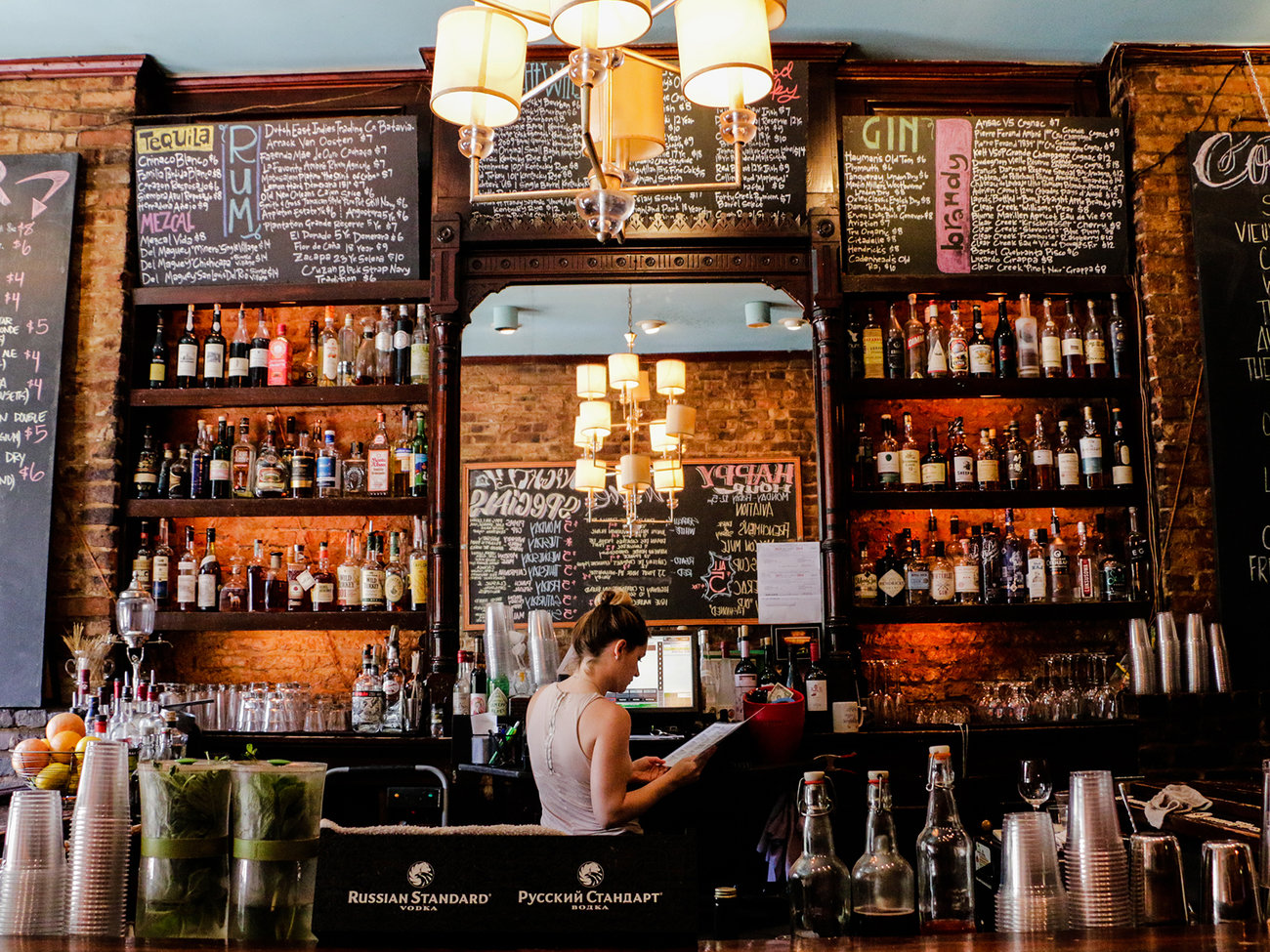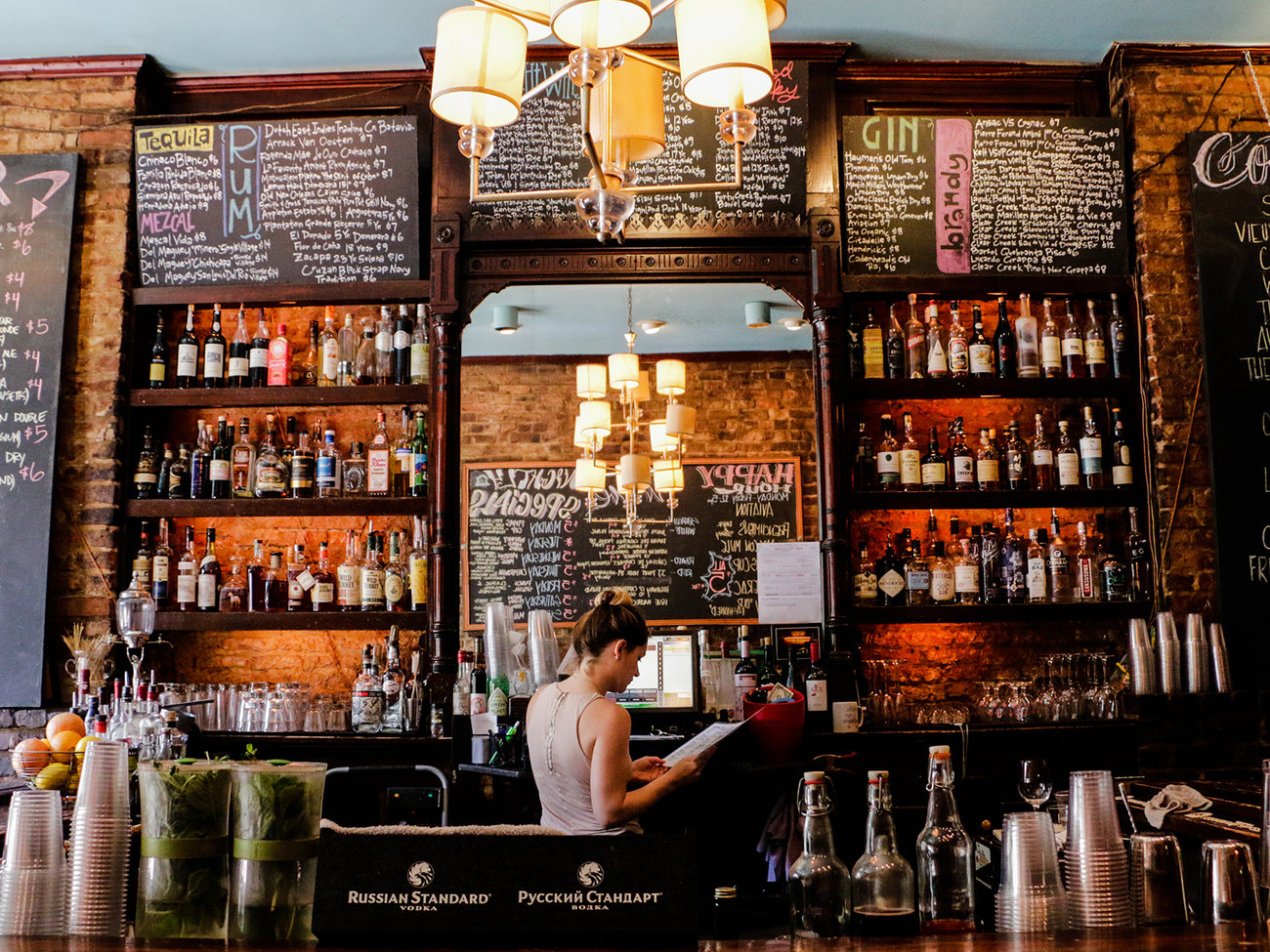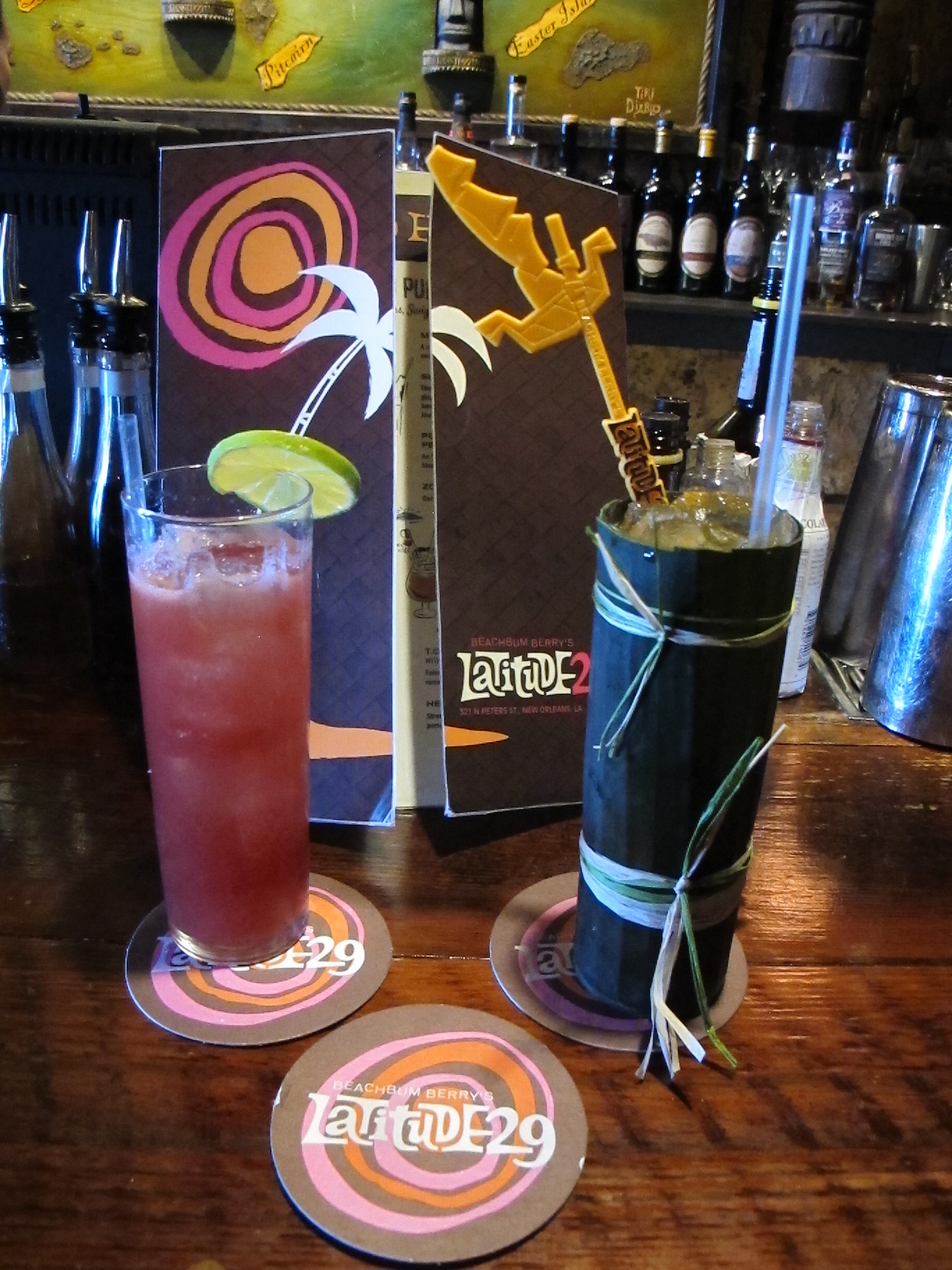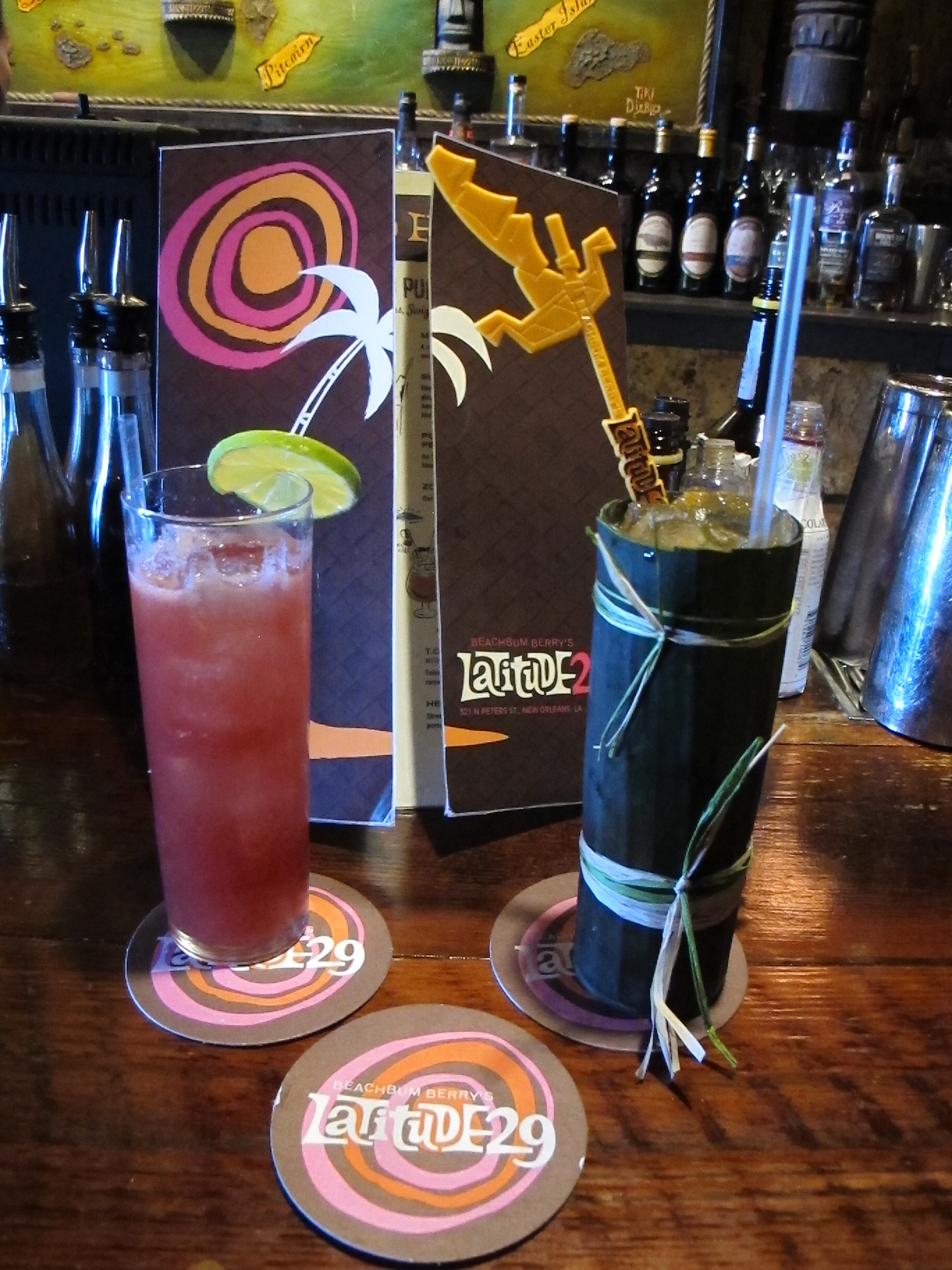 LATITUDE 29 EPISODE:
Jeff "Beachbum" Berry's Latitude 29:
Location: French Quarter, New Orleans. More specifically 321 N. Peters Street. Near Canal Street.
Beachbum Berry's Latitude 29, a full-service restaurant and bar opening for business in the Bienville House Hotel in November 2014. It is open weekdays (Sun-Thurs) from 3:00 pm until 11:00 and from 1:00 until midnight on Fri and Saturday. Happy Hour is from 3:00 pm – 6:00 pm daily.
The Bienville was built in 1835 and named after Jean-Baptiste Le Moyne de Bienville, the French founder of New Orleans, the Bienville House Hotel originally served as a manufacturing plant for Planters Rice Mill in the newly established state of Louisiana.
It is modest in size with about 15 tables and 12 or so seats at the bar. With an entrance from the street and one from the hotel, and one side over-looking a small indoor pool it is quite light. The decorations are mostly newer created by contemporary artists including Bosko and Tiki Diablo, including a large world map with various locations represented by original tiki mugs and even some Disney stuff.
Drinks: Favs were the Pontchatrain Pearl Diver and the Latitude 29. The last cocktail we had was there was Hell in the Pacific. Brad told us that they had stayed up all night with "a bunch of Italians" perfecting the recipe. When I met Daneille from Esotico I asked him if he was one of the "Italians". He said oh yes. It was a long night.
What time of year did you go or is best?
Well the summer is very humid, really, humid. For the uninitiated it can be devastating. But bring water, dress light. We went previously before Latitude 29 was open, this last time we went there just before Mardi Gras. The bar was closed for a day to gives the workers a bit of break before the madness. Due to Mardi Gras though I did sit at the bar with a member of a Vegas Elvis troupe that were taking part in an early parade. Each Elvis was paired with someone from a group of ladies that made their own old-school bustiers.
Link to the bar: https://latitude29nola.com/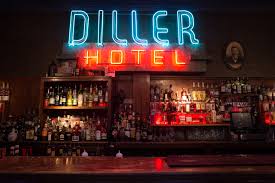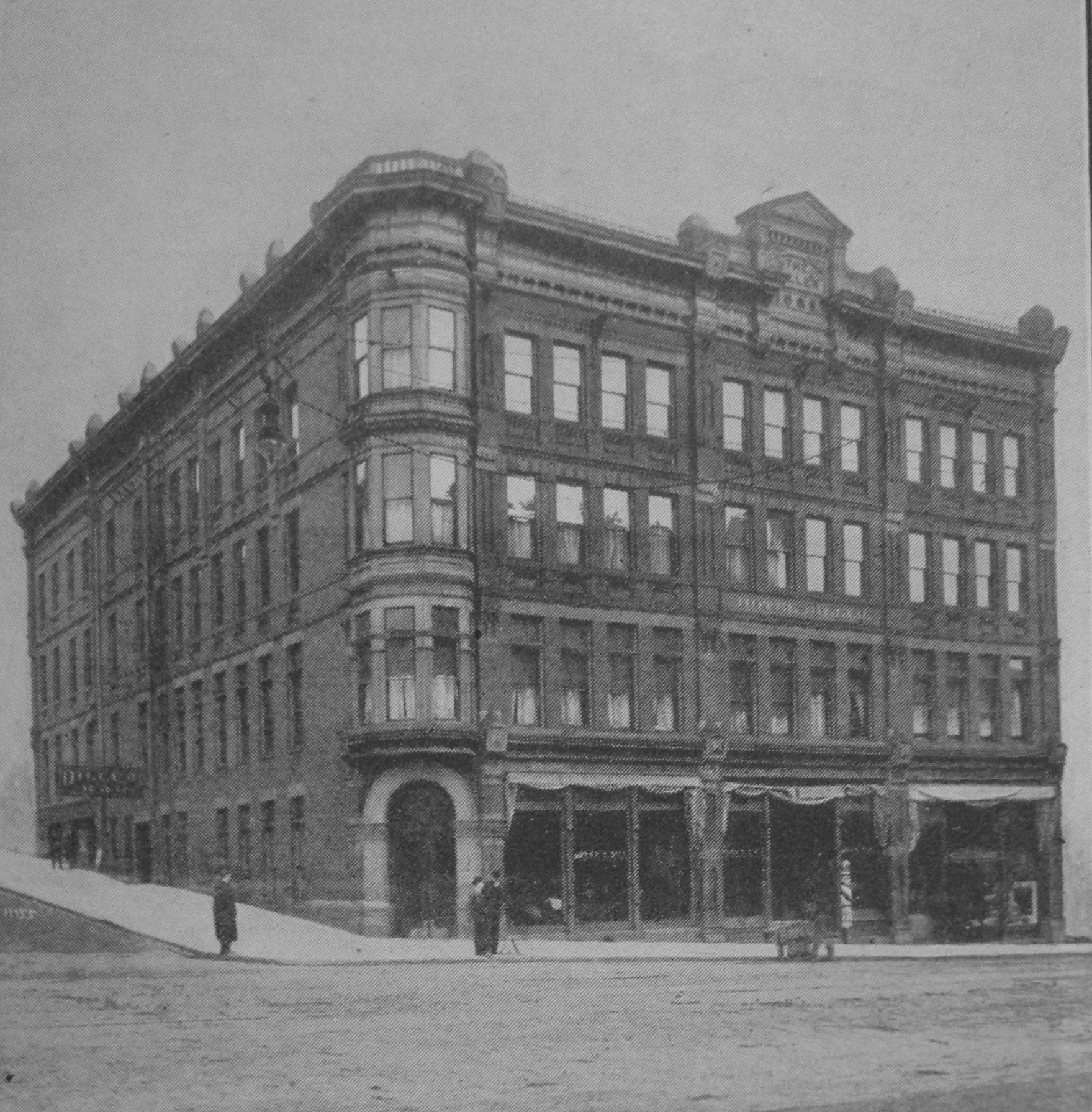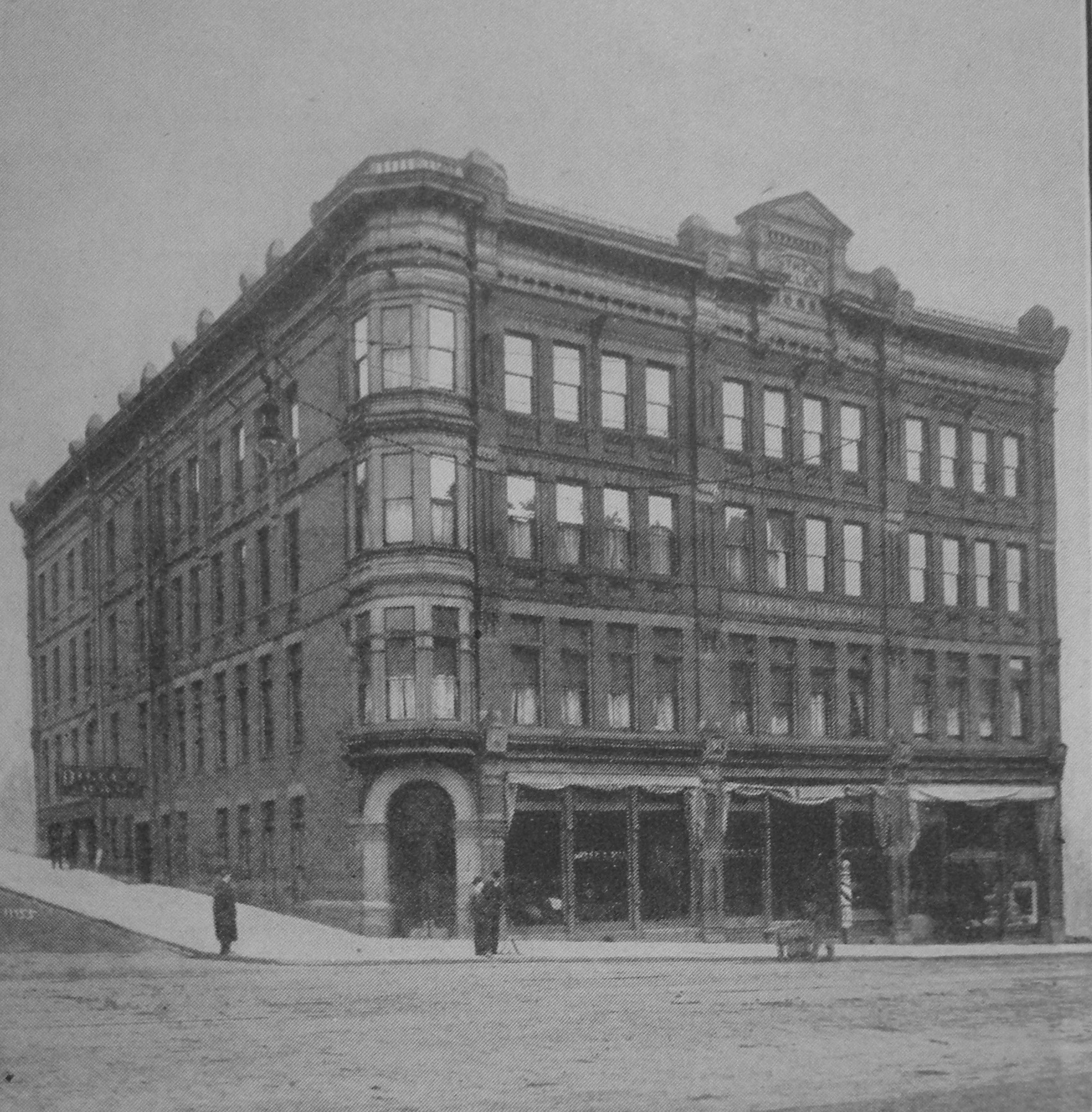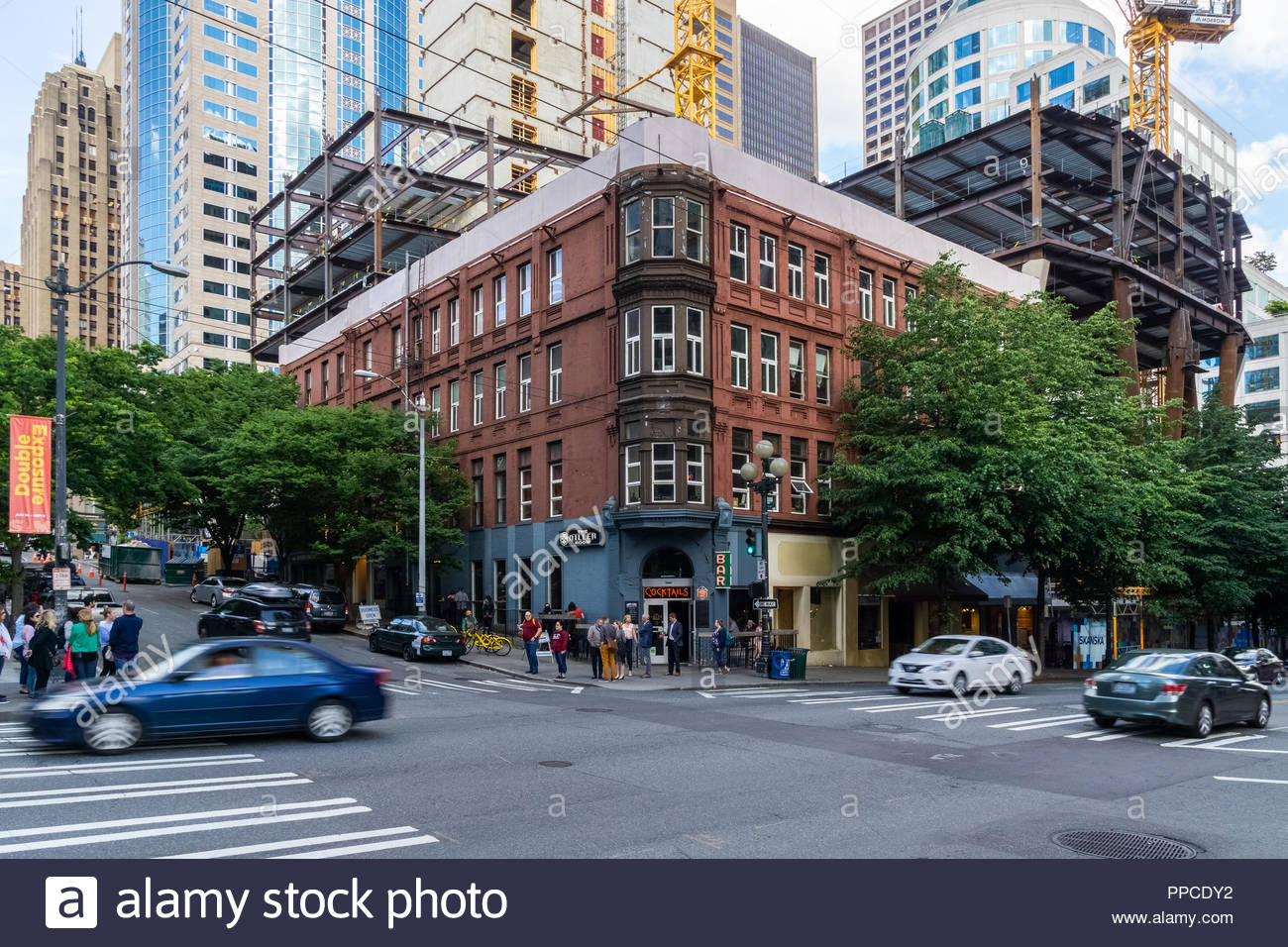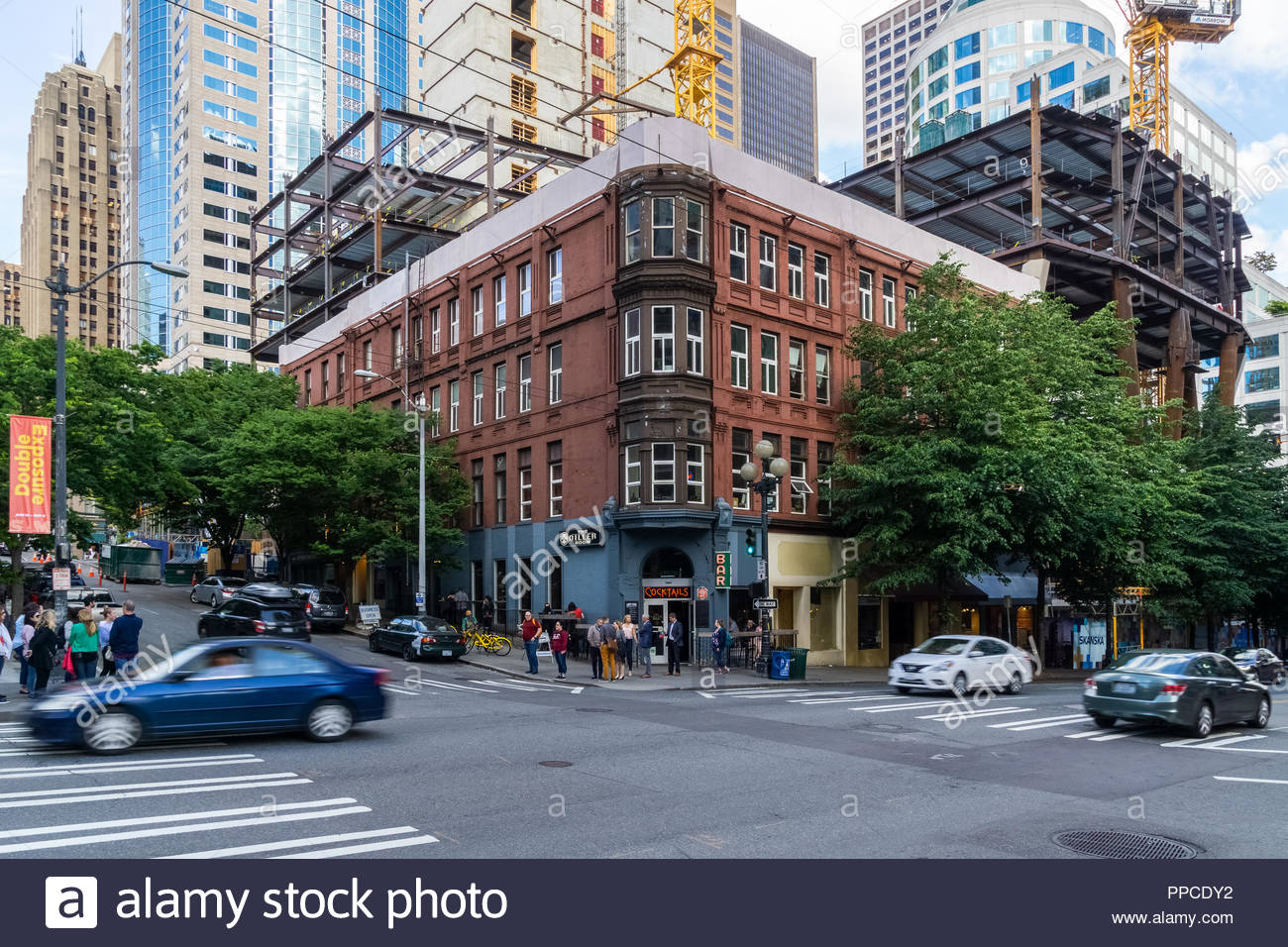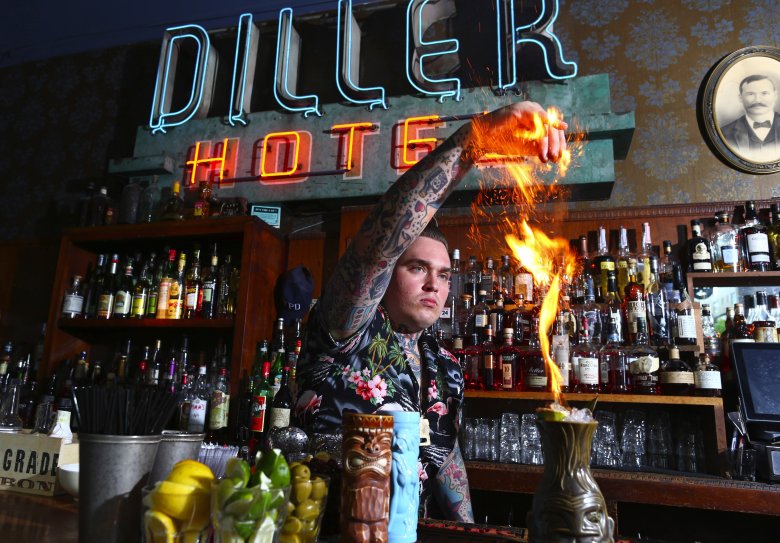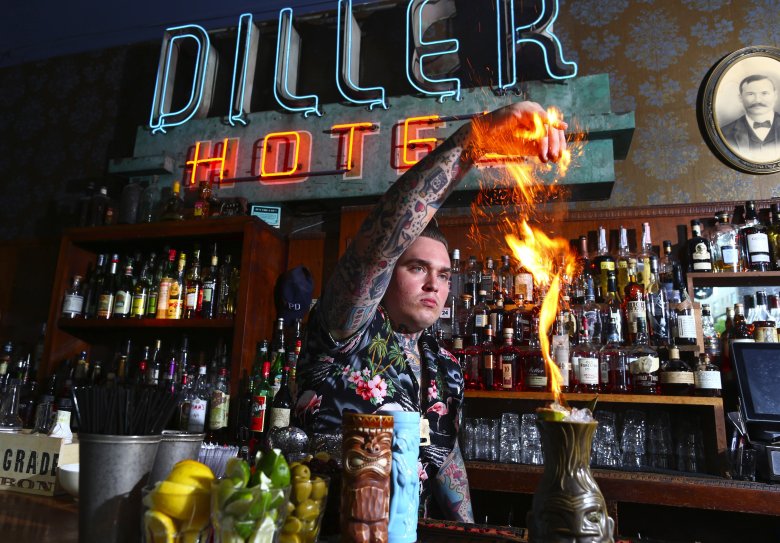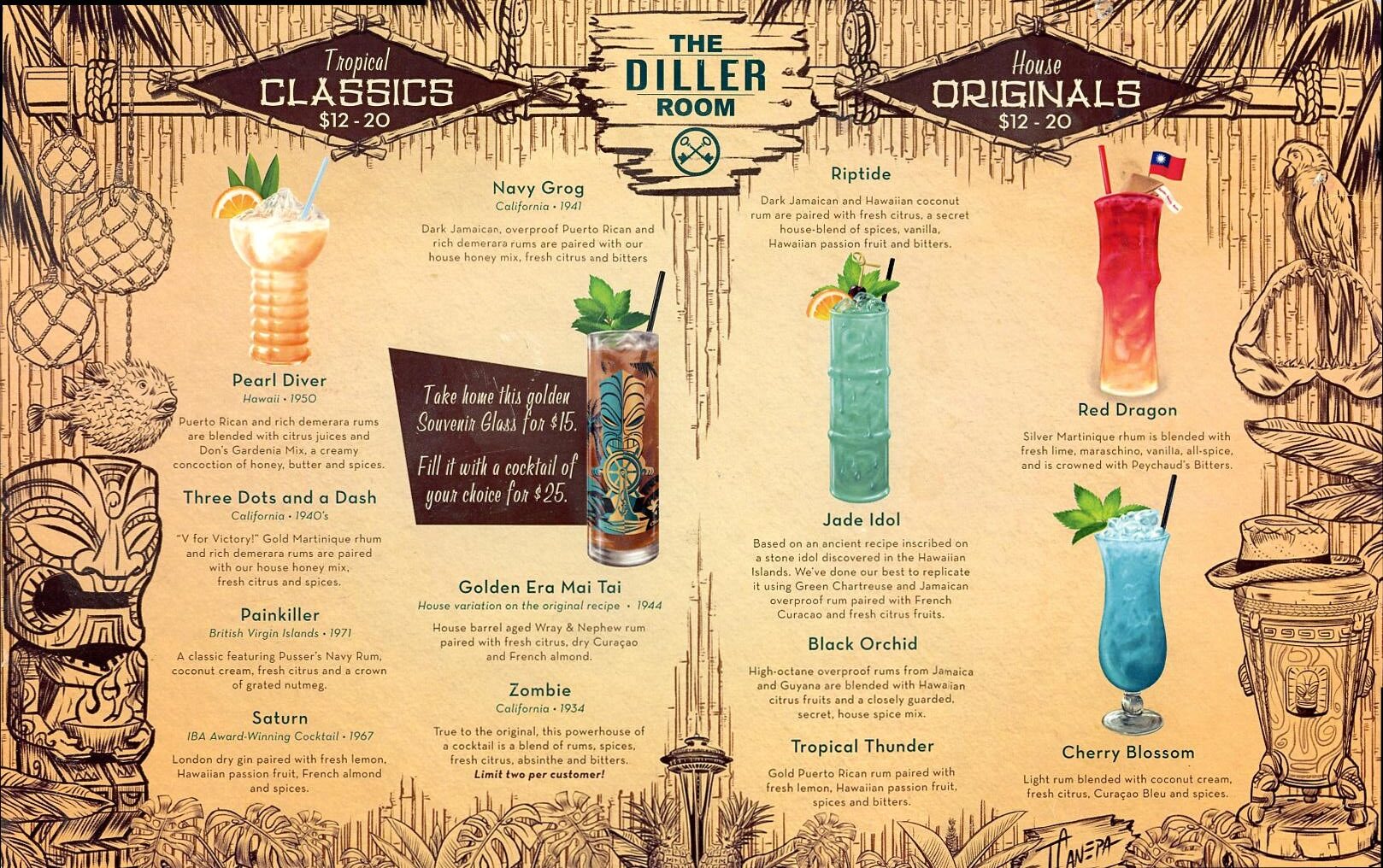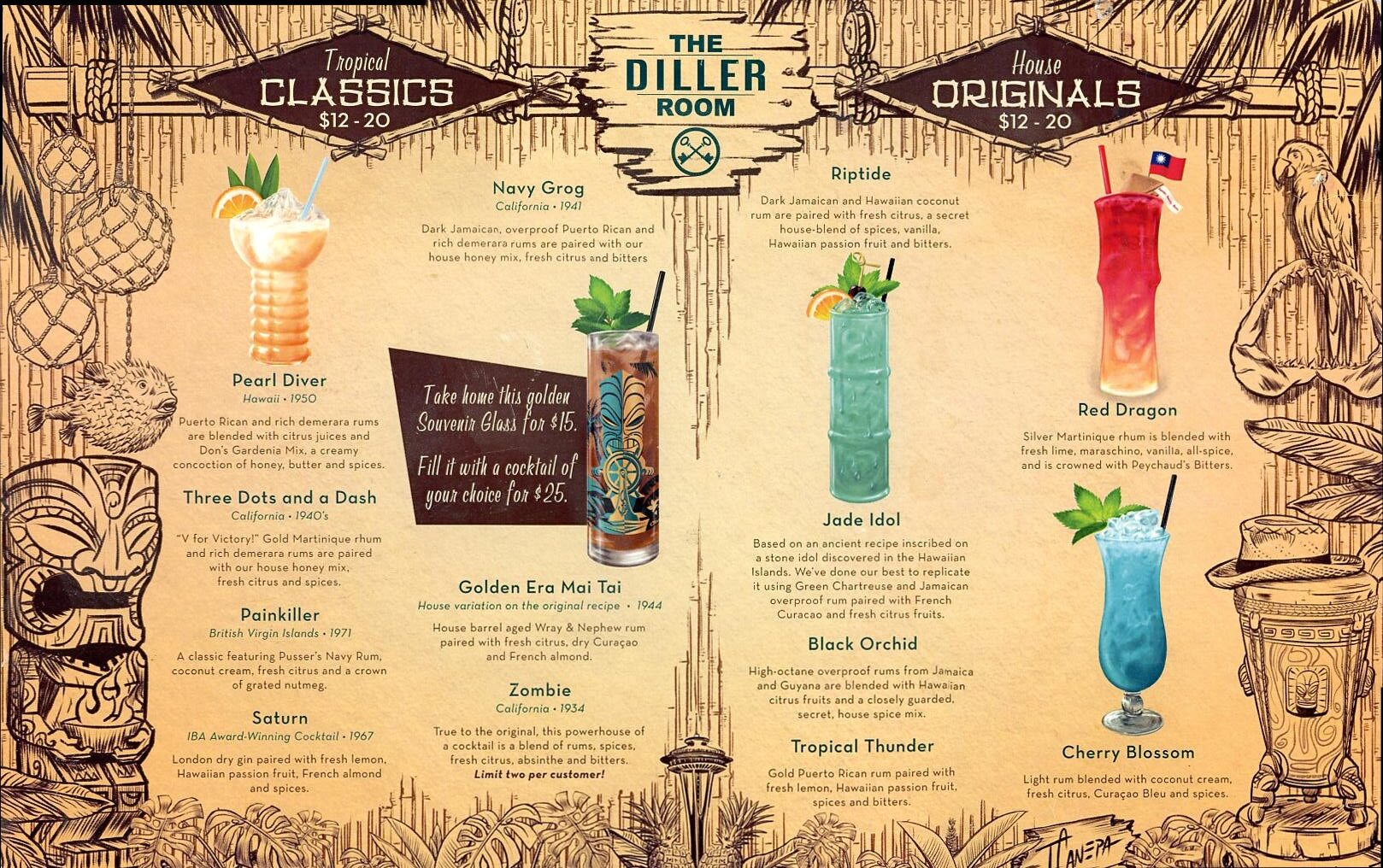 DILLER ROOM EPISODE:
Diller Room (Seattle):
Location:  Downtown Seattle Washington
1224 1st Ave, just 2 blocks from the waterfront
Is this a tiki bar? I've not heard of it.
No,  this is not a tiki bar. It is a regular bar, although in a very old venue. The Diller Hotel was opened in 1890 and thrived during the gold rush. It survived prohibition, which was even earlier in Washington State as a brothel and a speakeasy posing as a Chinese laundry. In 2009 the Diller Room opened in what was originally the lobby of the hotel and has all the vintage pieces and look of a bar from the early 1900's.
How did find this place?
Well this is part of the tiki adventures, sitting at the bar and getting info and tips from other tiki-philes during the journeys comes into play. We got word that we should check out Jason Wojslaw who works at the Diller Room in Seattle from Friday to Tues. Tiki drinks can be made any of those days, but Tues evening however is tiki night when Jason rolls out his menu and glassware.
Tell me more about Jason..
Jason has worked in the bartending trade for quite a while, however a trip to the sadly now closed Don The Beachcomber's in Huntington Beach about 7 years ago sent him way down a tiki cocktail rabbit hole and as he explained to me needed to know everything. So, this rabbit hole has now led him in a short time to where he now has his own tiki menu, glassware, which sadly he was out of, and original cocktails.
Any favorite cocktails?
Yes, the Black Orchid and the Red Dragon were particularly good, none were bad, even the girly one, the Cherry Blossom. Luckily for everyone out there the recipe for the Black Orchid is available, as well a few other Jason originals in the newish tiki book Minimalist Tiki by Matt Pietrek & Carrie Smith. Jason's recipes are located in the new vanguard chapter of the book. There's another shameless tiki plug. As a side note, from various events and bars, I've now been lucky enough to have been served cocktails by 10 of bartenders in that section.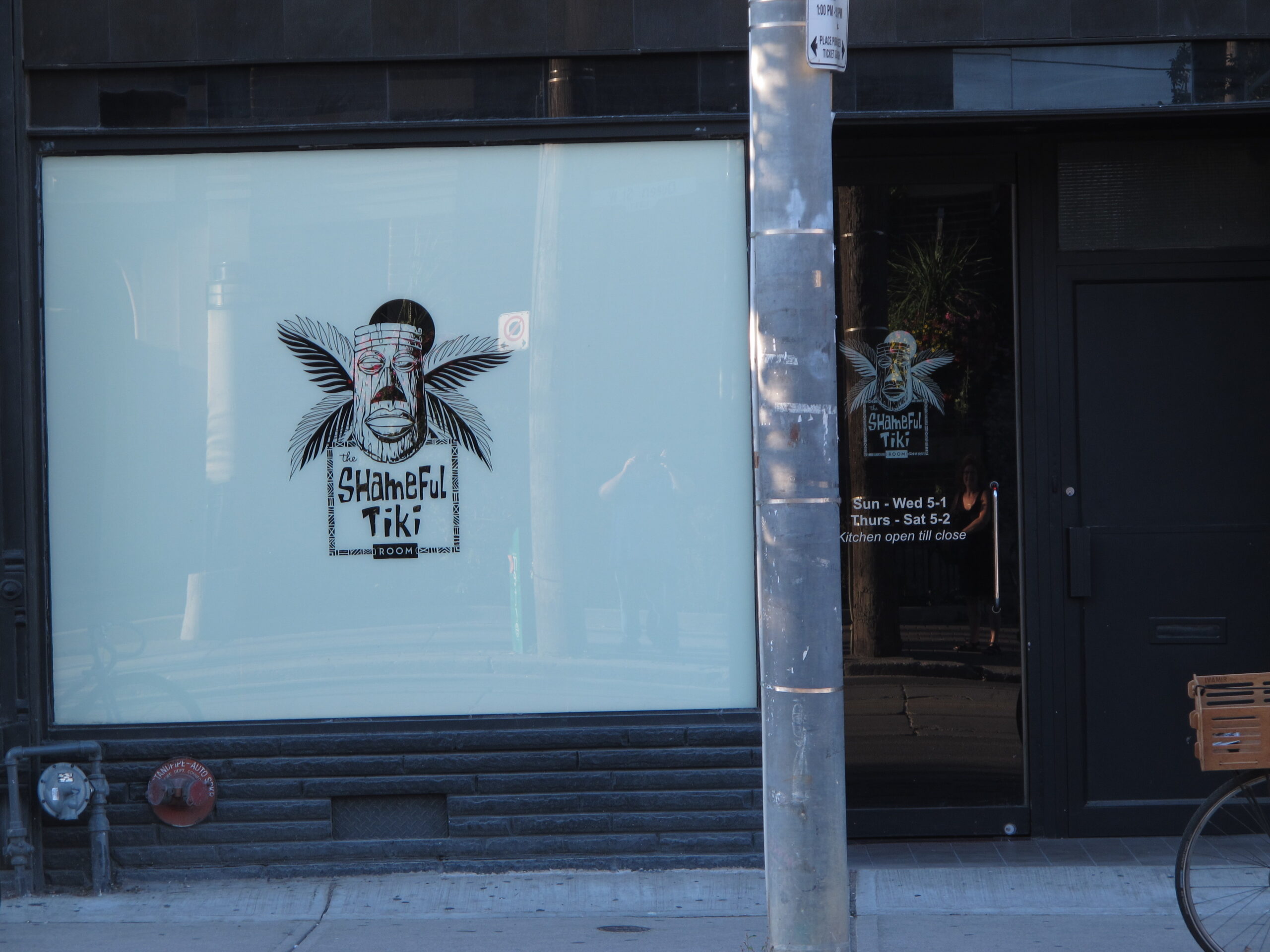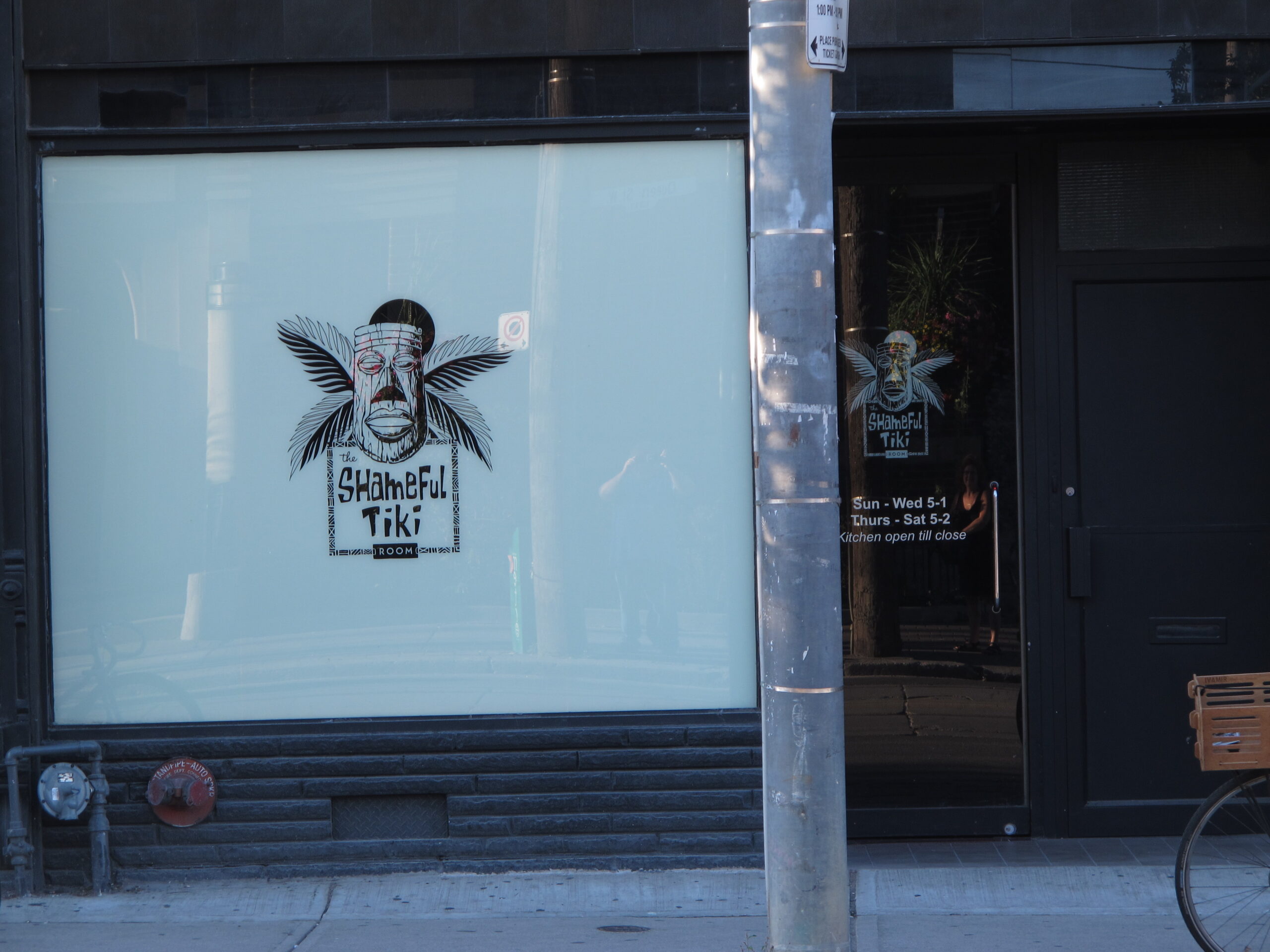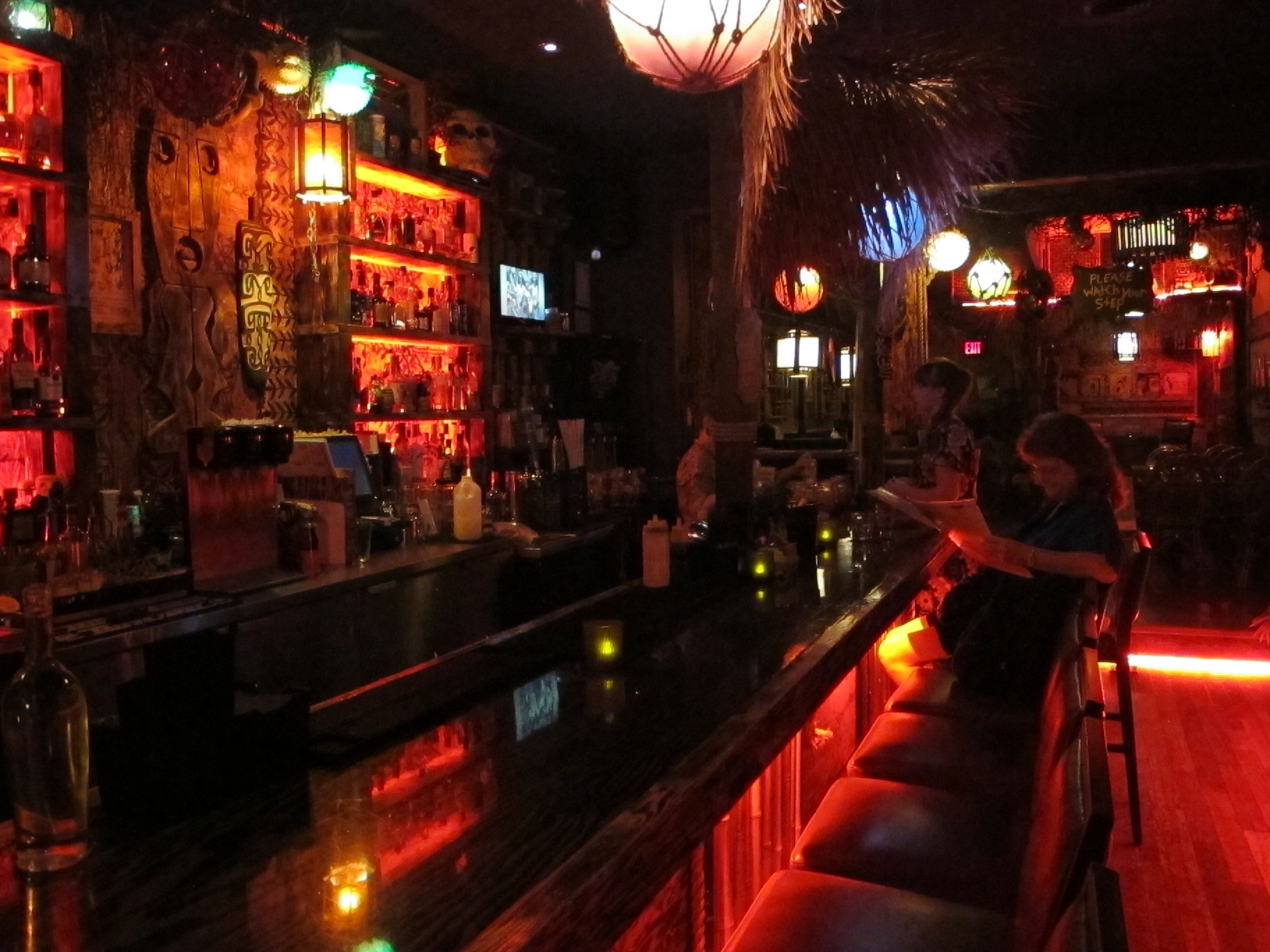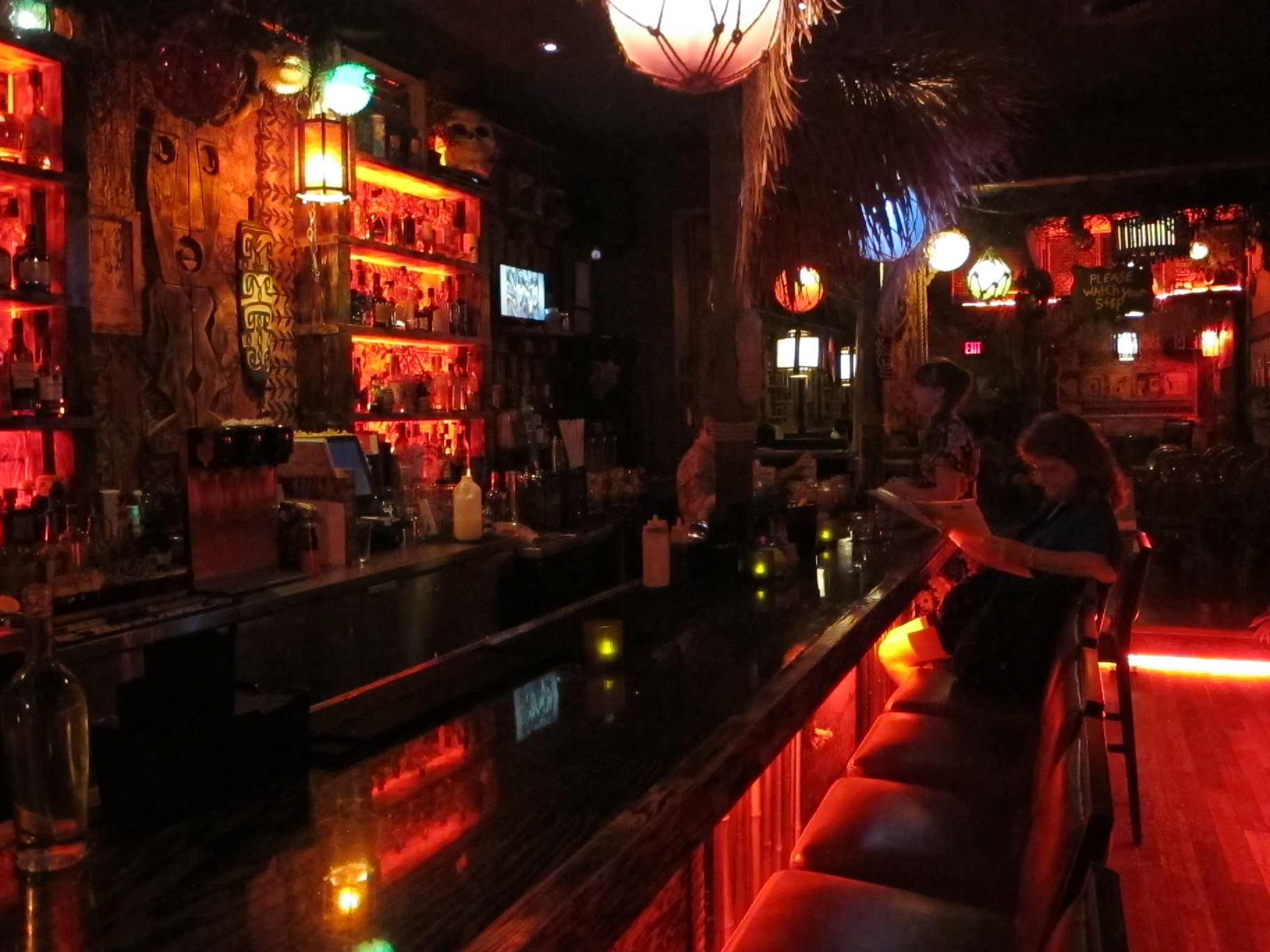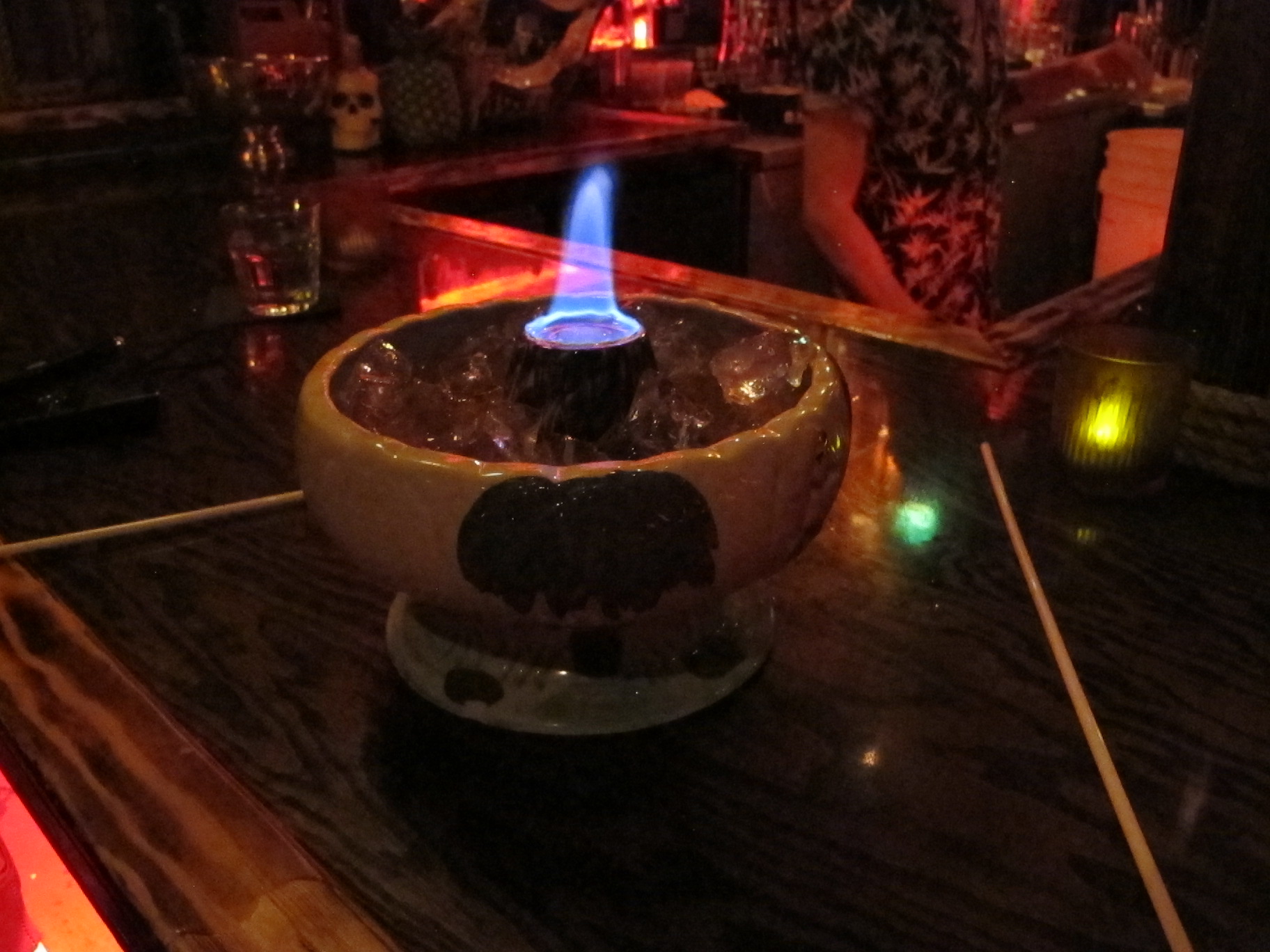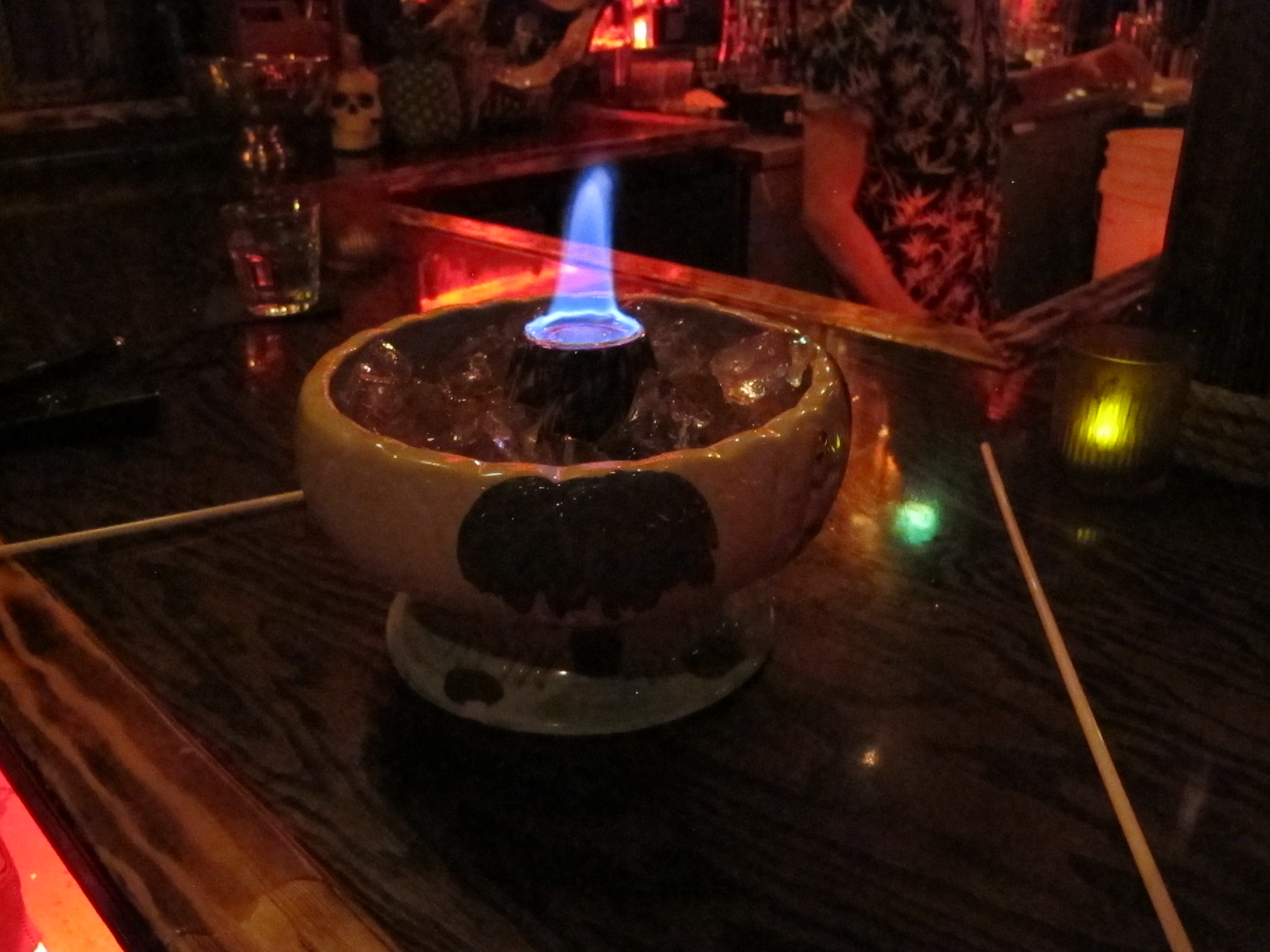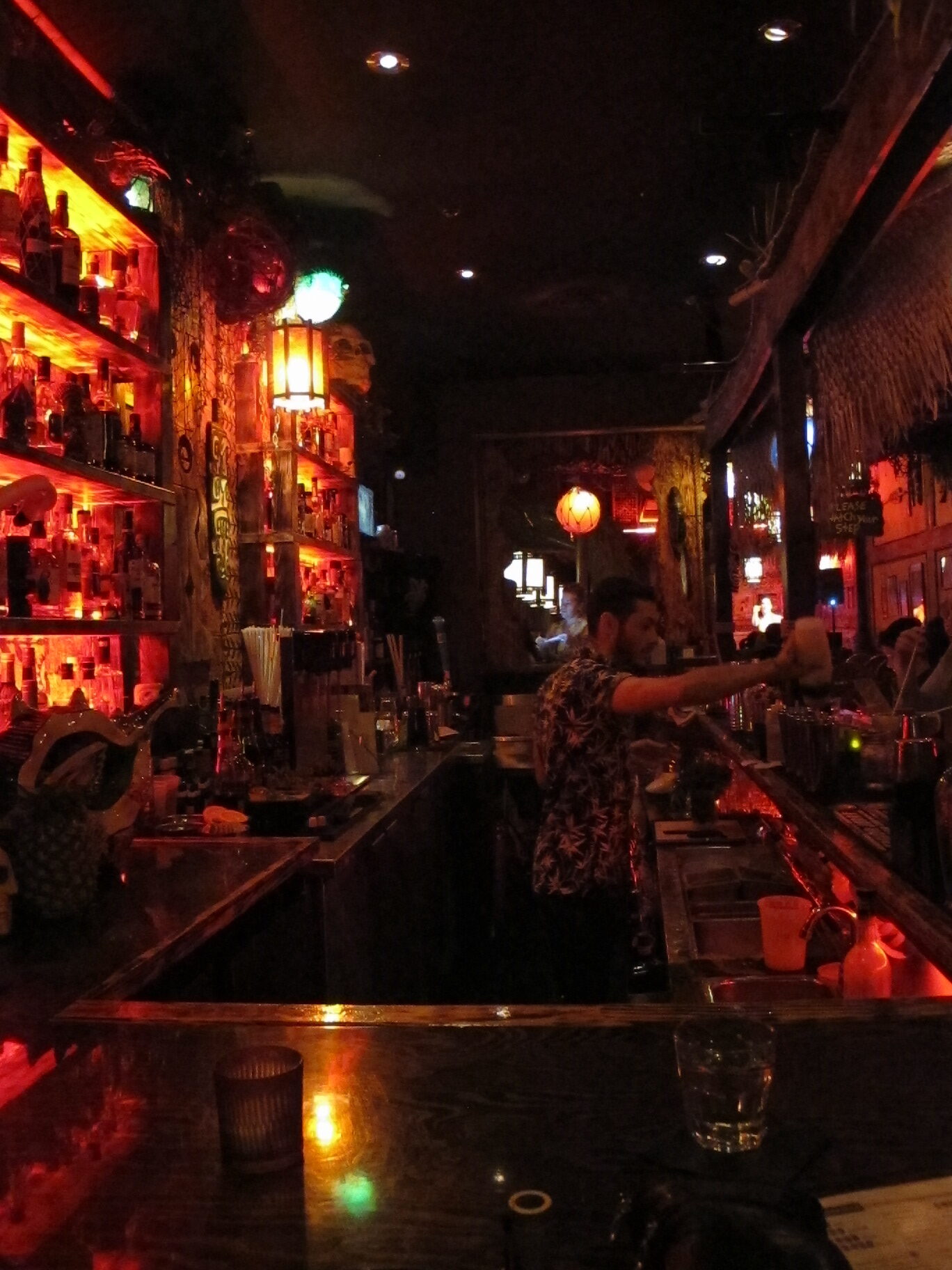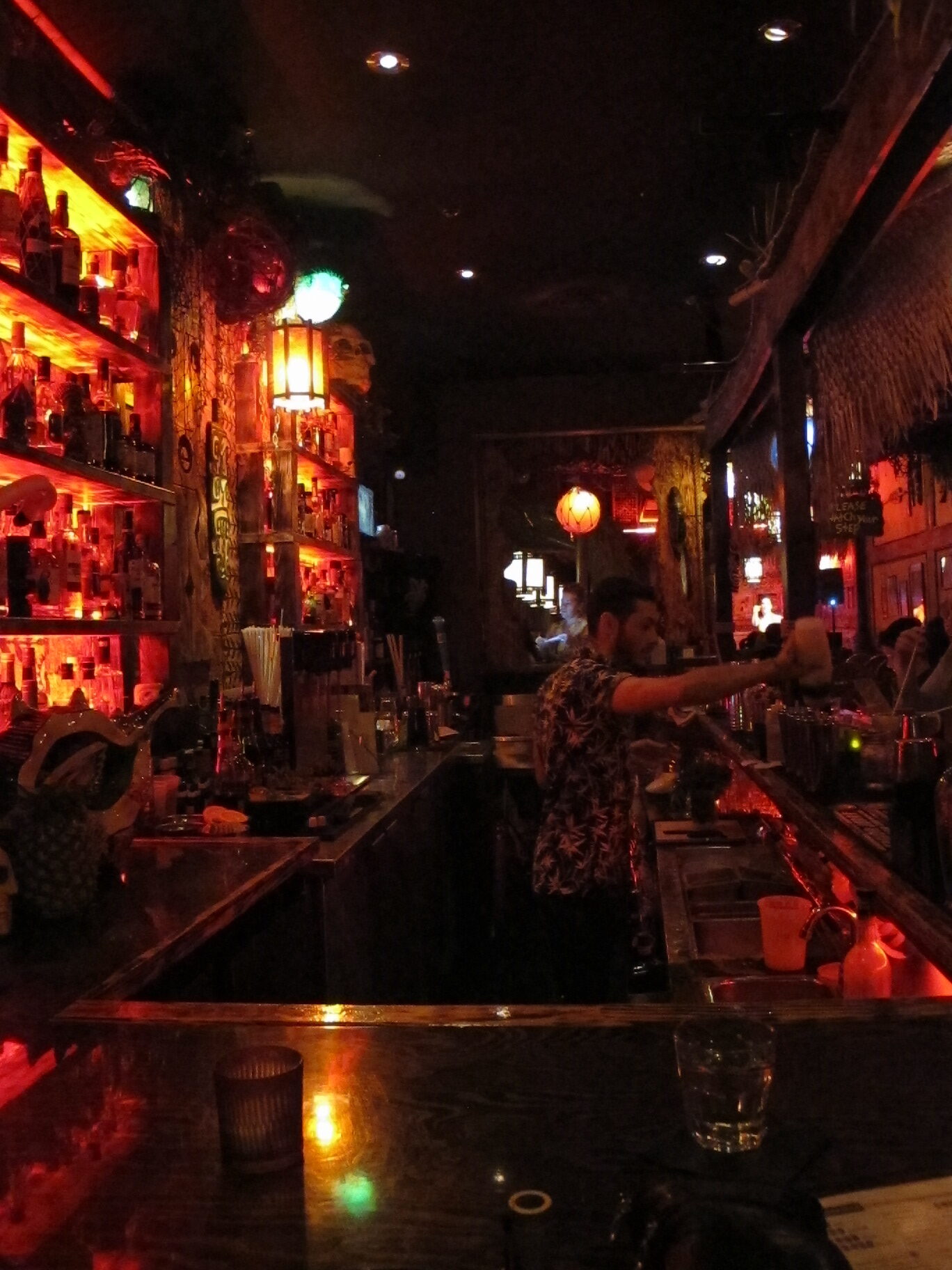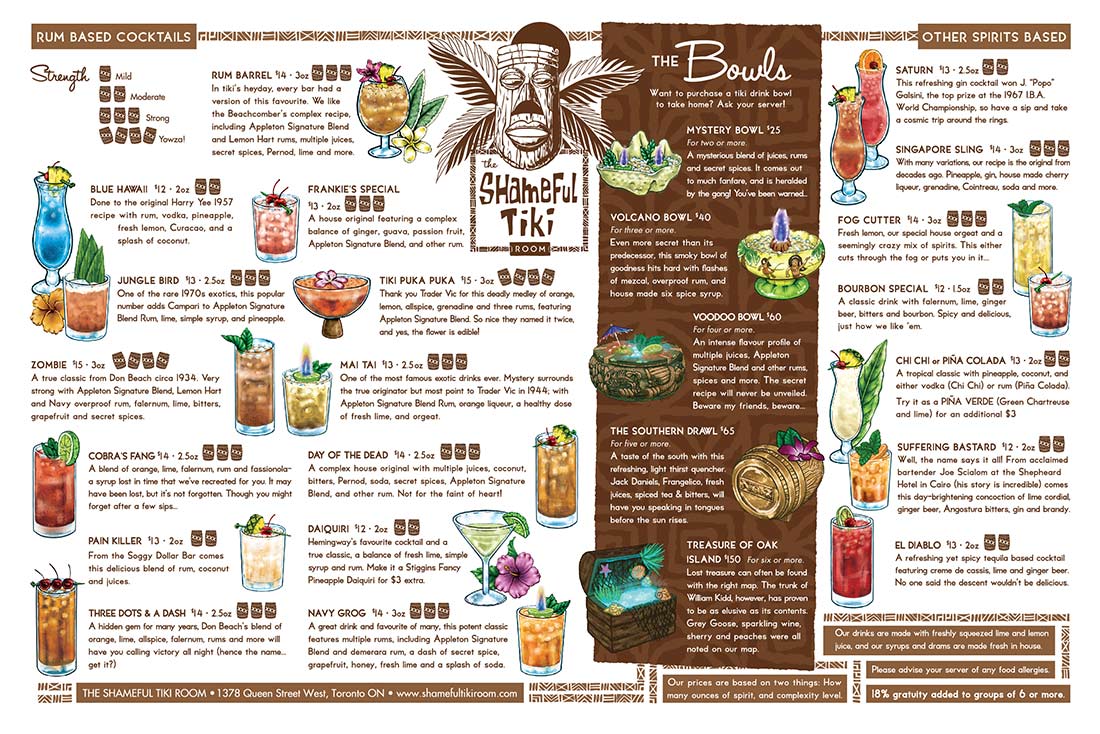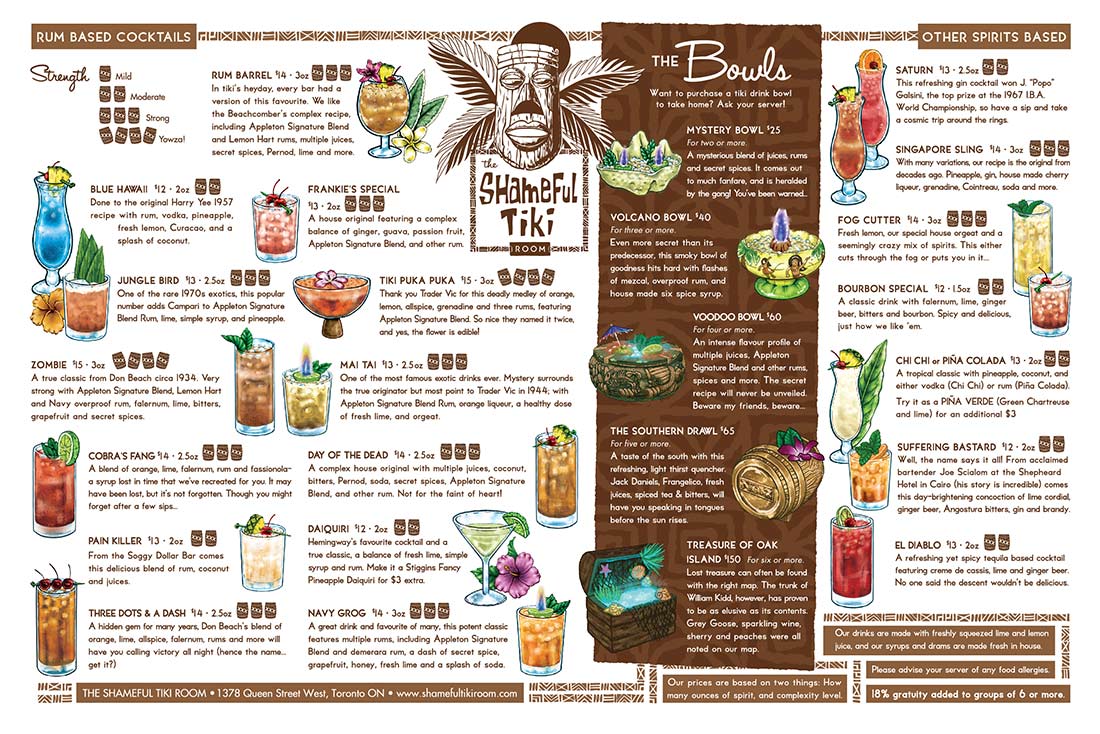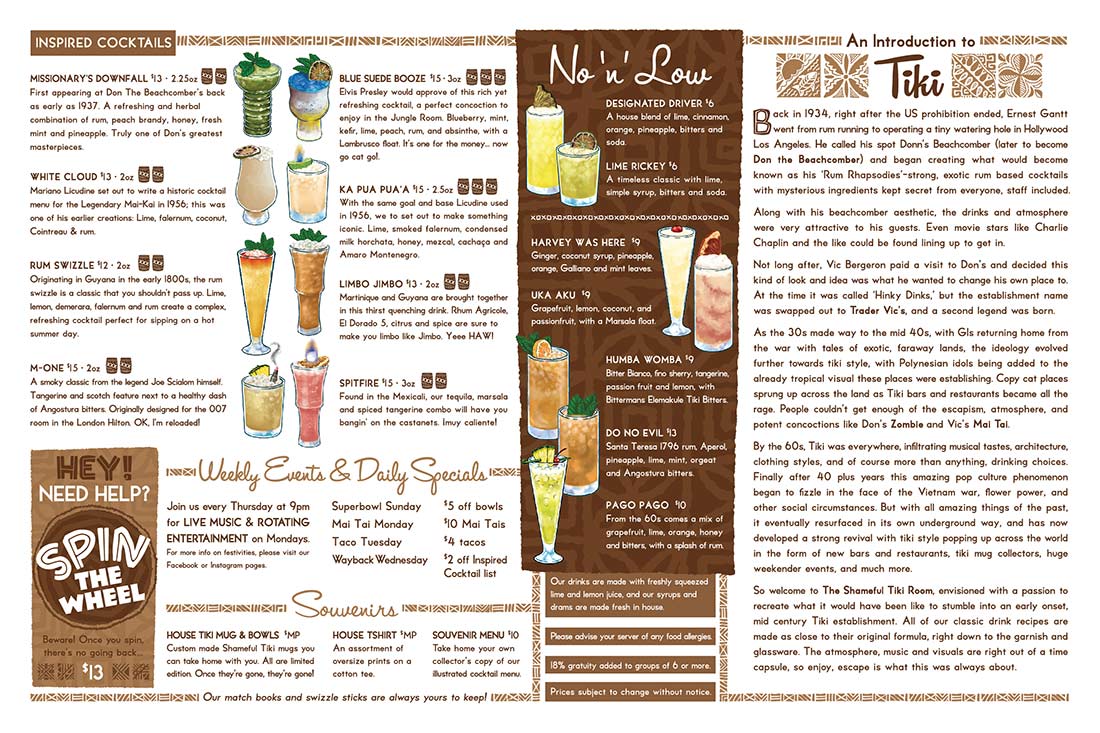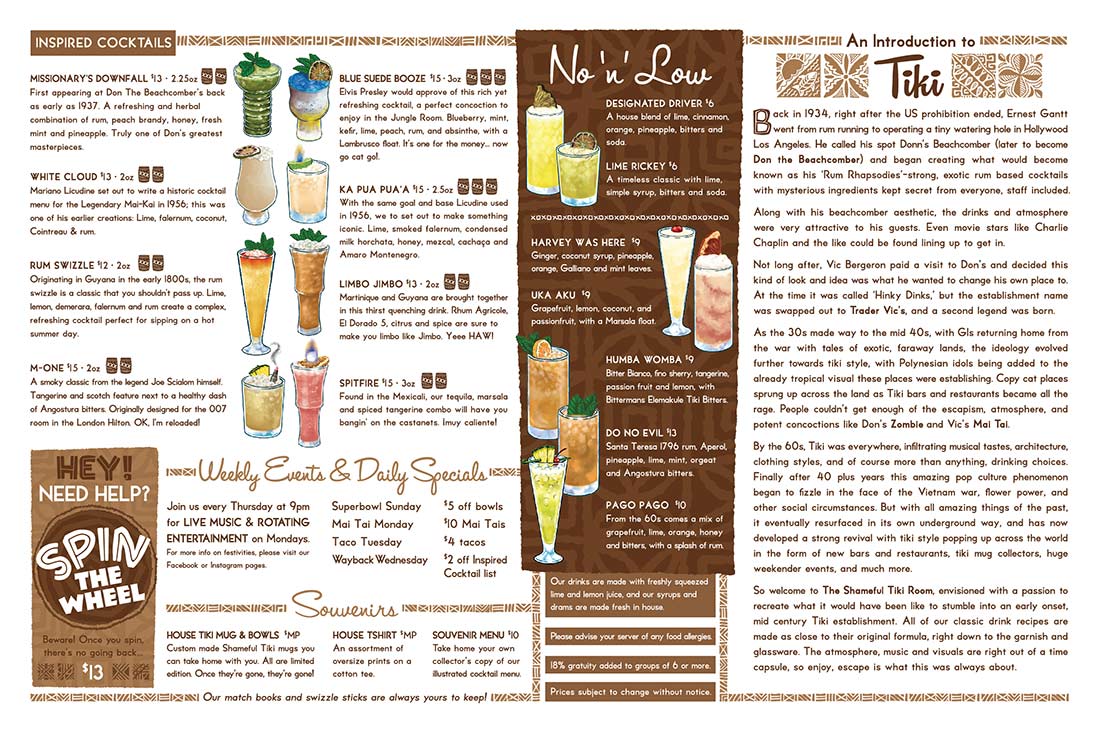 The Shameful Tiki (Toronto):
Location: 1378 Queen St. West, Toronto
What bar are we talking about today?
Well with travel restrictions still in place I thought we should stay close to home, well relatively close, and talk about a place that you and I have both visited, The Shameful Tiki Toronto.
Where about in Toronto is it? location?
Which is a very eclectic part of Toronto with numerous shops, bars, and restaurants. Easily available by public transit, public parking lot across the street and best of all quite a few AirBnb very close by, for those of us who like to stumble home.
Aren't there two Shameful Tikis?
Why yes, there is a location in Vancouver in a very similar type of neighbourhood.
Which one was first? How did they get started?
The original Shameful was in Vancouver and was opened by Rod Moore back in 2013. Rod ran a local bartending supply shop and found the tiki pop culture "extremely addictive!" and opened the bar there.
When did the Toronto Shameful open ?
After a few years Rod was looking to expand so he partnered up with Alana Noduega. Alana was working at the very popular Harbord Room in Toronto known for their burgers and one of the early flagships introducing craft cocktails to Toronto. Using the same tiki detail in decor as the Vancouver shop, Shameful Toronto opened in November 2015.
So it's old school tiki then?
Yes very much so. No white walls, very busy Polynesian pop ambiance, no TV screens, exotica and surf music playing, and even a small secluded area called Christian's Hut, as loyal listeners will recall from previous shows was the name of the temporary bar built by the famous actor Clark Gable. This also serves as a band stage and an event area.
It has a capacity of 70 people and some evenings there can be a line-up. Resevations can be done online as there is no phone. They have a few events so you have to watch out for those.
Drinks:
Yes very good. All hand made syrups, fresh juices, original as well many classics. Really liked the rum barrell, Frankies Special and the Volcano Bowl. Oh yes be sure to order a Volcano bowl. And yes Paola they have a Blue Hawaii on the menu. To me the drinks are even more amazing considering, as we have gone on and on about, the lack of variety in rum and other liquours here in Ontario. How did you recall you experience?
Food?
They have all kinds that one might expect in a tiki bar. Pu-Pu Platters, Crab Rangoon, and the chorizo meatballs in Huli-Huli sauce, yum.
How have they been getting by during this pandemic?
Well . To get through the dark days they were selling premixed drinks without the alcohol and selling take out food right on the street. they still sell their own tiki mugs and bar ware. They will soon be selling their own syrups. I'm guessing they did ok as they announced that they are looking to expand. We'll have to see where and when that takes place.
Shameful Tiki is listed in the top 20 bars in Canada, in the top 5 in Toronto, and listed as an honouree at 2020 Tales of the Cocktail for Canadian Best International High Volume Cocktail Bar.
Huli Huli sauce is a Hawaiian sweet soy sauce mixture and got it's name from the roadside chicken BBQ grills of Ernest Morgado and Mike Asagi in 9154. The chickens were on long skewers over large bbq beds requiring two people to turn the chickens. Huli is the Hawaiian term for "turn". Onlookers would yell huli when it was time to turn and baste and then a response of Huli, hence Huli Huli sauce.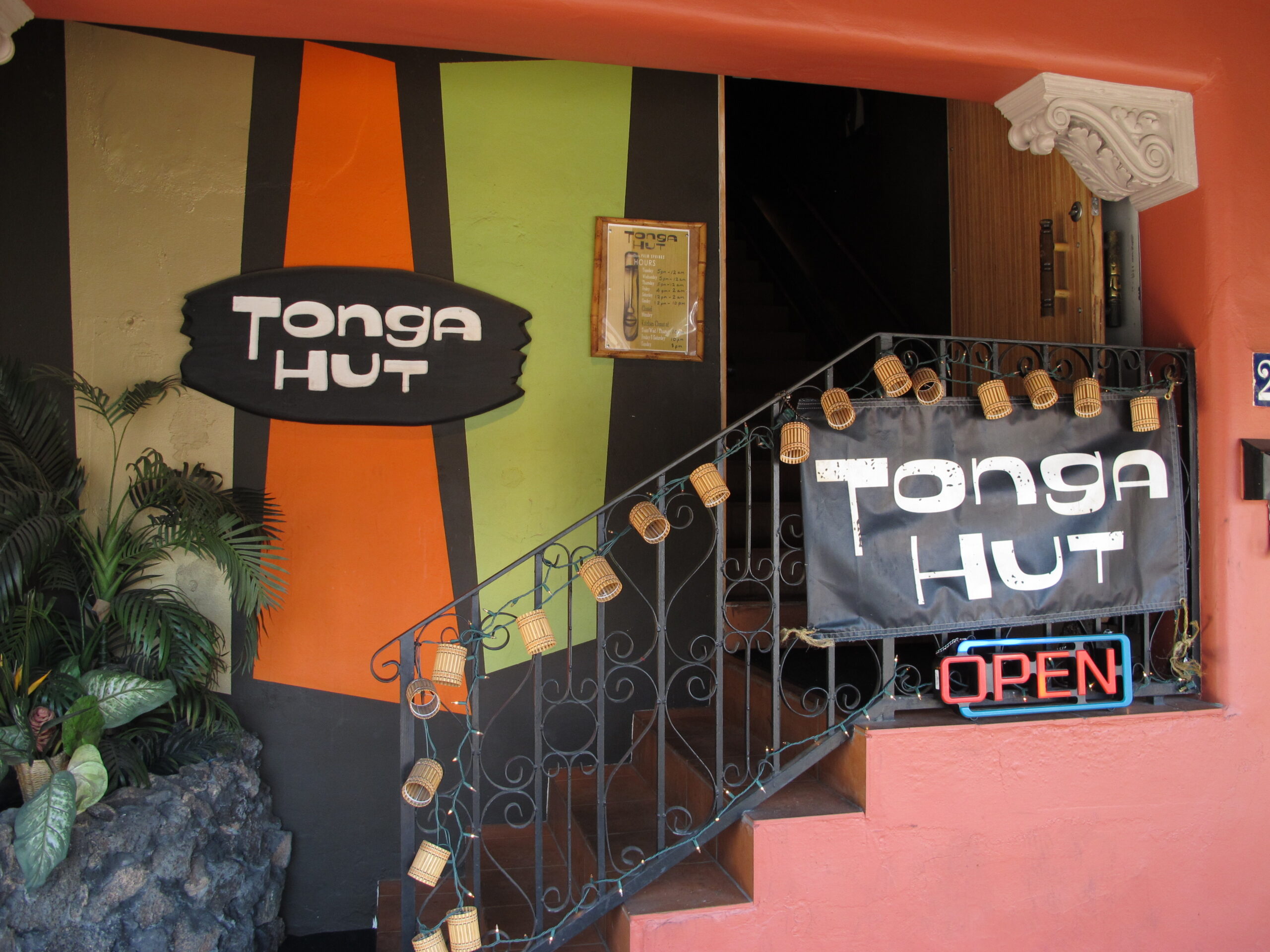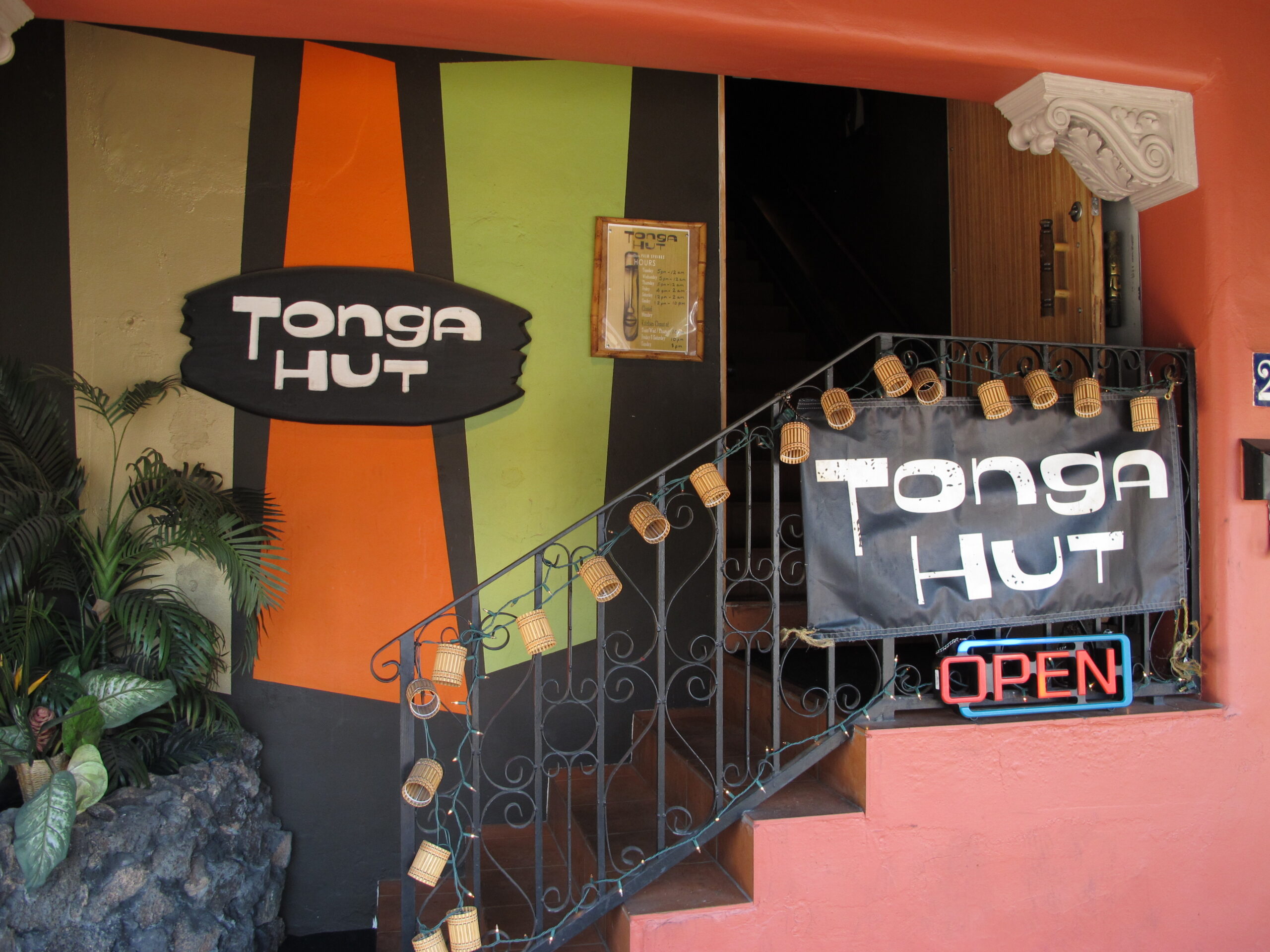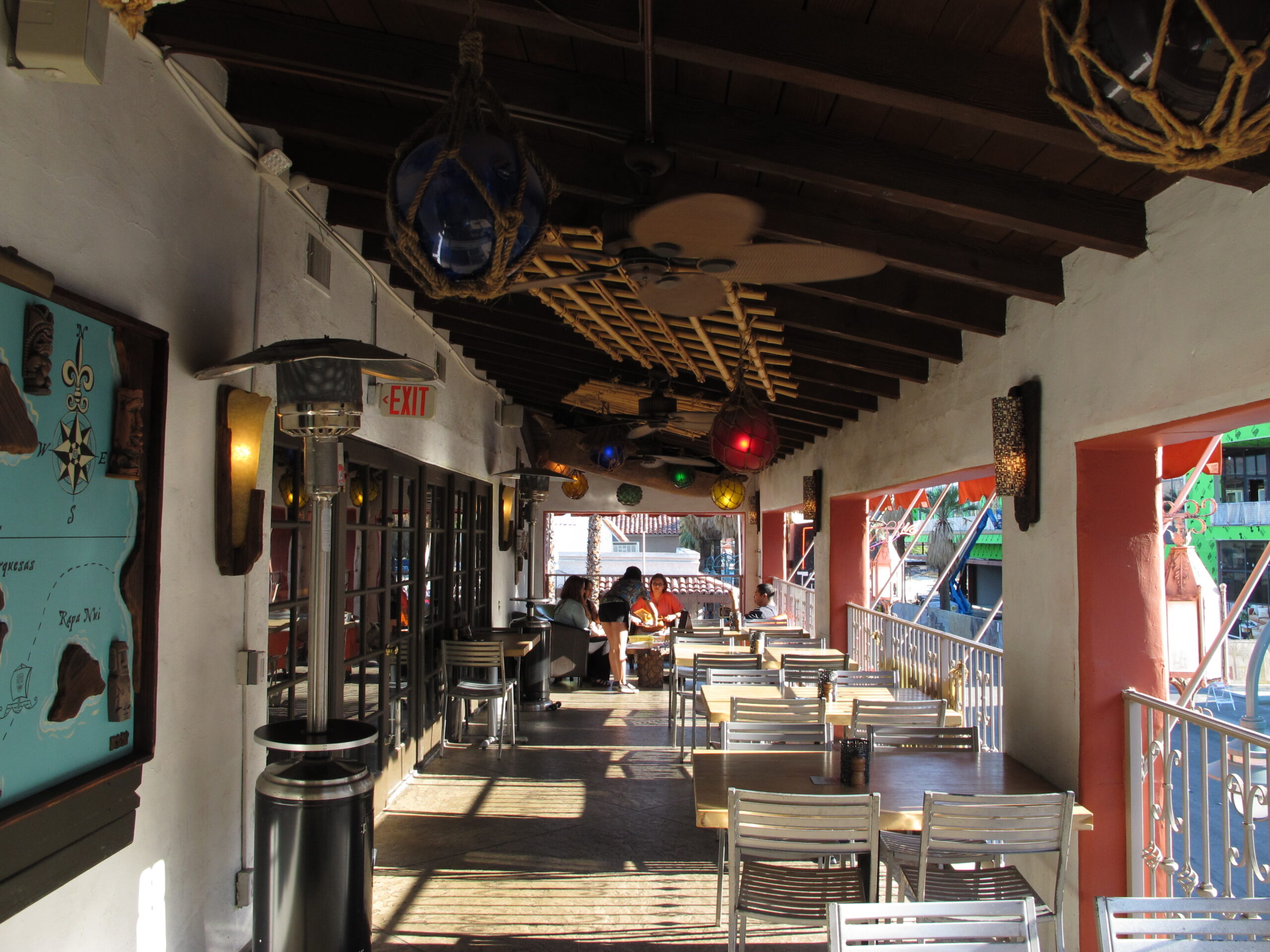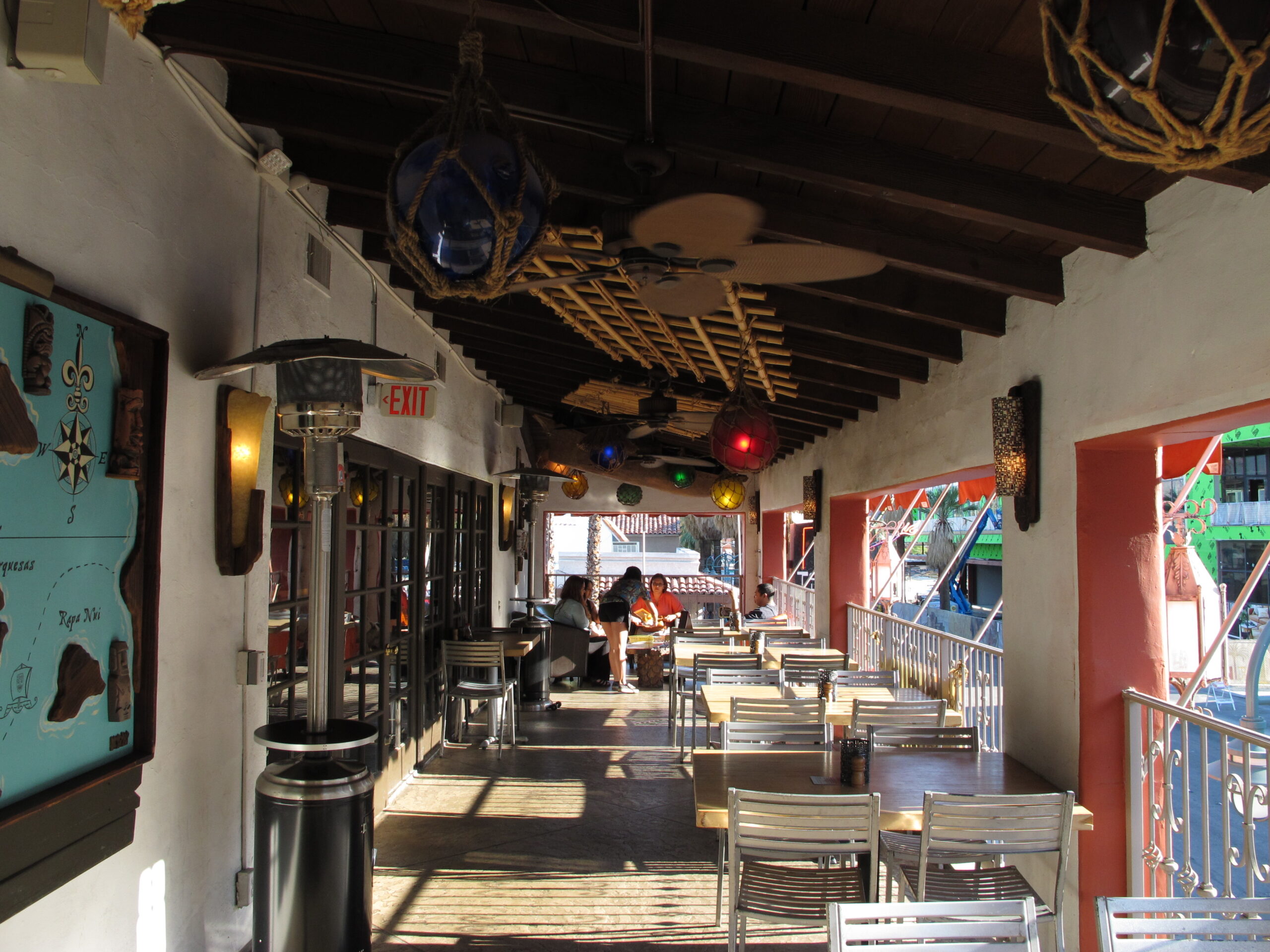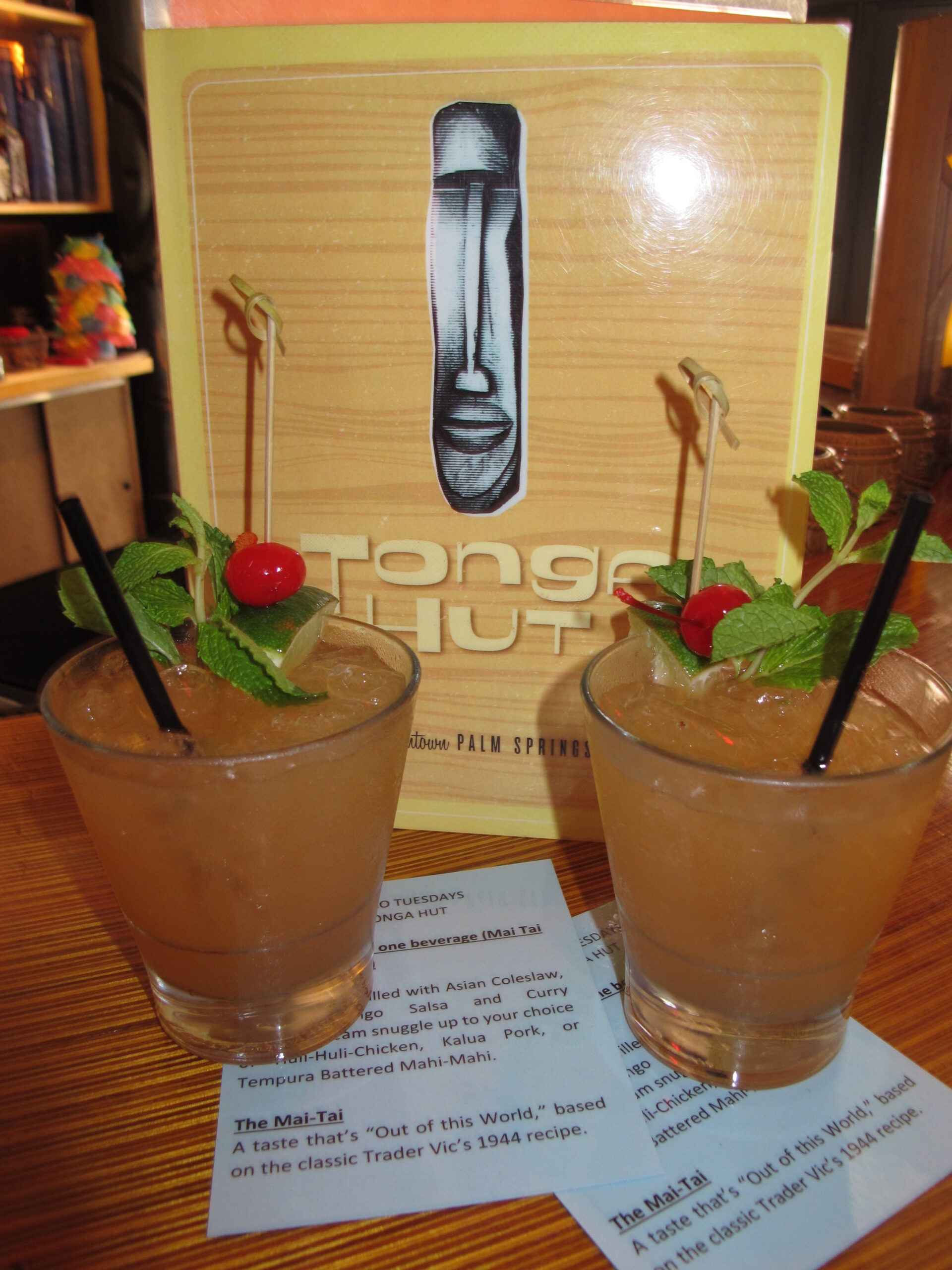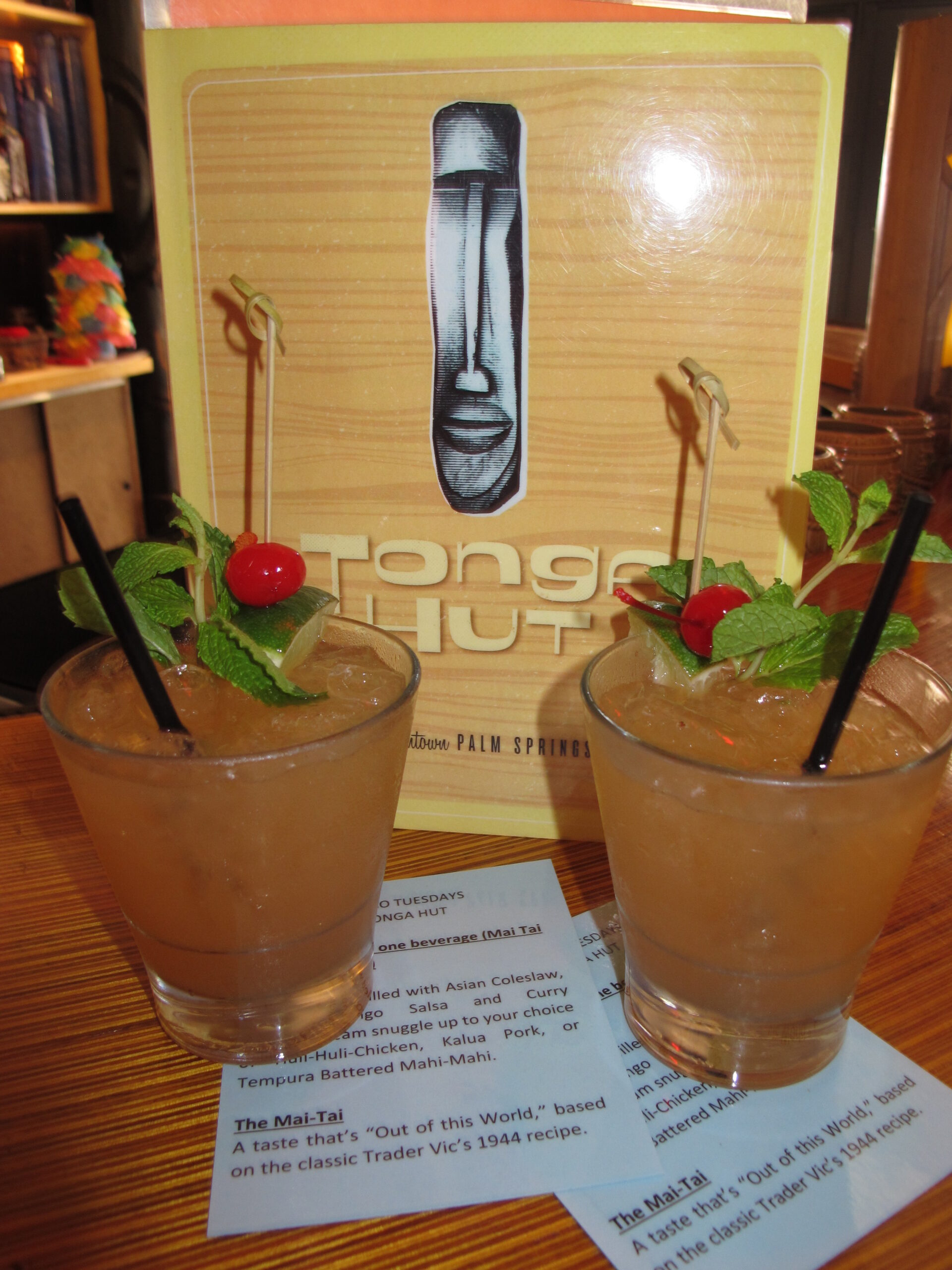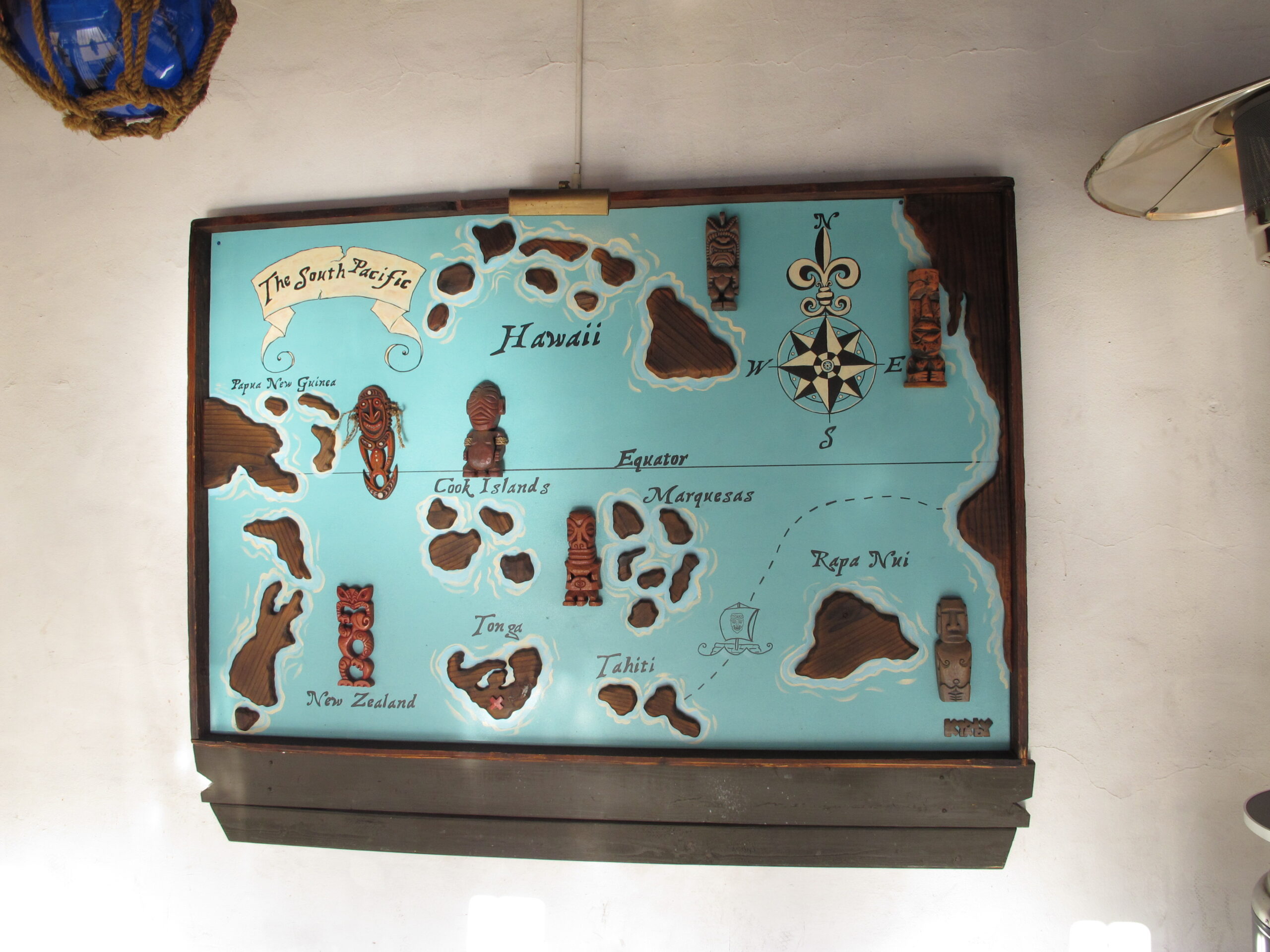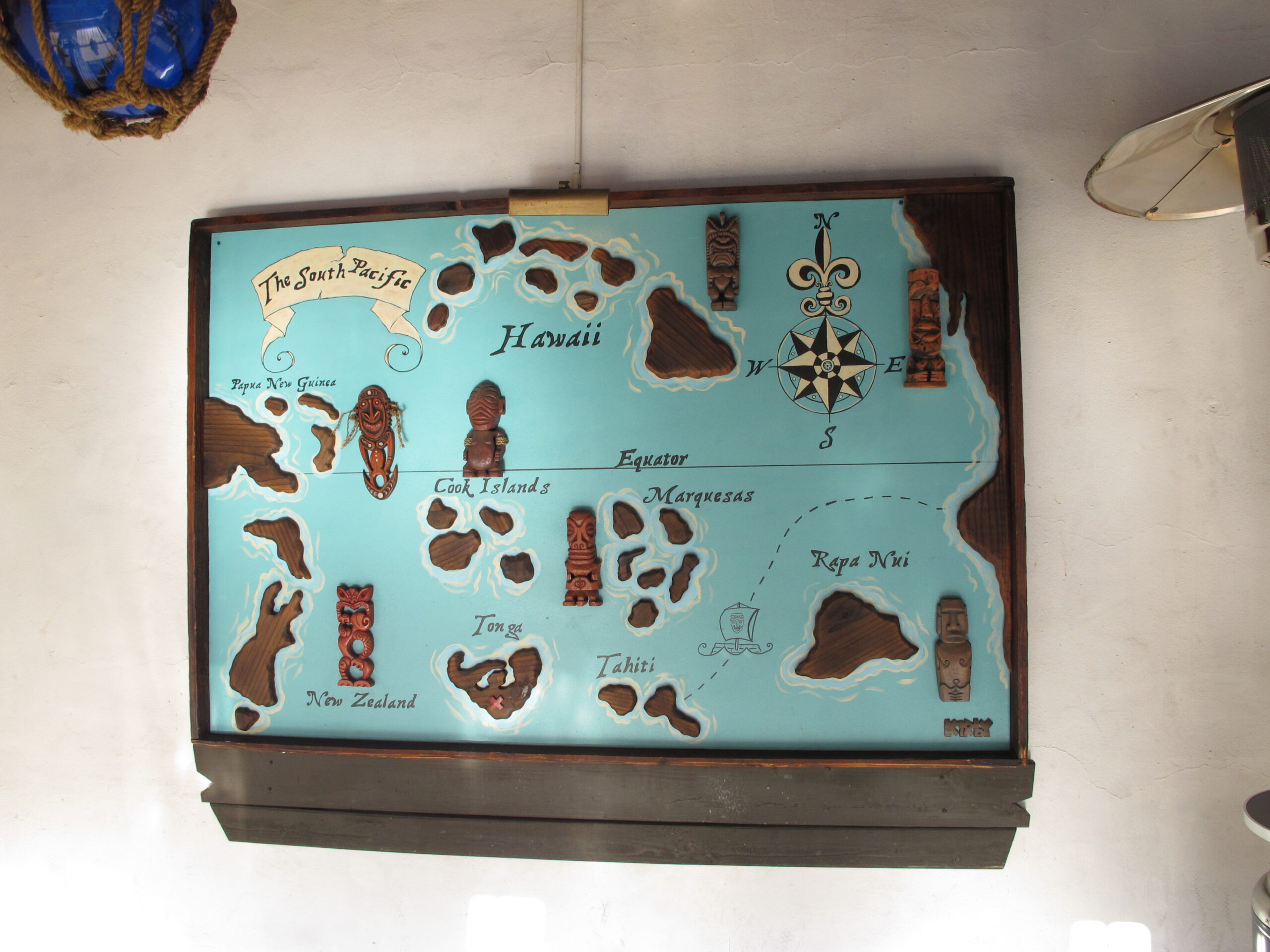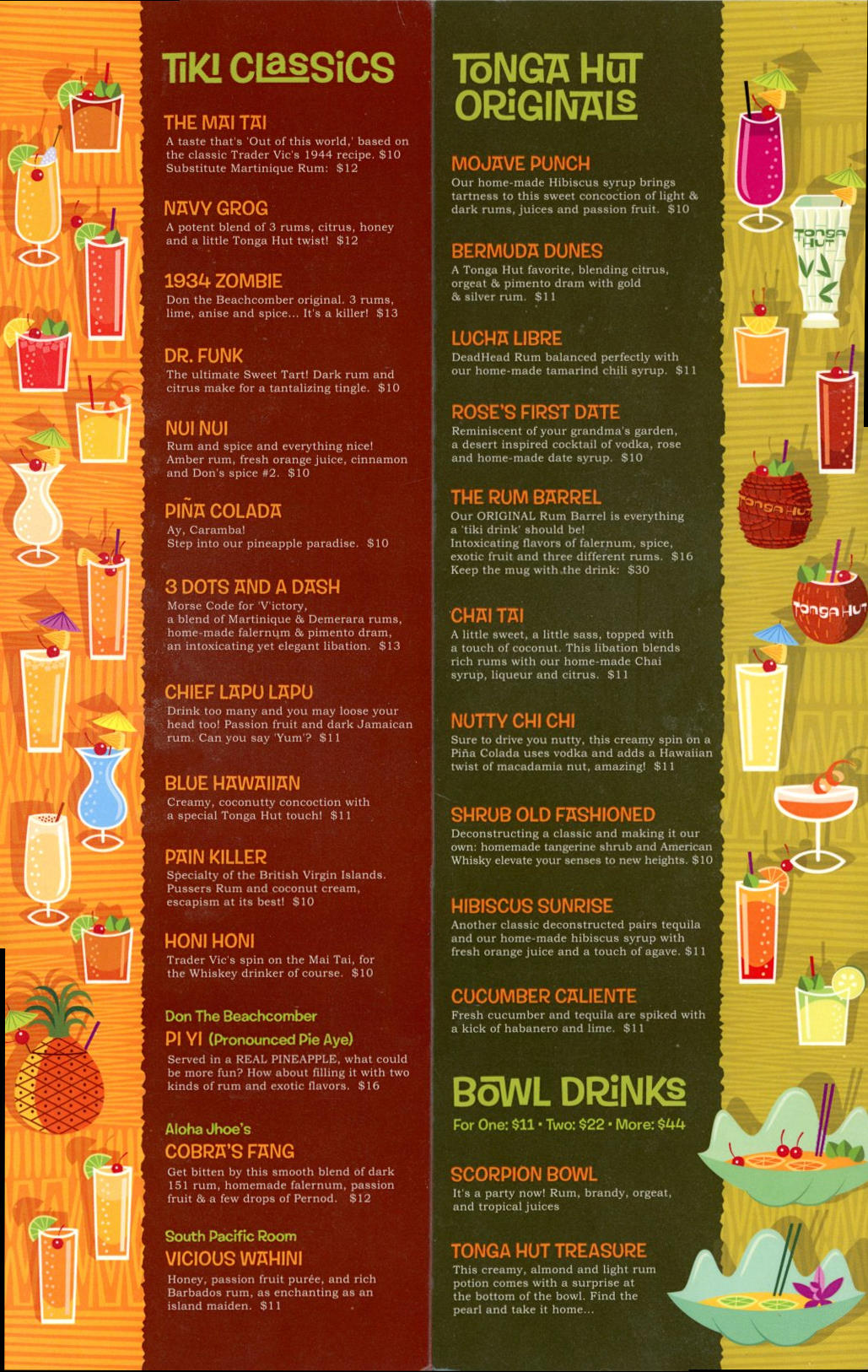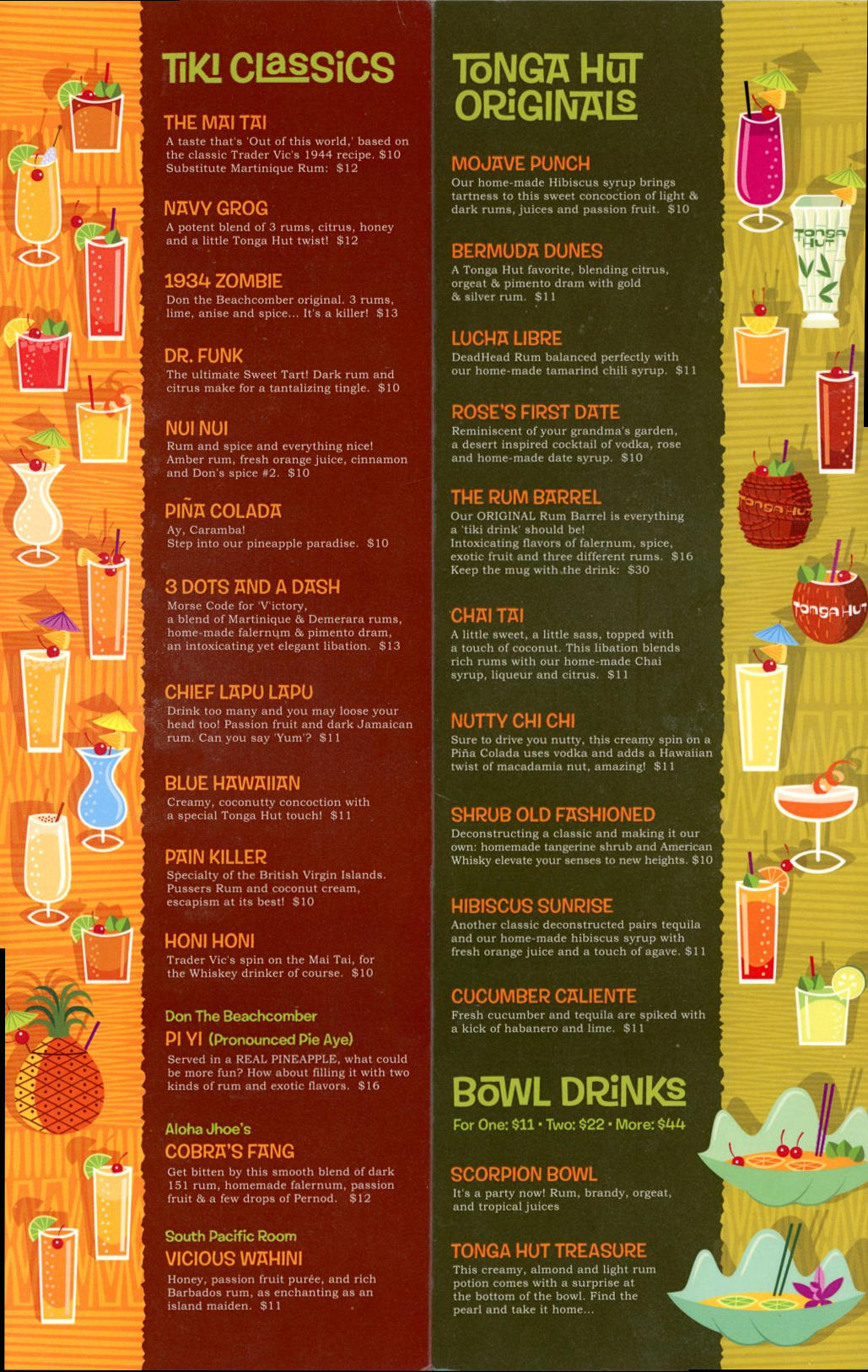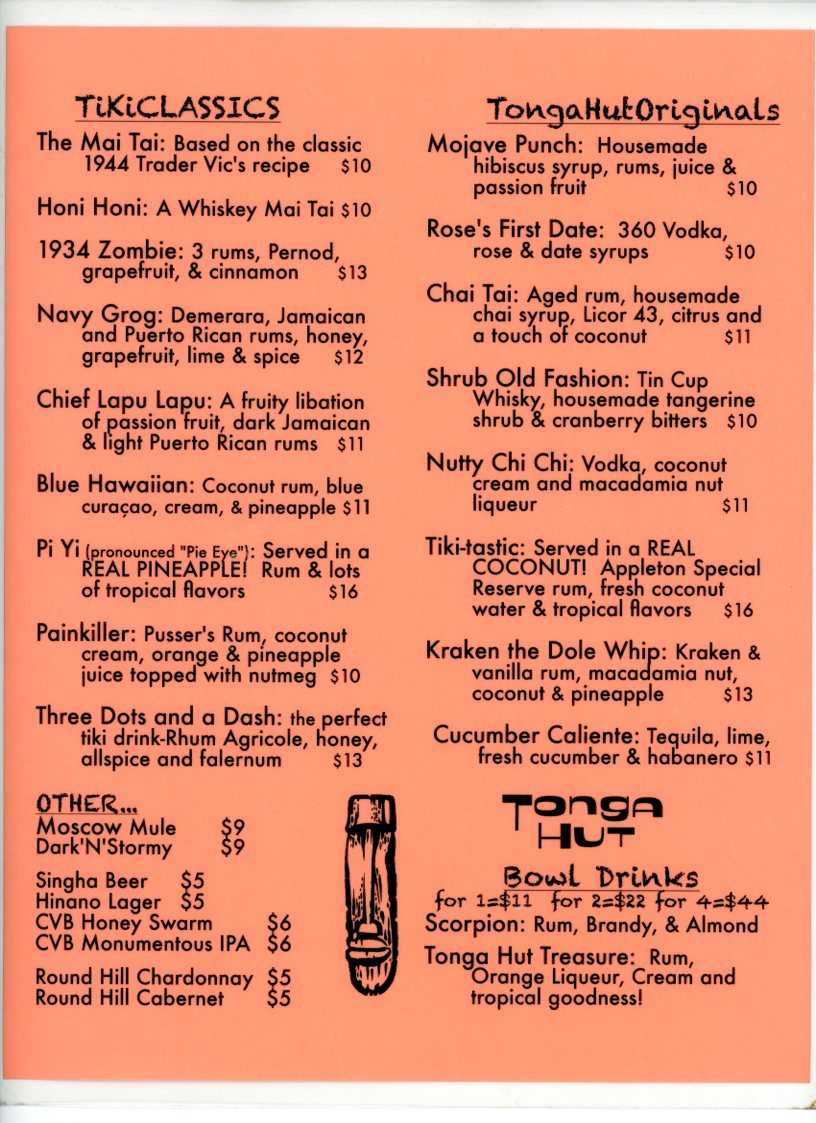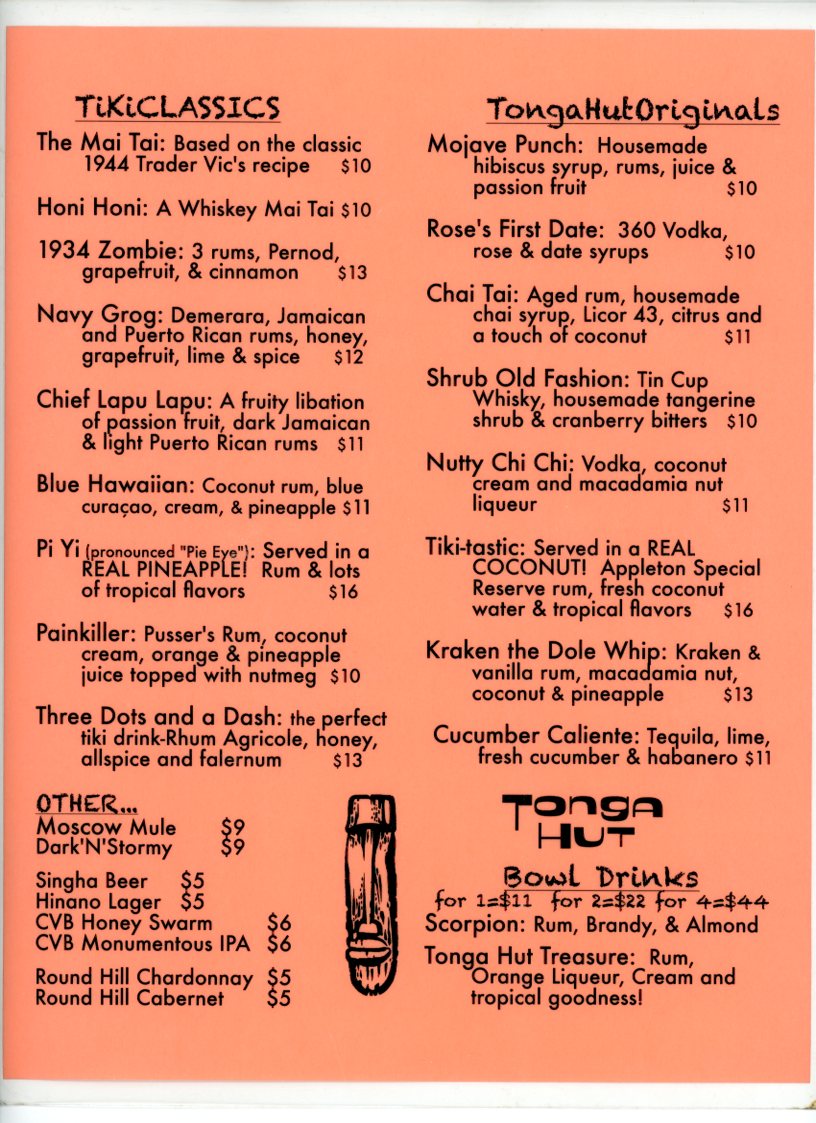 Tonga Hut (Palm Springs):
Tonga Hut:
Location:
254 N. Palm Canyon Dr.
Palm Springs CA
What bar are we talking about today?
We are talking about the Tonga Hut in Palm Springs California.
Where is Palm Springs?
That's actually a good question, because we had no idea how close it was to everying. It is located in the Sonoran Desert 4 hours drive South west of Las Vegas and just about 2 hours due east of Disneyland.
So is this a  real Tiki bar?
Yes very much so, but not the typical dark indoor, no white walls escapist tiki bar. The town of Palm Springs is a mid-century architecture showcase with the desert climate preserving the builidings, artwork, appliances, you name it, so while the decor is very much tiki, it's in a style that is also very mid-century with local artists providing some of the decor.
The bar itself is located on the main drag, Palm Canyon Dr., up on the 2nd floor with an outdoor balcony overlooking the street, bar and private seating and a secret room.
A secret room?
Yes. In the heydey of Palm Springs many of the stars would go there to get away from Vegas or LA and a number of bars would have a secret room where a Sinatra or whomever could escape the general public. The Tonga Hut continues that tradition. You go through the phone booth into a hidden room and then another lanai designed by mug maker and artist Tiki Diablo. I will say it's not that great a secret though as you can book it for $50. It holds between 2 and 12 people. The day we were there there was a baby shower earlier in the day.
Drinks? Food?
All outstanding when we were there. Josh was our bartender and he treated us amazingly well as we went through the menu. The patrons we met at the bar,  were all tikiphiles, giving us tips on where to go in town and other cities. The two nights we went through most of the menu. They started using their own personal tiki mugs to serve us.  Again Pupu platter also the pork sliders. Not to be missed is Tiki Taco Tuesday. 3 tacos and a Mai Tai for $12.
As for the drinks very yummy both classics and originals. You gotta have Kraken the Dole Whip. Only available there.
Hours?  
Ah, another good question. Check before you go. Did I mention desert? It is very hot there in the summer. Most places in Palm Springs have summer and winter hours. Tonga Hut is closed right now Mon-Wed. Once travel happens again try and get there for a Thurs in the fall/winter as there is a weekly, close the streets little festival.
I have two menu scans a regular drink menu and an artwork menu by Shag as well as some pics which will be up on the website.
Who is Shag?
Heh, see this is a case of someone famous within the tiki circles and generally unknown outside.  SHAG  or Josh Agle, SHAG being the last 2 letters of his first name and 1st 2 of hit last, is a "lowbrow" artist whos' work is very recognizable. Besides art prints, designing tiki mugs and album art he has also done some work for Disney. He has 2 stores selling his creatons. One in LA and another just down the road from the Palm Springs Tonga Hut.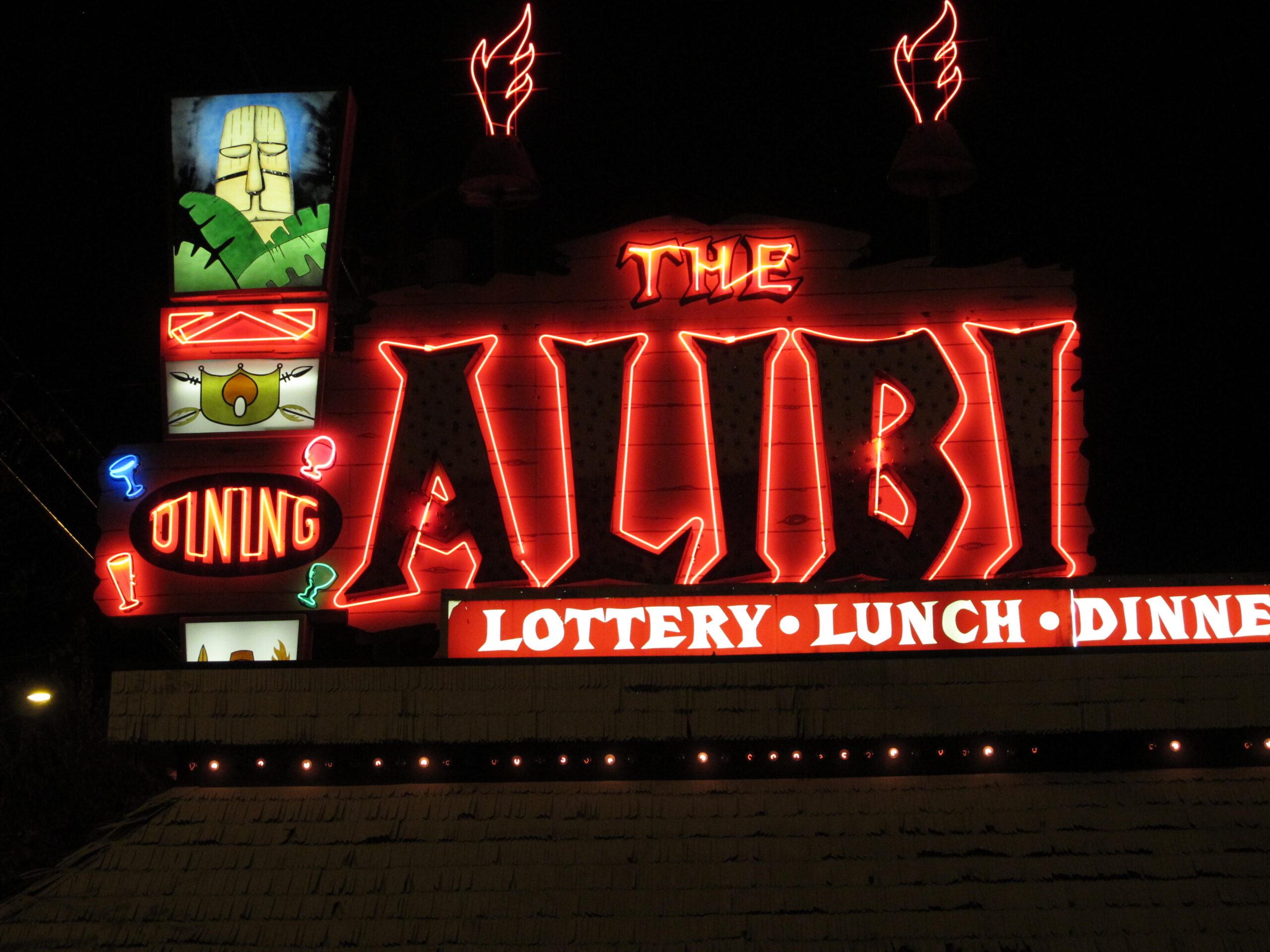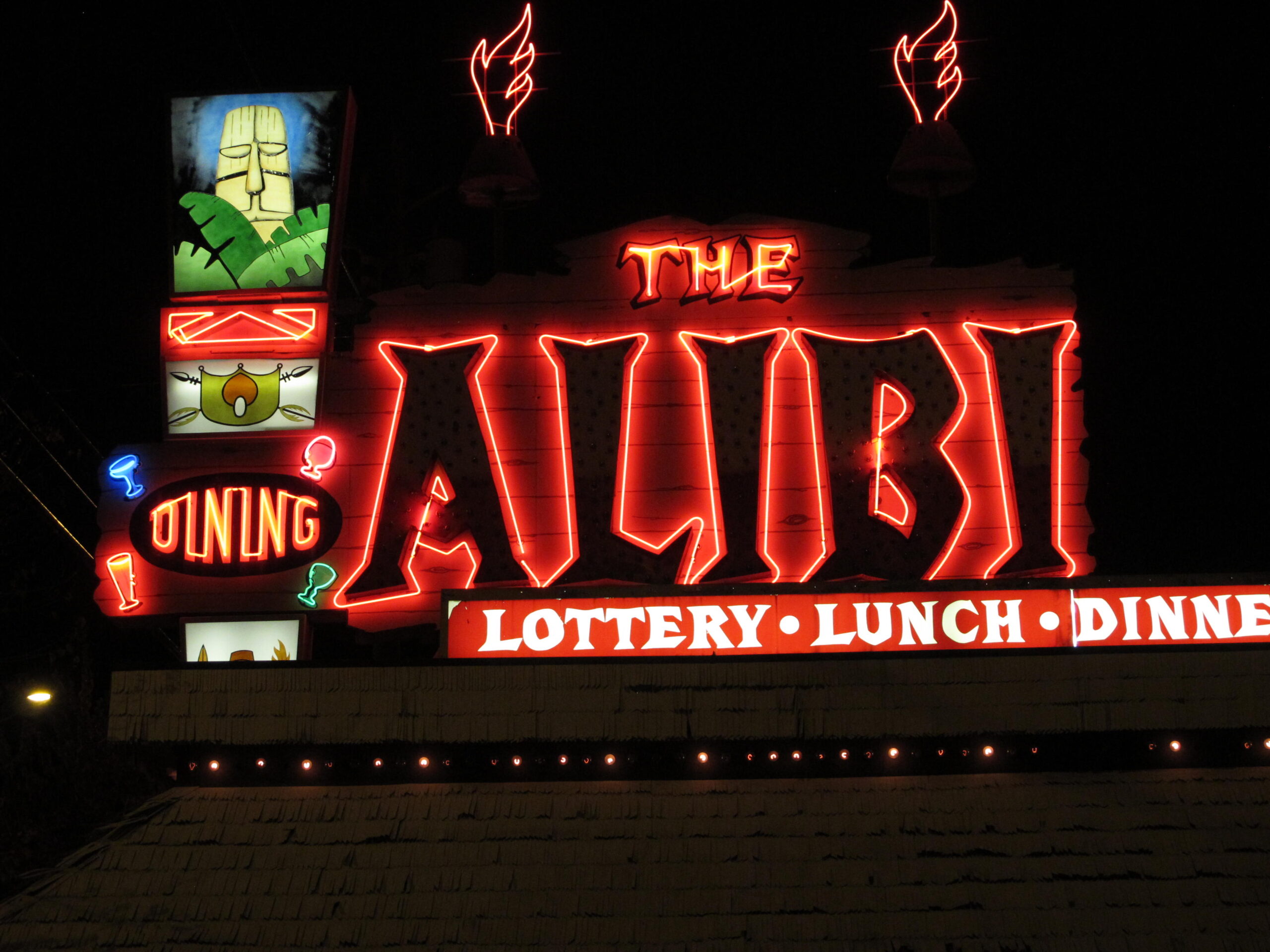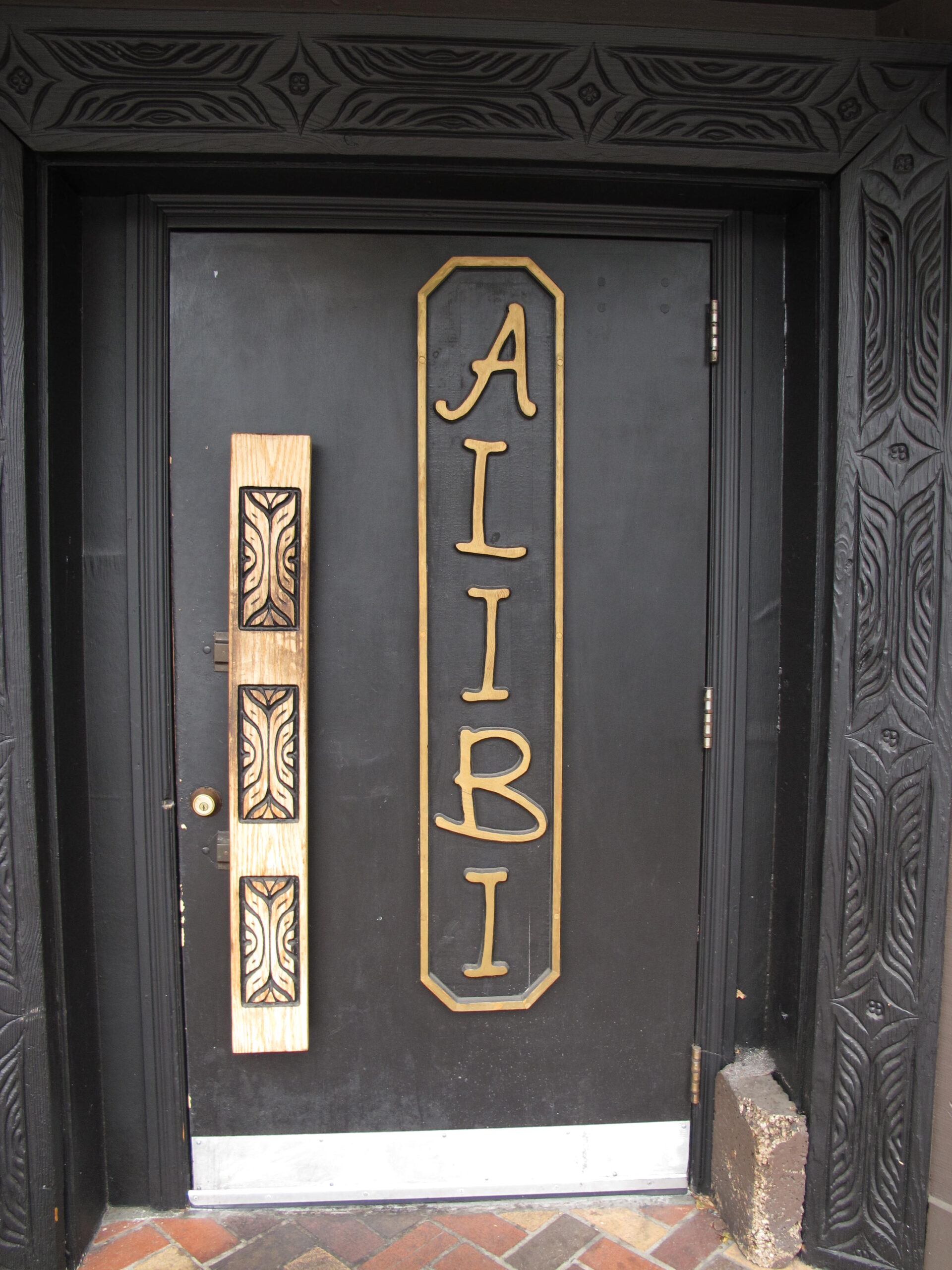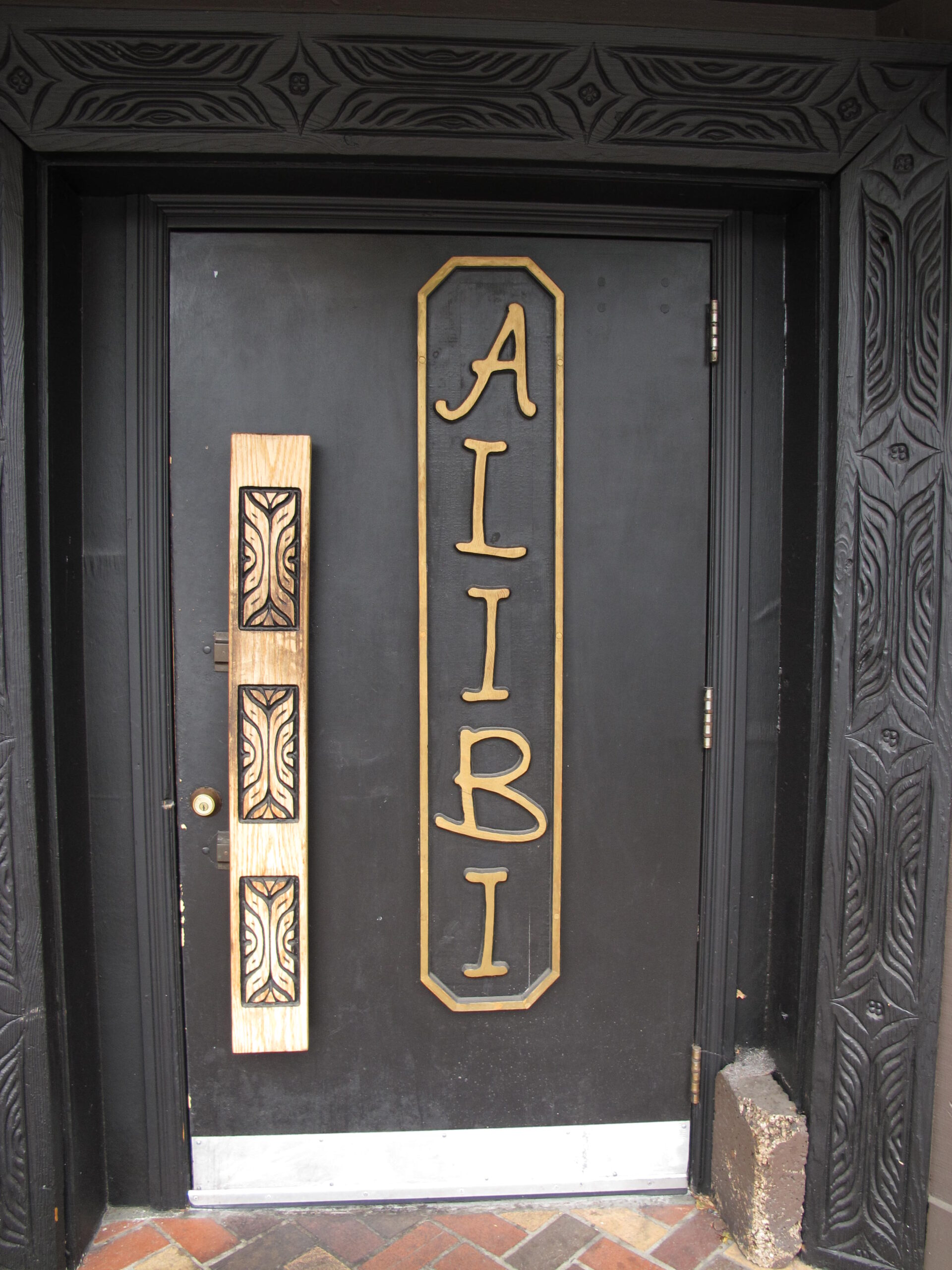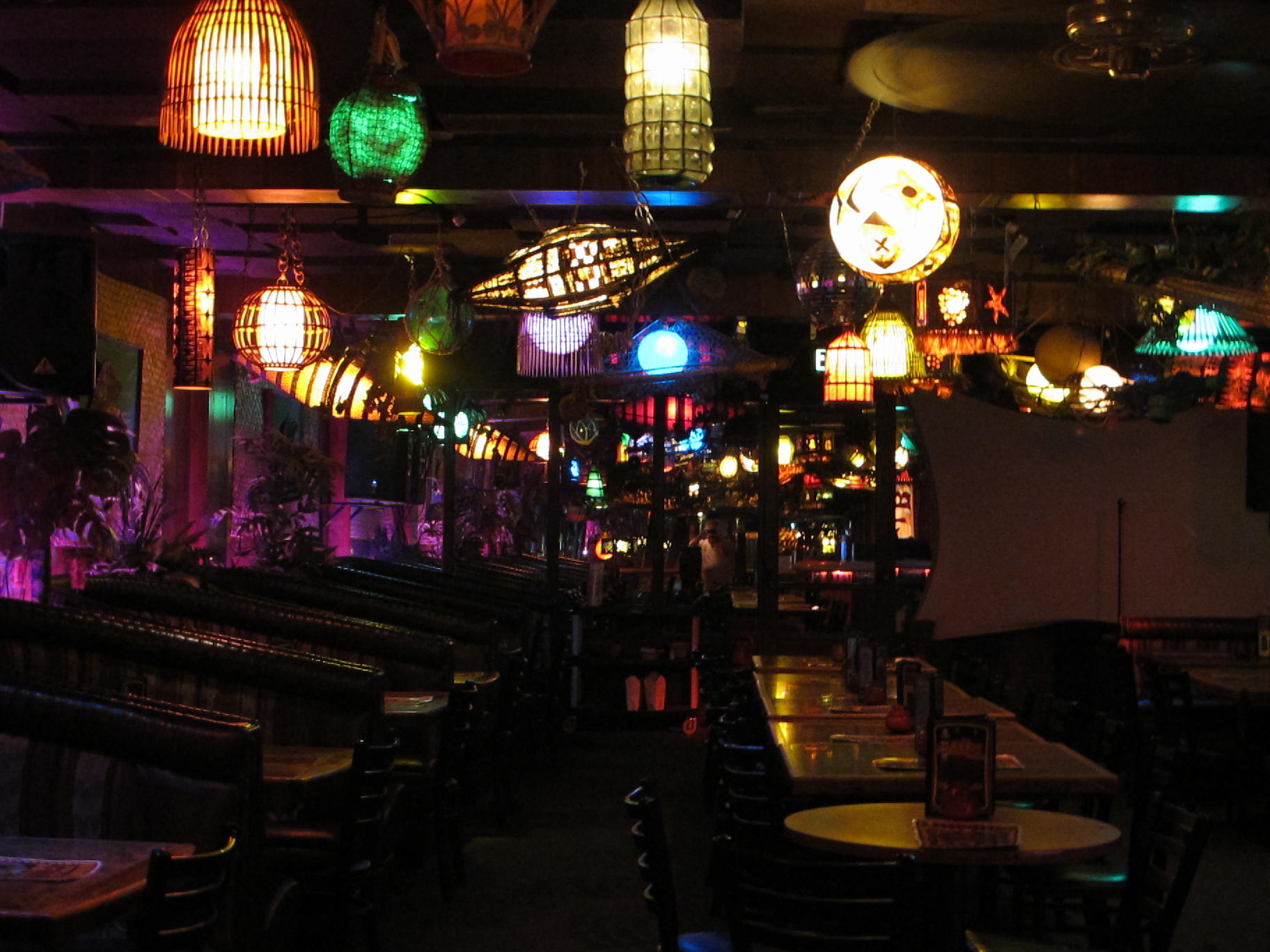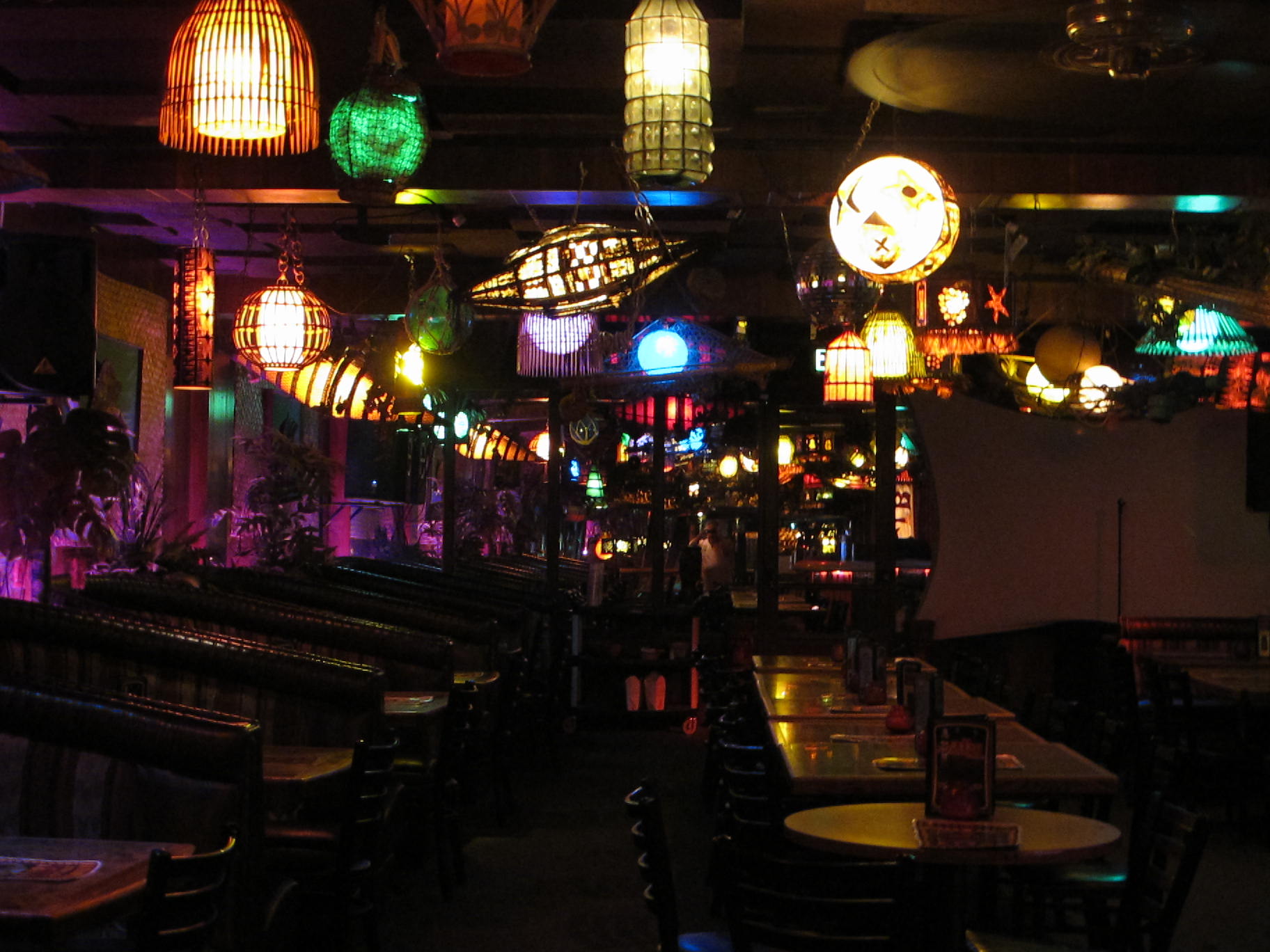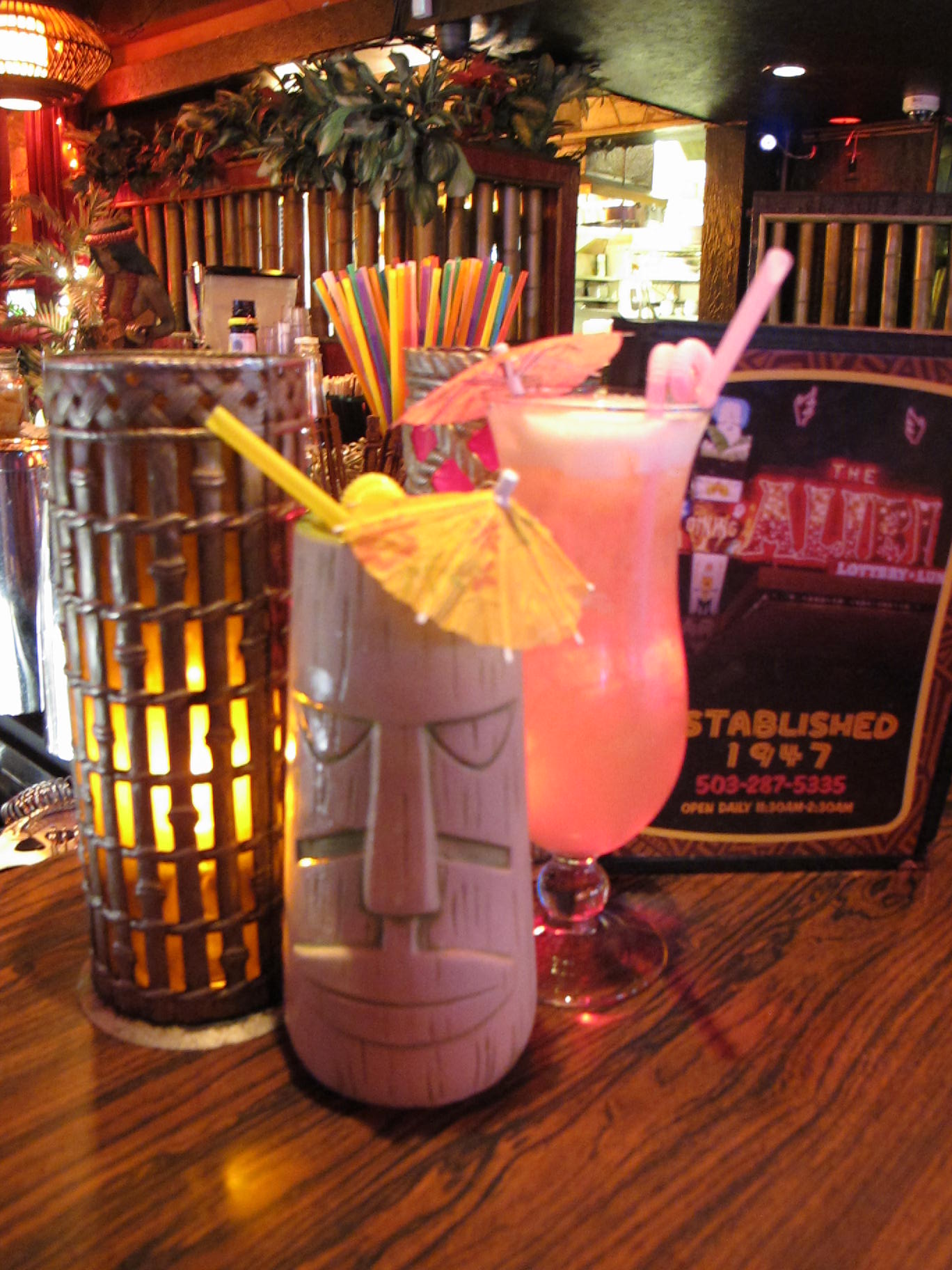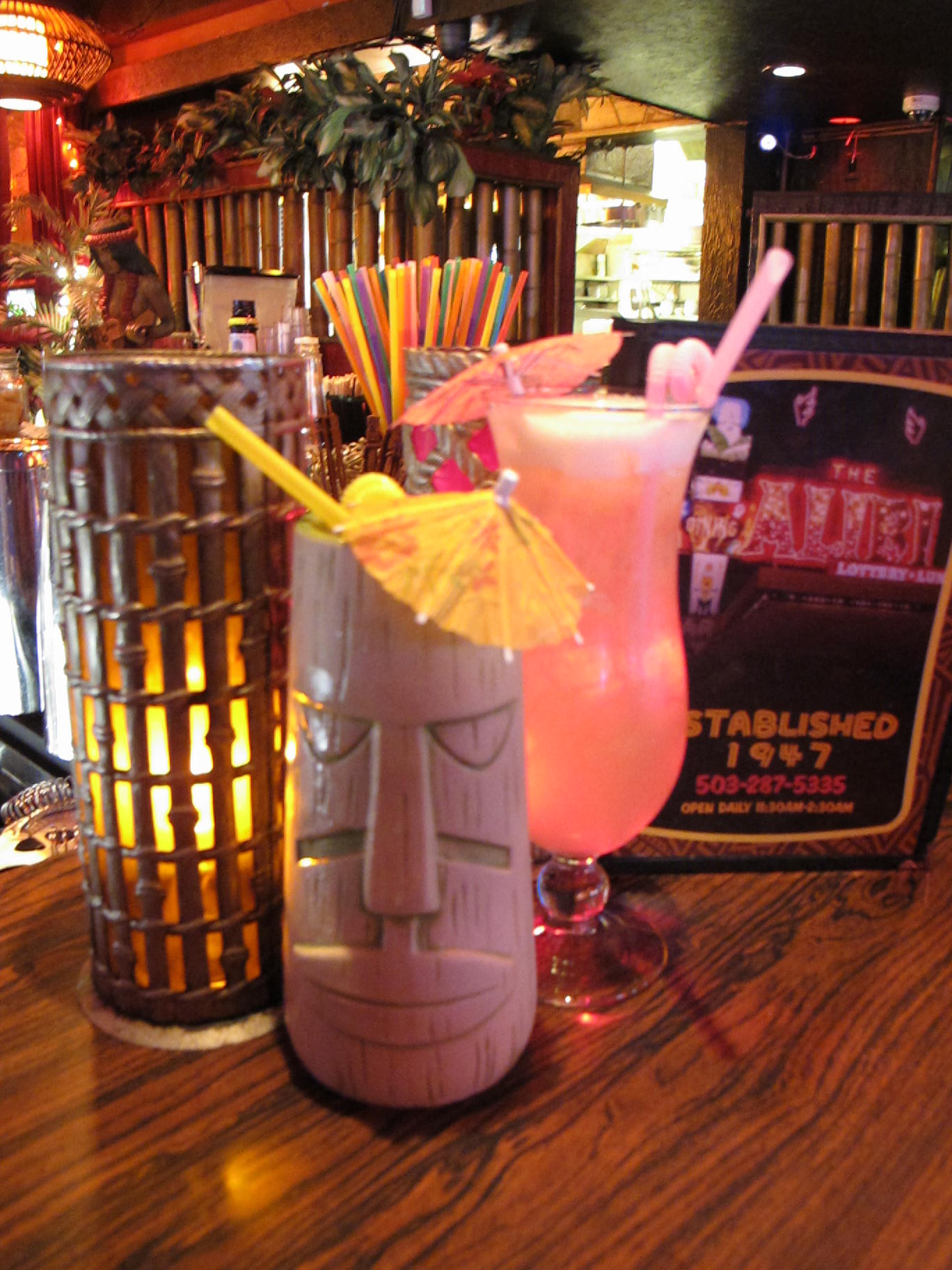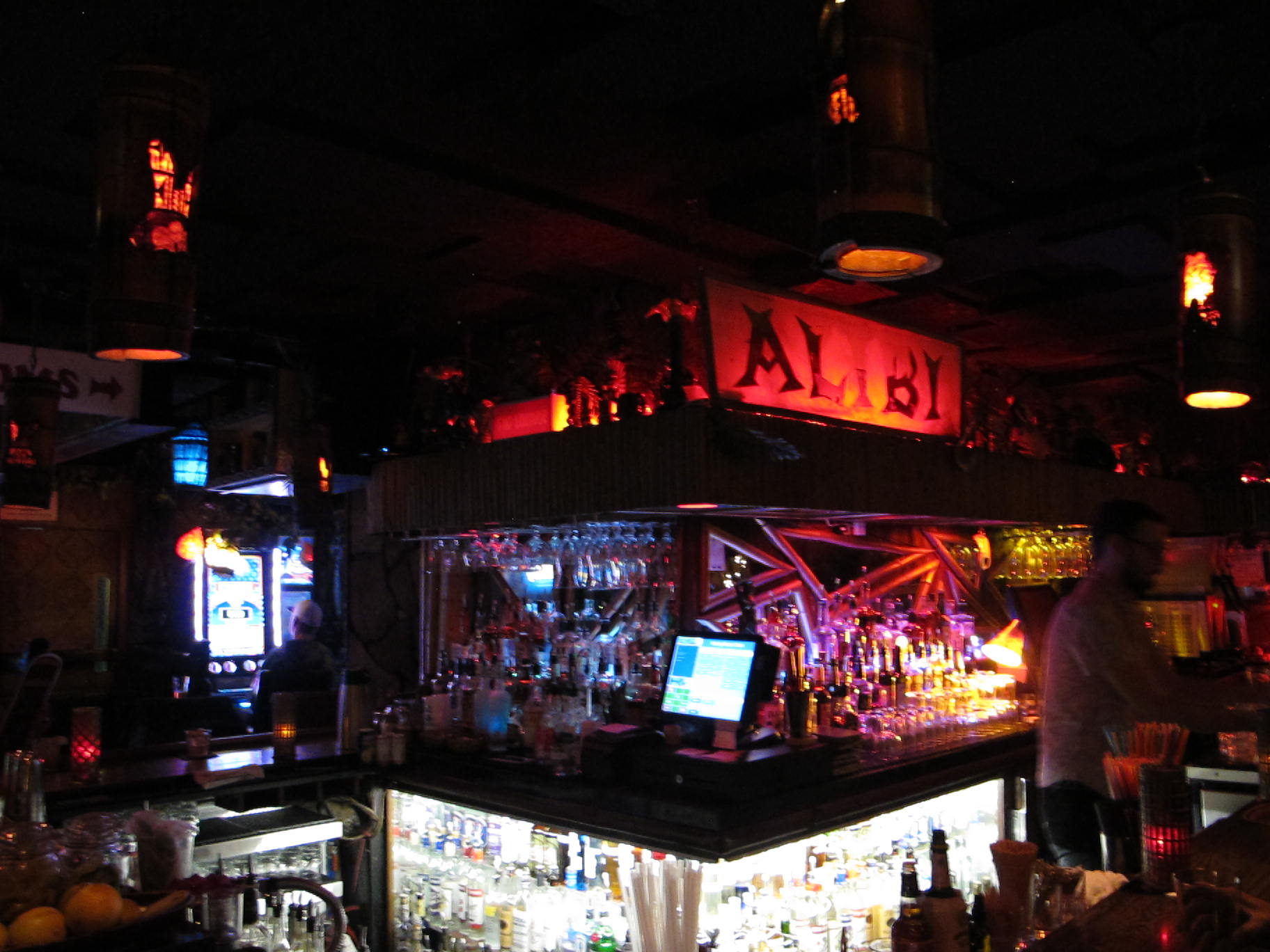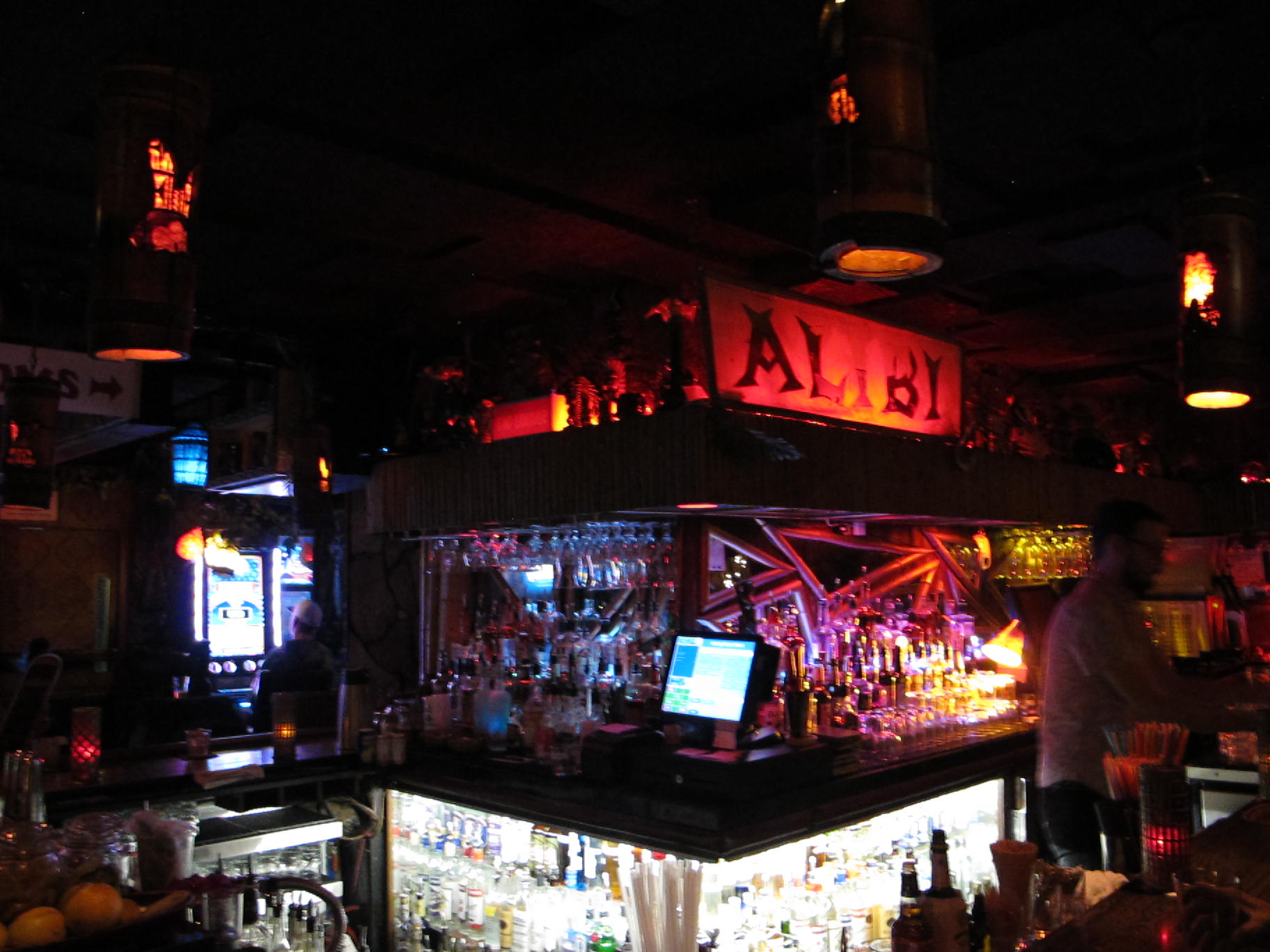 The Alibi (Portland, OR):
The Alibi:
Location:
4024 N. Interstate Ave
Portland, OR
What bar are we talking about today?
We are talking about the Alibi in Portland Oregon
Anything special about the Alibi?
Well it is one of the oldest surviving Tiki bars becoming a Polynesian-themed tiki bar in 1947.
Was it something before that?
Yes,  it actually opened as a restaurant called The Chat-N-Nibble in the 1800's and then became a tavern named Max Alibi. A gentleman by the name of Roy Ell took it over in 1947 and after visiting Hawaii turned it into a Polynesian themed bar. The restaurant was added in the 70's with more tiki inspired décor including railings and murals. The bar was leased in the 80's, but the tiki décor had to remain.
Why haven't heard more about this place like some of the others historic places?
Well for many years the Alibi was not regarded as a great tiki bar with complaints about not particularly good drinks and so-so food. They also brought in Karaoke and gambling machines to increase business before the tiki resurgence and that turned people off.
Is it still that way?
Happily, no. in 2017 new ownership did a bit of reno and then focused on the drinks and the food.
While some of the drinks are batched they were still pretty good and the food was great. We were staying just down the road, so we went back there for lunch
The Karaoke is immensely popular there, so if that really bothers you just go early. They open at 11:30
And the gambling machines have low volume and a behind the bar.
You mentioned the décor.
It is great. This is old-school. Curved booths, carved railings, and so many lamps apparently from Oceanic Arts in California and wall fixtures. A real tiki experience.
Anything else nearby?
Well you know my staying nearby plans there is a motel very close with an amazing mid-century neon sign called The Palms Motel. Don't stay there…there are other motels just down the road a bit. Take a picture of it though.
Other information?
Even through the darkest days of tikidom, The Alibi remained popular and busy—probably due to the frequent karaoke nights. The Alibi is full of beautiful lamps and decor from Oceanic Arts, and has been cared for very well. The drinks for many years were on the weak and sweet side; that changed when new management took over in 2017, and the menu is now solidly-constructed classic tiki drinks and originals.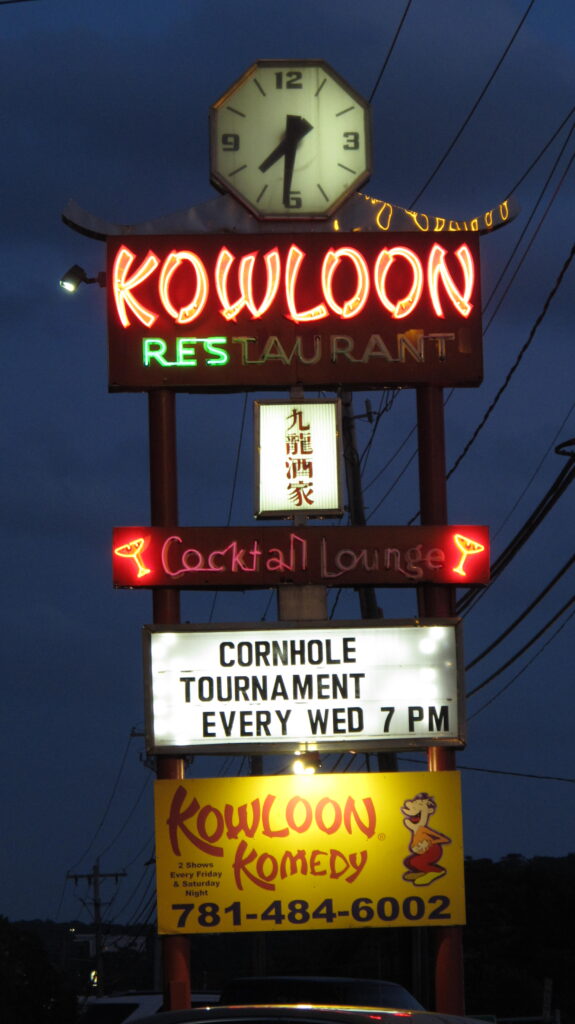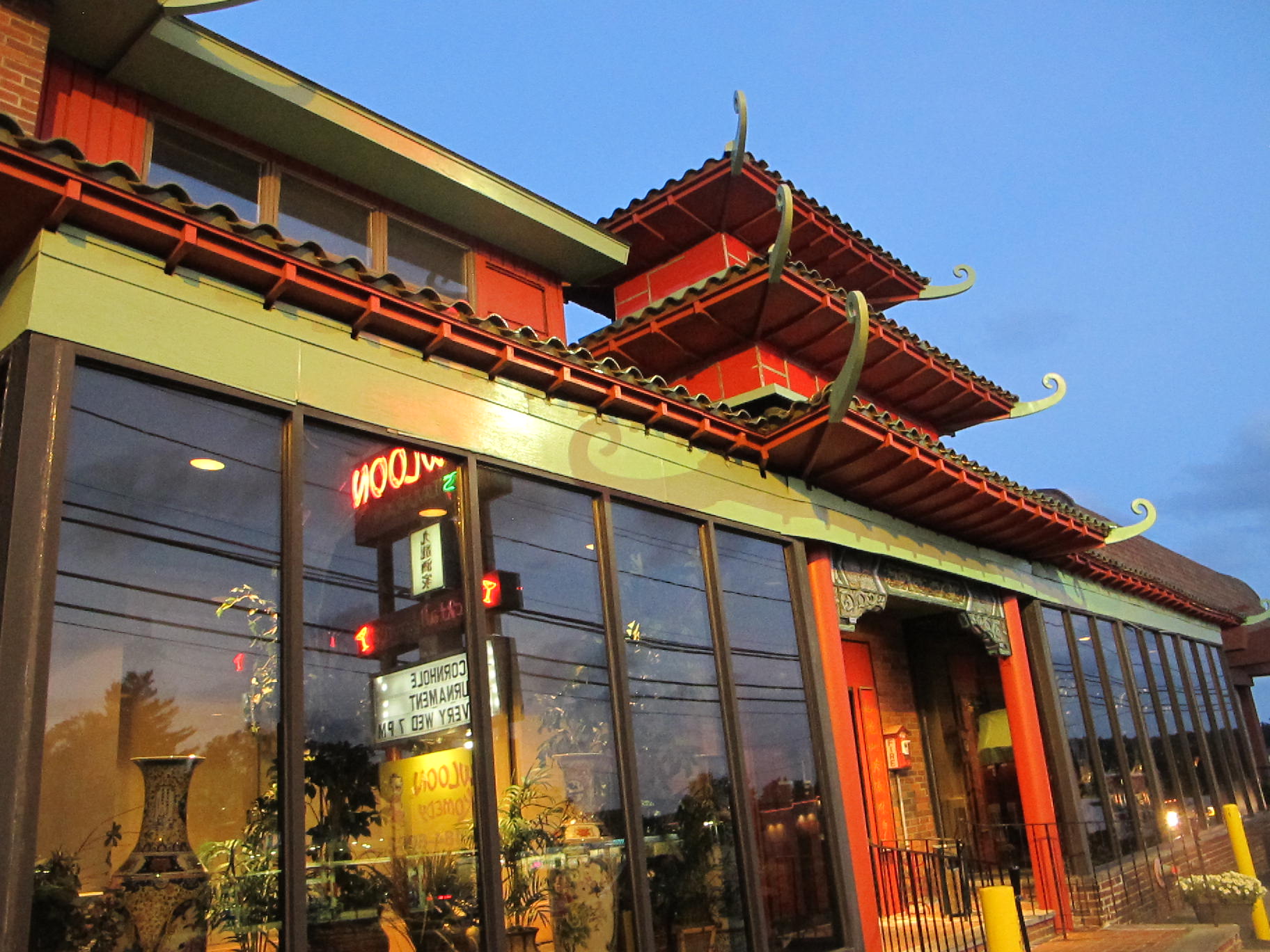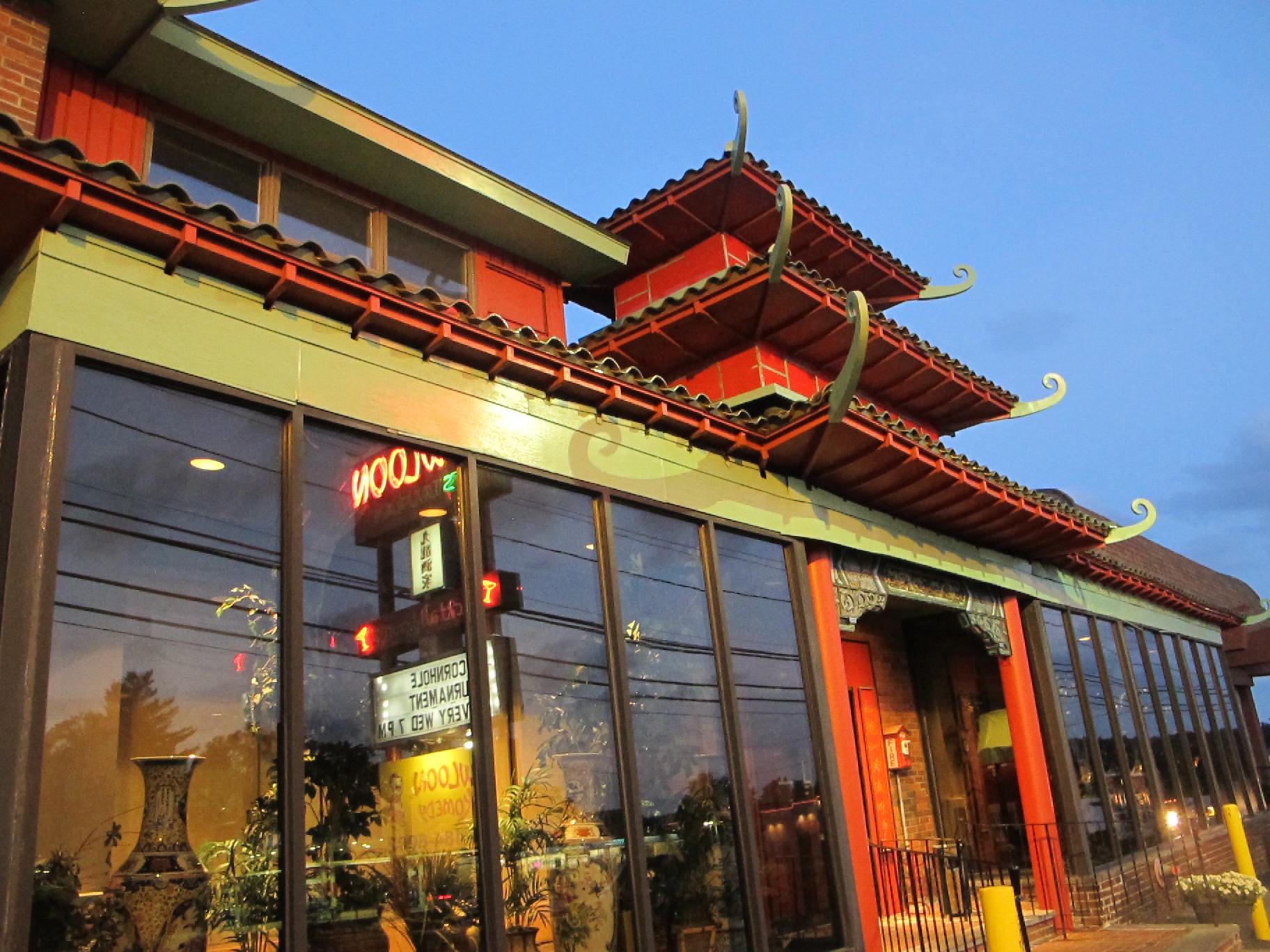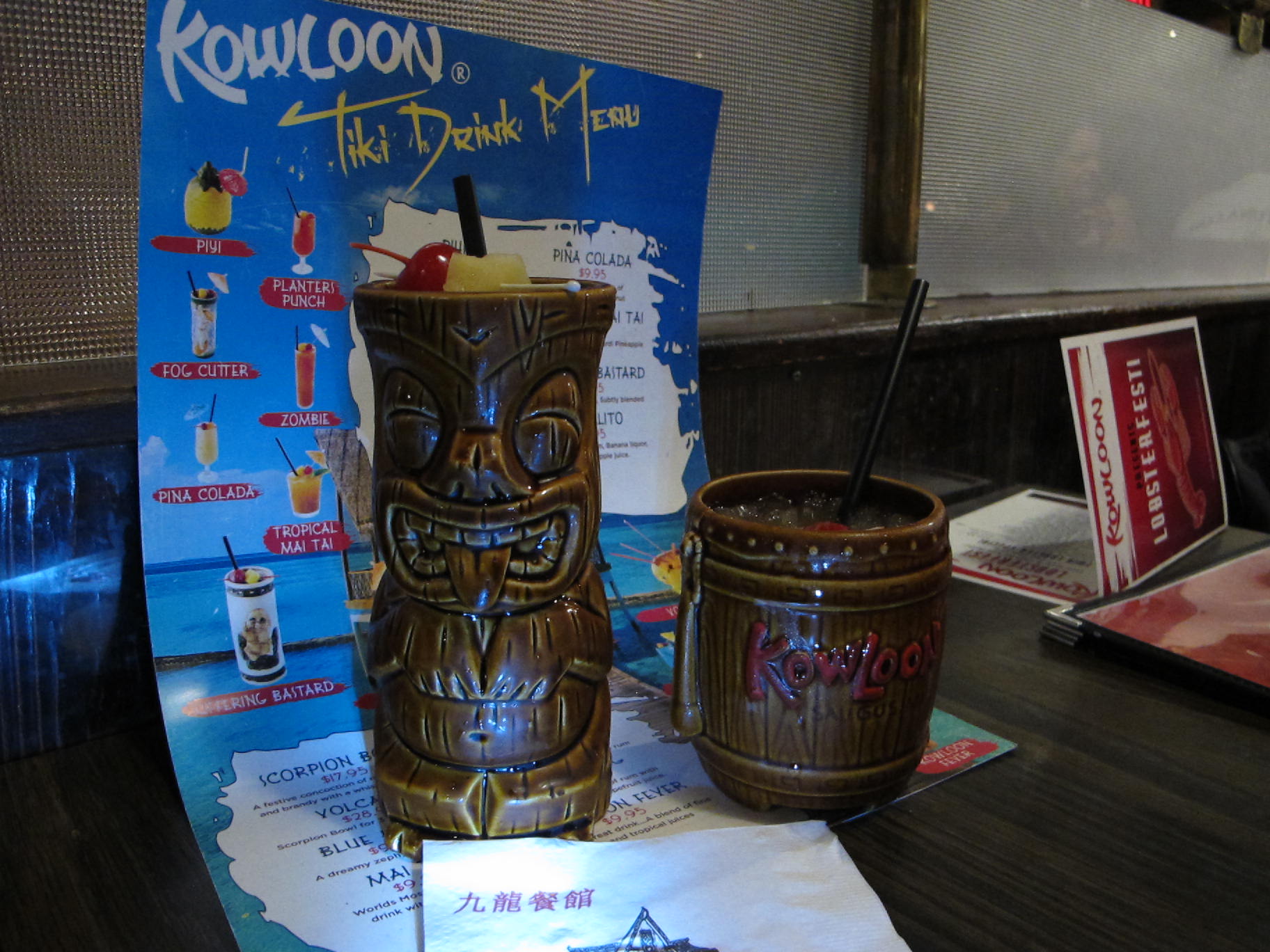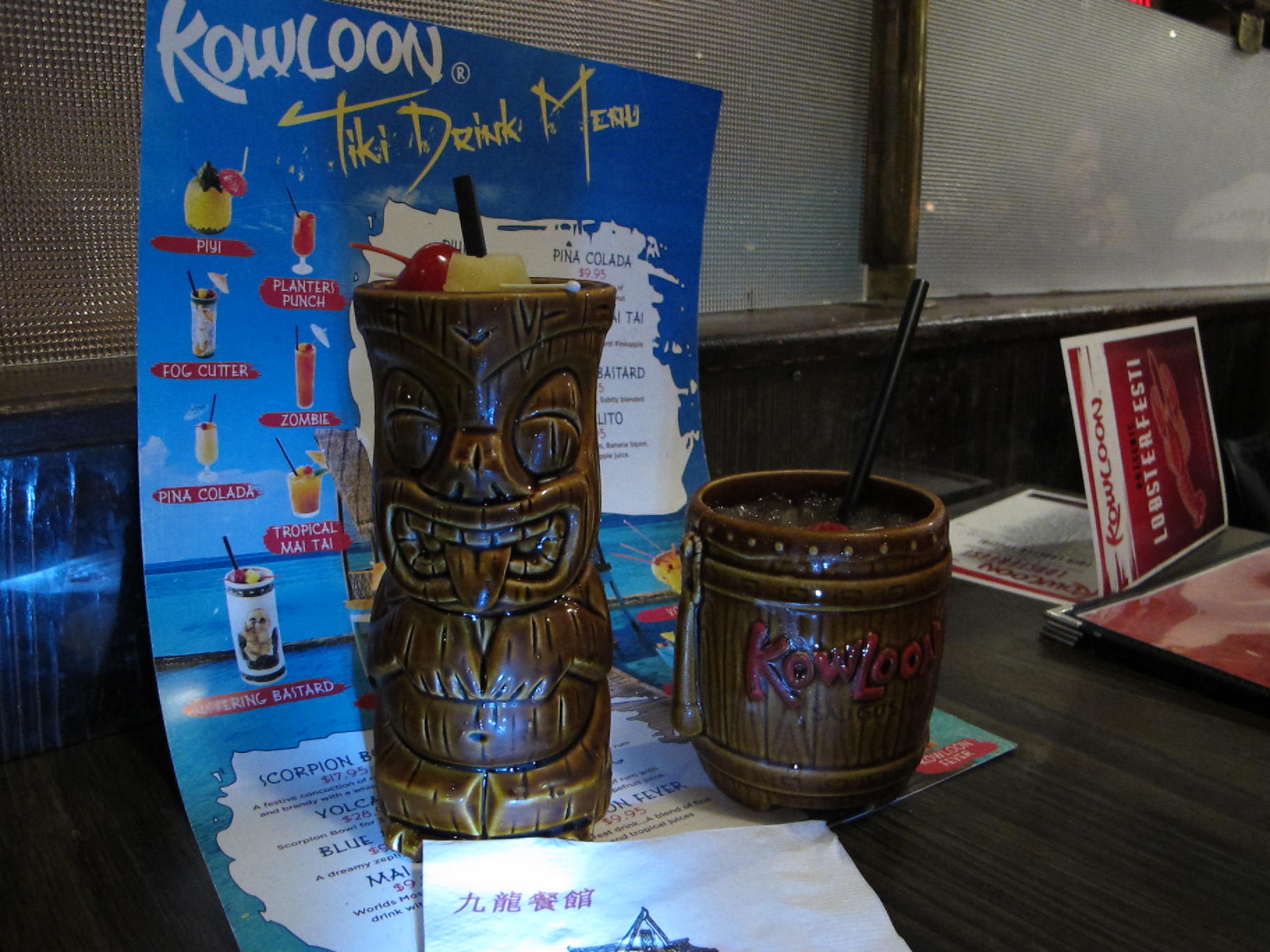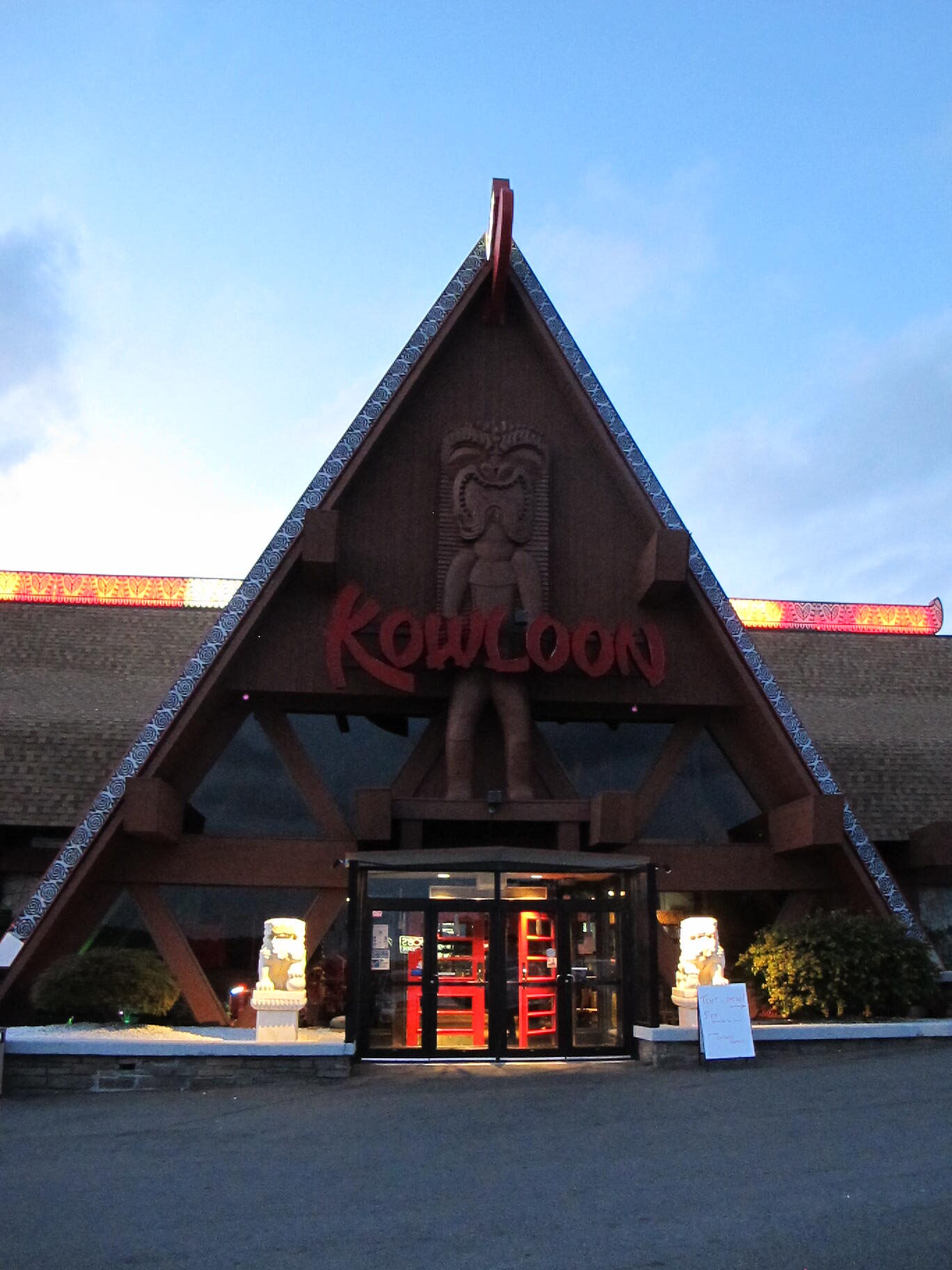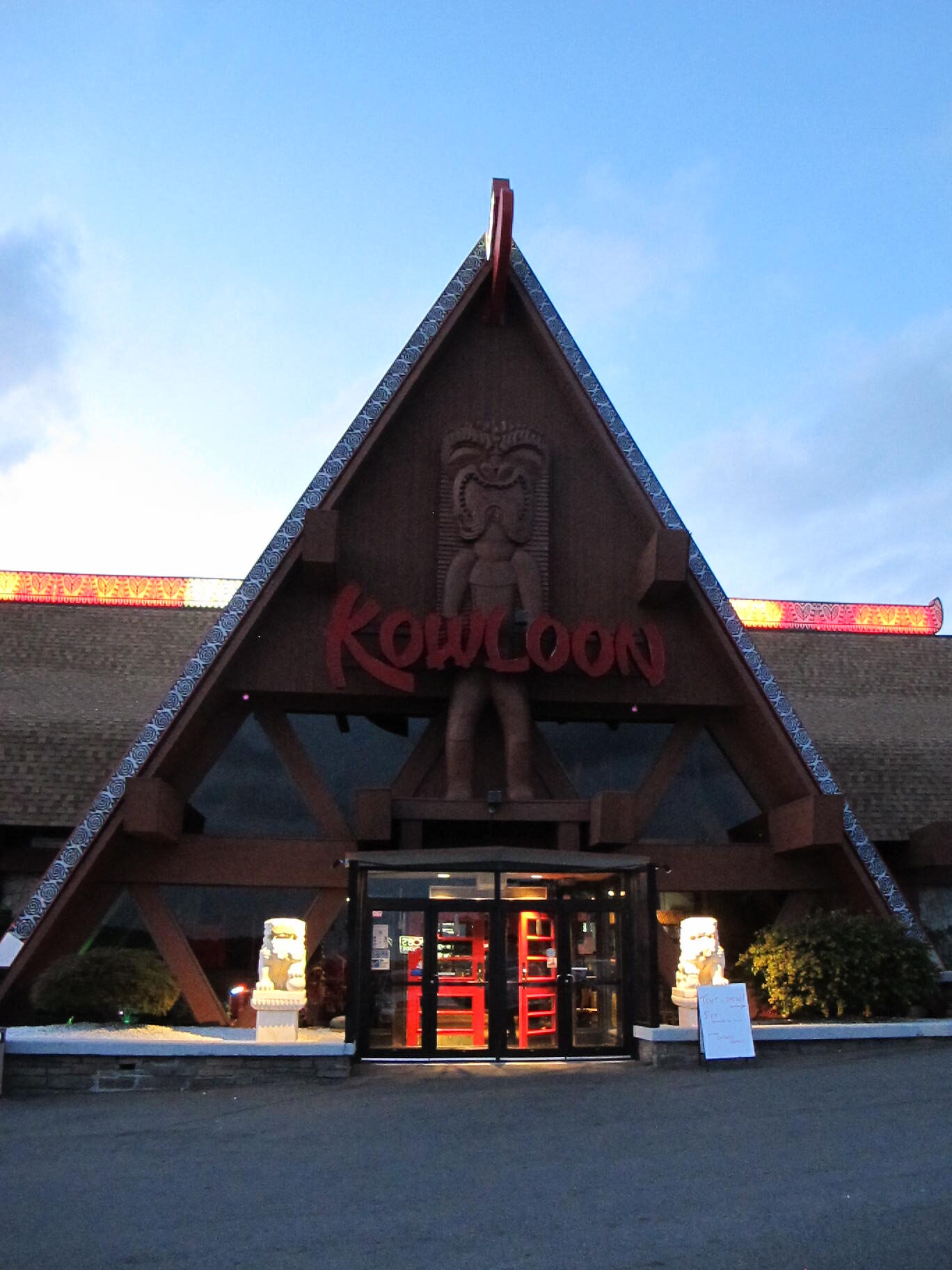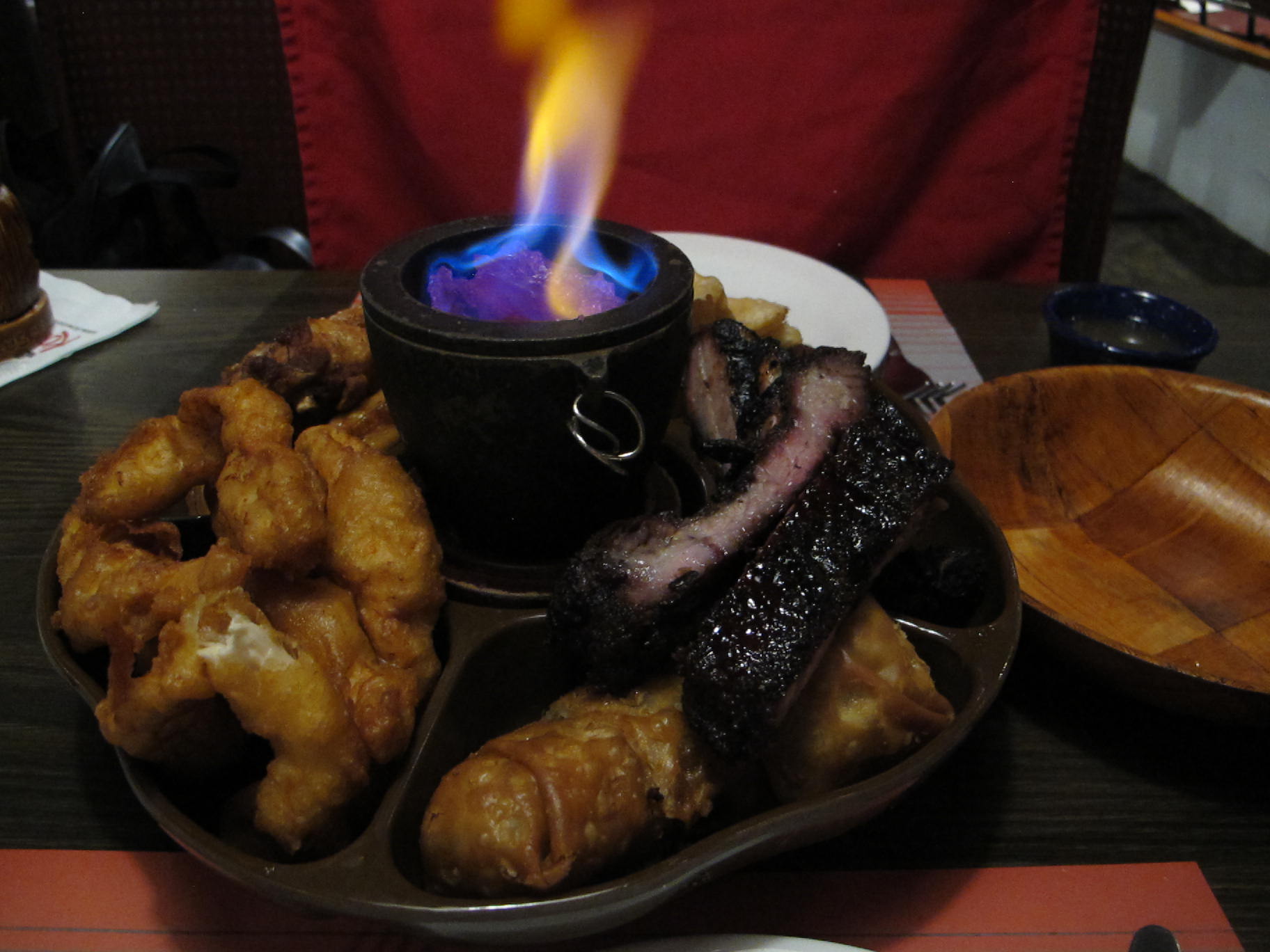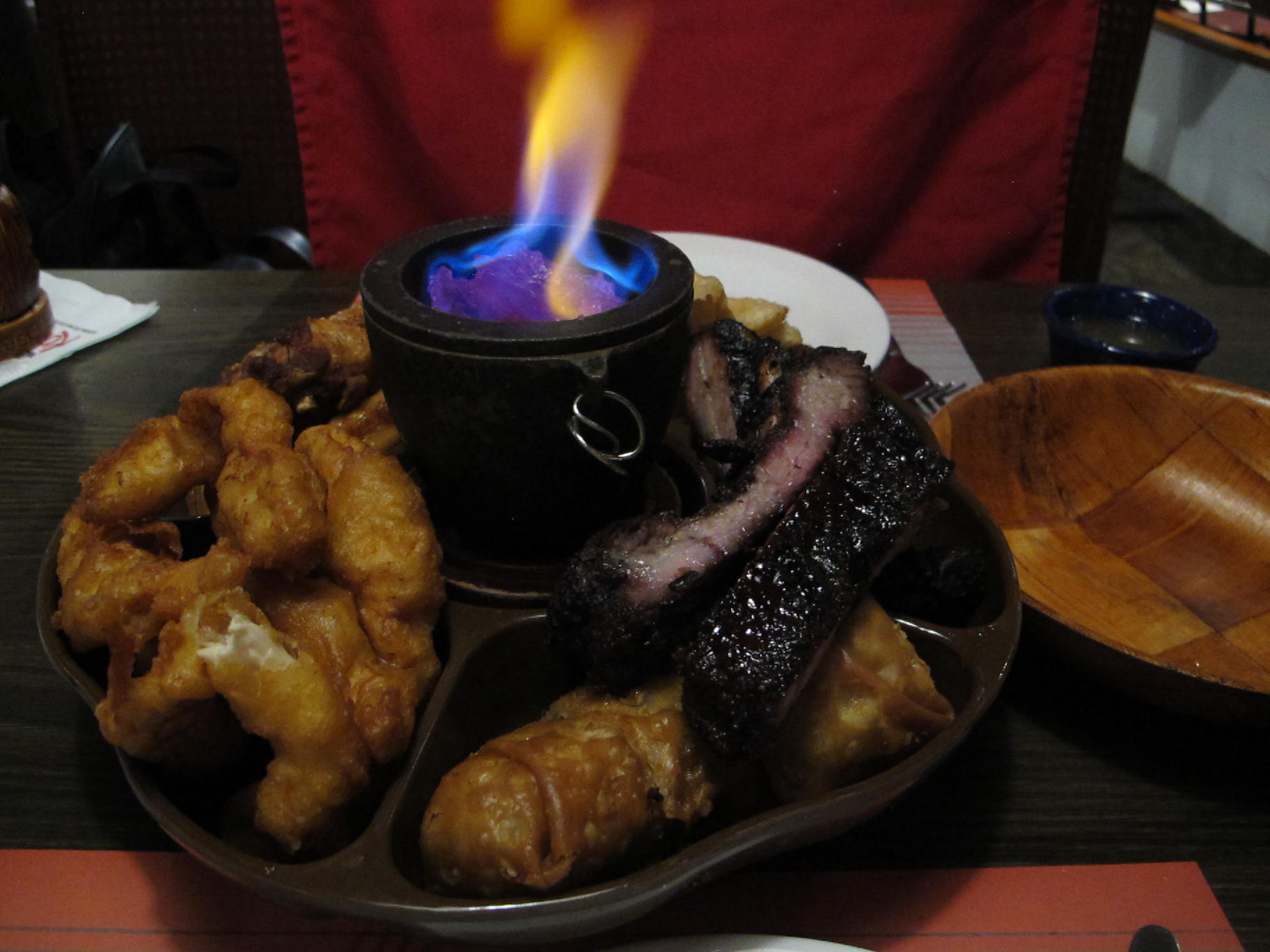 Kowloon(Boston):
The Alibi:
Location:
948 Broadway (Route 1)
Saugus, MA 01906
I've noticed on our little tiki trips that there is a real lack of tiki places on the east coast while there are plenty on the west coast.  I have no hard proof of this, but it seems the escapism from the 50's & 60's on the east coast seems to have been provided by the restaurants serving Chinese American food. They already had the "exotic" food and then they just needed to add fancy drinks and up the decor.
However, like the rest of the tiki world these too are now disappearing. A number of years ago now I was visiting relatives in the Boston area and my uncle raving about this thing called a pupu platter, so  I remember having my first pupu platter at a place called the Pago Pago SW of Boston, it is no longer around. As is Diamond Head just North of Boston where we stopped in on our last trip to the area.
Which brings us to The Kowloon. It has been a fixture in the Boston area for decades. It originally opened in 1950 out of a converted ice cream parlour with a restaurant that could hold 40-50 people called the Mandarin House.
In 1958 Madeline and William "Bill" Wong bought The Mandarin House, changed the name to Kowloon Restaurant and Cocktail Lounge and began to add more rooms and more items to the food menu to the restaurant to the point where now the have a capacity of 1200 and over 300 menu items. The third generation of the Wong family continues to run the business and is reported to be the highest grossing Chinese restaurant in the US.
Is it tiki?
You arrive at the place and the first thing you see is a giant tiki over the A-frame entrance. There is an abundance of decor most of which you can tell dates back quite a ways.  Murals, lamps statues the whole deal.
There are a number of different rooms including the Volcano Bay Room, the Mandarin Room, the Thai Grille, and also the Hong Kong Lounge. We of course sat in the Tiki Lagoon.
The food..?
It was named in 2004 as one of the very best Chinese food restaurants in New England and the menu is indeed extensive. But being tiki people it all about the Flaming pupu platter. While this is called an appetizer, this was quite tasty, but more than enough for the two of us.
The drinks?
They do have an extensive drink menu, with many of the classics listed including Mai Tai, Fog Cutter, Scorpion, Zombie, Blue Hawaiian they all were all ok, not great like you find in the craft tiki bars. When we sat in the bar after we noticed that many of the drinks are indeed batched, while not necessarily a bad thing as noted from the Alibi, however the bartender at the bar really wasn't sure what was in them. That being said we still drank them.
Why talk about the Kowloon?
Well it was reported that the Kowloon would soon be removed to make way for progress and that and that the next generation doesn't want to be involved in the operations of Kowloon.. Which is always a shame for local landmarks, so this was a chance to talk about something before it was gone. However they have since recanted saying that they are only currently looking at options But, again, not in the present, or any time in the immediate future.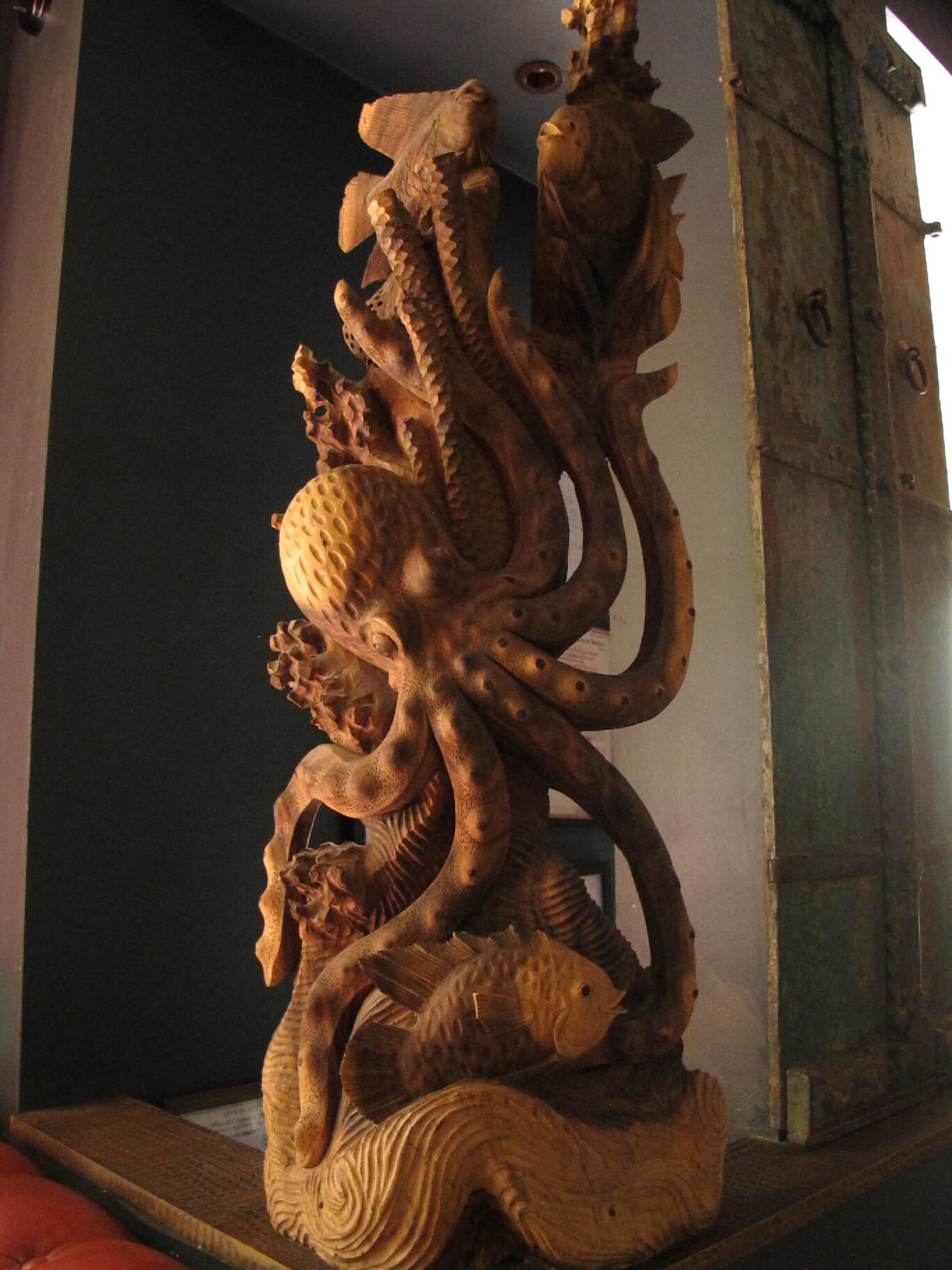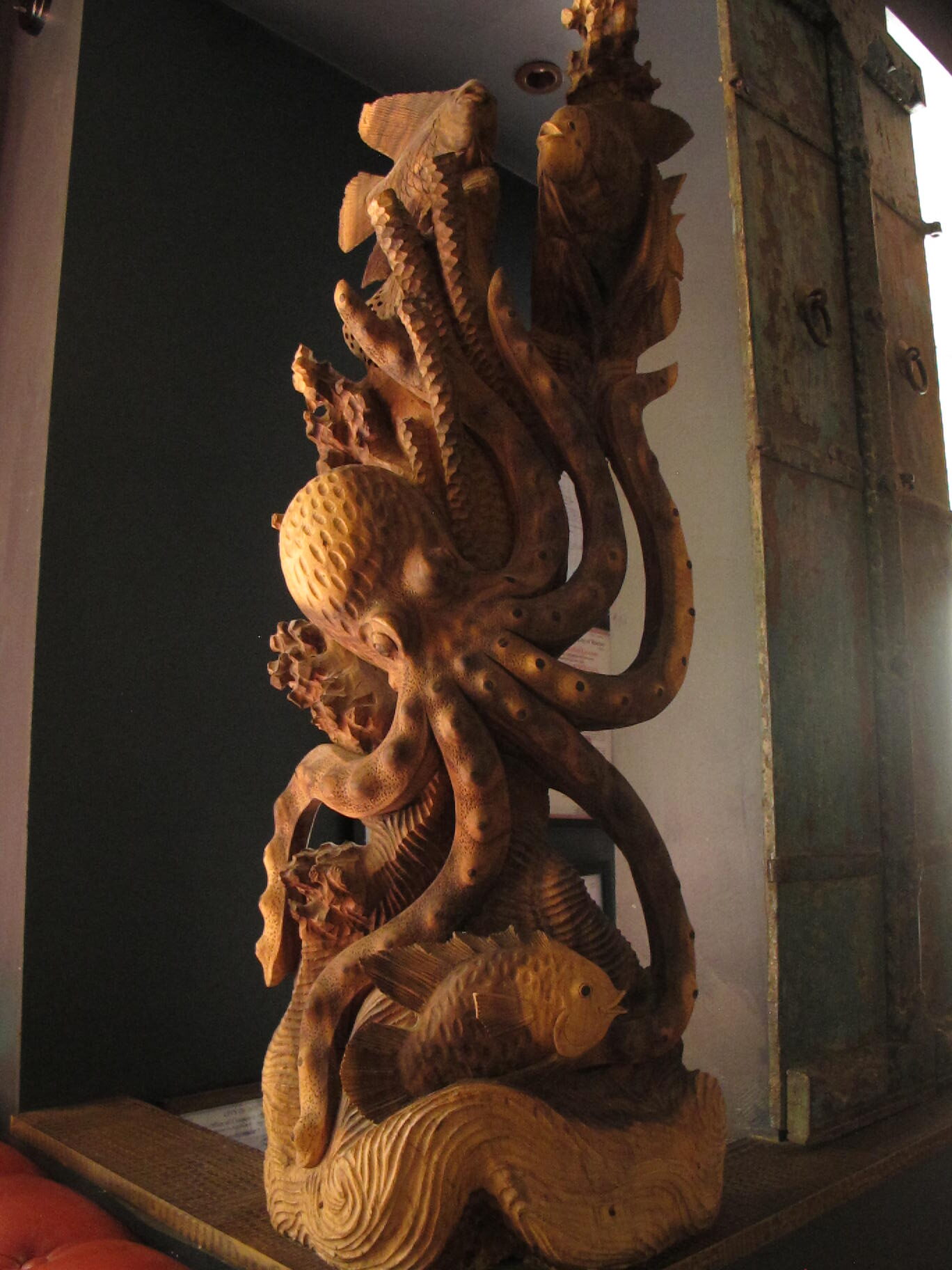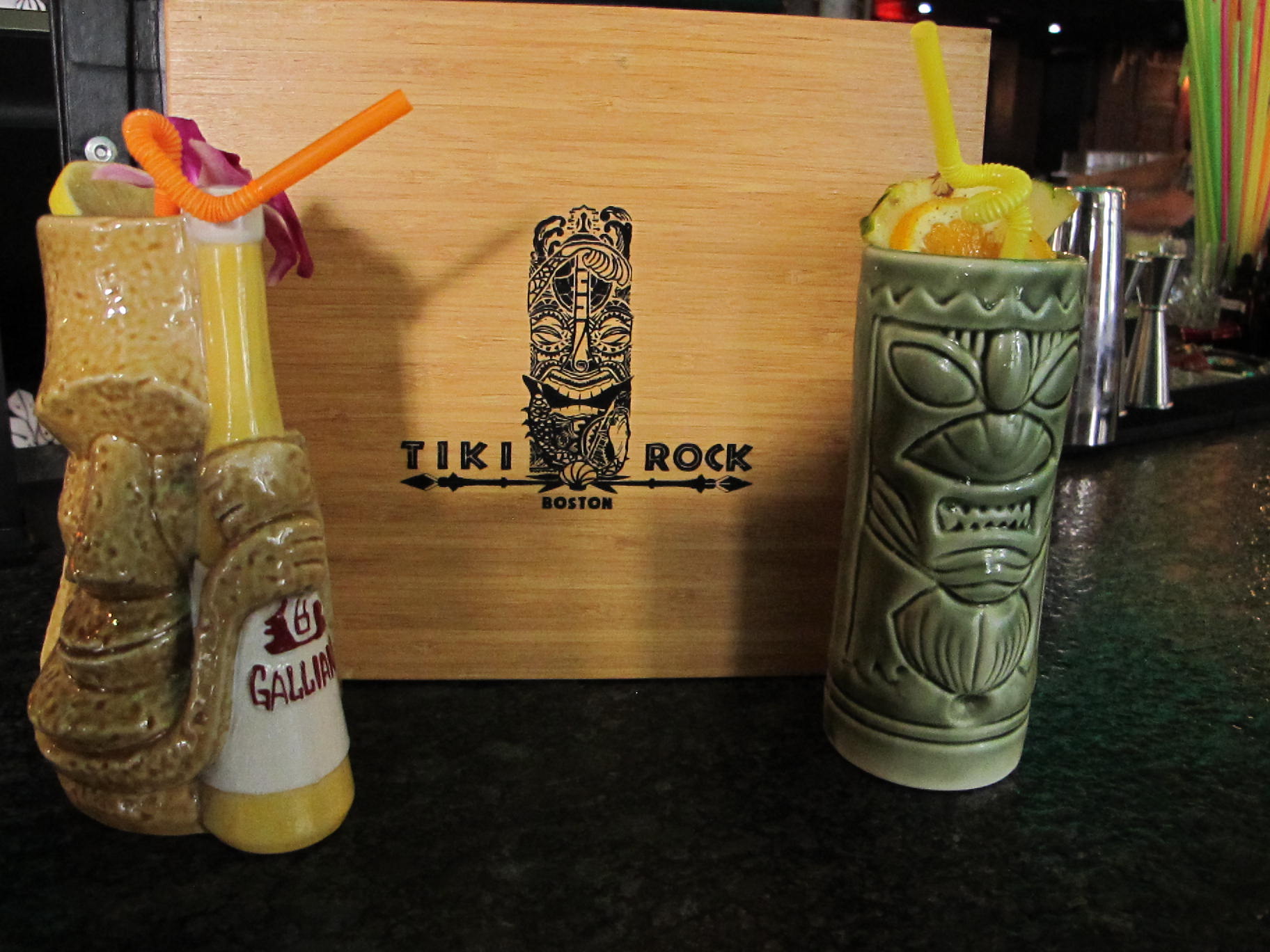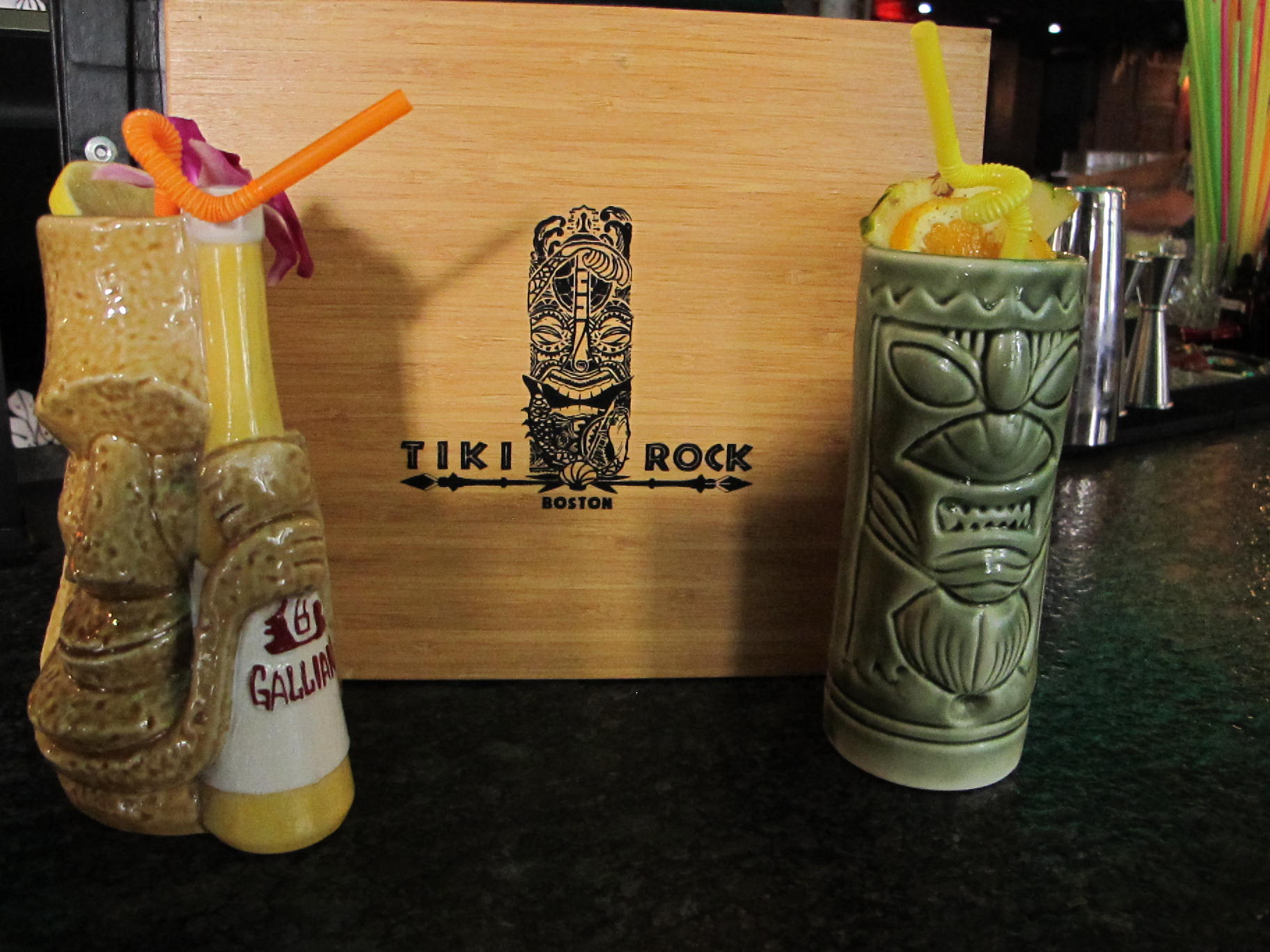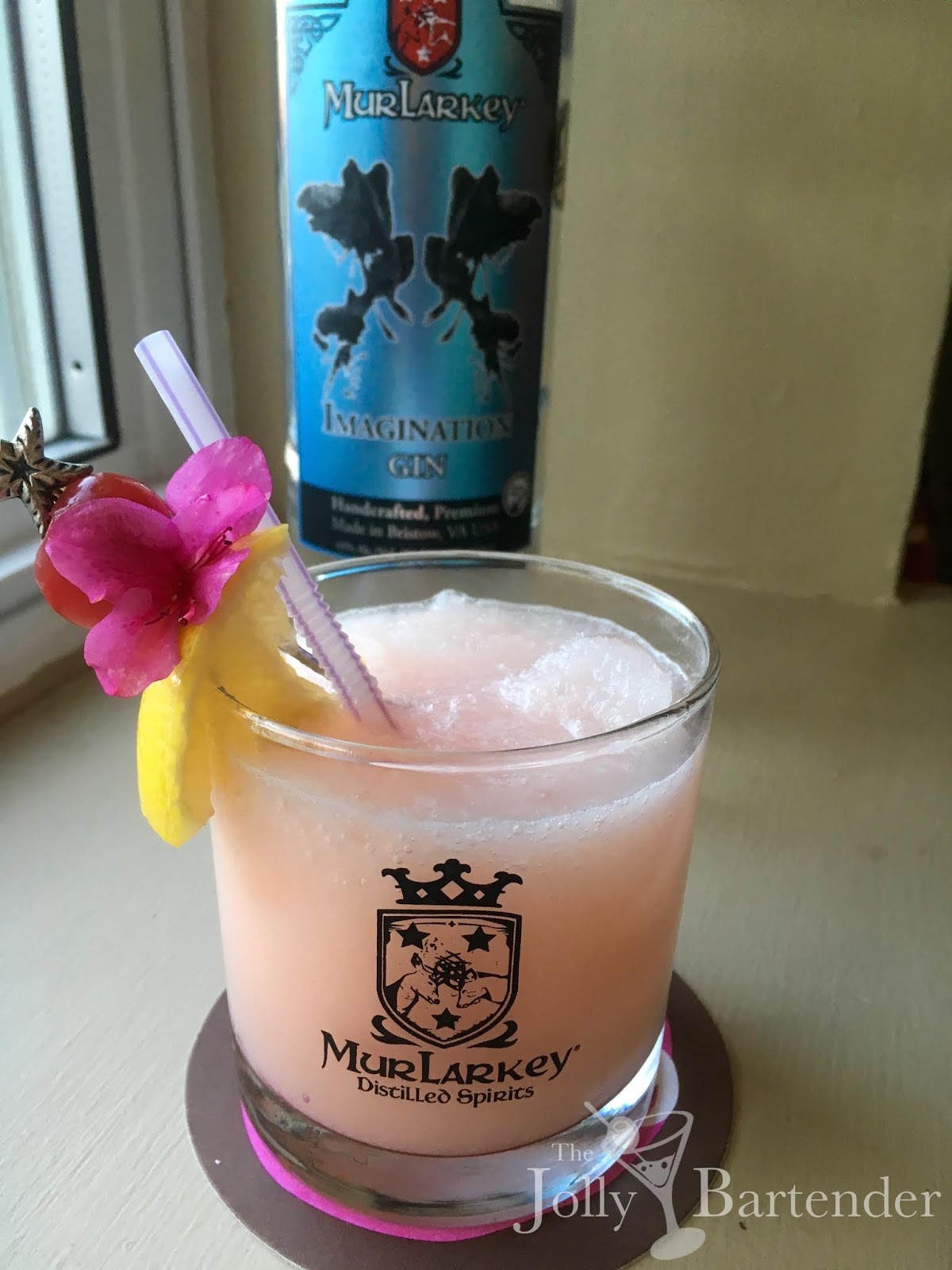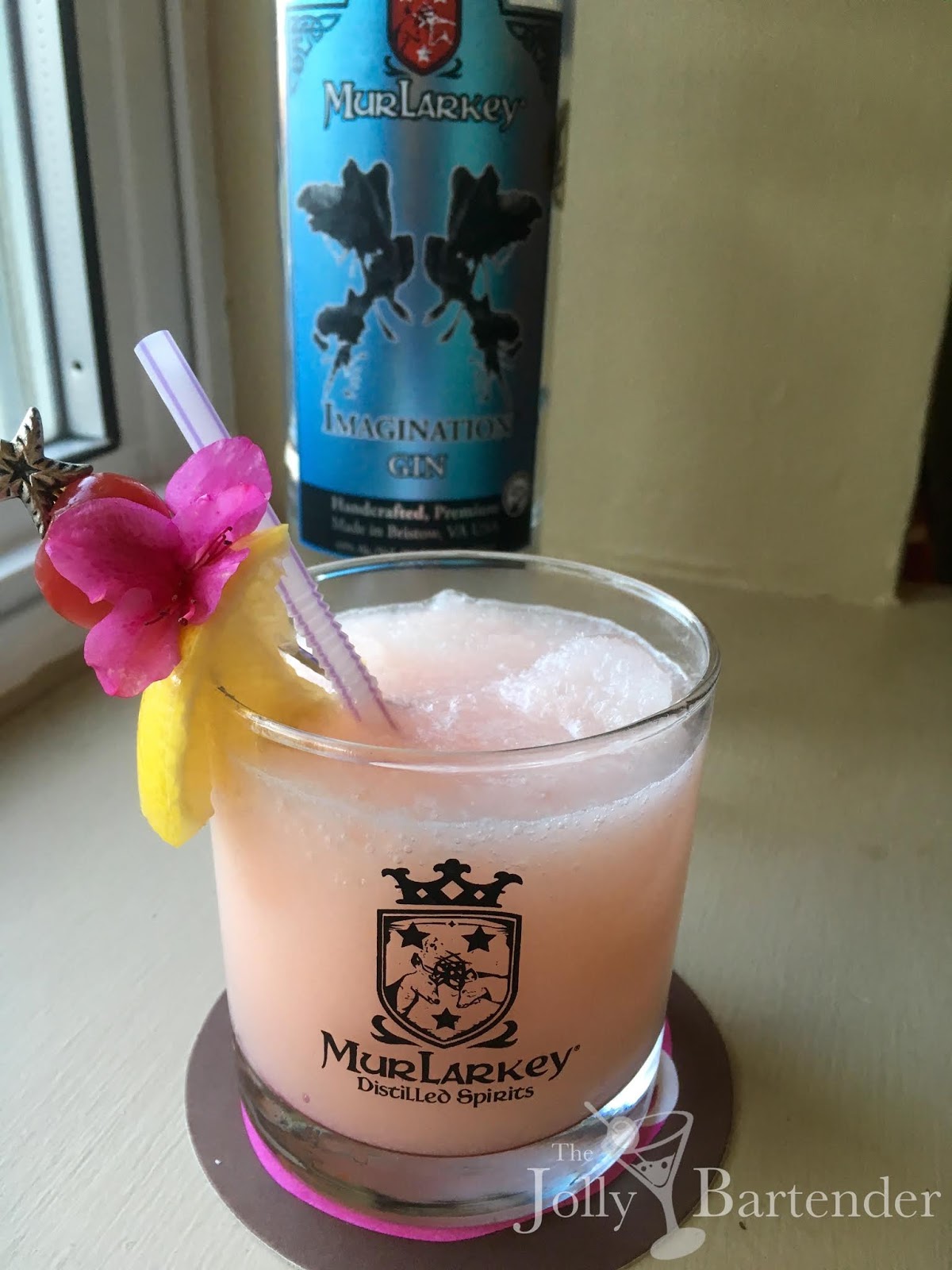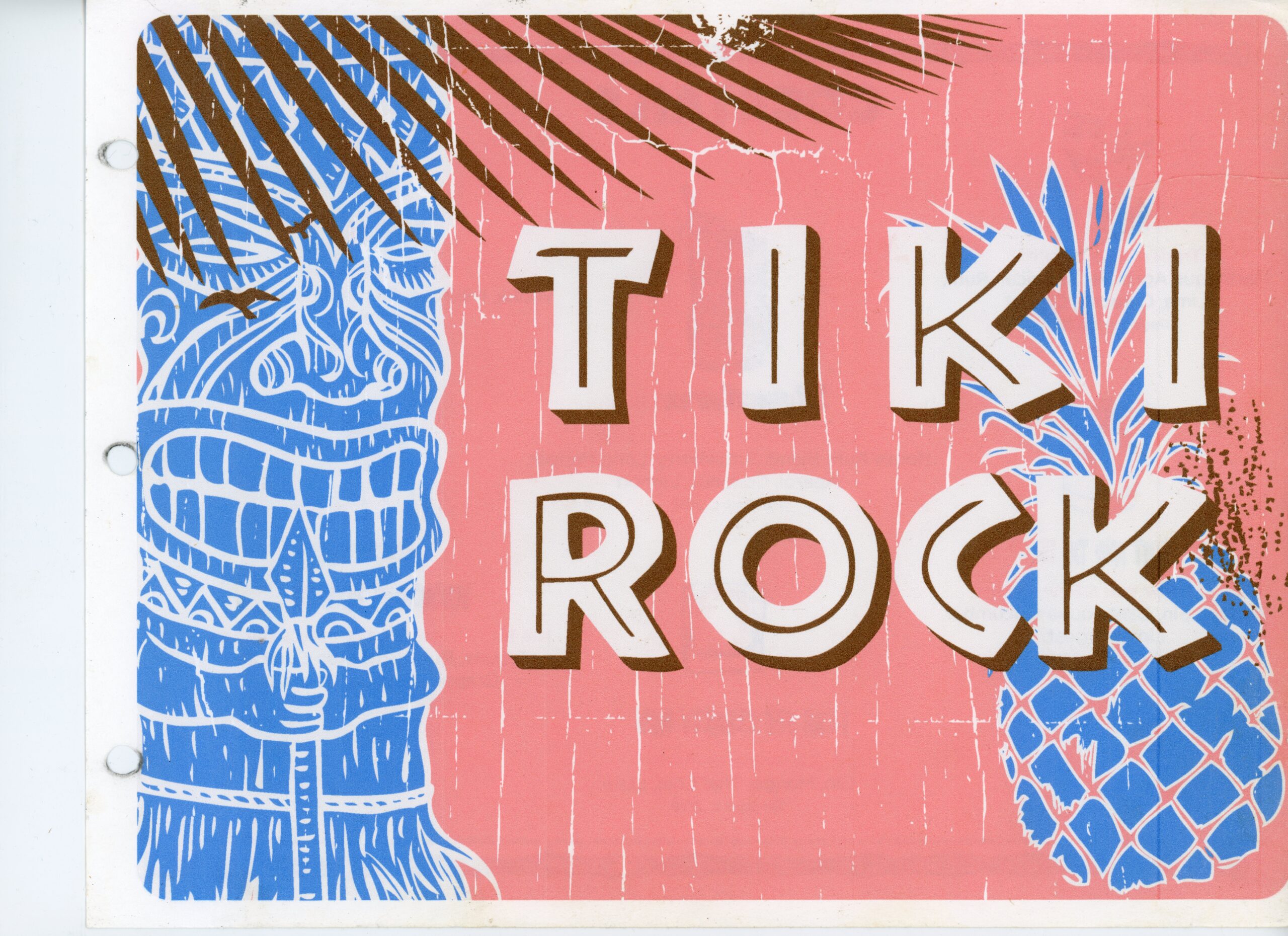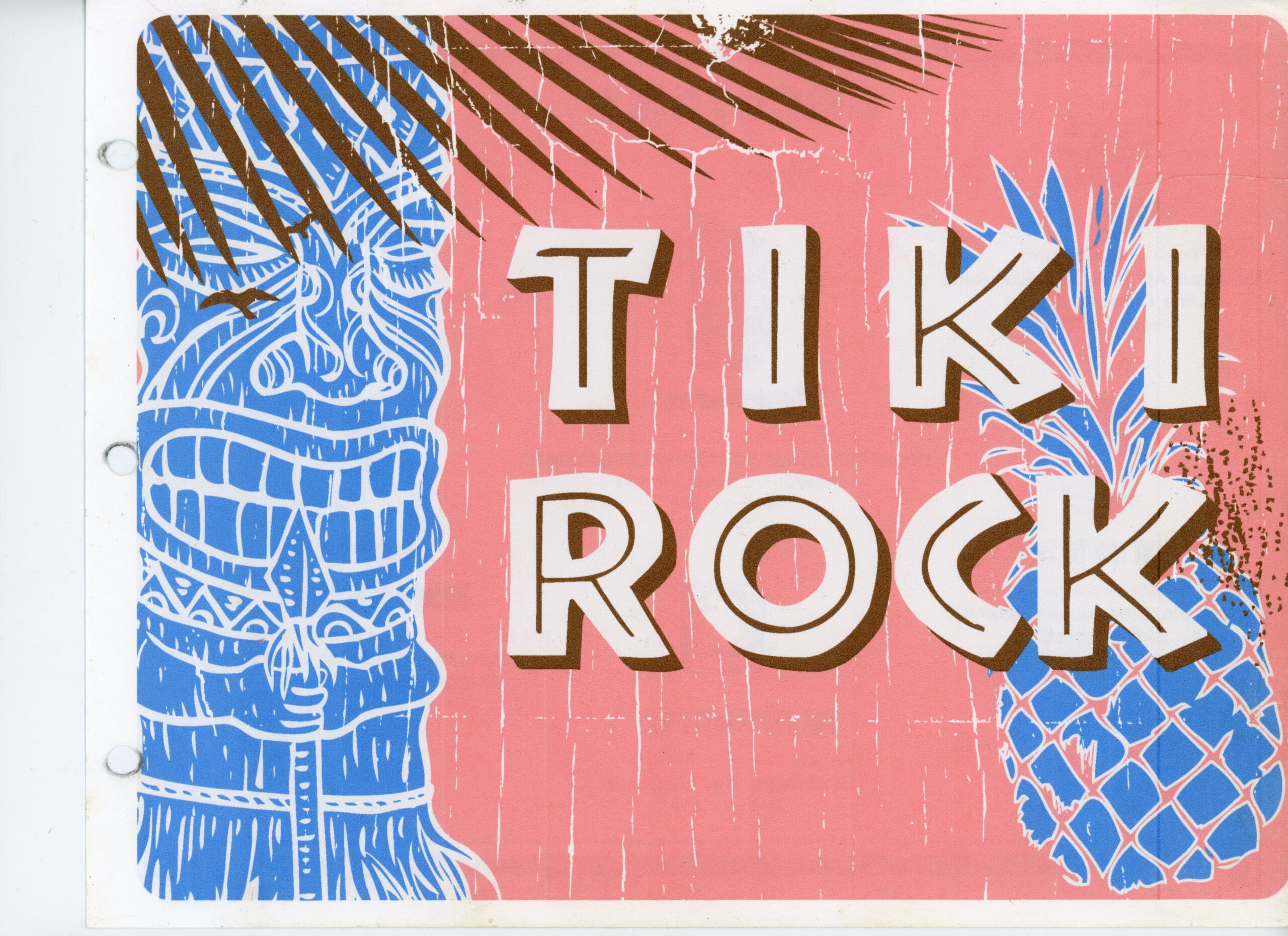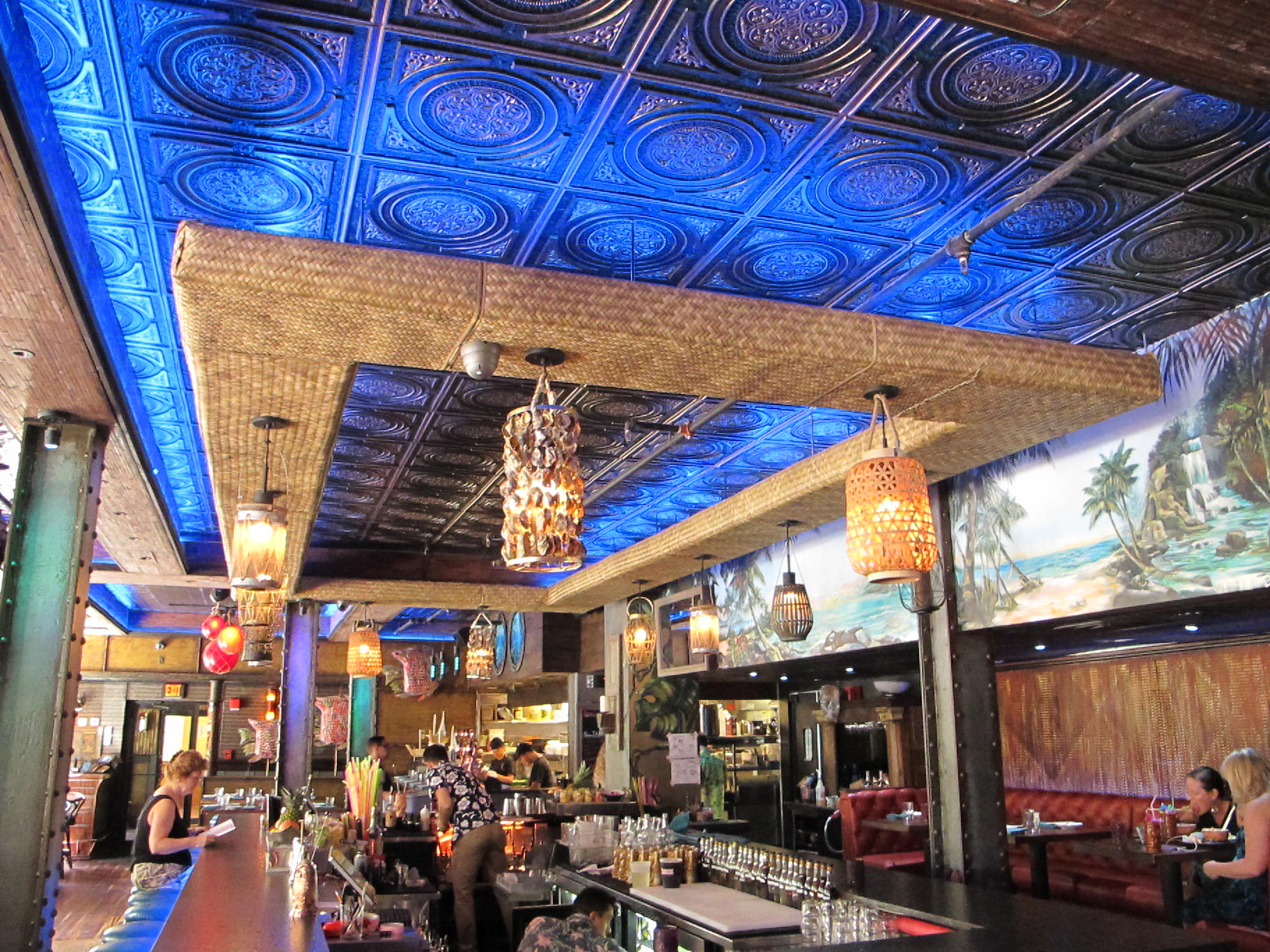 Tiki Rock (Boston):
Tiki Rock
Location:2 Broad Street,
Boston, MA

Our last adventure we talked about the Kowloon a place with a long history in the Boston area, so I thought we would keep it in the region and talk about a newer bar called Tiki Rock.
Where is it?
Tiki Rock is located right in downtown Boston near the waterfront, in the Financial District at 2 Broad St., a few minutes walk from Faneuil Hall Marketplace, the popular tourist attraction.
So how new is it?
Tiki Rock opened on Jan. 10, 2018 by GM Christopher Straub at the location of a previous bar called The Place.
How Tiki is it? 
Well, there are major tiki elements, but it's not chock-a-block full of tiki items and not that dark during the day with the large street facing glass windows. It has more of an art-deco neon feel, but still very escapist and tropical. I should add the background soundtrack was supplied by Boston local tiki music historian Brother Cleve. Very spot on
The drinks?
Oh, they are top-notch. We were taken care of by Christopher until the head mixologist Charles Smedile came in for his shift and took care of us. Christopher explained how they put together their menu of both Don the Beachcomber classics and their own cocktails. In a nice touch they also list the origin location of the cocktails. For the rum cocktails they use their own secret blend of rums, and no gentle prodding did not get him to give up the blend. I don't want to ruin the surprise, but you should order a bowl drink. I won't give it away, but there will be a hint in the photos section.
Did you have any favourites?
They change up the menu all the time, checking their current menu online they now have multiple Mai Tais, all named differently btw. When we were there, we enjoyed the ScrumdiddlyRumptious and had my first Don the Beachcomber original Donga Punch.
Another first that Christopher introduced me to was the creation of the I can see Cleary Now. Which was a clarified or milked cocktail.  I gave him the dog head sideways look and he explained milking to me.
Milking or creating a Milk Punch is a very old practice going back to the 1700's apparently and simply described it is a process of adding milk to a mixed cocktail, allowing the milk to curdle, and then straining. The cocktail becomes silky, clear with a very, very slight milky taste, but also very mellow. For a bar it's can quite handy as it can be batched and kept for a very long time.
Food?
The food is very good and Paula, well you can guess what we had..
Yes the pupu platter.   And then we split a plate of ribs. BTW For Sushi lovers there are many options.
Again, the menu changes very regularly and is reprinted in the back with only the hard cover staying the same. They were about to change it up so I managed to wrangle a paper copy of the menu from them. The drink pages will be up on the website.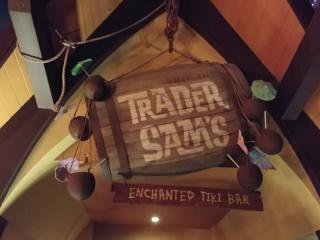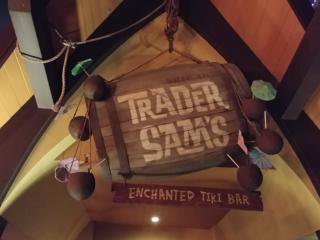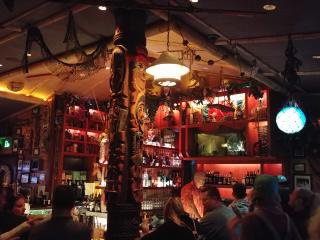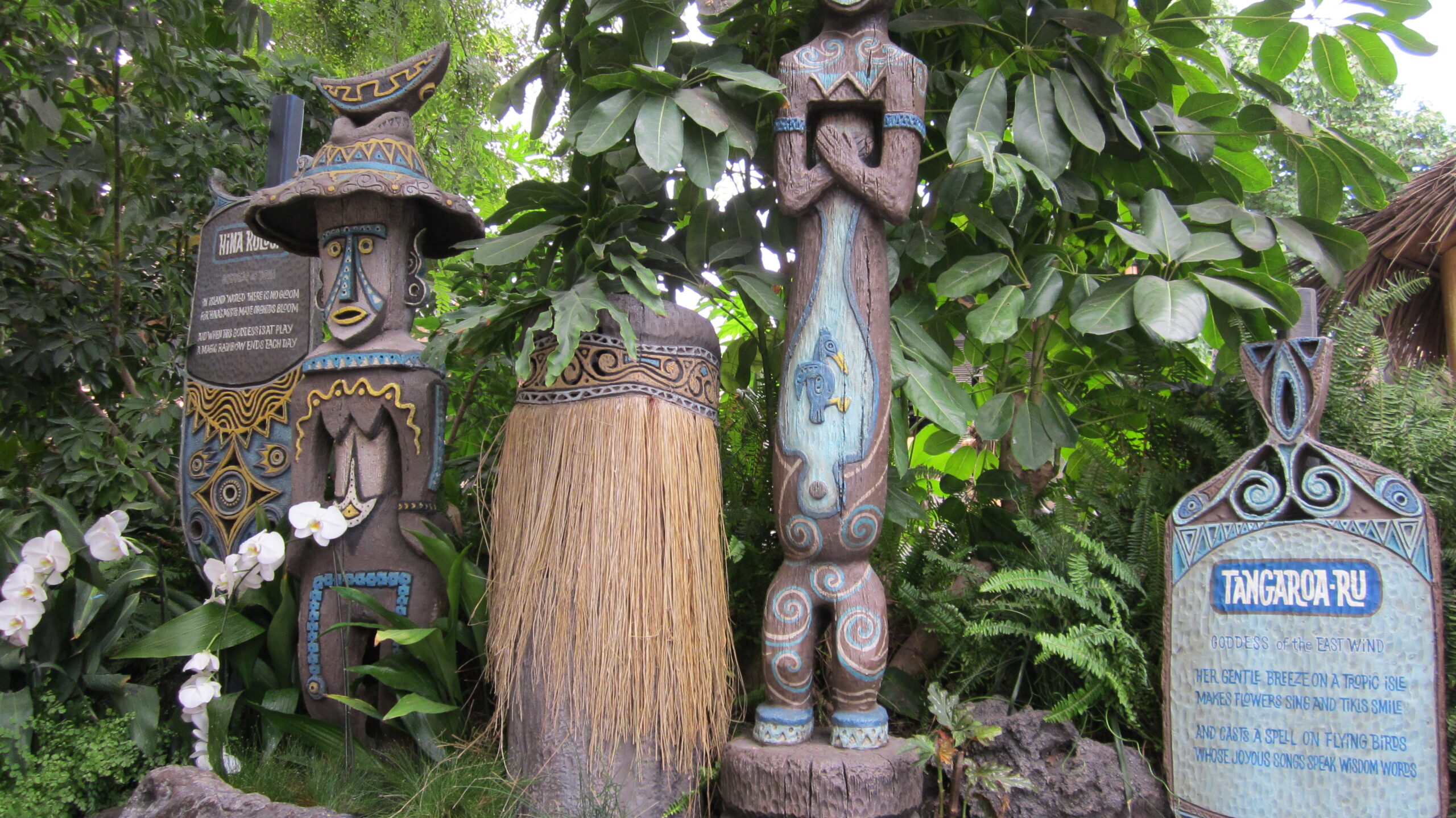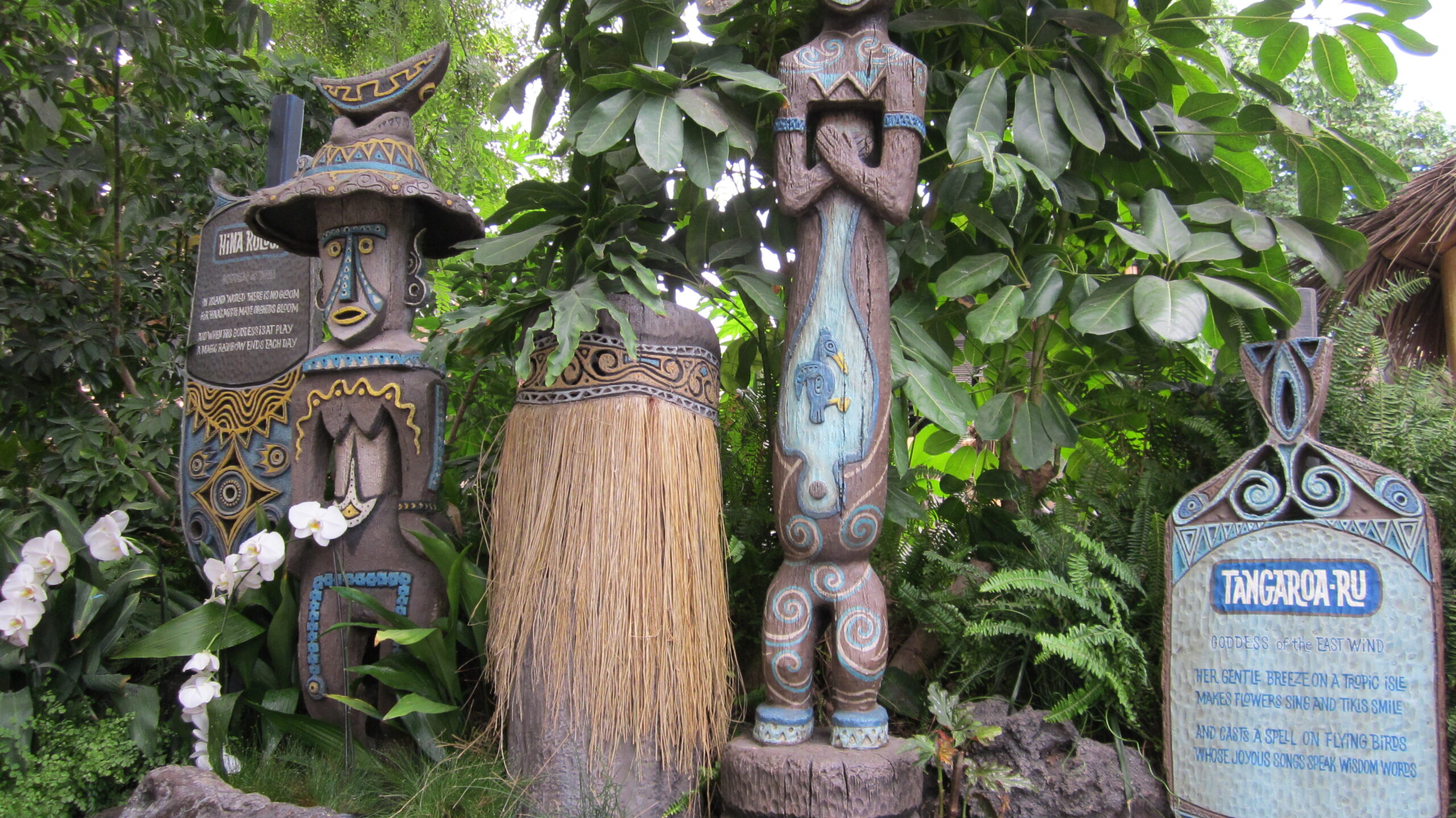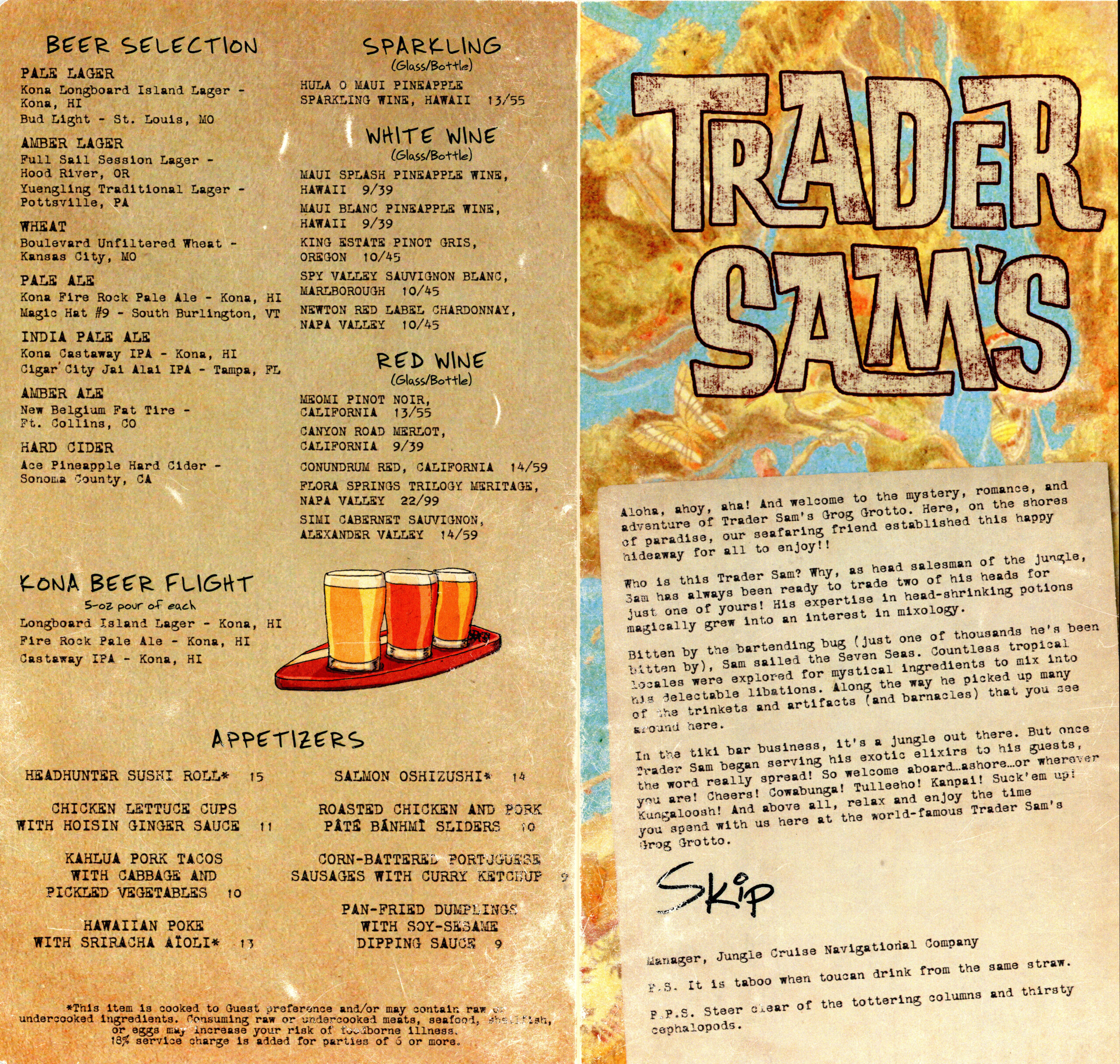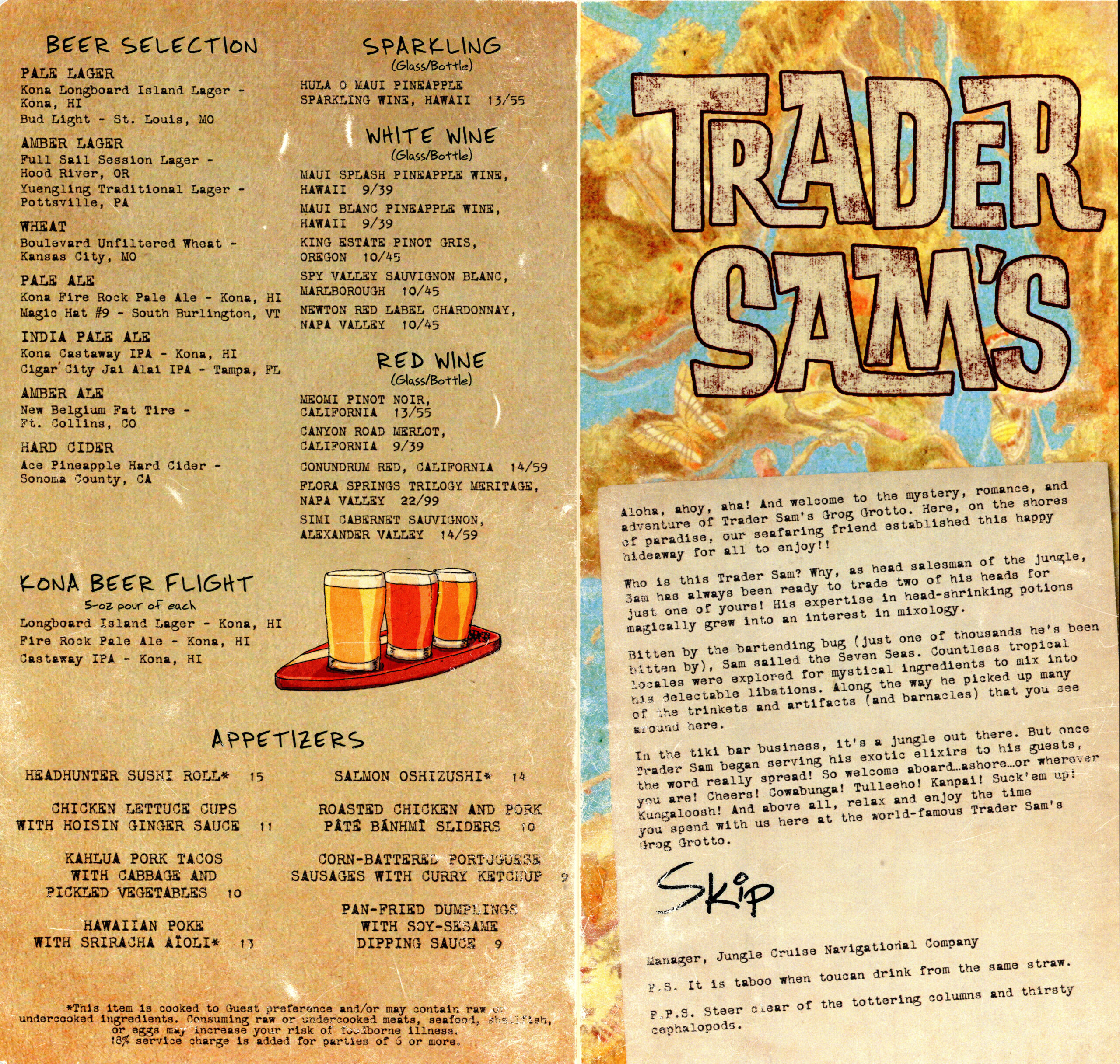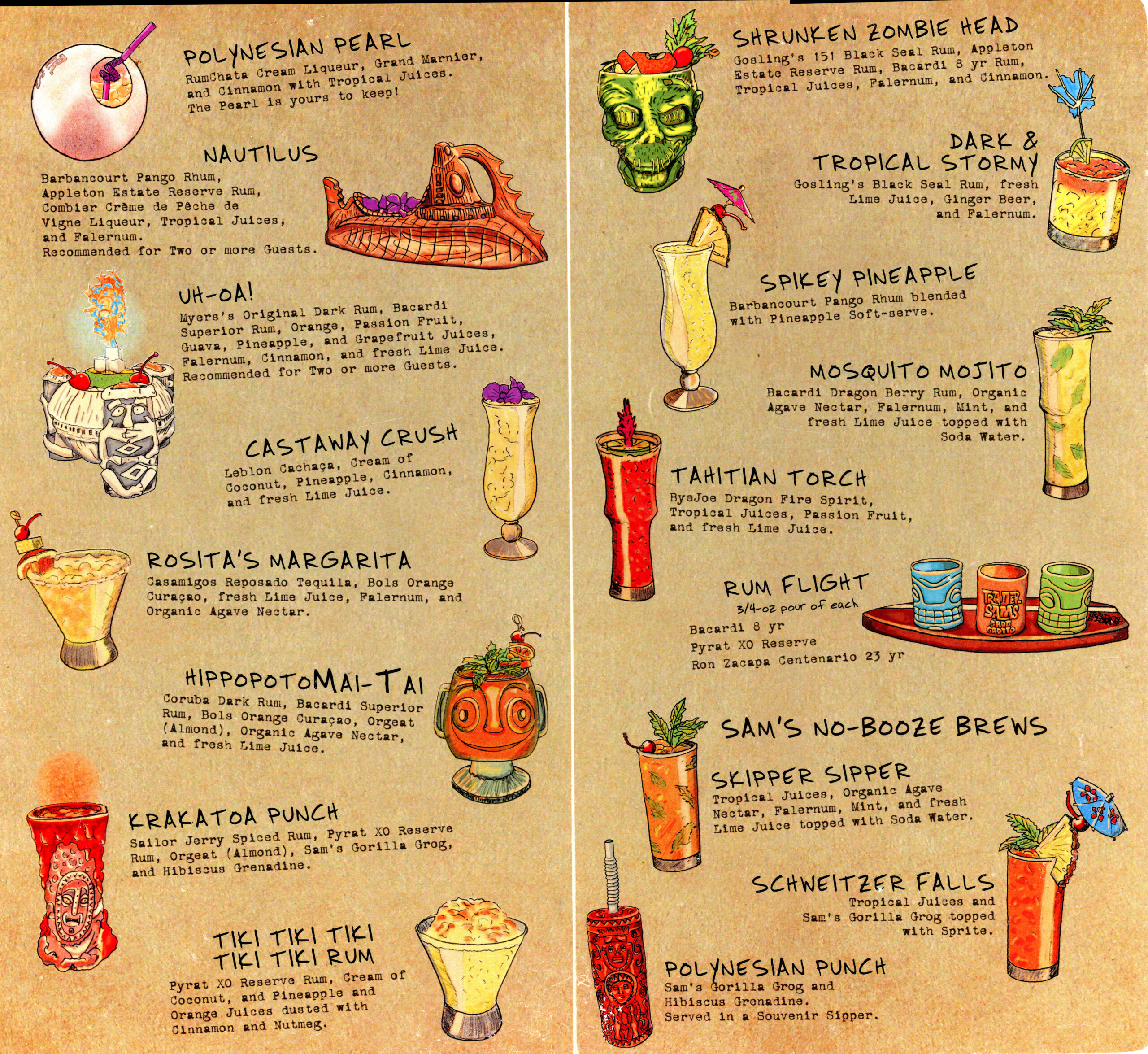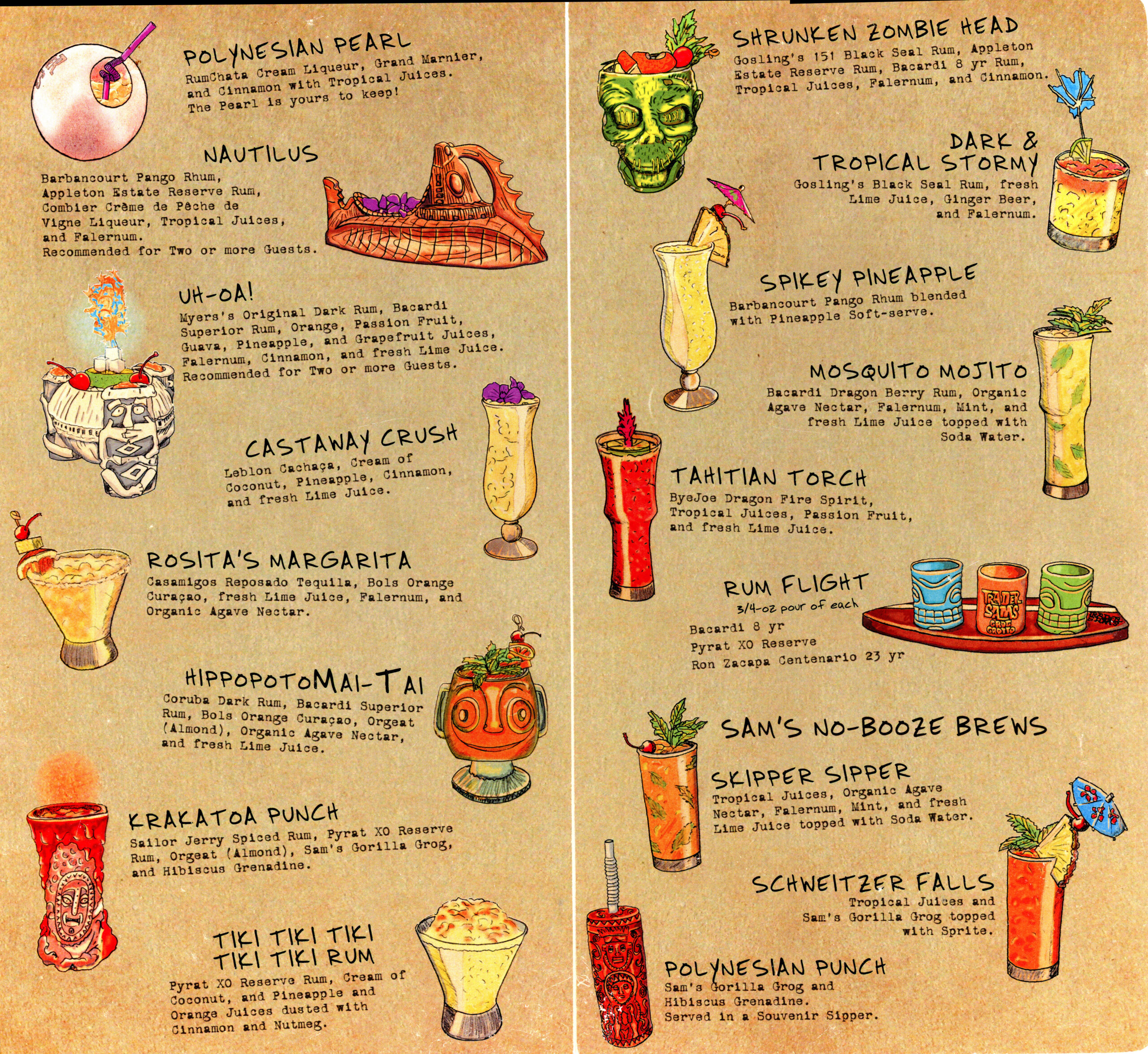 Trader Sam's Bar (both locations):
Trader Sam's both locations
As we mentioned before, Disney can be described for many as the entry level drug for Tiki. There so many references used in bars from movies, TV shows, and rides. Oh wait not rides, attractions.
Whether it's Swiss Family Robinson, Pirates of the Caribbean, Long John Silver, 20,000 Leagues Under the Sea, recently with Lilo and Stitch, Moan, and of course the Enchanted Tiki Room.
So, you have been to the Enchanted Tiki Room?
Yes,  every chance we could get. We are dragging our kid and he's like pleading… no..  no.. not the Tiki Room again…
How long has the Enchanted Tiki room been there?
The room opened June 23, 1963, and was the first to feature Audio-Animatronics technology. It was originally designed to be a dinner theatre.
Because computers played a central role in the attraction from the beginning, which required cooling The Enchanted Tiki Room was also Disneyland's first fully air-conditioned building.
The two locations have generally the same show with the Orlando location having a introduction outside.
I can't be sure as it was under construction when I was there.
The show has a "cast" of over 150 talking, singing and dancing birds, flowers, a magic fountain, tiki drummers and tiki totem poles that perform the attraction's musical numbers.
Has it remained the same?
Oh no. The Walt Disney World room was updated into the Enchanted Tiki Room (Under New Management) in 1998 including Iago from Aladdin and Zazou from the Lion King. Purists, including myself, were not pleased. However karma being what it is, there was a small file in the attraction and the Iago figure was heavily damaged. So the show repaired and reverted to the original.
Fun facts:
There is a Stitch inspired edition at Disney Japan
The voice of the German parrot was done by Thurl Ravenscroft who also did the singing parts for the Grinch who Stole Christmas.
The birds have changed colours over the years
The attraction is sponsored by Dole and The frozen soft-serve Dole Whip dessert served on the lanai is available in only one other place in the world other than Disneyland or The Magic Kingdom, namely Dole Foods in Hawaii. No other Disney theme parks serve the snack.
Trader Sam's Enchanted Tiki Bar and Trader Sam's Grog Grotto
Trader Sam's
Where is it?
Well, there are two of them the first is: Trader Sam's Enchanted Tiki Bar
Located at Disneyland Hotel in the Disneyland Resort of Anaheim, California, opened in May 2011
And the other?
The other is Trader Sam's Grog Grotto which, opened in 2015 at Disney's Polynesian Resort in Walt Disney World. Down the hall towards the cafeteria with a very non-descript door,
Btw both are not to be confused with the long-running San Francisco bar Trad'r Sam which has been around since the 30's
Are there differences between the two?
Trader Sam's Enchanted Tiki Bar in Disneyland has elements of both Enchanted Tiki Room and Jungle Cruise attractions at Disneyland, the Grog Grotto gets a lot of its' vibe from the classic Disney film 20,000 Leagues Under the Sea
Both places are relatively small inside, but both have outdoor seating. They do have a few site-specific cocktails, plus a few brand-new ones at the Disneyland location
Drinks?  Food?
While there are not a lot of food choices mostly appetizers there are several food places just steps away.
The Disneyland Tangaroa Terrence was under construction when we were there, so sadly  I can't comment.
but oh ya Dole Whip… the pineapple soft ice cream..
Drinks are very good. I don't think there is a bad one on the menu.
You tried them all… ?
Well ya, however some were shared, also not necessarily all at the same sitting.
Did you have a favourite?
Yes a few actually. Krakatoa Punch at both locations, the Nautilus at Walt Disney World, and the girly drink Pirhana Pool at Disneyland
What makes it different from other tiki bars?
Well music is spot-on. I believe we listed the playlist on the website. The place is littered with nods to numerous films. Like the jungle Cruise The skippers have routines for many of the drinks. You should order the Uh-oA!. There are Disney animatronics and / or fun things happening throughout the bar.
Mugs?
Too many mugs…the limited editions are snapped up right away. I have a shelf full now.
I also tell people the Nautilus is probably the cheapest ceramic Disney replica in all the whole park.
Any tips?
Disneyland can't say a lot. Other get there early if you want a bar seat and that is not that close to the park.
For Walt Disney World.  No kids at night. You can also watch the fireworks from the Polynesian resort. They have chairs and the music is piped in from across the "lake"
Who is Trader Sam?
The Jungle Cruise ride introduces Trader Sam as the "head salesman" of the Jungle Cruise Navigational Company, which explains all the tiki memorabilia throughout the bar. Also, in keeping with the bar's Jungle Cruise theme, bartenders are all referred to as "Skippers".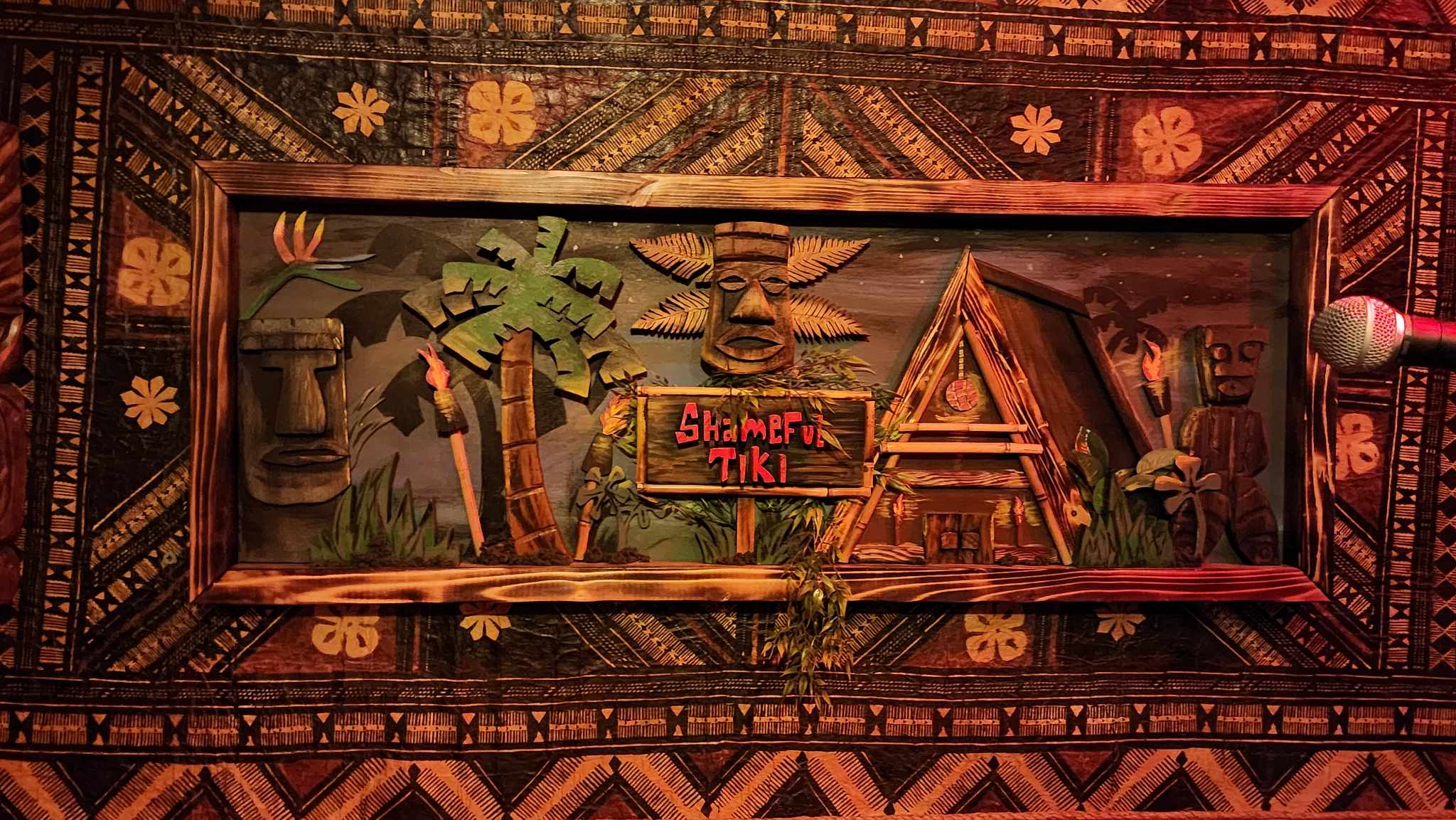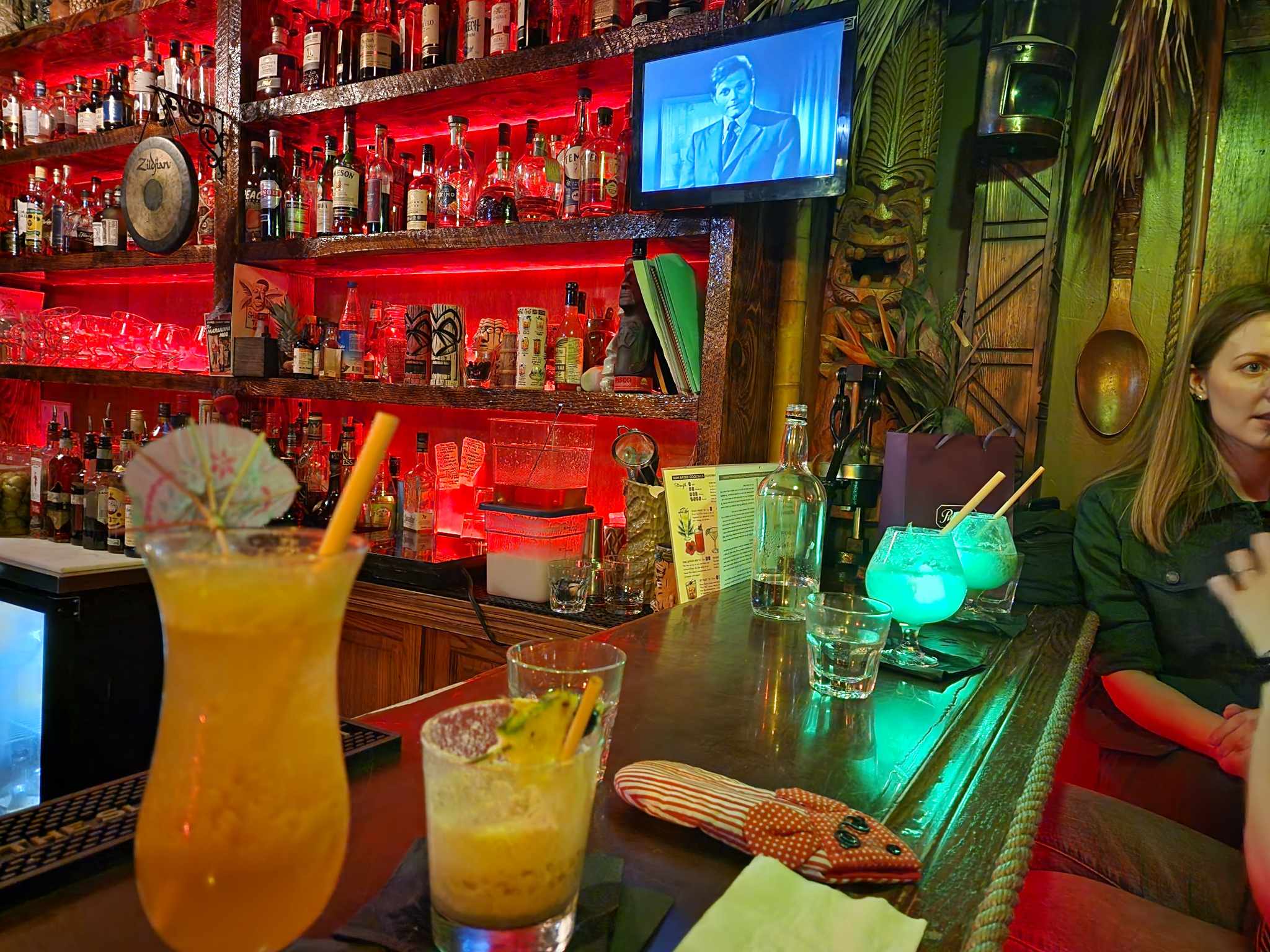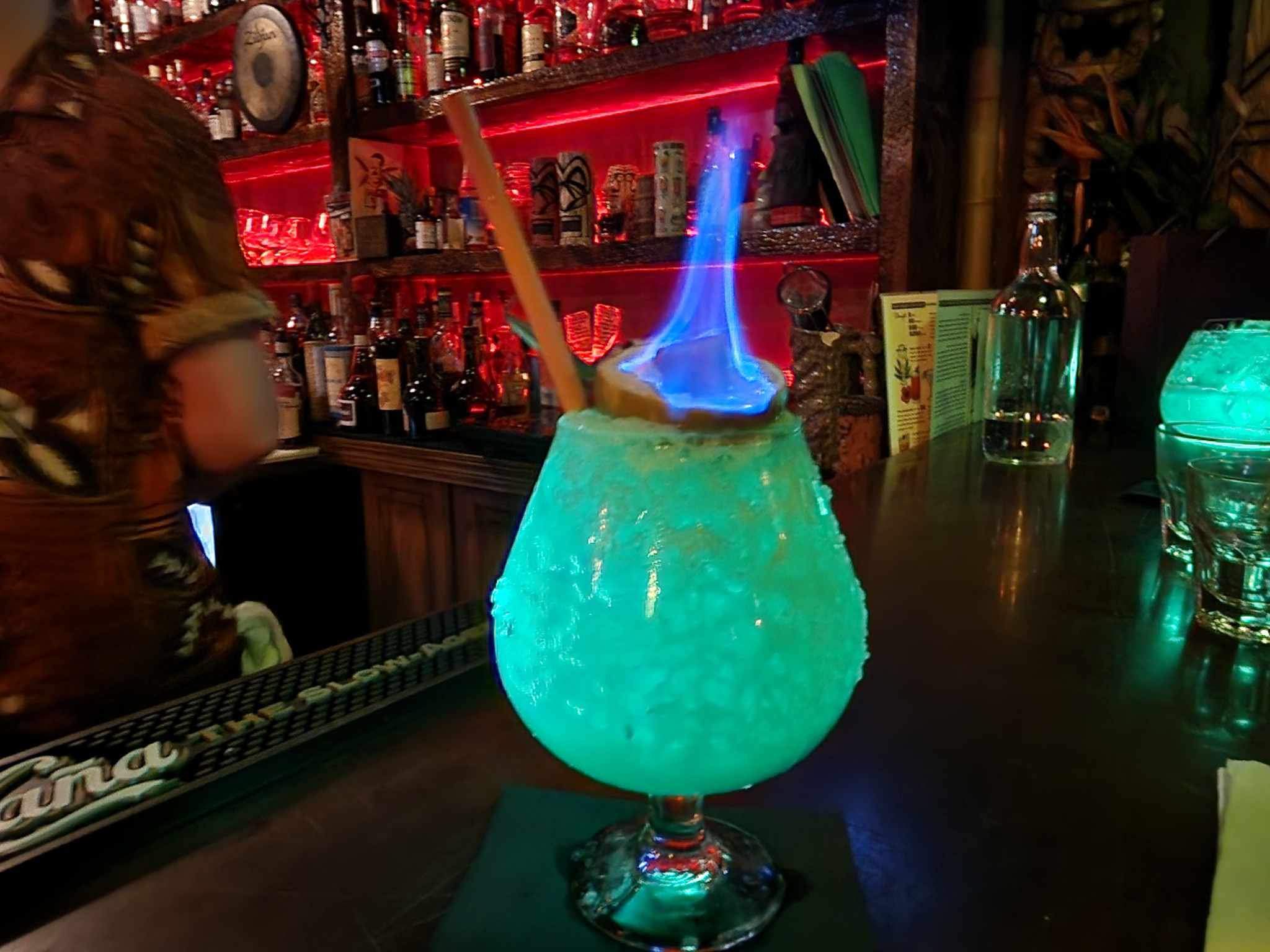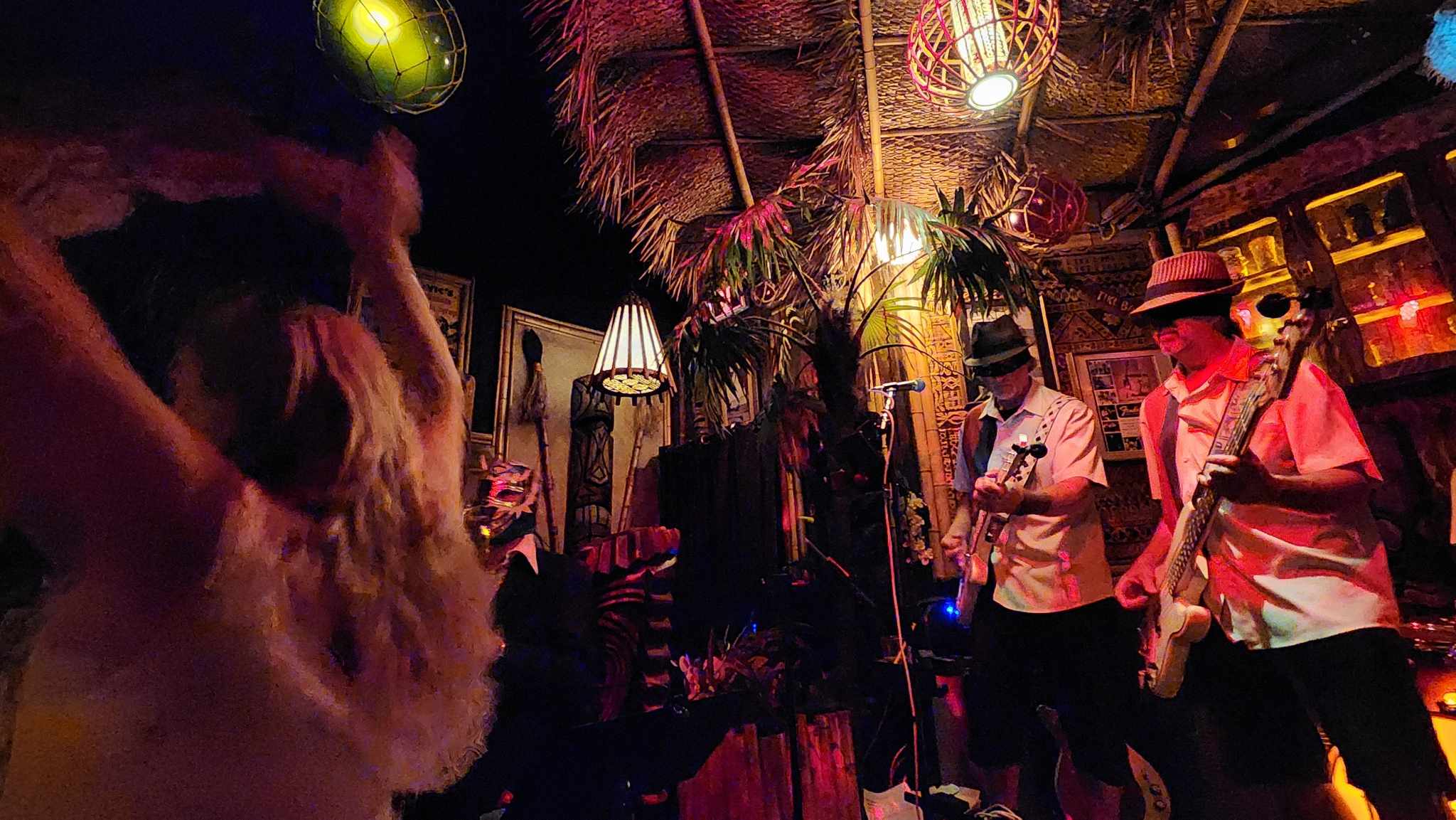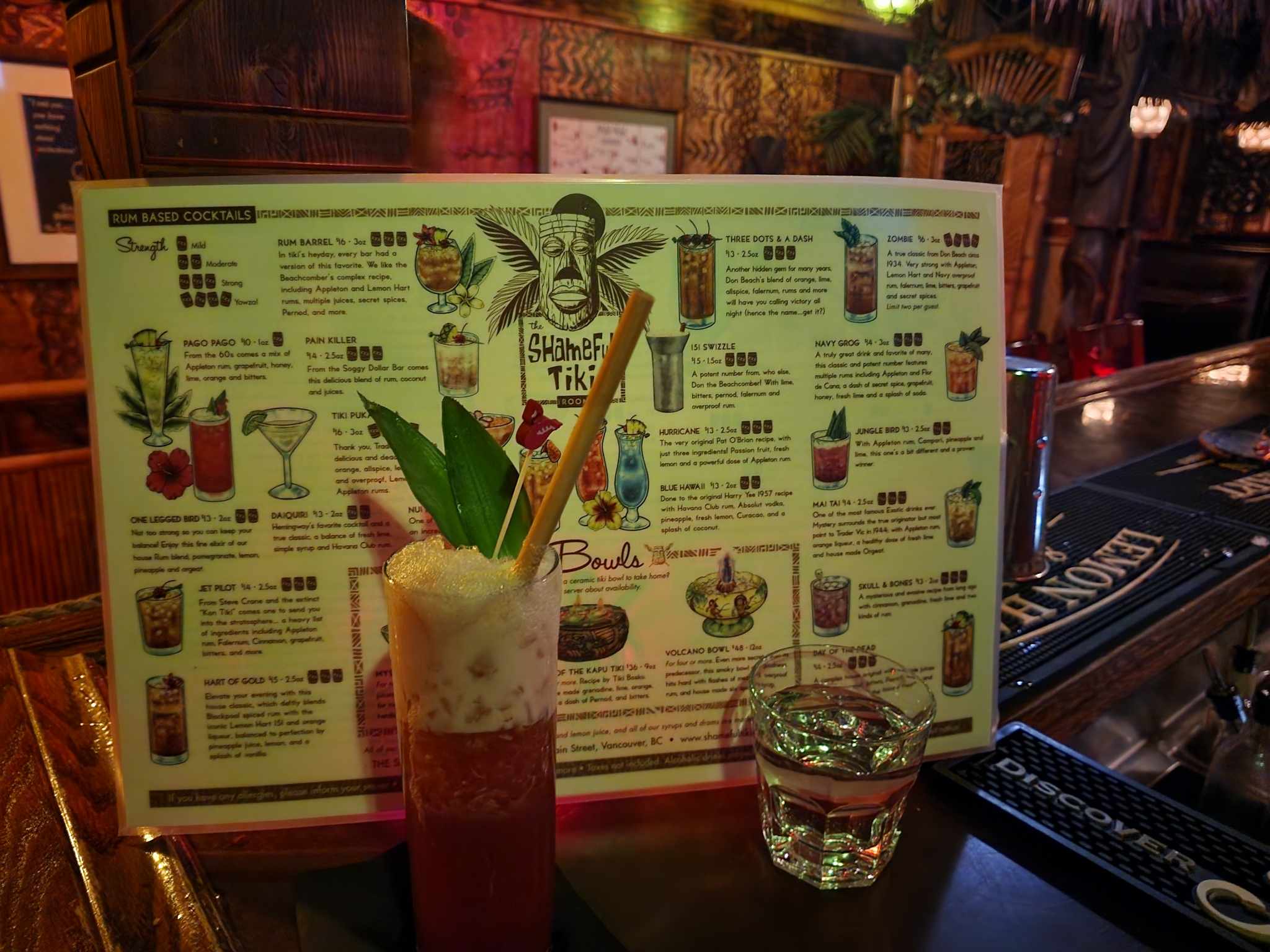 Shameful Tiki Room Bar (BC Canada)
The Shameful Tiki Vancouver, 4362 Main St.
https://shamefultikiroom.com/vancouver/
The Shameful Tiki Room 10 Year Anniversary Celebration.
The Shameful is one of the best tiki themed bars anywhere. Where some bars get check marks for either great cocktails, great ambiance, or good food. The Shameful is the total package.
Rod Moore the current owner and part-owner of the Toronto Shameful, got the tiki bug 10 years ago and went all-in. The bar has both new and vintage décor, syrups and drinks made from scratch, varied food menu, and live entertainment. They have their own merch including amazing house, and annual mugs. They have a rum club as well as a large cocktail menu, of which I've never have a bad one. They also have weekly events like authentic Hula dancers on Wednesdays and go-go dancers on Sundays.
Was there anything special going on for the 10th celebration?
Oh, my goodness yes. For the 10th anniversary Rod planned a month-long celebration. Five weekends of different music acts, including Rod's own band, The Hang-Ten Hangmen, an anniversary drink and food menus, and no less than five different anniversary mugs, releasing one per week, including the final crate mug which holds a whopping 30 oz, which had no chance of fitting in our carry-on. Partnering with the local Twin Sails Breweries. There was also an anniversary Shameful beer, as well as anniversary T-shirts and new rocks glasses.
Whew… How much of the celebration were you able to take in.
We contacted Rod late last year to confirm an anniversary date and book a flight on points, and then learned it was an extended celebration. Thankfully we were able to change flight return date so we could attend 2 separate weekends, which we did plus a few other days in between.  The Shameful is normally hard to get into, especially on weekends and reservations are generally required. Normally we can show up for opening and sit at the bar. For these weekends even the bar was reservation only and only for 2 hours.  So right here I want to thank Monica for working her magic during this hectic time getting us shoe-horned in.
So, anniversary drinks?
Yes. They were some new takes on a few classic tiki drinks. Rod's Rum Barrel for instance, the Space Pilot, a reverse engineered recipe from the classic Tiki Ti cocktail. As well a remix of the 151 Swizzle and the Navy Grog. All pretty rum forward, so I was quite happy. When checking the drink menu the number of barrels indicates the strength of the drink btw. Linda now knows that.
Food was great, bands were great. We easily filled up our carry-on bag with swag.
Another reason for the month-long celebration is that Rod announced that he is selling The Shameful, but have no fear the sale will be dependent on selling to a like-minded tikiphile so the Shameful will remain the Shameful.